Disclosure: This article may contain affiliate links. If you buy a product through an affiliate link, we may receive a commission at no cost to you.
When picking an outdoor pizza oven it often comes down to two of the biggest names, Ooni and Gozney. While Ooni is a much larger and well known company, does "bigger is better" apply to pizza ovens? Gozney sent us a Roccbox to find out.
Limited Edition Yellow Roccbox
The Gozney Roccbox we got is a new color for this spring. While the limited edition Yellow Roccbox is only available while supplies last, a nice thing about the Roccbox is it comes in different colors.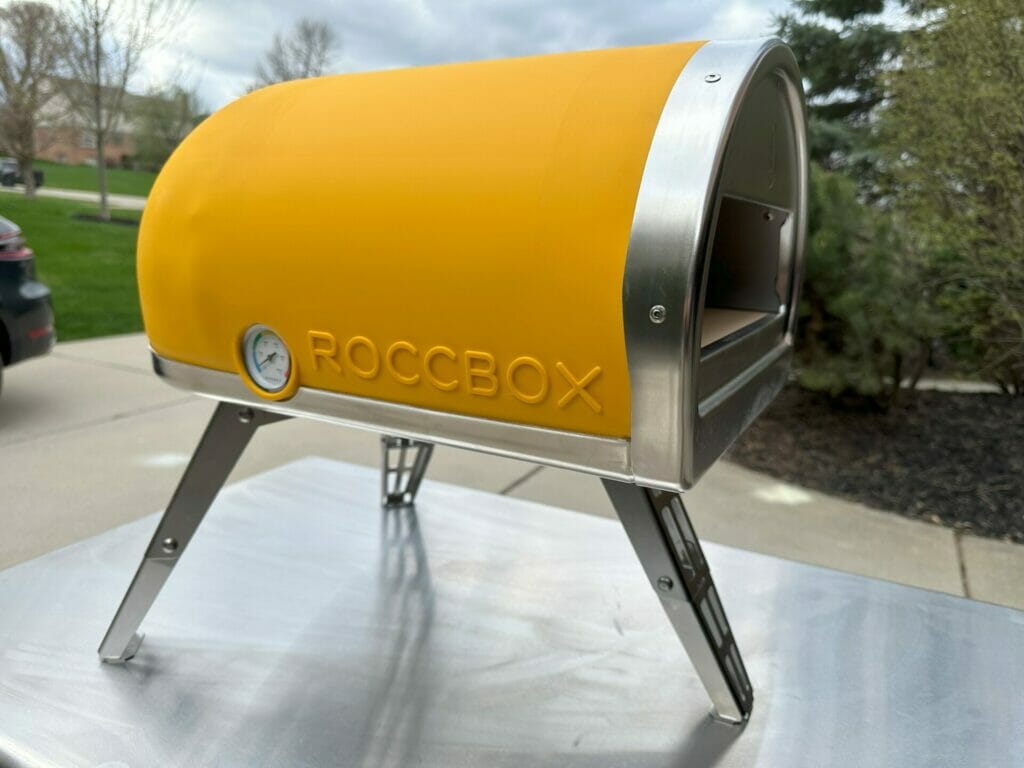 They sell the Roccbox in a neutral grey, a nice looking olive, and for $100 more the Tom Gozney Signature Edition in black. All of the colors has the same specs and performance.
The Roccbox is a great looking oven with refinement you wont find in other ovens. It can be the centerpiece of a backyard, rather than a utilitarian pizza cooking machine.
Summary
The Gozney Roccbox is our favorite 12″ pizza oven. It's a little pricier than competitors, but it more than makes up for it with an included peel, thermometer, and a more refined look.
Pros
Makes great pizza
Stylish
Comes with a peel
Dual fuel capable
Cons
Gozney Brand
For those not familiar with Gozney, they're a UK based pizza oven maker founded by Tom Gozney. He has an inspirational story of overcoming addiction to find his passion in pizza ovens.
He ran the company until recently when he stepped aside to focus on just design. His passion for design comes through both in the Roccbox and the larger Dome pizza oven.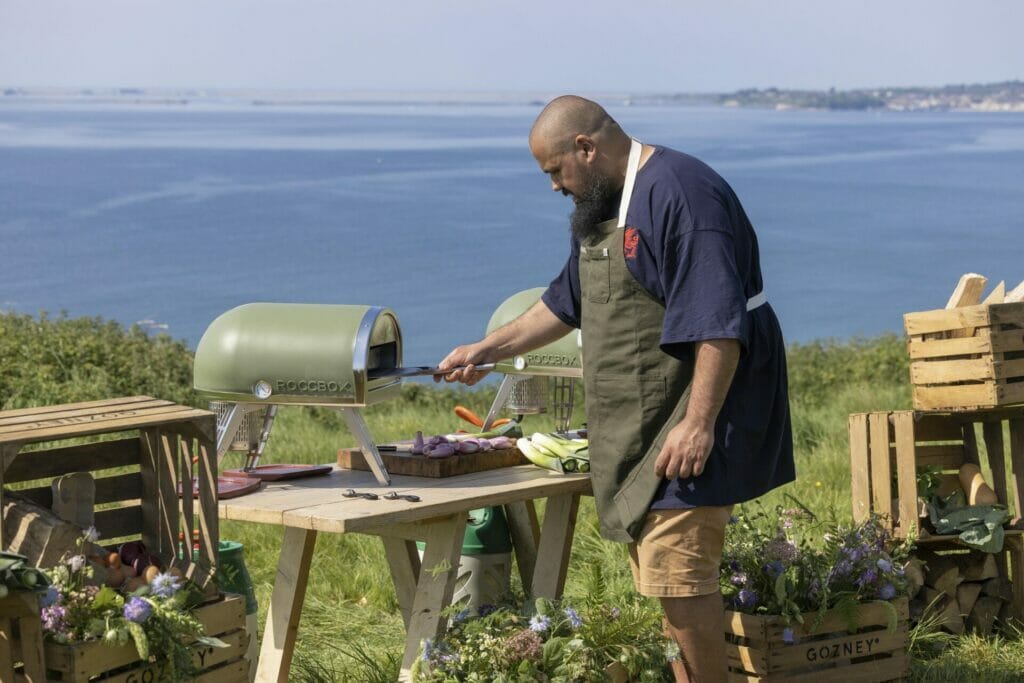 What sets the Gozney brand apart from others is they have an image of being more than just a pizza oven. They run cool pop-up events, including a remote restaurant cooked completely on the Roccbox.
Features
Retail price of $499 (check price)
12 inch pizza oven
Max temperature of 950 degrees F
Removeable gas burner that can be swapped for a wood burner
The body and legs are both made of 304 stainless steel
It weighs 44 lbs and comes with a removeable carrying handle
5-year warranty
Premium Features
Includes a Peel and a Thermometer
While this seems pretty basic, what's different about the Roccbox from other pizza ovens on the market is it's ready to go out of the box. Other similar pizza ovens don't include a peel or a thermometer.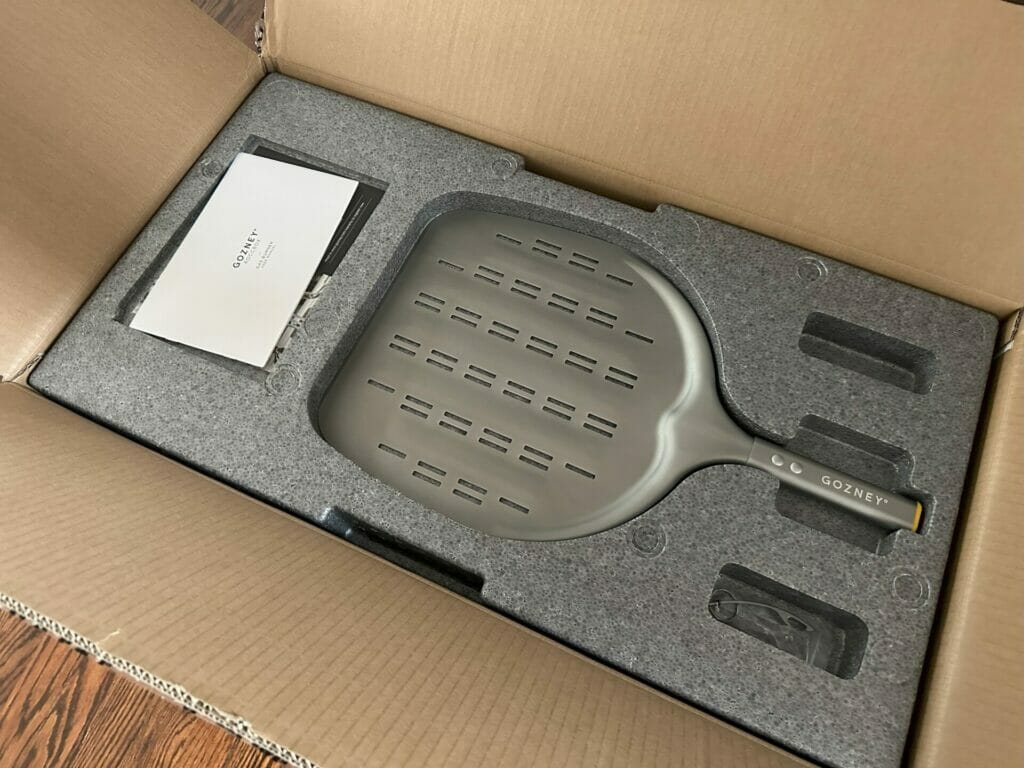 A pizza peel is essential for cooking pizza. It's what you use to load the pizza into the oven and take it out. A brand name pizza peel that's perforated, to let excess flour escape, retails for up to $59.99.
Similarly, when you start using a new pizza oven, you want to keep an eye on temperature both at warm-up and between pizzas. Once you get the hang of your oven, you can usually skip it, but it's important at least in the beginning.
Without an on-board thermometer, you have use an infrared thermometer, like the Industrial IR Gun from ThermoWorks. That's another expense with other ovens.
Safe-Touch Silicone Jacket
A nice feature of the Roccbox which is what makes it look better than other ovens, also makes it safer. Rather than have a hot, metal exterior, it is coated with silicone around the body.
That's the part of the oven that comes in different colors. It keeps the exterior safe to touch, in case you accidentally bump into it. It's nice to know the oven is safer, especially when using it around other peopler.
Dual Fuel Burner
The Roccbox comes with a propane gas burner. What's nice about the design of it though, is it can be swapped out for a wood burner.
It's a nice to have if you want to cook a steak, wings, or something else where you can impart wood fired flavor.
Assembly
Assembly of the Roccbox couldn't be easier. It comes with the stone already in it, and all assembled.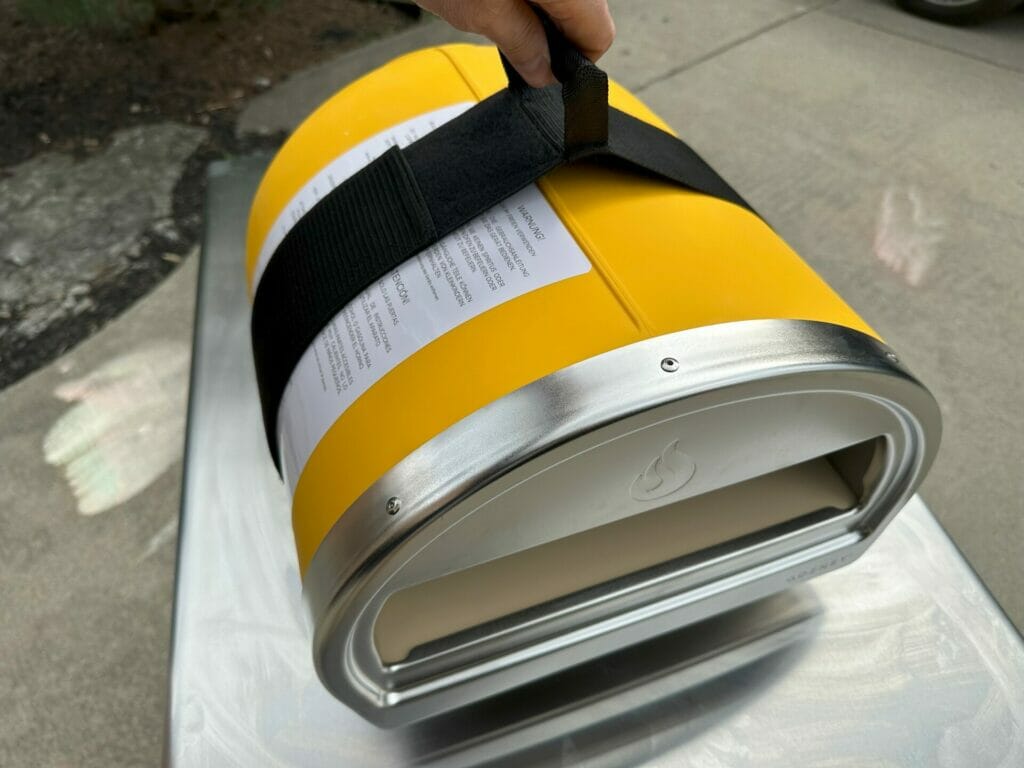 The only thing that requires assembly is you have to attach the burner in the back, which is slotted, so no tools required. You also have to unfold the legs to put it on a surface.
You can be ready to start cooking pizza in minutes from the box.
Cooking
It's really easy to get great pizza on the Gozney Roccbox. Above all else, that's what we liked about this pizza oven.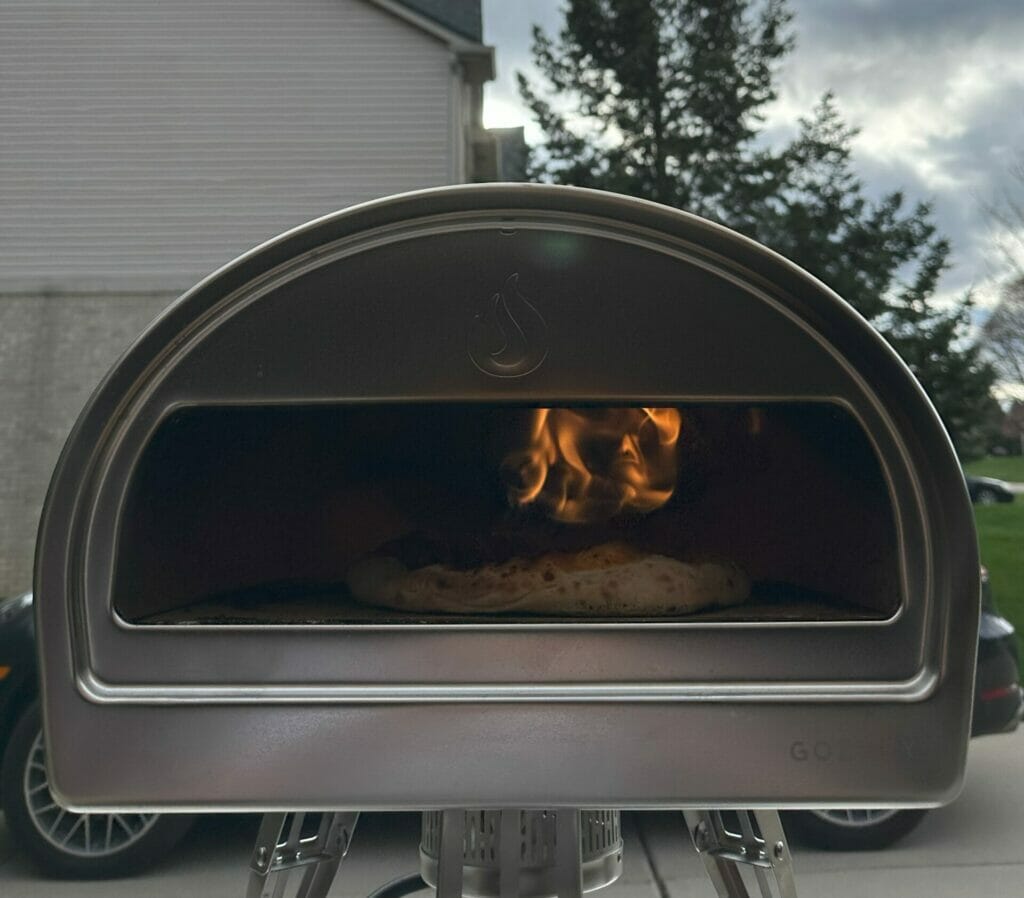 A method that works well is to let it warm-up on max until the pizza stone is good and hot. Before you launch the pizza into the oven, turn the gas down. This will make it so the pizza gets that desired crispy texture without burning the pizza toppings.
We cook it for 20-25 seconds, then do a quarter turn and repeat until all of the pizza is cooked. Start with that as a guideline, and refine it based on the look of the pizza and experience.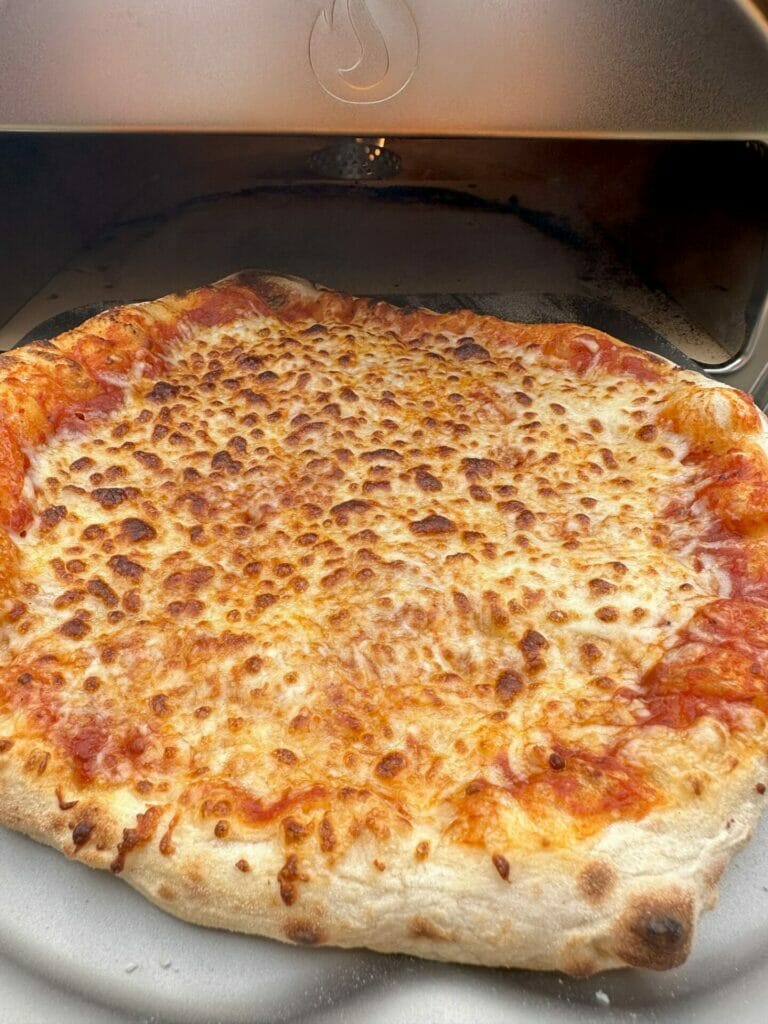 Gozney sells a turner to make it easier once you get the hang of it, otherwise use the peel and take the pizza partially out each time it needs to be turned. Once you take it out, turn it with you hand, just be careful not to burn yourself, and load it back in the oven.
Pizza Dough
We're pretty lazy and don't make homemade dough. Instead, Ooni sells some great premade, frozen dough balls. They are delicious, and are great for cooking.
We'd recommend getting those, because all you have to do is thaw them out and they're ready to go. For the thawing process, use plasticware or prep boxes.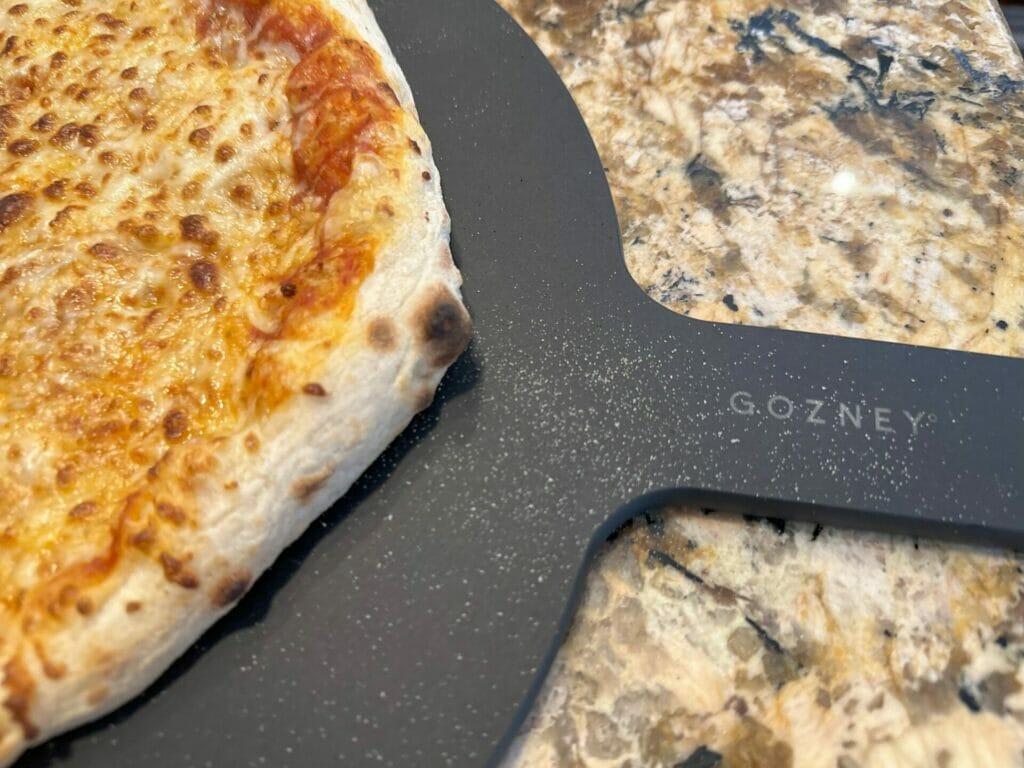 Pizza Oven Table
One thing to keep in mind when you buy a pizza oven is you need a place to put it. Unlike a grill that has its own cart, you need a counter or a table for a pizza oven.
For our review we used a stainless steel prep table from Amazon. Ooni and Char-Broil also sell tables that will fit a pizza oven nicely.
Gozney vs. Ooni Pizza Oven
When picking a pizza oven the two best companies are Gozney and Ooni. We've reviewed comparable ovens from both companies, so we can make that decision easier for you.
The Ooni Koda 12 is Ooni's comparable, gas powered pizza oven. While it is a great pizza oven that we wouldn't hesitate recommend, we'd pick the Gozney Roccbox in a comparison.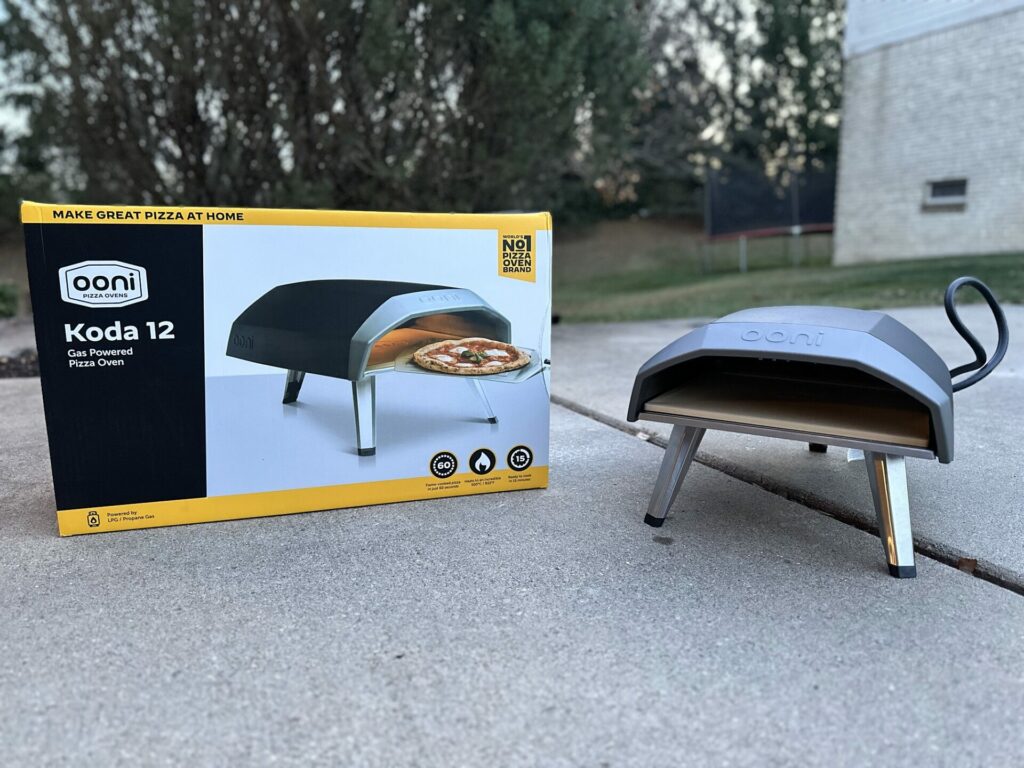 The Gozney Roccbox retails for $100 more than the Koda 12, but it also comes with essential accessories. With the Koda, you'll have to buy a peel and thermometer, which will end up costing near $100.
It's personal preference, but we also felt the Roccbox has a more stylish and refined look to it. With its safe silicone jacket, it gave it a nicer look overall than the powder coated metal finish on the Ooni.
You really can't go wrong with either the Gozney Roccbox or the Ooni Koda though, so if one is on sale, that might tip the scales.
Conclusion
The Gozney Roccbox is our favorite small pizza oven that we've tested. It easily cooks great food and does it with style. With its five-year warranty, we know it will be doing it for a long time too.