Intake, compression, combustion, and exhaust is the four-stroke cycle of a car engine. As any auto enthusiast will tell you, if you want to increase performance, you need to improve one of those key ingredients. The performance of an offset smoker isn't too different.
I interviewed Aaron Franklin about the development of the Franklin BBQ Pit, and like a grassroots car builder, Aaron Franklin thought about it in those terms.
It gets me back into almost like hot rods. I kind of built the cooker like an engine, you've got intake and exhaust, you port and Polish the heads (for performance). that's how I built the smokestack collector, so it's all ground down smooth, the bottom of the heat deflector is ground smooth and flat to create the curl to help with vorticity. thinking about those types of details, by the time I got to a little one (compared to the big cookers at Franklin BBQ), I feel like I had in my head how I wanted to cook. all of the BS that's usually on there like dampers, "you don't need this, you don't need this". It's like a stripped down, straight-up rat rod. this is a 1/4 mile kind of cooker, and it's designed it like that

Aaron Franklin
Idea Behind the Pit
While the fundamental design of the Franklin Barbecue Pit is all about performance, the idea behind it is from years and years of foundational knowledge. Aaron Franklin's idea behind building a backyard smoker goes all the way back to the beginning of the now famed Franklin BBQ that he started with his wife Stacy.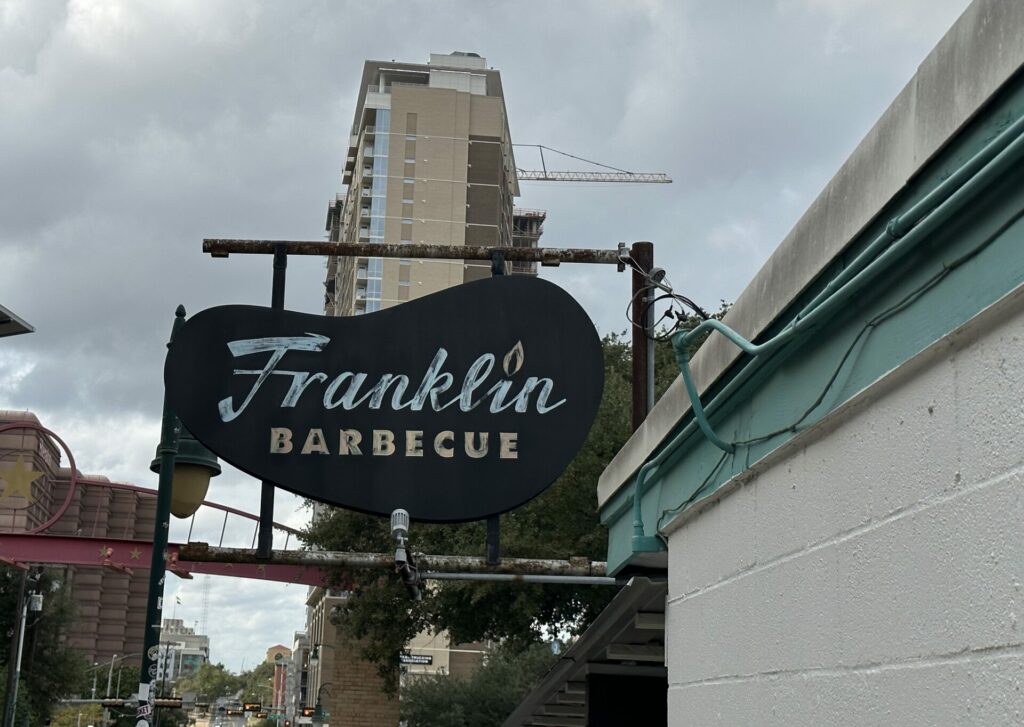 I BUILT MY FIRST OFFSET I GUESS ABOUT 2009 WHEN FRANKLIN BBQ OPENED AND REALLY, I DIDN'T KNOW EXACTLY WHAT I WAS DOING. I GOT A WELDER AND STARTED PICKING AWAY AT IT, AND I DESIGNED FROM THE INSIDE OUT. I SPENT A LOT OF TIME COOKING AT FRANKLIN, JUST WATCHING FIRES AND OVERANALYZING THINGS, SEEING HOW THEY MOVE AND HOW THE AIR FLOW WORKS. HOW I WORK IS I'LL THINK ABOUT SOMETHING AND THEN I'LL GET A LITTLE LIGHT BULB THAT GOES OFF, "OH I HADN'T THOUGHT OF THIS OTHER COOL THING" AND I JUST GOT A LOT OF LITTLE DISCOVERIES. SO REALLY, THE BACKYARD PIT'S DESIGN CAME FROM THE VERY FIRST ONE WHERE I BUILT THAT SMOKESTACK COLLECTOR IN THE BACKYARD. THAT FRANKLINEY KIND OF THING, THAT'S HOW ALL OF THEM ARE AT THE RESTAURANT IN VARIOUS SIZES. I STARTED OFF WITH THAT, THEN AS I'VE LEARNED MORE ABOUT FLUID DYNAMICS, ALL THE AIR FLOW, AND ALL THE STUFF THAT'S GOING ON IN THERE, I REALLY STARTED TO BE ABLE TO FINE TUNE IT.

Aaron Franklin
Aaron kept fine tuning and building smokers with the growth of the restaurant. He got a step closer to designing backyard smokers in 2014 with his first book, Franklin Barbecue: A Meat Smoking Manifesto.
when we were working on the first book in 2014, we built a little backyard sized cooker for the "how to" chapter and that was really kind of the first one. I built it out of scrap pipes at the shop, and built it as I went. That planted the seed a little bit.

Aaron Franklin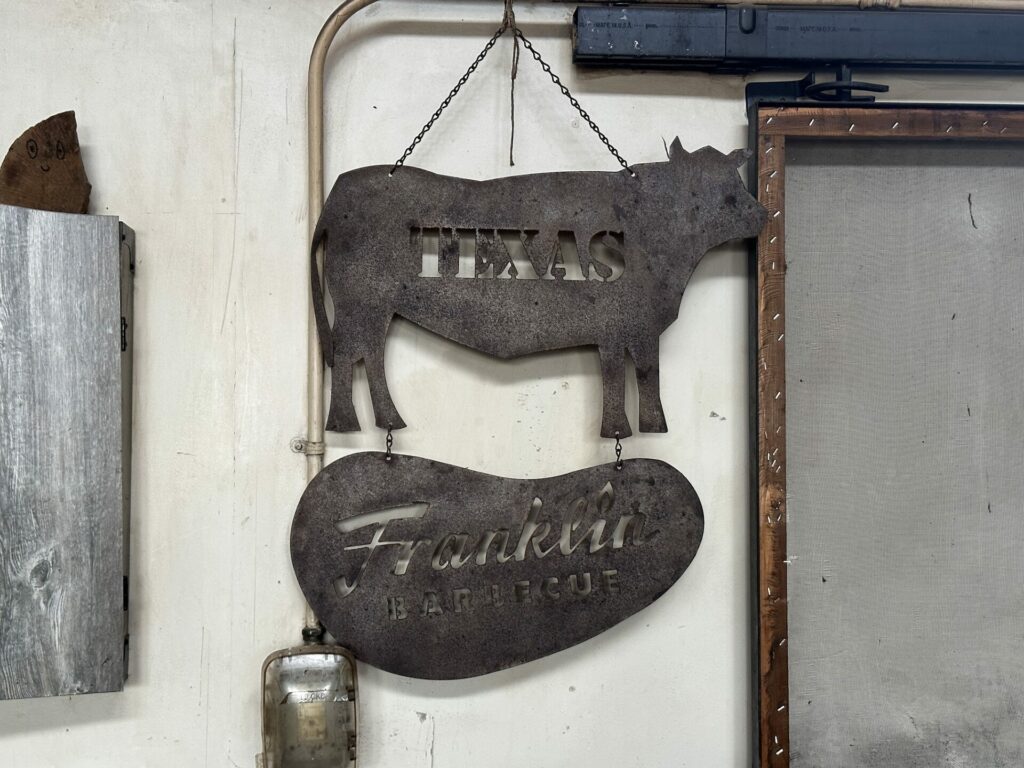 In addition to building the cooker (which still lives at the Yeti store in Austin) for the book, Aaron had modified an inexpensive Old Country BBQ pit to make YouTube videos. At the same time people would frequently ask him at the restaurant what cooker they should buy or how they could build one. This led him to start developing his own.
I would draw out plans for people on butcher paper at the restaurant all the time, like "here do this, build it like this", and all the while working it out in my head a little bit. eventually when the restaurant stabilized, we got the smokehouse finished, and I was starting to back out of cooking the midnight shift every night, I turned my attention to that. we were doing a welding shop at that time, and I leased a space to build stuff because I was always still building cookers for the restaurant. once we built the smokehouse I was kind of done building big cookers and I kind of started fiddling with the little ones. that's when we really started things, like "alright, I'd like to do this". the way it started, I had in my head that we would build one or two a week thinking "I don't know if anybody's gonna really want these things". I just wanted to do a working man's barbecue pit.

Aaron Franklin
Scaling Production
Once Aaron began mentioning what he was working on, he quickly realized that he underestimated the demand for a Franklin Barbecue Pit.
I kind of let the cat out of the bag on a podcast I did a long time ago. we quickly realized that we had already outgrown a thing that we hadn't even really started yet, so then it took years of playing catch up.

Aaron Franklin
He initially started making them at a local shop that he built-out with a small team, but realized that they couldn't stay ahead of demand. They spent about five or six years developing the production process and that's when they partnered with a shop in Tulsa, OK and another in Lexington, NC that do high-end production work. All the while, Aaron kept fine tuning the pit to get the perfectly balanced airflow that he wanted.
Build and Craftsmanship
Just like the food at Franklin BBQ, Aaron is a perfectionist when it comes to the finished product for Franklin Barbecue Pits.
These have to be perfect, and they all have to be identical, and they all have to work the same, and they all have to work exactly how I want them to work, and they have to cook perfectly

Aaron Franklin
To assist with that, he brought on a long time friend that's an architectural engineer, so now they do all engineering in-house. Not only is it helpful for relaying design criteria to their production facilities, it enables them to test out ideas through computer modeling.
Materials
The Franklin Barbecue Pit is made from a carbon steel called Pickled and Oiled, also known as P&O steel or HRPO steel. It's formed through a hot rolling process, then the mill scale that results from forming is removed to yield a smooth surface. After that, the steel is pickled, which is a process of applying dried oil to the surface to prevent rusting.
P&O steel is good for smoker applications because, while it doesn't have doesn't have the level of rust protection that stainless does, it does offer good protection without the price tag of stainless. It also has a stronger strength-to-weight ratio than stainless.
Fabrication
The pit start off its life as a sheet of flat stock that's laser cut, then rolled into a perfect cylinder for the cook chamber and the firebox. Using rolled flat stock rather piping allows better control of the roundness and a more perfect cylinder.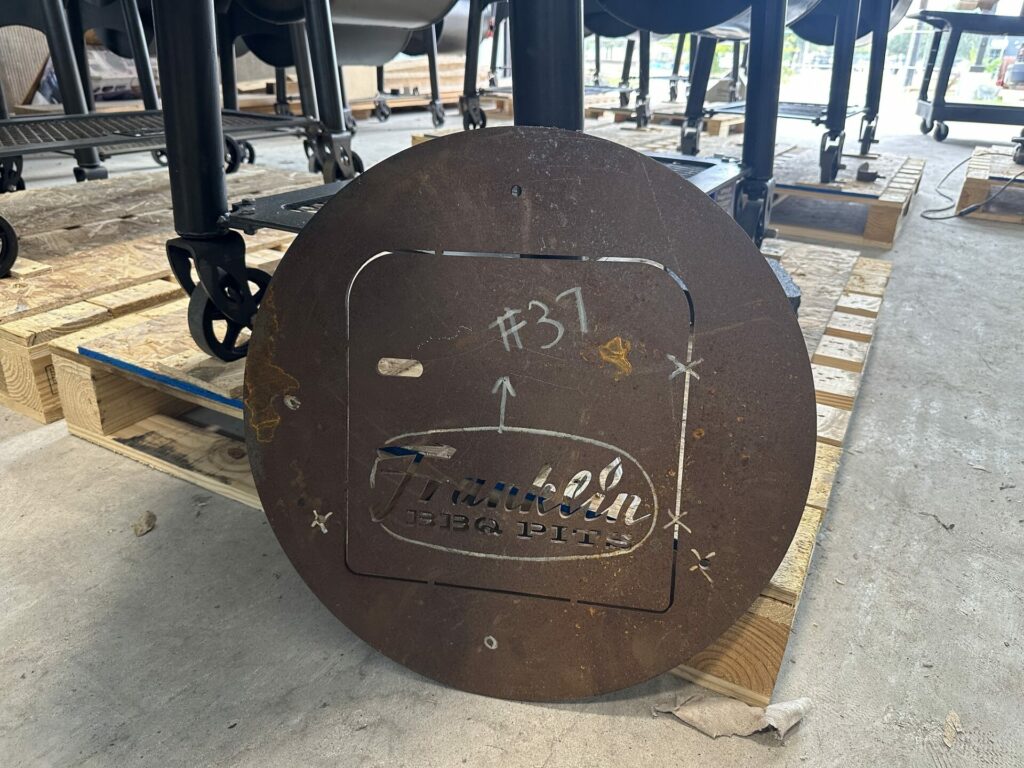 They use 1/4″ thick steel in most places, but during prototyping they had to step the firebox door up to a beefy 3/8″ to be sure they were making the highest quality product.
there's so much radiant residual heat in that firebox if you got that coal bed, and we couldn't keep the doors from twisting and warping over the heat cycles, so we just kept going thicker and thicker. we started off with quarter inch, doubled up, bracing, that didn't quite work right, went to five sixteenths, went to three eights, which we finally landed on. that seemed to be a good size to have good heat retention on that back door but also it just didn't warp, and it just felt felt super burly. really, even the ones at the restaurant are only 5/16 and those are warped all over the place, but we don't care, it doesn't matter, we leave the doors cracked all the time. we're selling these Franklin pits for a pretty good amount of money though and we sure don't want any doors to warp.

Aaron Franklin
They also press their own heads, rather than using tanks, so they can dial-in the shape of the ellipsoidal heads.
To get a really high quality, repeatable product, they use Key Plant automation in their production process. They end-up with some really beautiful seam welds on the whole pit. I was impressed when looking at them up close, in-person.
what we do is we roll it, then we put the inside little shelves in, tack those on the ends, and then we put the head on, we put the back part on. that gets key plant treatment. those welds are like 1/2 inch, the penetration is insane on that stuff. that holds it round, and then we put on the firebox. We do that on key plant as well. then, we go back and hand cut the doors, so we leave them tabbed out until the tail end.

Aaron Franklin
To get the head shape of the heads right, they press their own heads. The conventional way of building an offset uses tanks, but by pressing them in-house they can dial-in the shape of the ellipsoidal heads.
Details
Visually, my favorite detail on the Franklin Barbecue Pit is how the cook chamber and firebox doors are inset. It's way more common for those to be overlaid and resting on the surface. That's also a much easier way to produce a pit, because if it's overlaid, you can't tell if the door is perfectly centered. They have to nail that placement, because the first thing you'll notice when walking up to it is if the gaps from side-to-side on the door are even.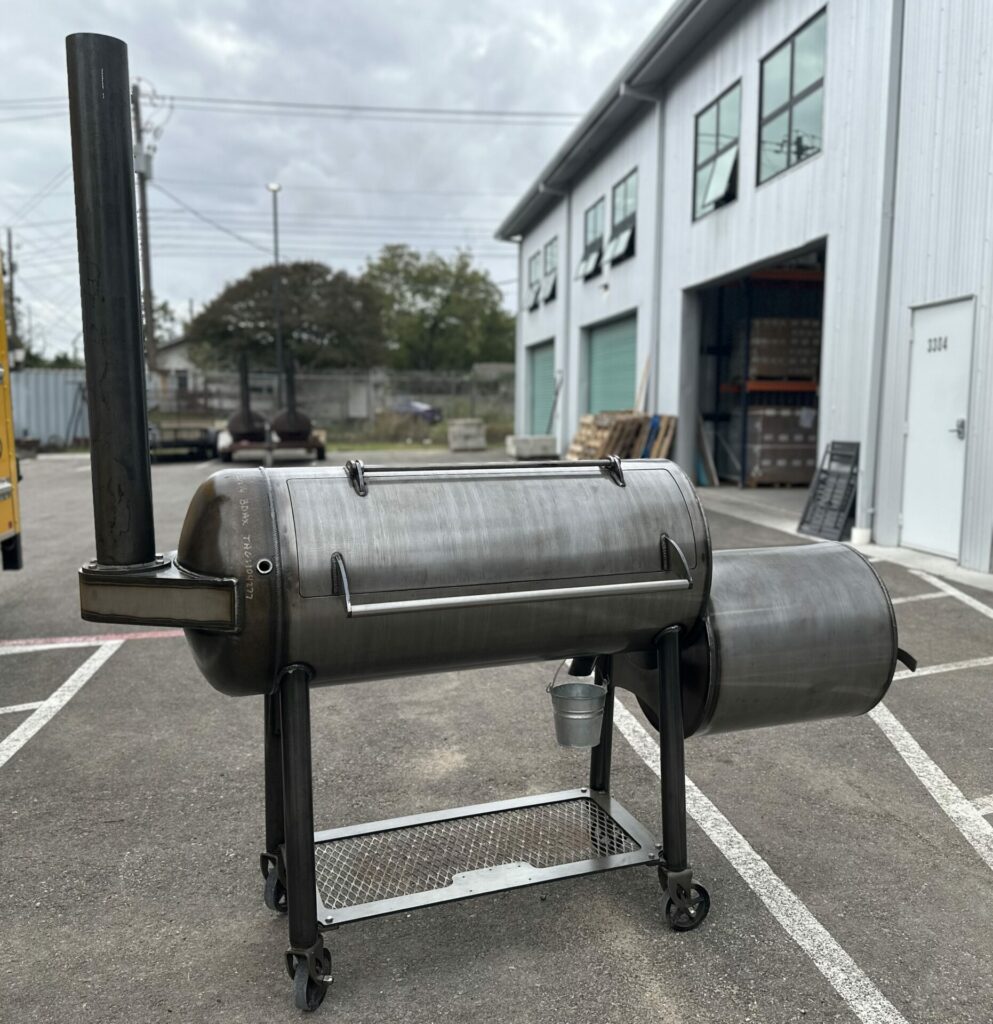 It reminded me of when I spent time in manufacturing engineering for a Big 3 automaker. From a quality standpoint, when you look at the hood of a car, you need the gaps on both sides of the hood to be equal in size and not V-shaped or A-shaped. Every gap all the way around has to be even, or it's noticeable.
They also could have made the alignment on the Franklin Pit easier if they bolted on the doors. True to Aaron Franklin though, they chose the harder road that looks cooler. The door hinges are welded on, so there's no play for correction once they're in place.
that really created a lot of problems actually, but that's really how I wanted to build them. If you lift up the hood on an old Ford, and see this super bitchen' Flathead in there, you're looking at like the braided fuel hose, and all these little details. these things are like my little hot rods. that's like the detail if you're looking at some cool frenched in tail lights or something. you see that back trim on the door, there's nothing to hide from on that. You either nail it or you super don't. I just love how clean it is and nobody else really does that, and I think front trim is really just a crutch to hide poor cuts. I think if you're able to nail it ,you totally should. I just think it looks cool

Aaron Franklin
Design
The Franklin Barbecue Pit is designed to feed a large backyard gathering. Aaron made it so it would perfectly fit three briskets, which is the right amount for a good sized crowd. It also was the right size to get good fire management. Any smaller or bigger would be more difficult.
Smokestack
A noticeable characteristic of the pit is it has a really large smokestack. It was designed like that to promote airflow through the cooker.
you can't push a fire. you can't choke off a fire to cool it down and then blow air on it to heat it up. it doesn't work like that, so you have to pull, then you have to keep a consistent air flow. I usually build BBQ pits with an extra tall stack just to get the draft right, just to get the vacuum, and then I'll cut them shorter until I find the balance where it feels right. you watch the flames and how they pull, if you're too tall there's a there's a point of diminishing return, but there's also a point of diminishing return if you go too short. you have to find that sweet spot. you usually have several inches to play with, so you create this vacuum.

Aaron Franklin
Firebox and Fire Management Tips
The firebox is 42″, which matches the size of the fireboxes at Franklin BBQ. It's also semi-insulated, with a concentric liner on the inside, and an air gap to the outer wall. That helps keep the cold air away from the fire.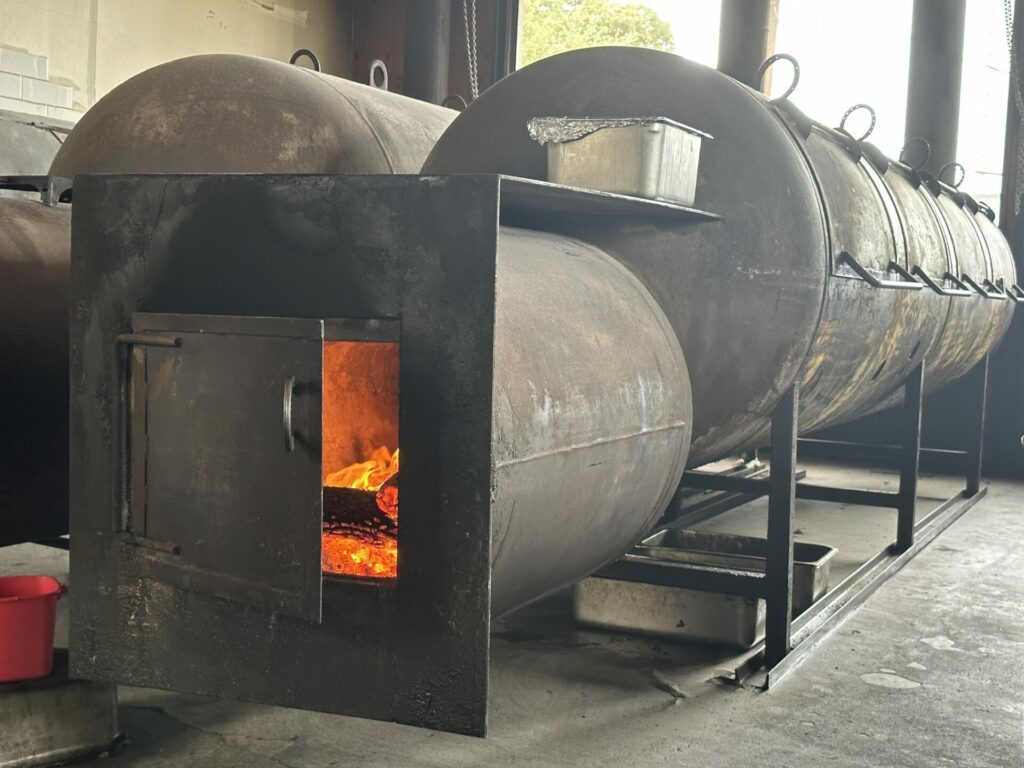 They designed the firebox so that the top of the inner diameter of the firebox matches up to the center point of the connecting cook chamber.
my theory on fire boxes is it's really hard to build a big fire in a small box, but it's a lot easier to build a small fire in a big box. if you have that longer firebox, the way I like to do fires is by doing a log, if it's a little hot maybe you pull it back and you let some of that heat scoot out the back of the door. you kind of find that balance, and you've got enough room in a firebox to push it forward towards the smokestack to get a much more sharp heat out of it. if you've got big flames maybe you pull it back and you can adjust that articulation of the fire to maybe lessen the air flow, maybe treat the meat a little bit different. meat has different needs throughout the cook process.

Aaron Franklin
Smoke Collector
Another feature of the Franklin Pit is it has a smoke collector between the cook chamber and the smokestack. The shape and characteristics of it was something that Aaron came up with when he was building a pit out of a 500 gallon propane tank (known as #2), when Franklin BBQ was still in a trailer.
I started to realize from cooking overnight at the restaurant just staring at fires all the time that what was really cooking these briskets was convection. I guess maybe this has been an overlooked piece of knowledge over the years, but the heat doesn't move in a linear fashion across the grate. you think about like all these old school cookers that have been around forever, I think it's under the assumption that the heat comes out of the firebox move straight, goes straight up, hits a hard 90, and it goes out stack. fluid dynamics doesn't work like that. thinking about the cooker from the inside and how the heat hits the shelf, maybe starts to spin, maybe starts to curl, you get somewhat osculating kind of chaotic airflow, and then it hits the meat. (the design) is taking a lot of inspiration from airplanes. I mean we're not dealing with the CFMs, of course, but kind of along the same line.

Aaron Franklin
The collector is important for maintaining the airflow through the cooker, like Aaron wants. The location of it is also important for cooking his famed briskets.
I started visualizing the geographical center of a brisket. a brisket sits about 4 inches tall, so you're looking at about a 2 inch center. that's where the thermometer goes, and that's also almost where the smokestack collector would be centered on, except lower just a hair because I want a little bit more heat on the bottom. if I raise it up, the bottoms of the briskets don't cook right, so I ended up lowering it a little bit, and that's where I found the height placement.

Aaron Franklin
Purchasing
Right now Aaron and his team are building out the Franklin Certified Dealer network to sell Franklin Barbecue Pits. You can find the best place to purchase a pit by going to their website. If you're a dealer looking to carry the pit, or want to learn more about where they're sold, I wrote an article that explains it and what they're building. Be sure to check that out.
Cooking
While you'll gain the most knowledge of how to cook on a Franklin Barbecue Pit through practice, you can shorten the learning curve. Aaron has a really good Masterclass where he uses an early iteration of a Franklin Pit. Those videos are great because you get to watch exactly how he cooks and does fire management on the pit.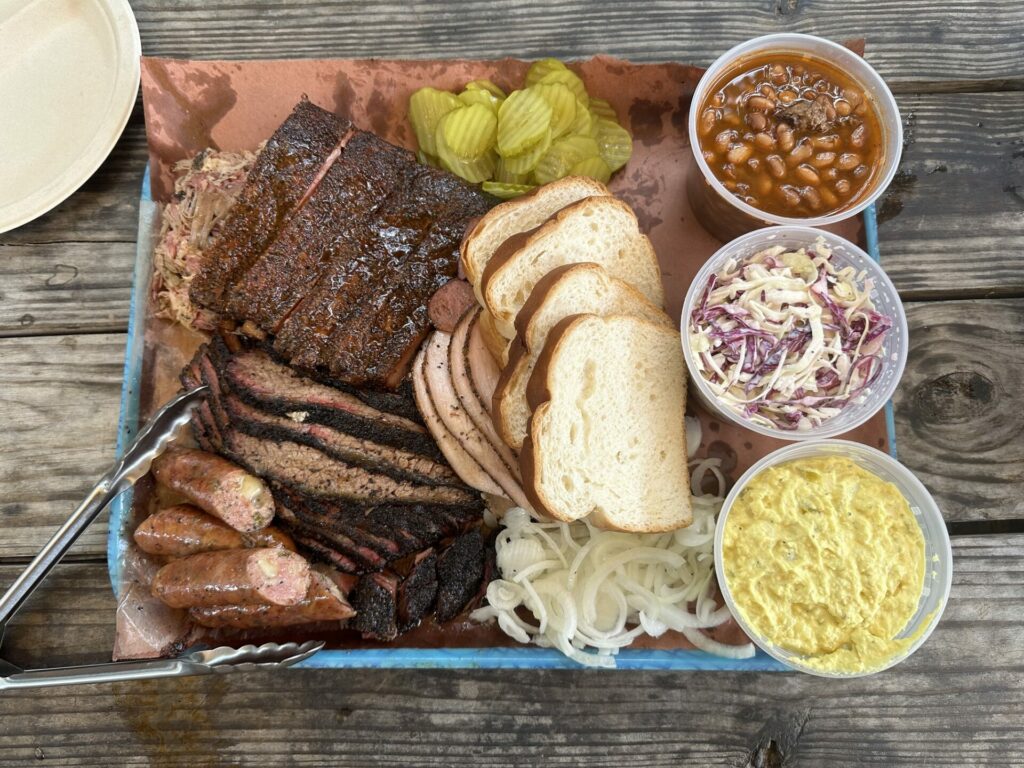 Aaron is also busy creating content for YouTube on the pit, and it will be featured in his new book, Franklin Smoke: Wood, Fire, Food, that comes out next spring.
Brisket
The most important question with the pit is how does it cook brisket? I asked Aaron if he could cook a brisket on a Franklin Barbecue Pit that's as good as at his restaurant, and was surprised by the answer.
absolutely you could. I think it would turn out better, just because the amount of control you have. As those cookers get bigger, they get a little Dumber, and a little less hard to wrangle, but the Franklin pit is so small if you got really really good at fire management you could totally do a better than Franklin brisket on that, no doubt. I think that's kind of what it was designed to do, there's no band-aids or crutches on the Franklin pit. it's really forcing you to have to learn how to work a fire because that's where you get the good flavors, that's where you really really learn how to cook. I think if you really got good at it, yes you could absolutely do a better thank Franklin brisket.

Aaron Franklin