Disclosure: This article may contain affiliate links. If you buy a product through an affiliate link, we may receive a commission at no cost to you.
Update 6/19: The Camp Chef Apex has finally been released! Click here to learn more about it.
Pre-Release Information
Update 5/27: The investor day came and went without the Apex being released. We did see that there is an active lawsuit against Camp Chef about the Apex dual fuel technology. Every large company has lawsuits, so we obviously don't know the outcome of the ongoing suit or its impact on the release of the Apex.
Update 5/5: Camp Chef's parent company Vista Outdoor released Q1 2022 earnings today, but no Camp Chef Apex announcement. They did however say that they are having an investor day on May 23rd. They've used investor day in the past to talk about new products, so we're betting that the Apex gets released on the 23rd.
2nd Update 5/4: Below is updated information that we learned today. A photo of the Apex is now the featured image of this article.
Update 5/4: Camp Chef has released the fire pit line mentioned below. Hopefully this means we'll get the Apex in the coming days.
Update 4/16: Still no formal announcement of the Camp Chef Apex 36 Grill to consumers, but a side shelf for an Apex Grill has appeared on Camp Chef's website with no picture, no availability and an incomplete title (screenshot below).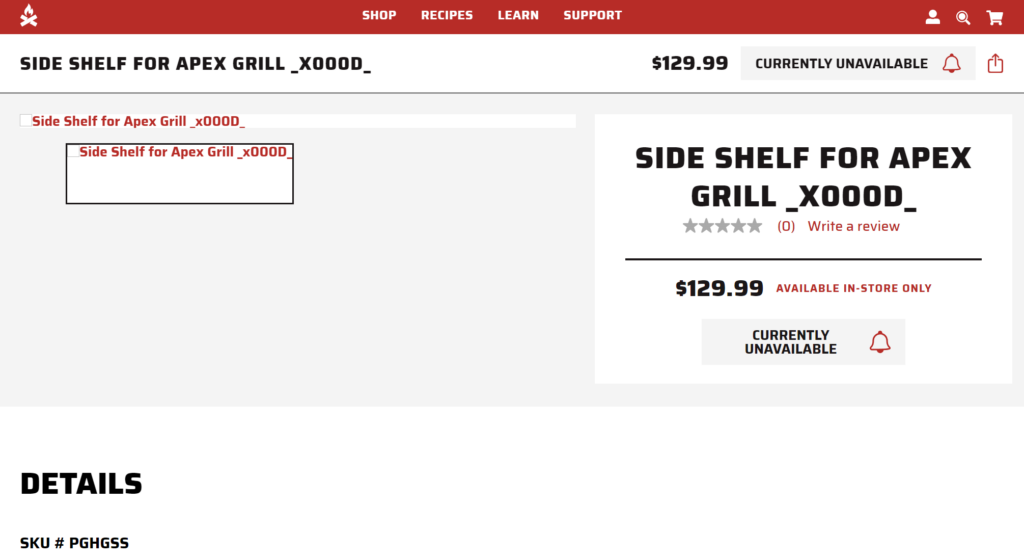 We're about a month away from the start of grilling season and we've seen some amazing pellet grills released from recteq, with the recteq RT-1070, and Traeger with the new Timberline. We've also seen some really cool, smart gas grills released from Weber, Nexgrill and Char-Broil. There's one grill release that we've been waiting for though, that we haven't seen. That's the Camp Chef Apex, a dual fuel (wood pellet / gas) grill that is supposed to be released this spring.
What We Know
Camp Chef filed for a trademark for the Apex name a year ago
The Camp Chef Apex grill platform was at the Hardware Show trade show
The Camp Chef Apex is a dual fuel grill with wood pellets and gas
Camp Chef parent company CEO had the following comments in the Q3 FY2022 earnings call on February 3, 2022
Camp Chef continues to focus on new product innovation with the spring launch of its Apex grill, expanding the brand's leadership position and giving consumers its choice for wood pellet or propane fuel cooking in a single platform. This innovation offers a breakthrough design with several Camp Chef features including the Sidekick, thus creating a unique offering in the marketplace

Chris Metz, CEO of Vista Outdoor
What We Don't Know
Much else, there isn't any reference to the new grill on Camp Chef's website or any of their social media. An email request for more information wasn't returned
When the grill will be officially announced to consumers or released. There have already been many grill releases so far ahead of the 2022 season, and we're getting very close to the season starting.
Hopefully we hear any announcement about the new Camp Chef pellet grill soon. We are eagerly awaiting its release…We're also waiting for the more information on the new fire pit line that was mentioned in a investor day presentation last year (graphic below), but we'll settle for just the Apex grill now and keep refreshing Camp Chef's website.