Disclosure: This article may contain affiliate links. If you buy a product through an affiliate link, we may receive a commission at no cost to you.
If you're in the market for a new griddle, two names that will pop up are Pit Boss and Blackstone. Blackstone is the overwhelmingly dominant player in the griddle space, but are they the best? We tested griddles from both companies to find out.
Both Pit Boss and Blackstone make a variety of griddles (also called flat top grills) in all sizes and with different options. To make this an even comparison, we'll compare the Pit Boss 4-Burner griddle with the popular Blackstone 36″ griddle.
Both griddles are basic offerings from their respective companies and are 4 burner models with similar BTUs – 62,000 on the Pit Boss vs 60,000 on the Blackstone.
Price
Both the Pit Boss flat top grill and the Blackstone selected for this comparison are pretty similarly priced. The Pit Boss retails at $449 (check price on Amazon and Pit Boss), while the Blackstone (check price) is a little less and frequently on sale. The edge goes to Blackstone in this category.
Both companies run sales though, so this one could be different when you're buying.
Cooking Area
Another big point of comparison for griddles is how much cooking space they have. Space is especially important because you can control the temperature and create different zones. This allows you to cook different foods at different temperatures.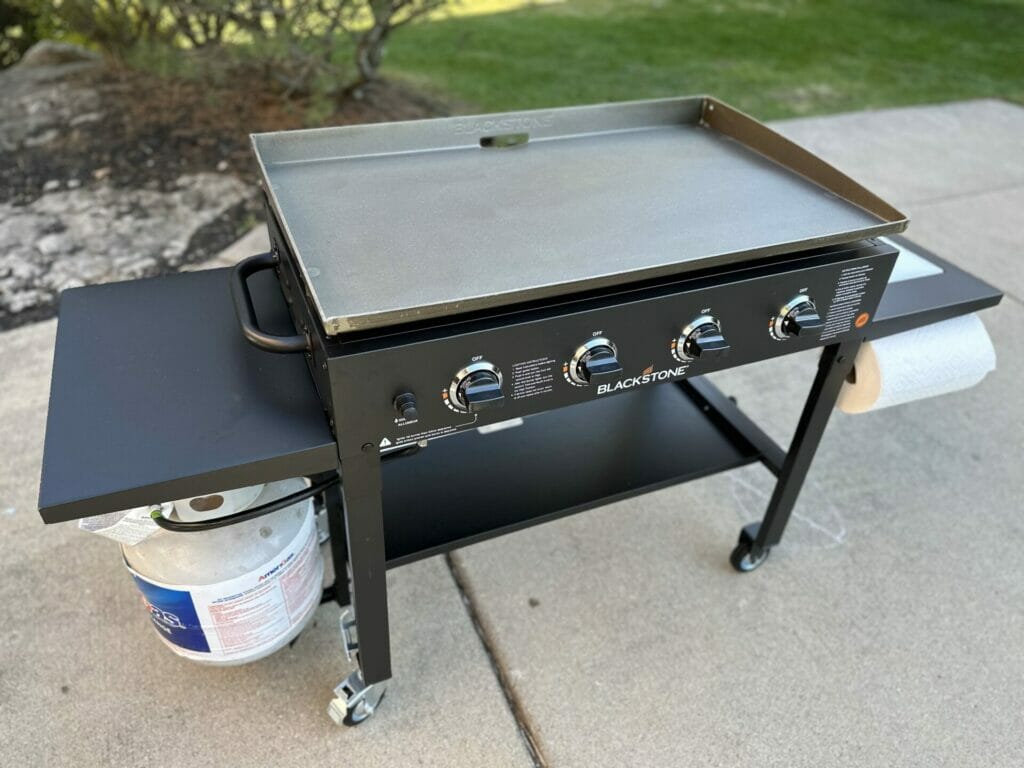 The Blackstone griddle is their 36″ model, which has 768 square inches of flat top grilling space. The Pit Boss griddle on the other hand has 753 square inches of cooking space. You want as much space as you can get on a flat-top so you can establish cooking zones for different types of foods. While both have a similar amount of space, the Blackstone is bigger.
Features
The Pit Boss is very basic with features on the base model. They recently updated their griddles to Gen 2, and got rid of side shelves on the base model. You have to move up to the Deluxe model, which is more money at $569 (check price).
One feature on the Pit Boss that's a nice to have, is a turn to start ignition. You just push in and turn the knobs, as opposed to pressing the ignitor button like on the Blackstone.
The Blackstone on the other hand has quite a few features for being a basic model. It has a side shelf (not foldable) on one side, and a neat side shelf that has a removable cutting board, a paper towel holder and garbage bag hooks on the other. That's very convenient for prep work.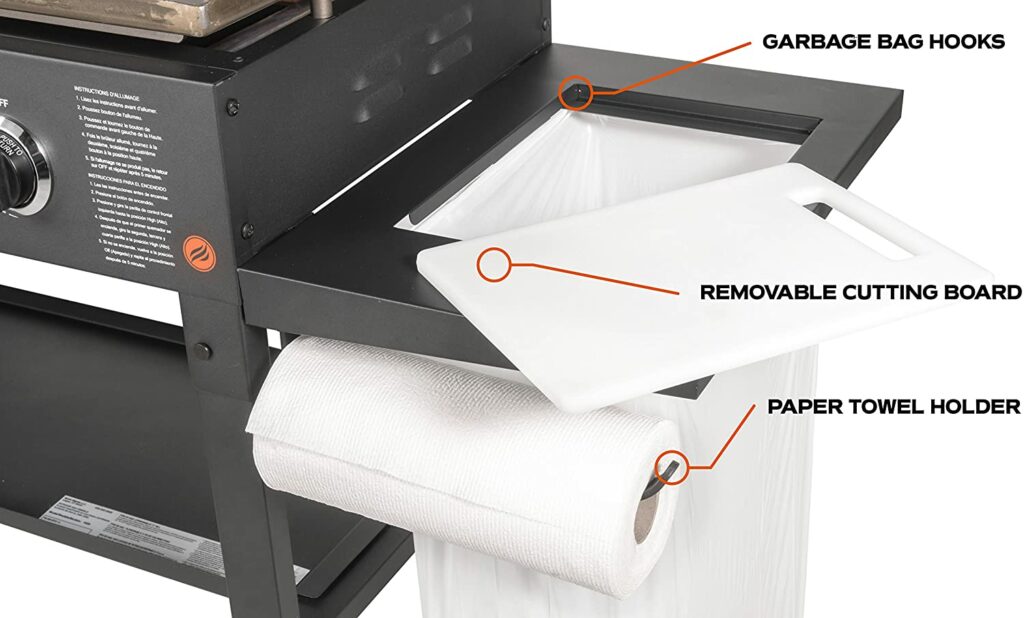 A feature that both of these griddles have is grease management. This makes using a griddle much easier for cleaning the cooktop surface. When you scrape the surface, you can just push all that grease to the cutout.
The Blackstone has a rear grease management system, while the Pit Boss has a grease management system in the front. The point for features goes to Blackstone.
Reliability
Both Blackstone and Pit Boss are well respected companies with big followings and tons of positive reviews (of course some negative too). The Blackstone griddle comes with their standard 1-year warranty, while the Pit Boss griddle comes with a 2-year warranty. Pit Boss wins for their warranty.
Summary
Both Pit Boss and Blackstone make great griddles. We compared the basic models, but if you're shopping for a griddle and have a bigger budget, check out their other options. The Pit Boss Ultimate Griddle series (click to see our full review) have a cool look, more features and can lift-off their cart to be portable. The Blackstone Patio Series or even their outdoor kitchen gives you all the features you could ever want.
If we picked between the two griddles compared, we'd have to go with the Pit Boss. The additional surface area, warranty and the lower price on the Pit Boss beats out the Blackstone in our minds. If you like the features of the Blackstone and are leaning that way, check out our guide on 5 Things to Know Before Buying.
Make sure you get the basic accessories you need to use your griddle too. The 5 piece griddle accessory kit is all you need to started on either grill. Both Pit Boss (Amazon link to check price) and Blackstone's (Amazon link to check price) basic kit comes with two bottles, two spatulas and a scraper, which is all you need to start.