Disclosure: This article may contain affiliate links. If you buy a product through an affiliate link, we may receive a commission at no cost to you.
The days of cooking on a tiny griddle surface with equally small propane tanks while camping are over. We tested the Pit Boss 2 Burner Ultimate Griddle and not only is it great for cooking at home, the lift-off feature makes it the perfect camping griddle.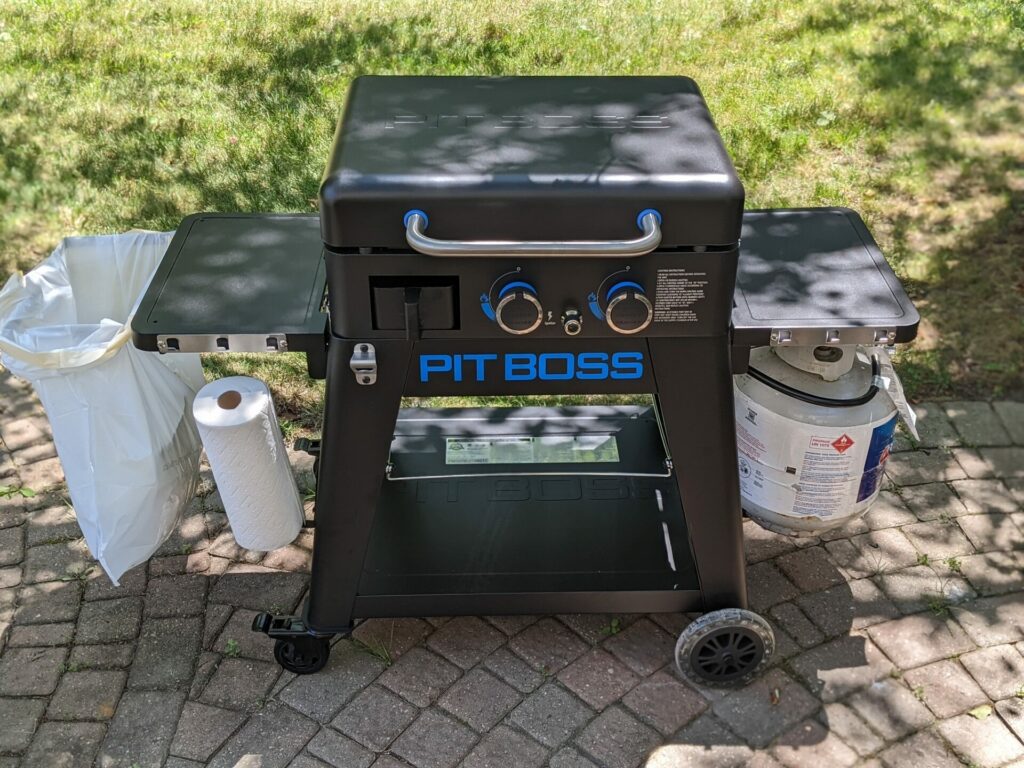 Pit Boss Ultimate Griddle Overview
While there's a standard Pit Boss griddle, they also make a top of the line series called the Ultimate Griddle. Depending on your needs, it comes with 2 to 5 burners, a non-stick griddle surface and some other great features.
Features
Non-stick ceramic cook surface
Lift-off cook top
Stainless steel gas burners
Removeable grease tray
Folding side shelves with tool hooks
Paper towel holder and a trash bag holder
Summary
Pros
Lift-off cook top makes it the perfect camping griddle
Non-stick for easy cleanup
Shelves, paper towel holder and trash bag holder make a great cooking area
Knobs have a quality feel to them
Cons
One of the side shelves doesn't feel sturdy
Wish it was a little taller when it's in the cart
Although a portable griddle, it's heavy
Camping Griddle
While there are a range of size options, if you're looking for a portable griddle to take camping we'd recommend the double burner griddle. While that's what we tested for this review, the options will be the same through the 4 burner model.
When we're talking about camping, we're talking about driving your vehicle up to a campsite and staying there. The cooktop on the 2 burner griddle weighs 55 lbs, so you wouldn't want to hike very far with it. To make it easier to carry around, the cast iron cooking surface slides right off, so you could move it separately. This Pit Boss flat top grill also uses 20 lb propane tanks, which is great for reliability, to save money and reduce waste, but they're not exactly light.
Cooking on the Portable Flat Top Grill
Size
With 421 square inches of cooking area, the Pit Boss Ultimate Griddle is a great size for 2-4 adults. I give the range because it depends on what you're cooking. Most dinners would be easy to cook for 4 people, where breakfast gets a little tighter. If you're going all out with bacon, hash browns, eggs and pancakes you'll have to work in stages to get it all done.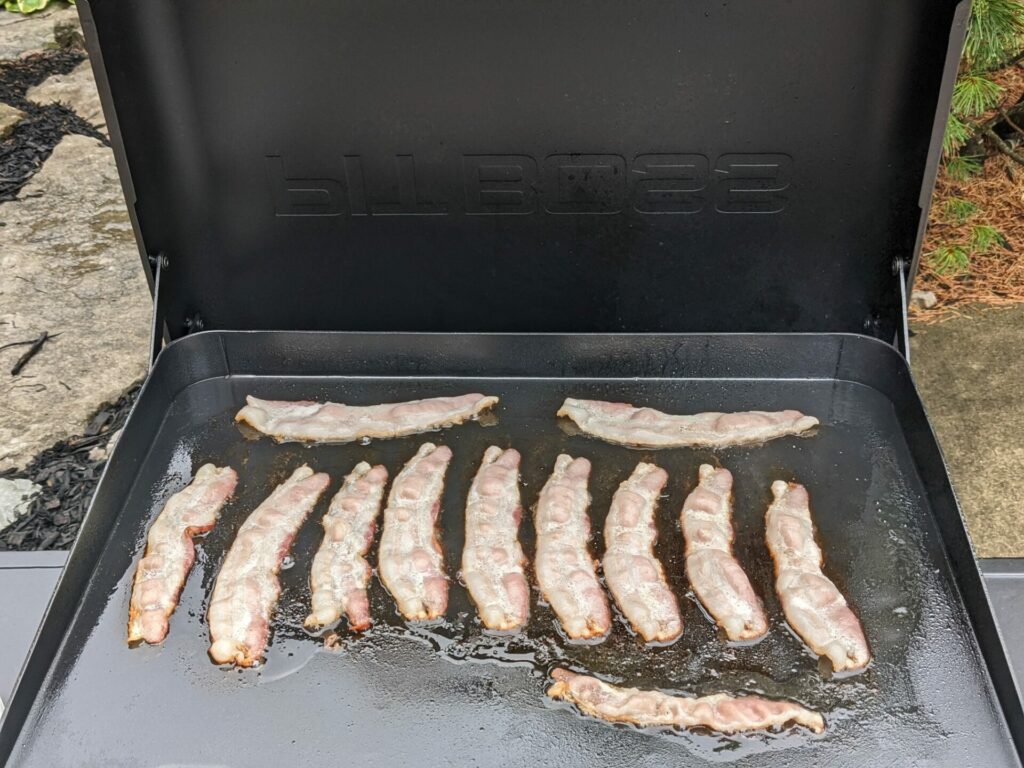 The surface area is much bigger than if you get a small portable griddle for camping. It's way better to cook on, because it cuts the amount of time it takes to cook. Breakfast can take forever on one of those little camping griddles.
Burners
The double burner griddle has stainless steel burners with a battery powered ignitor. We found lighting them to be very quick and easy. The burner on the right is a straight tube, while the burner on the left has an oval shape to cover the cooking surface on the left side of the griddle.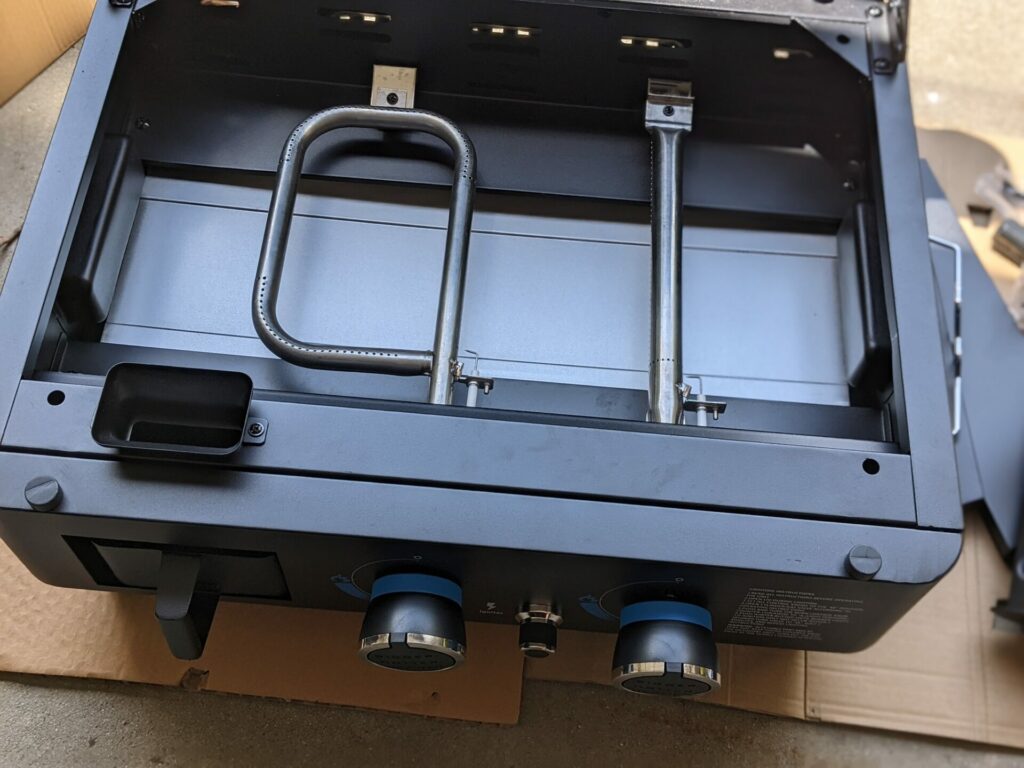 Like pretty much all griddles on the market, the corners are cold spots on the griddle. You can use them to keep things warm and out of the way. The middle in-between the two burners is the hottest area. It takes a few cooks to get a feel for your griddle top temperature zones to know what food to put where.
Tips and Tricks
A big benefit of this Pit Boss flat top grill is it has a non-stick surface. Much like your non-stick pans though, that means no metal tools. Pit Boss just came out with a tool set specifically for this that works well. We also use some tongs for cooking and a wood scraper for cleaning it.
For cooking oil, we found success with avocado oil. It has a smoke point of around 520 degrees F, so it's much higher than olive oil. The higher smoke point is perfect for the temperatures found on a griddle.
Another feature that's nice for using this as a camping griddle is the griddle top has leveling screws. No picnic table has ever been level in the history of the world, so this helps keep all the oil and grease from pooling in one spot.
When using this portable gas griddle at home on the included cart, there are some great features for a self contained cook station. While the portable flat top grill itself has a bottle opener, the cart has two folding side shelves for prep, and a garbage bag holder to keep the area clean. There's also a paper towel holder to give you everything you need to cook and cleanup.
If you're camping to save packing space or to save a little money, rather than using a basting dome, a foil serving pan works just fine. Just be careful when you pick it up from covering your eggs or melting the cheese on your burger. It'll be hot, so lift it with a spatula and then grab it with something to protect your hand.
What We Didn't Like
Either due to a manufacturing defect or a poor design, the folding shelf on the left side of the griddle didn't feel sturdy on the one we tested. You can see in the picture below that the pin the holds it up only extends part way over the support on the shelf. When any weight is put on the shelf, it flexes and feels like it could fall. While it feels that way, we pushed down on it a little to test it and it never actually failed. It's not exactly confidence inspiring though, so we didn't put cooked food on that side. If dinner fell because the shelf collapsed that would be pretty aggravating.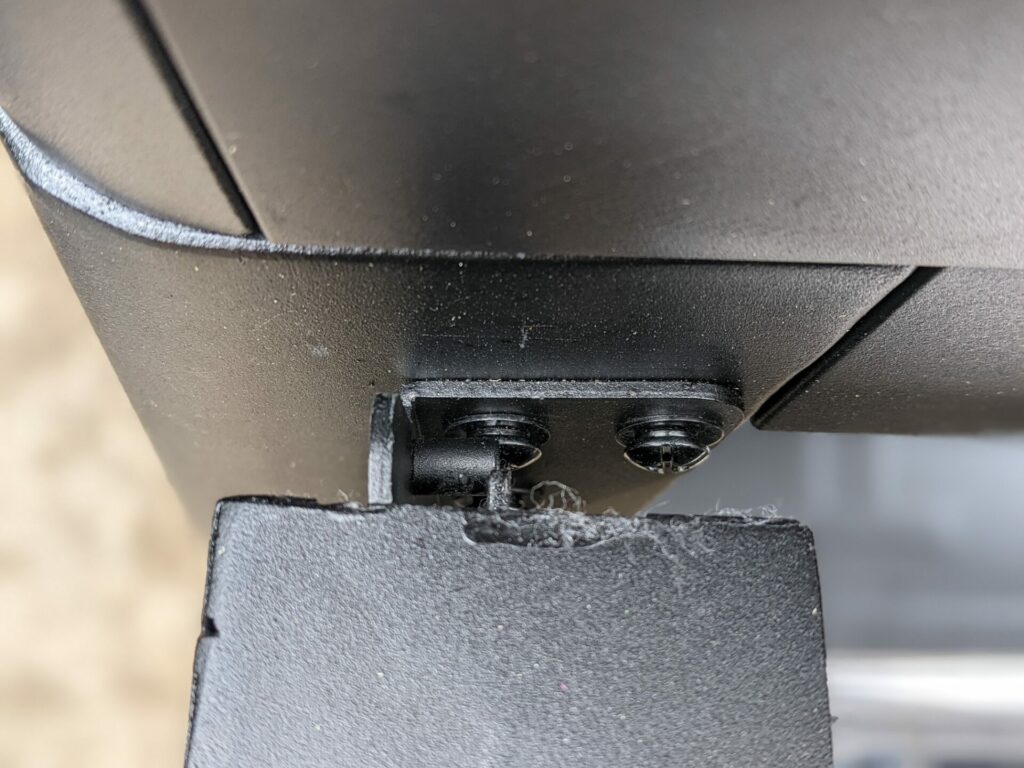 Another complaint we had is the height of the griddle felt pretty low when in the cart. If you're taller, you'll notice that you're bending down when cooking something that requires quite a bit of attention. Your back will be ready for the big breakfast to be done cooking.
Conclusion
The 2 Burner Pit Boss Ultimate Griddle is great for cooking at home and perfect for a camping griddle. The fact that it can lift off the cart to become a portable griddle makes it so versatile. If you've wasted tons of time cooking at a campsite on a little camping griddle you'll appreciate the ease of cooking on this and enjoy the time saved. While not without faults, this Pit Boss flat top might be the ultimate griddle.