Disclosure: This article may contain affiliate links. If you buy a product through an affiliate link, we may receive a commission at no cost to you.
As Solo Brands noted last week, their innovative product launches are driving sales for them. They've released a bunch of new products recently like the Mesa tabletop fire pit and the Tower pellet fueled patio heater. Now they've released yet another new product, a pizza oven that goes on top of their Solo Stove fire pits called Pi Fire.
Features
Retail price of $269.99 to $479.99 but they're on sale so check the price
Fits the Ranger, Bonfire and Yukon fire pits
Comes with the pizza oven, a carrying case and gloves
Has a large opening to make turning your pizza easier
Uses a removable cordierite stone for heat retention
Has embedded handles to make it easier to move
Includes a lifetime warranty for manufacturing defects
Solo Stove Accessories
While Solo Stove released a stand alone pizza oven earlier this year, the Pi Fire is a great accessory to enjoy their fire pits more. There are now quite a few Solo Stove accessories that add versatility to the fire pit, including the recently released Surround. They have a history of listening to what their customers want to develop new products.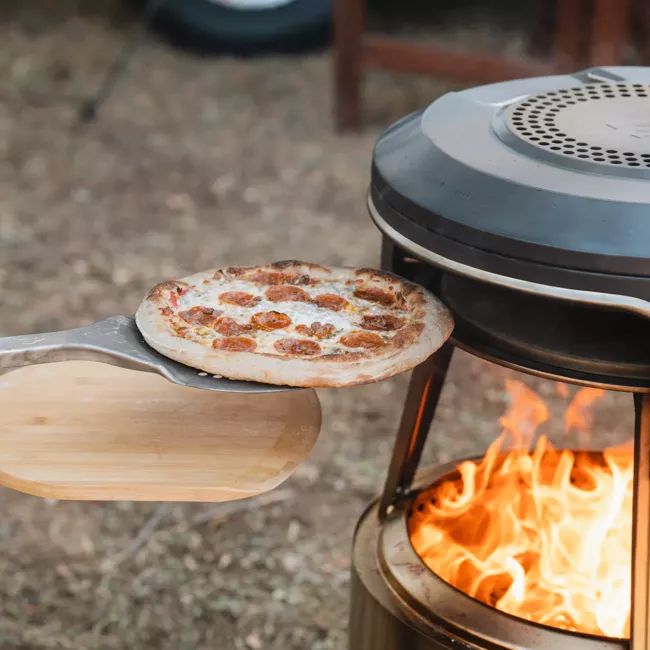 In addition to the Pi Fire, Solo Stove is also selling a turner and peel that you'll need to have to make pizza. While we'd recommend an IR temperature gun for any pizza oven, it's even more critical for this because the temperatures will be less predictable than a purpose built oven.
For those that don't want to mess with making pizza dough, we'd recommend Solo Stove's Pi Supply dough. We've tried it and it tastes and performs great.
Summary
It's great that Solo Stove keeps coming out with new products to enjoy the outdoors. As you'd expect, the fit and finish looks great on it. The Pi Fire pizza oven is a welcome addition to the Solo Stove ecosystem that they're building.