Disclosure: This article may contain affiliate links. If you buy a product through an affiliate link, we may receive a commission at no cost to you.
While Solo Stove is known for their large smokeless fire pits, like the popular Bonfire, they recently released a mini tabletop fire pit called the Solo Stove Mesa. It's part of Solo Stove's push in other outdoor products such as a patio heater and a flame resistant blanket. The Mesa has dual fuel capability with pellets or wood and features the same Signature 360° Airflow as the larger fire pits. We tested it out to see how it performed.
Features
Retail price of $119.99, but it's always on sale, so check the price
Comes in your choice of 304 stainless steel or 5 different ceramic coated colors
It's 6.8 inches tall and 5.1 inches in diameter and weighs only 1.4 lbs
Summary
Pros
Great for ambiance or roasting marshmallows
Comes with everything you need
Priced well for what you get
Cons
Novelty of it may wear off
Can be hard to forage for the right sized sticks
What Comes in the Box?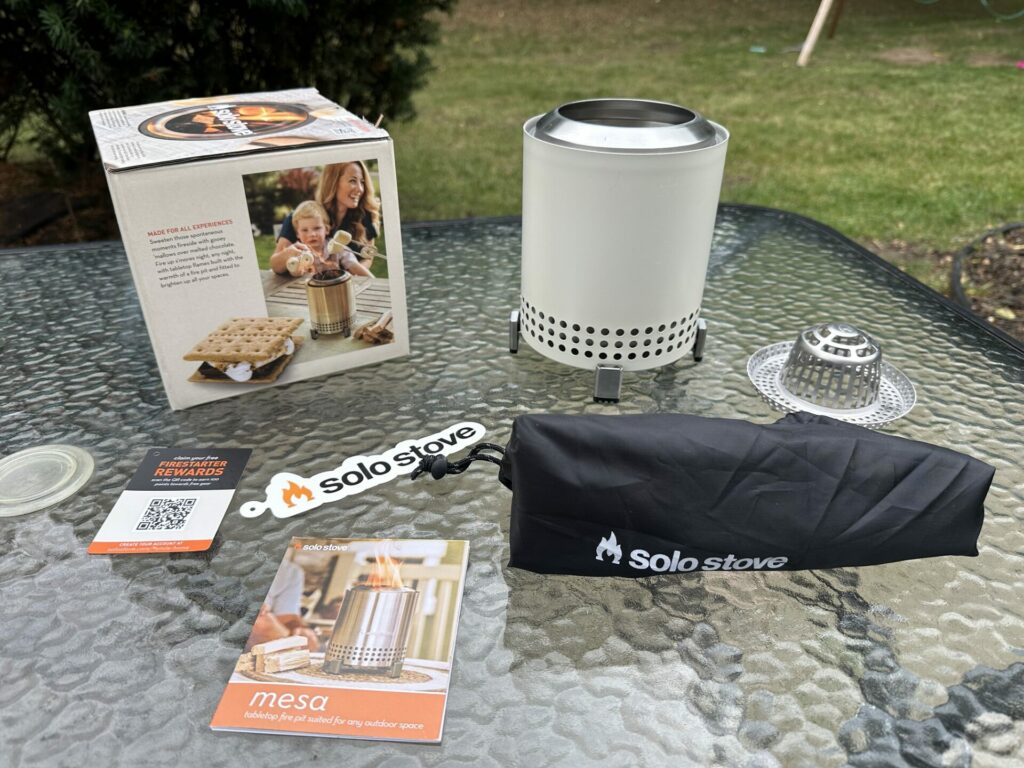 What's nice about the Solo Stove Mesa is it comes with everything you need to good going. In the box there's the fire pit itself, a collapsible stand that fits inside the fire pit for storage, an adapter for burning pellets and a carrying bag.
Pellets vs. Sticks vs. Mini Oak Firewood
There are three choices to fuel the Solo Stove Mesa and we tested all three out. Our favorite was using the Mini Oak Firewood that Solo Stove sells and we'll tell you why.
Wood Pellets
Building a fire with wood pellets is really easy with the Mesa. You put a fire starter under the pellet adapter, fill the fire pit with pellets and then light the starter.
What was nice about this method is we didn't have to look around for the right size sticks to break for the fire pit. From cooking with pellet grills, we have tons of wood pellets always on hand, so we didn't have to buy anything. For those that don't have a pellet grill, a bag of pellets is pretty cheap at any hardware store or Amazon. Heating pellets are around $0.25 a lb and BBQ pellets range from $0.50 – $1 a lb and come in 20 lb bags. Either would work fine, so it's whatever you can easily find.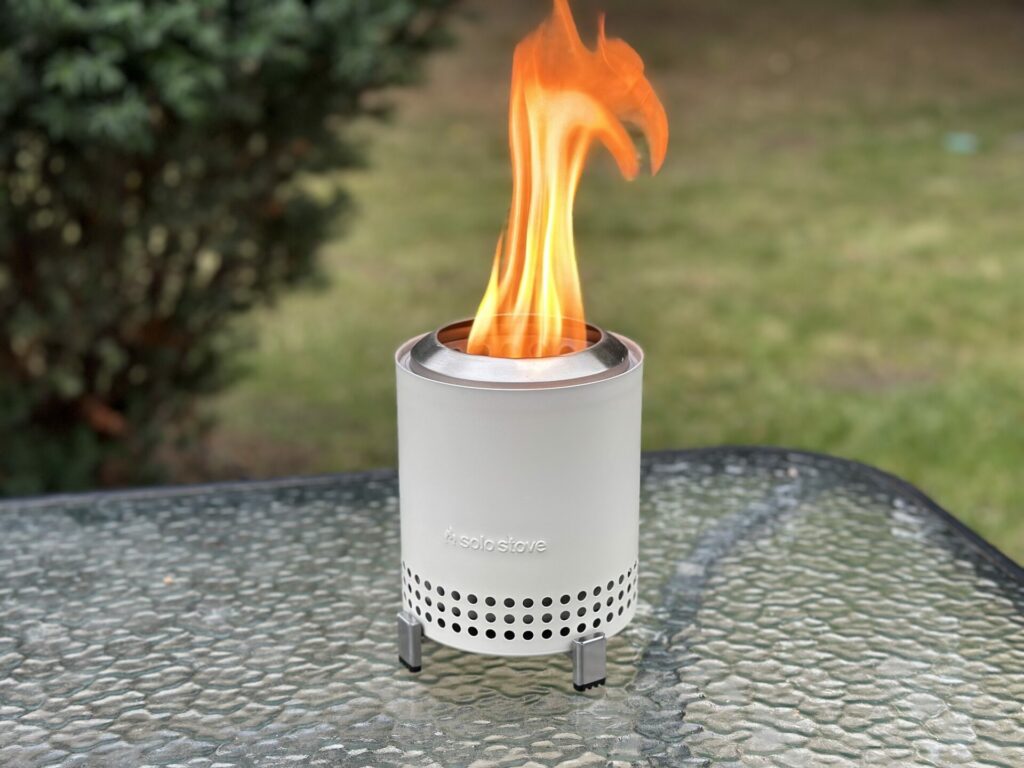 What we didn't like about using wood pellets is since the fire pit is we found that the pellets go from flaming to shouldering and smoking and very quickly. You have to pay more attention to fire management and keep feeding it pellets. Once it goes out while using pellets, you have to put another fire starter and more pellets to get it going. It doesn't really get a nice bed of embers.
Sticks
By far the cheapest source of wood for the Mesa tabletop fire pit is sticks around your yard. To use this fuel source, before using the fire pit gather up all the sticks you can find. You want ones that snap easily because that means they are dry. Ones that bend have too much moisture content and will make smoke.
Once you've gathered sticks of all thicknesses, break them up into small pieces. You don't want the wood to extend past the vent holes in the top of the Mesa inside, so use that as a guide of the size. The skinny sticks you'll use as kindling to start the fire and the thicker ones you'll use as fuel to keep the fire going.
What's nice about using sticks is it's free and if you have kids, they have a fun time gathering sticks for the Mesa. What we didn't like is after a few uses, you'll run out of sticks in your yard, especially if you don't have many trees. Also, it's not convenient to have to find sticks and break them up every time you use them.
Mini Oak Firewood
Along with the Mesa, Solo Stove sells boxes of Mini Oak Firewood. They retail for $44.99 for a box, but are always on sale so check the price. The mini oak firewood is what it sounds like, it's a box of oak firewood that's been split, kiln dried and cut to size for the Mesa.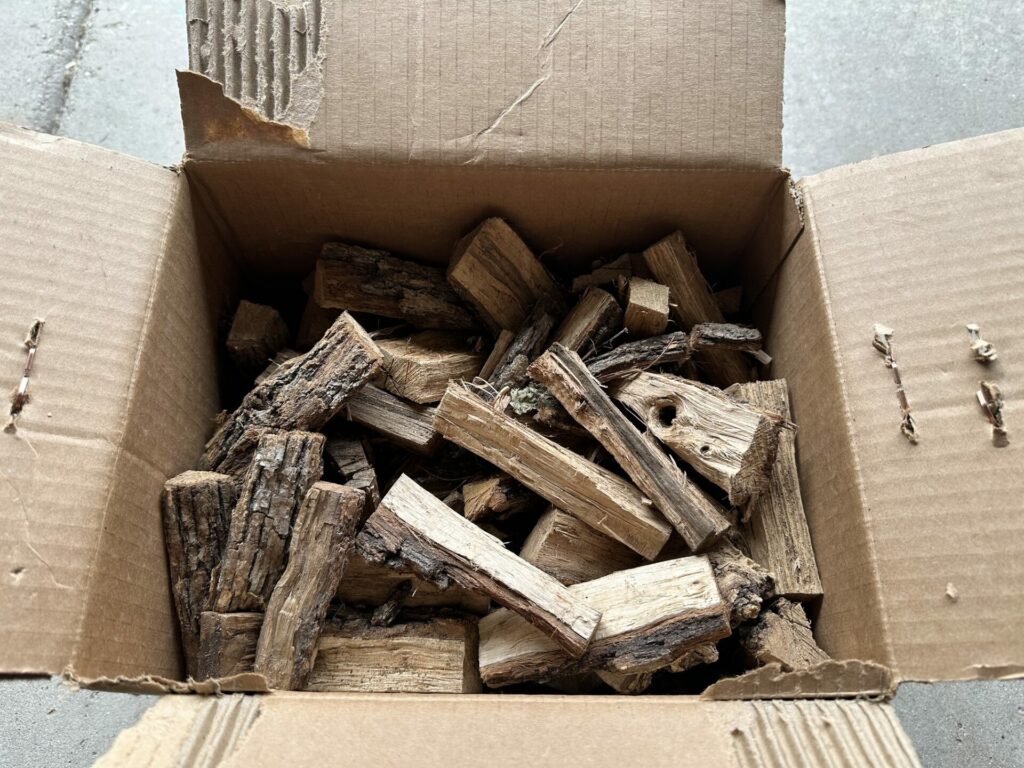 Why this is our favorite fuel source is it was the most convenient. For a tabletop firepit you don't want much prep or fire management. You just want to light it for ambiance or a few marshmallows and enjoy it. The mini oak firewood makes it so you're ready to go immediately. Just start the fire with a fire starter or some kindling and then feed it with the oak.
We also found it easier to keep the fire going with the mini oak because it creates a nice bed of embers. If you're distracted and the flames go out, just throw in a small piece of oak (they're different sizes in the box) and it will flame back up, unlike the pellets.
The downside to using the oak is it's one more thing to buy. Fortunately, the Mesa doesn't use that much wood, so a box should last for a while.
Great Tabletop Fire Pit
The Solo Stove Mesa worked great as a tabletop fire pit. It's priced well and it works just as advertised. It provides a little extra ambiance when you're outdoors and is great if you have a small space where you can't have a larger fire pit.
We were a little apprehensive about putting it on a table for worry that it would burn the area underneath, but it didn't. The stand did it's job and kept it cool to the touch under the fire pit.
Time will tell if the novelty of the Mesa wears off. While we haven't gotten sick of it yet, maybe you can only eat so many s'mores? I think key to using it over time is getting the mini oak firewood and fire starters to keep it not much harder than lighting a candle. Plus, it's at a good price point where if we do get bored with it, at least it wasn't a big purchase.
Tips and Tricks
Fire Starters
While you can break up small sticks to get your fire going, we recommend using fire starters. Solo Stove sells some on their website or Amazon that we tested and work well, we also tried some that we had from grilling that worked. There are plenty of options on Amazon to choose from.
While it may feel like you're cheating to use a fire starter, it just makes it easier, so you're more likely to use it. Plus, if it goes out while you're chatting with friends, you don't want to fumble with it to get it going again.
Color Packs
One thing Solo Stove is known for is making many different accessories for their products. One product they sell is Color Packs which use chemicals to change the color of the flame on your Mesa. Since the Mesa is mostly for ambiance, these are perfect for it. They have a retail price of $29.99 but like all the other products, are always on sale, so check the price. Each bag comes with 10 color packs.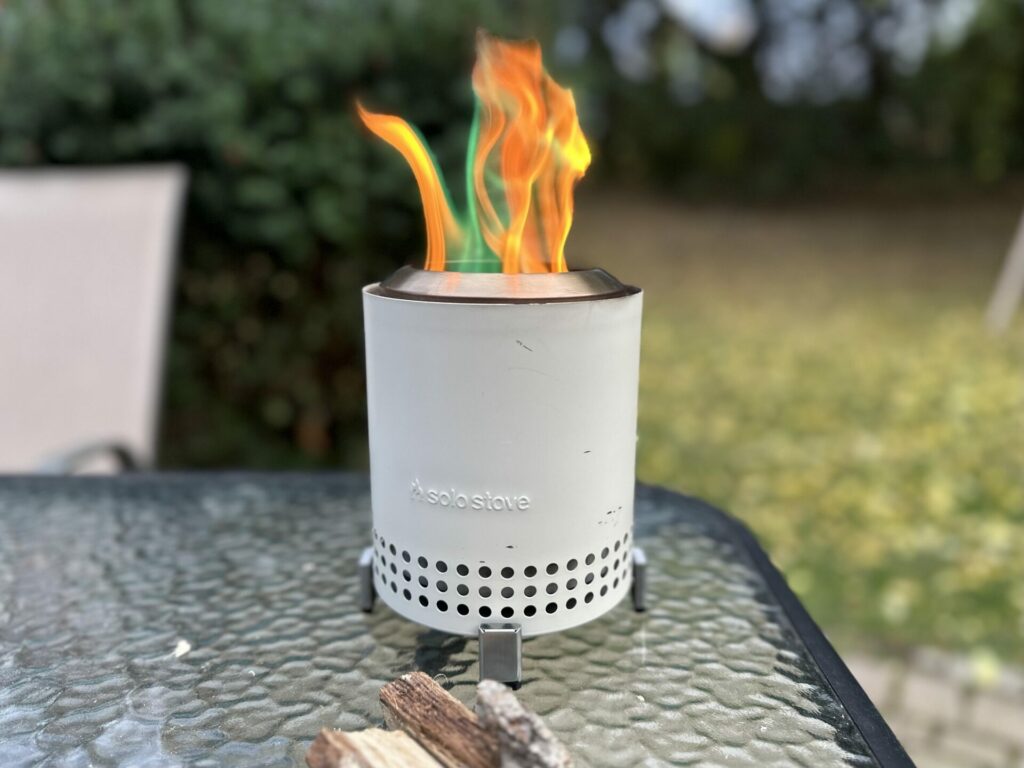 You can use the Color Packs in any Solo Stove products, so they're large for the Mesa. To use them, get the fire going for a little while, then fold the color pack and put it in the fire pit. The Mesa is small, so you'll likely have to use a stick or poker of some kind to push it down in the fire pit. Then you can add more wood on top as needed.
The Color Packs are made out of Copper Sulfate, Sodium Chloride and Potassium Chloride to change the colors of your flame. These are all chemicals, so hold off on cooking on your Mesa while you're burning one.
Other Options
If you want a tabletop fire pit, but the Solo Stove Mesa isn't right for you, there are some other options. If you want something bigger, check out the BioLite FirePit+. If you're worried about the novelty of the Mesa wearing off, check out the BioLite CampStove 2+. It's technically a camp stove, so it has other uses and you could use it as a tabletop fire pit. Plus, it has a cool thermoelectric generator, so you can keep your phone charged while using it.
Summary
If you're looking for a tabletop fire pit to create some ambiance outside, it's hard to beat the Solo Stove Mesa. Not only is it a great fire pit, but Solo Stove makes complimentary products to give you an effortless experience.