Disclosure: This article may contain affiliate links. If you buy a product through an affiliate link, we may receive a commission at no cost to you.
The smokeless fire pit market is really hot right now with plenty of options. The category leader, Solo Stove, makes a great fire pit but not without some complaints and annoyances. One of the most innovative is the BioLite FirePit+ (click link to check price) with air jets to improve combustion. With most imitators following the Solo Stove design, we were excited to do a BioLite FirePit+ review when they offered to send us one.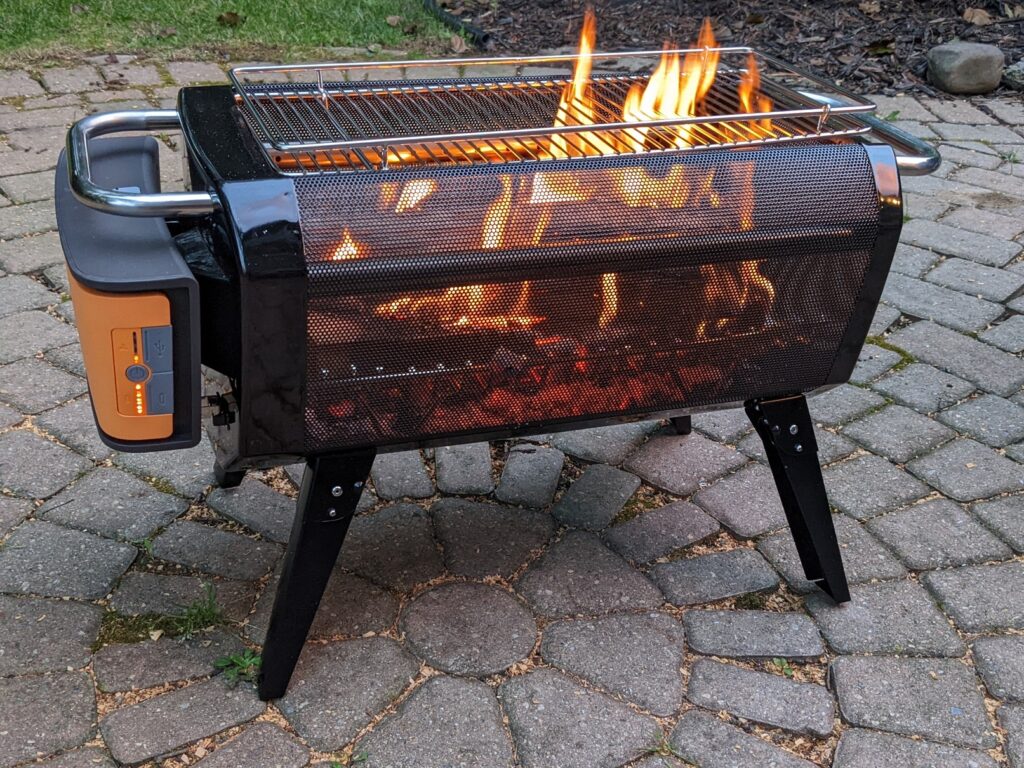 We found the FirePit+ to be very versatile and a fire pit with many uses because of its design.
Summary
Pros
Rectangular fire pit design makes it easy to fit wood
It has a battery pack, so it's an electric fire pit to control airflow and charge your phone
It's a good size to be a portable fire pit and take with you camping
It's size, shape and included legs means it would be a good table top fire pit if you buy the right heat protection accessories
It come out of the box with a fire pit grill and has industry leading features and accessories to make it even better
Cons
You need the right wood and a little practice to get that smokeless fire that you want
Most times when you open the app to control the fan you have to click to reconnect
Features
Retail price of $299.95 (click link to check price)
You can use fire wood or charcoal – charcoal is helpful for cooking or getting your fire started
High-temp enamel coating for durability
12,800 mAh battery that gives you 30hr of burn time with the fan on low, 14hr on medium, and 7hr on high
It weighs 19.8 lbs
Foldable legs for added portability and storage
The battery pack charges from a Micro USB input and has a USB A output port to power your phone or other electronics
Rectangular Fire Pit
Most of the wood burning fire pits in the market have a circular shape. While they look aesthetically pleasing, it also means that unless you get a larger fire pit, fire wood won't easily fit in it. Fire wood comes in a standard 16″ length when you buy it, so on many smokeless fire pits (like the Solo Stove Bonfire) you have to cut the wood down to have it fit properly.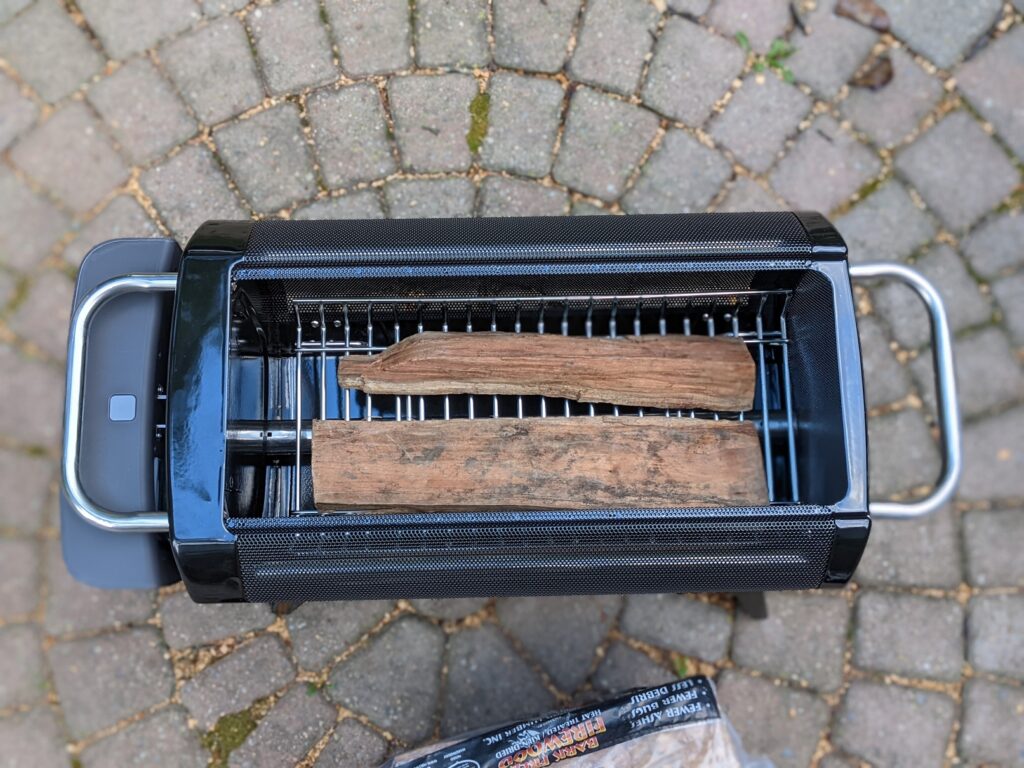 The BioLite FirePit on the other hand is a rectangular fire pit, so it's easy to fit firewood in it without over stuffing. This makes building a fire much more convenient.
Electric Fire Pit
What makes the FirePit unique, compared to others in the market is it's powered by a 12,800 mAh USB rechargeable battery. The battery powers a variable speed fan the distributes air through tubes into your fire. It has enough power to run the fan for up to 30 hours. The fan has 4 speeds and can connect with your phone via Bluetooth and the BioLite app to control it. It also can be controlled by a button if you don't have your phone handy.
What's helpful about having a fan distributing air to your fire is it gives you another way to start and control your fire. With a Solo Stove the only means of controlling a fire is by adding or moving wood. Having an electric fire pit controlling a fan, you can feed air into it for easier starts, stoke the flames on low, or crank it up to high for less flames but maximum heat. It also helps burn out the fire when you're ready to go to bed by increasing the airflow and speeding up the burn.
The fan is also what makes this fire pit smokeless. A fire makes smoke when there's incomplete combustion, in other words, not enough oxygen to burn the fuel completely. The forced air increases the amount of oxygen, thereby making it smokeless. We were able to achieve a smokeless fire using kiln dried wood.
It also has a USB port to charge electronics, like your phone, while using your electric fire pit. That's helpful if your in the middle of nowhere camping, or if you want to listen to music in your backyard and keep your phone charged.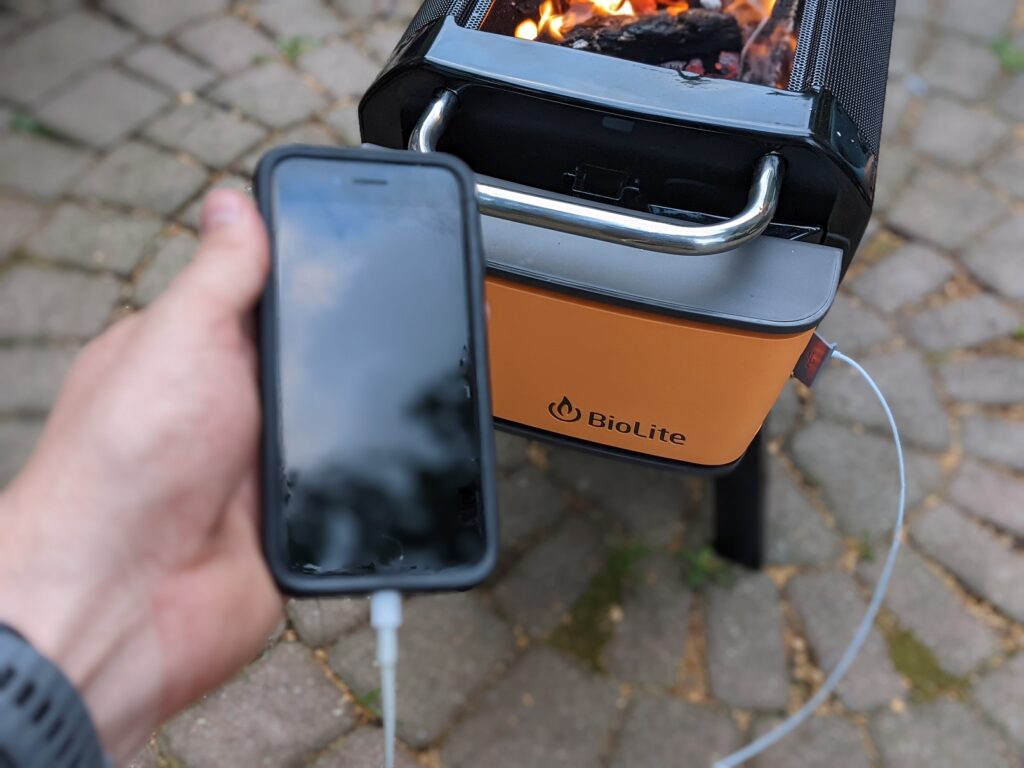 Portable Fire Pit
The FirePit+ is equipped with sturdy metal handles to move it around, and it's a great size to take places. It also has foldable legs to make it an even more portable fire pit. That's a common complaint with the Solo Stove, if you get the Bonfire or Yukon they're a little bulky to carry. You also need to buy a Handle accessory on the Solo Stove that attached inside of the fire pit.
The FirePit+ is the right size for up to 6 people in the backyard, much more than that and you might find it a little small. It's also a good design and size if your looking for a table top fire pit. You'd probably want to buy the FirePit FireMat accessory if you plan to use it for that, which is a heat deflector for the FirePit. Like with any table top fire pit, make sure the surface you're using is appropriate. If you're looking for something a little smaller, check out the Solo Stove Mesa.
Fire Pit Grill
Unlike the Solo Stove, where you have to buy a grill accessory, the FirePit+ comes standard with a grill. It has a great design because of the way it slides on and off. The grill is cantilevered, so when you slide it open to add more fuel it won't fall off because one side is attached. This makes adding more fuel easy and you don't have to worry about your food ending up in the dirt.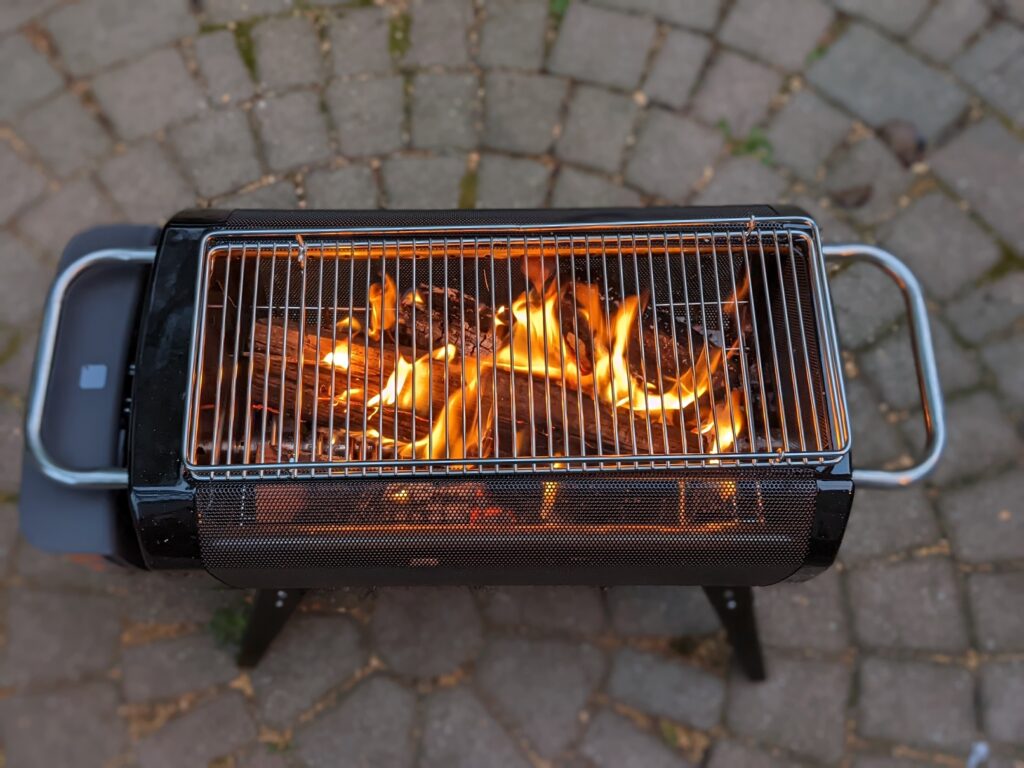 If you plan on doing more cooking than occasional cooking, we recommend getting the FirePit Cook Accessory Set which includes a griddle, a grill lid, grill tools and a poker. While this review is focused on using the FirePit+ as a fire pit, check out our review of why it may be the best fire pit grill.
Cons
We really like the BioLite FirePit+, but that's not to say that it's not without some negatives as well. There's nothing though that would make us not recommend it, because it's a great product.
Smoke Less Fire Pit
While the whole category that the FirePit fits in is "smokeless fire pits", it's hard to not get any smoke. It has much less smoke that a standard fire pit, but having very dry, kiln dried wood is important to get smokeless results. We found that not all kiln dried wood was created equal when testing out the FirePit. You'd notice that by the weight of it.
Connectivity
This is a little nitpicky but most of the time when you open the app to adjust fan speed, you have to go through the connection process. It's only a few screen touches in the app, and we never had trouble connecting, it just was a minor annoyance to not have it stay connected. I think this was more noticeable though because we were playing with the fan quite a bit, which wouldn't happen with normal use.