Disclosure: This article may contain affiliate links. If you buy a product through an affiliate link, we may receive a commission at no cost to you.
To compete with Solo Stove and Breeo, grill maker Pit Boss released a fire pit (product link) last fall, but with a twist. Like many of its grills, the Pit Boss fire pit can run off wood pellets.
Benefits of a Wood Pellet Fire Pit
The ability to run off pellets adds convenience and control to the fire pit experience. When wood pellets are manufactured, they are moisture controlled, which should help with popping that happens with wood. It also means that beyond the smokeless design of the fire pit, it'll be less smoky by nature (less moisture = less smoke).
Another benefit of using pellets for the fire pit is it will be more predictable. Beyond moisture content, the wood type, size, shape and density are all controlled on wood pellets. That means that you'll have a better idea of how much fuel you need for your fire.
How the Pit Boss Fire Pit Works
You pour a couple inches of pellets into the fire pit, then use a little fire gel (link to Pit Boss' gel) and light it. This will give you embers in less than five minutes. The gel fire starter is clean-burning, so it doesn't give off any harmful smoke. A 40-lb bag of wood pellets will give you several hours of burn time and you can also use wood chips or wood chunks. We've found Pit Boss pellets to be cheapest at Walmart (click to check price) but you may be able to find high quality pellets for heating for even cheaper.
Construction
The Pit Boss fire pit has a heavy duty four-piece construction. It has an exterior burner shell, an integrated ash pan, a removeable windshield and an 11.5″ burn chamber. As a comparison to the Solo Stove Bonfire, it's about 3″ wider in diameter on the outside and about 4″ taller. It's also about 14 lbs heavier at a total weight of just over 34 lbs.
How it's Smokeless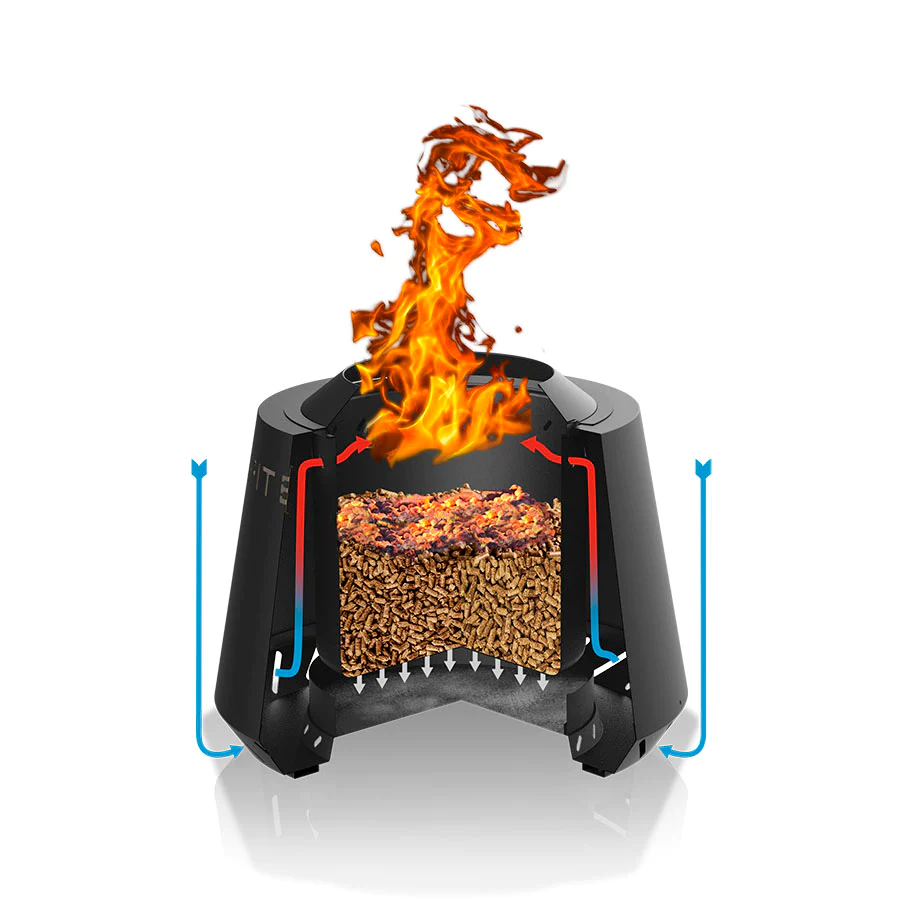 All smokeless fire pits on the market work with the same basic method. The area with the wood is well ventilated for the primary fire and then there are holes at the top of the burn chamber for a clean, secondary burn. Holes on the bottom of the outside of the fire pit draw in cold air, that's heated as it goes up the fire pit in between the exterior shell and burn chamber. That heated air is what feeds the secondary burn and is mostly smokeless.
Summary
The Pit Boss smokeless fire pit is a great option if you're in the market for a fire pit. It looks a little different with its flat-black appearance and it operates a little different by using pellets (although it doesn't have to). We like that about it. Now if Pit Boss would put a pellet hopper and auger on it for full control, we'd really be in business!