Disclosure: This article may contain affiliate links. If you buy a product through an affiliate link, we may receive a commission at no cost to you.
If you're in the market for a pizza oven and looking for alternatives to popular ovens from Ooni and Gozney, then Bertello may have what you're looking for. Bertello rose to fame for having their 12 inch pizza oven on the NBC show Shark Tank. We tested their 16 inch Bertello Grande to see if it was a serious contender in the competitive pizza oven market.
Features
Retail price of $549.99, but often on sale (check price)
Cooks pizzas up to 16 inches
With 27,000 BTUs, it heats to over 900 degrees F in less than 15 minutes
Can be heated with propane, wood (chunks, charcoal, or pellets) or both
Summary
Pros
Less expensive than other dual fuel pizza ovens
Reaches temperatures well over 900 degrees F
Good customer service
Cons
Has a homemade look to it
Learning curve not to burn your crust
Pizza oven arrived damaged
First Impressions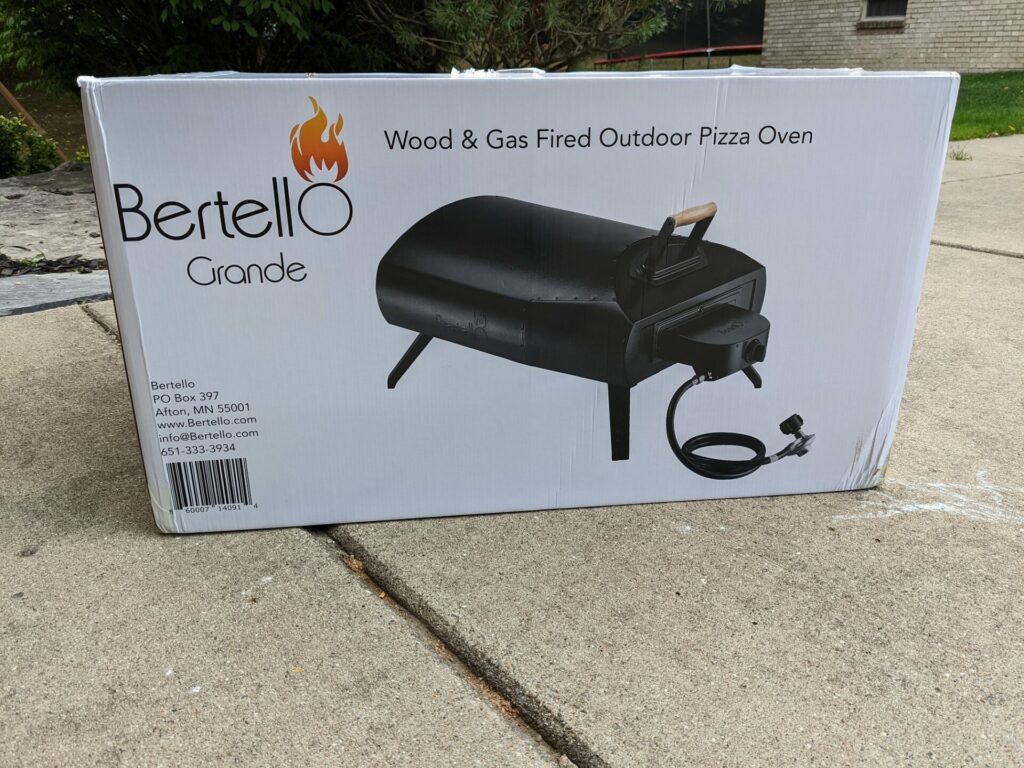 The Bertello Grande pizza oven arrived well packaged in the box to survive transit. Upon taking it out, our first impression was that while we like the features, it does feel a little homemade. The heavy use of exposed rivets, the instruction manual that looks like it was created in Microsoft Word and the adhesive rubber feet on the bottom of the legs that were falling off all add to this. Plus, ours arrived with a small spot of damage, despite the box being in good shape – more on that later.
Operation
Heat Under the Stone
The Bertello pizza oven operates a little different than the other pizza ovens on the market because the gas burner sits underneath the pizza stone. This makes the stone heat up quickly and keeps it hot, so you don't have a heat up period in between pizzas. The only downside is it takes a little practice to get nicely cooked pizzas without burning the bottom of the crust.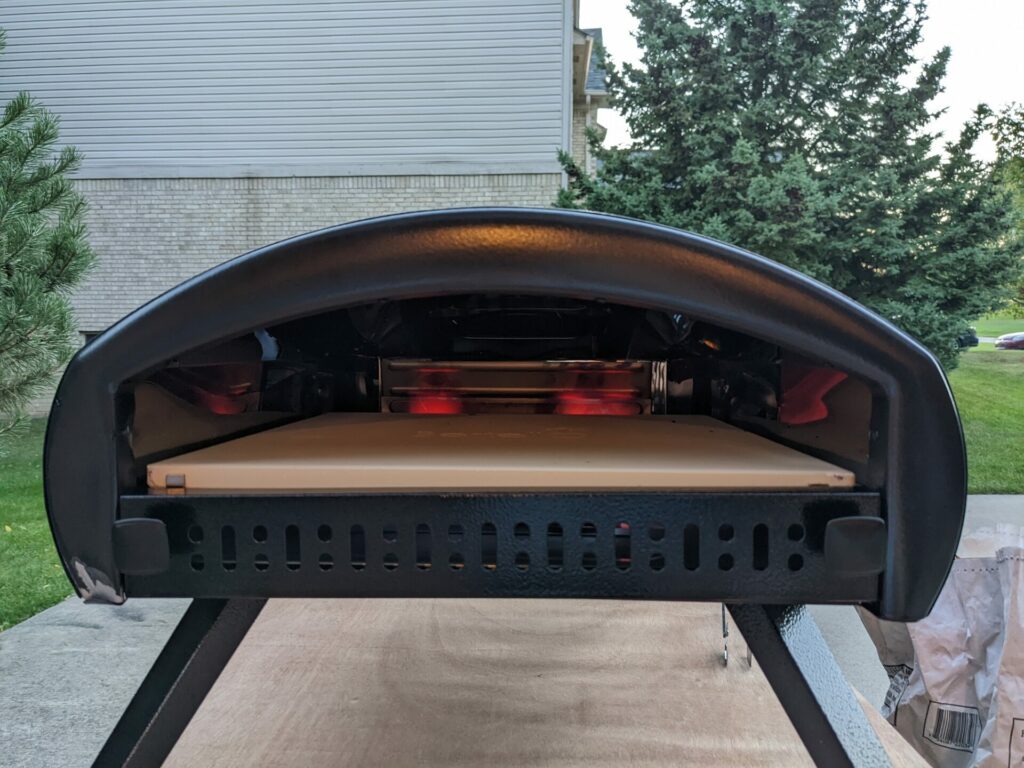 In the back of the pizza oven there's also a metal tray, that you access through the back of the pizza oven, to put wood, charcoal or pellets. This is great for getting a little more flavor on your pizza or any other food you want to cook. It's convenient to use too because the burner touches the metal tray, so you just load the fuel in the back and the burner will ignite it.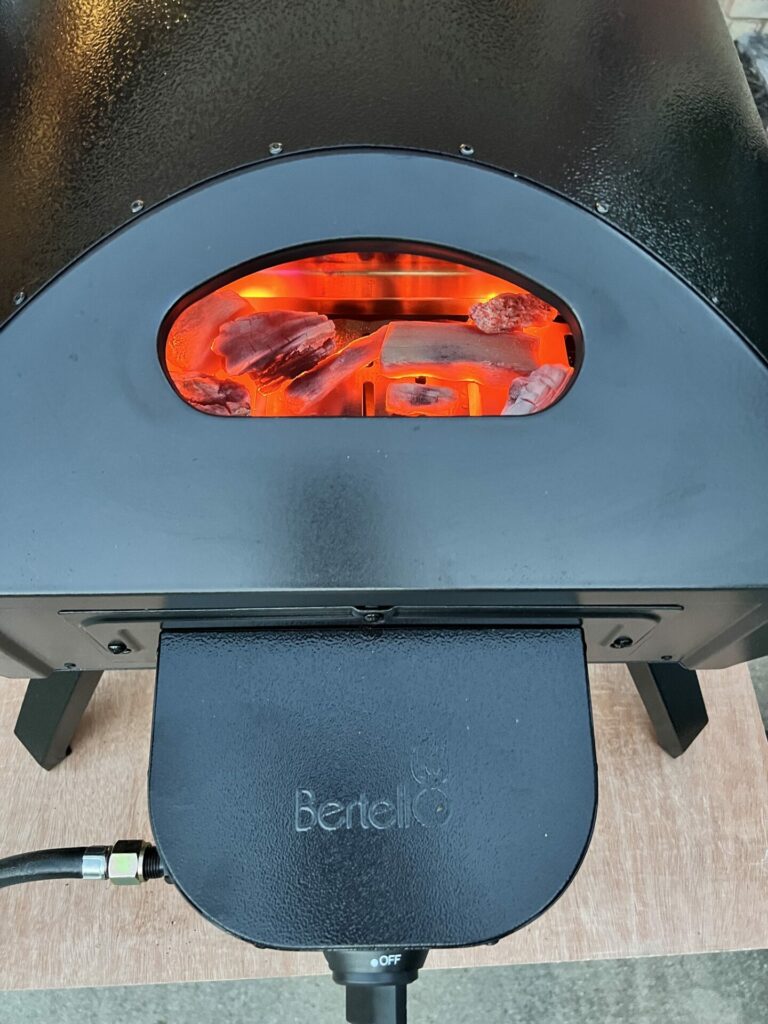 Reaches Claimed Temperatures
It would be hard, if not impossible, to hit 900 degrees F just with wood fuel. With using propane for heat, and then adding wood or charcoal to the back you can easily hit 900 degrees though. We often registered temperatures north of 950 degrees F, where we turned the gas down a little because we didn't want it too hot.
Choosing a Pizza Oven
12 Inch Pizza Oven vs. 16 Inch Pizza Oven
When shopping for a pizza oven, like the Bertello, one of the biggest choices is 12 inch vs 16 inch. If you're newer to making pizzas, the 16 inch is a better bet. You'll have to launch the pizza in off a peel and be able to turn it during cooking. Having the extra space makes those operations easier, so you can focus on the cook itself. Also, having the extra space is useful for cooking other food in your pizza oven. That being said, if the biggest factor is cost, a 12 inch oven will be cheaper and it's better to have a small oven than no oven.
Bertello Pizza Oven vs Ooni Pizza Oven
A big positive of the Bertello is it's much cheaper than an Ooni with similar features. If you want a dual fueled Ooni, you'd be looking at an Ooni Karu 16 which retails for $799. That's much more expensive than the Bertello.
A converse of that is the Ooni pizza ovens are much more polished. The Bertello feels a bit like someone made it in their garage. That's not to take away from its performance, just know that's one of the reasons that it's cheaper. When picking between the two ovens, you have to think about what's more important to you.
Bertello Customer Service
As you can see from the picture above, our pizza oven arrived damaged. The box was fine, but one of the corners on the front was bent with paint peeling off. It's a major annoyance when this happen because then you have to deal with customer service and figure out the magic of getting it back into the box. It also was annoying because we didn't notice the damage until the oven was being fired up.
We purchased our pizza oven from Amazon and when we contacted Bertello customer service they said to just request a refund and send it back. They also told us when the return window was up to make sure we knew when the deadline was to send it back. That aspect of it was a no hassle process at least.
Tips and Tricks
Pizza Oven Accessories
To use the pizza oven you'll need a few things beyond the oven itself. You'll need a pizza oven peel to take the pizza in and out of the oven and turn it. We tried the Bertello peel, which worked well and is reasonably priced.
You'll also need an infrared heat gun to measure the temperature of your pizza stone. Without one, you'll be just guessing if the stone is heated, by how much and if the heat is uniform. We used our ThermoWorks Industrial IR Gun which we've used when testing other products and works well.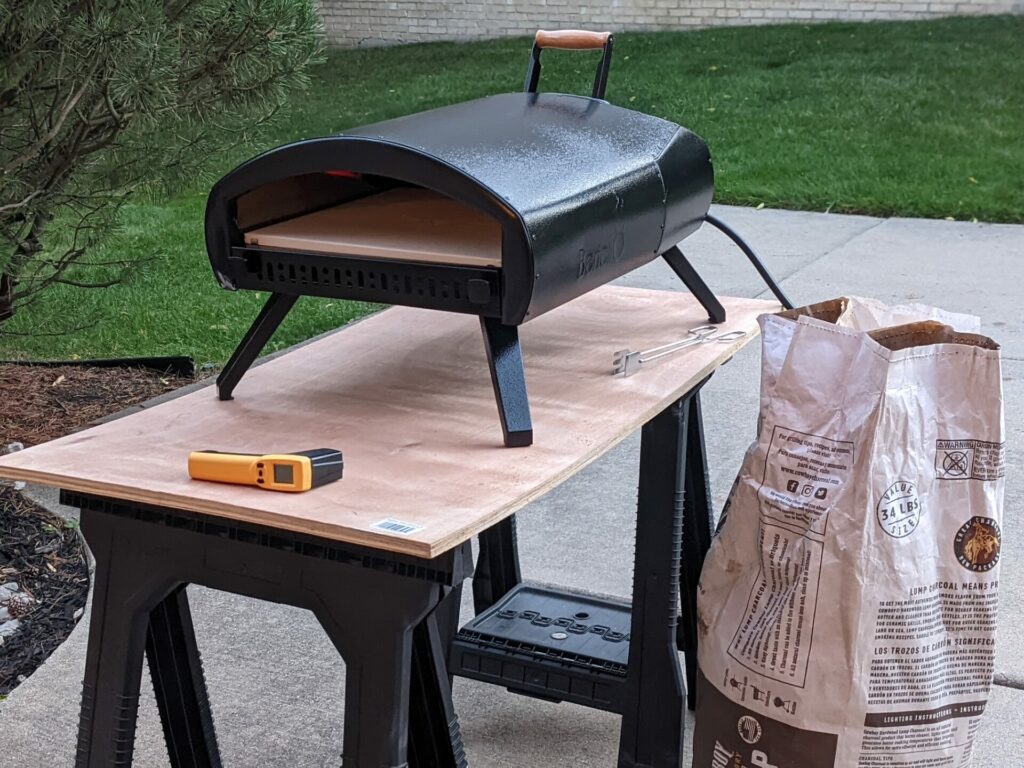 The last thing you need is a table to put the pizza oven on. We didn't have a great spot to test it out that already wasn't being used, so we built this beautiful artisan pizza oven table. It consists of two sawhorses and a sheet of plywood. It's not much to look at, but it did the trick.
Pizza Dough
While there are many great pizza dough recipes out there, we tested the Bertello with frozen dough balls from Solo Stove. They launched the dough as part of their Pi Supply products earlier this year and they tasted and performed great. It makes the pizza making process much quicker and easier because you just thaw the dough balls and they're ready to stretch.
Summary
The Bertello Grande pizza oven performed well, and made great pizza, it just looked homemade. If that doesn't bother you, it's a great option to consider. Likely yours will arrive in better shape than ours. If you want something a little more refined, best look at a competitor like Ooni.