Going through school, I always wondered why I had to have an updated math textbook for every class. Much of math hasn't changed for centuries, so why the need for a new edition?
While it may seem like an odd parallel, it's much the same for a charcoal grill. Unless you're buying the latest tech to run from your phone, fire and airflow hasn't changed since the beginning of time. Why can't a grill be designed with proper airflow in mind that will last for a ridiculously long time?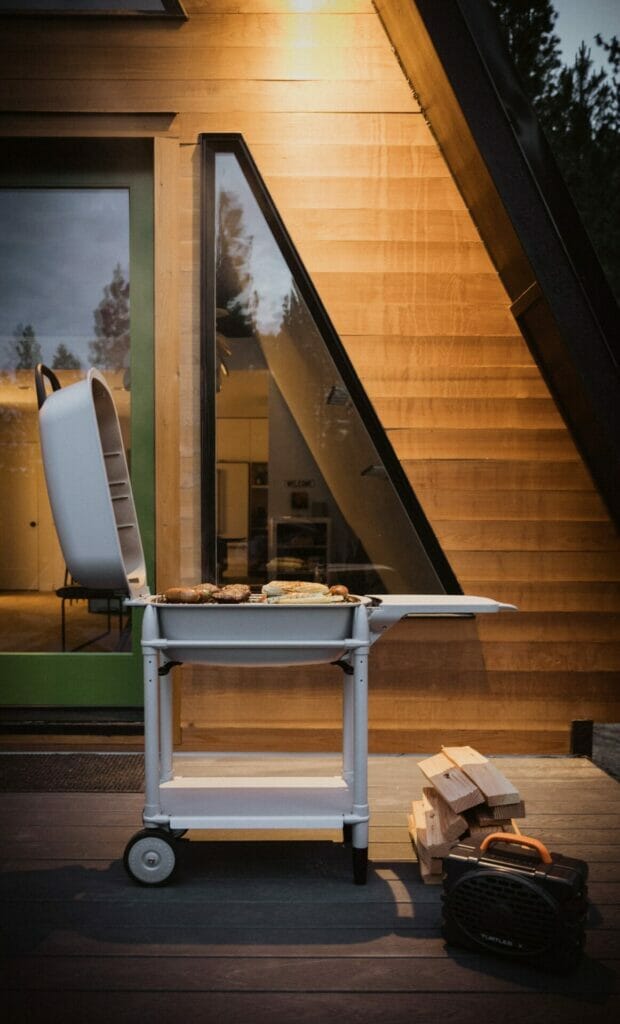 PK Grills, short for Portable Kitchen, is here to say that it can be. With four vents in the right places for airflow, and cast aluminum for superior quality and heat retention, they want you to pass your grill on to your kids. They're so sure it will last, that they even warranty it for 20 years.
To put that in context, "Get Busy" by Sean Paul was hot, Arnold Schwarzenegger was elected governor, and Lance Armstrong was winning in the Tour De France in 2003. If you got a PK Grill then, it would still be covered under warranty. That's a very long time.
Passing down the grill isn't just marketing either. Many PK owners today have grills that were passed down from relatives dating back to the 50's and 60's
Cult Classic
PK Grills doesn't just make grills that are high enough quality where they can be passed down, they are so good that you'll want to pass them down. It's what attracted co-owner Scott Moody to join the brand in 2014.
At the time the company was very niche, and owned by a local Little Rock, AR attorney named Paul James. He's the brother-in-law of another co-owner, Brian Taylor, who also joined in 2014. Brian had worked with Scott in telecom, and brought him the idea of investing in the company.
MY PARTNER BRIAN TAYLOR ASKED ME WHAT I THOUGHT ABOUT HIS BROTHER-IN-LAW'S GRILL BUSINESS. I'D NEVER HEARD OF IT LIKE A LOT OF PEOPLE, BUT I'M A MARKETING GUY BY TRADE, SO I TOOK A LOOK AT THE BRAND AND STARTED TO DIG AROUND A LITTLE BIT FOR CUSTOMER SENTIMENT. I WENT BACK TO BRIAN I SAID, "I FEEL LIKE THIS BRAND HAS SOME REAL POTENTIAL!" THE PEOPLE WHO USE THESE GRILLS REALLY LOVE THEM. YOU CAN'T FIND ANYBODY TO SAY A NEGATIVE WORD ABOUT PK GRILLS. THE REASON IS, WHILE THEY'RE A LITTLE EXPENSIVE ON THE FRONT END, THEY LAST FOREVER. PEOPLE KEEP THEM FOREVER; GIVE THEM TO THEIR KIDS. THEY'RE JUST REALLY EASY TO LIVE WITH AND COOK ON. YOU FALL IN LOVE WITH THESE THINGS, AND SO I JUST FELT LIKE THERE WAS SOMETHING THERE. A REALLY GREAT PRODUCT, AND A SOLID BRAND THAT NOT VERY MANY PEOPLE HAD HEARD OF. THAT COMBINATION OF ATTRIBUTES CONTINUES TO INTRIGUE ME.

Scott Moody, co-owner of PK Grills
Aluminum Construction
What makes PK Grills great to cook on is the same reason that they last forever. While other grills are made from thin steel that's stamped, PK Grills are all made of thick, cast aluminum.
For those not versed on manufacturing, stamping is like it sounds. A thin sheet of steel is put into a machine, and a giant press smashes it into shape. Casting is a different process entirely.
Aluminum is melted down at extreme temperatures into a liquid, much like what killed the future Terminator in Terminator 2: Judgement Day. It's then poured into a mold and cooled, so it takes the shape of the mold.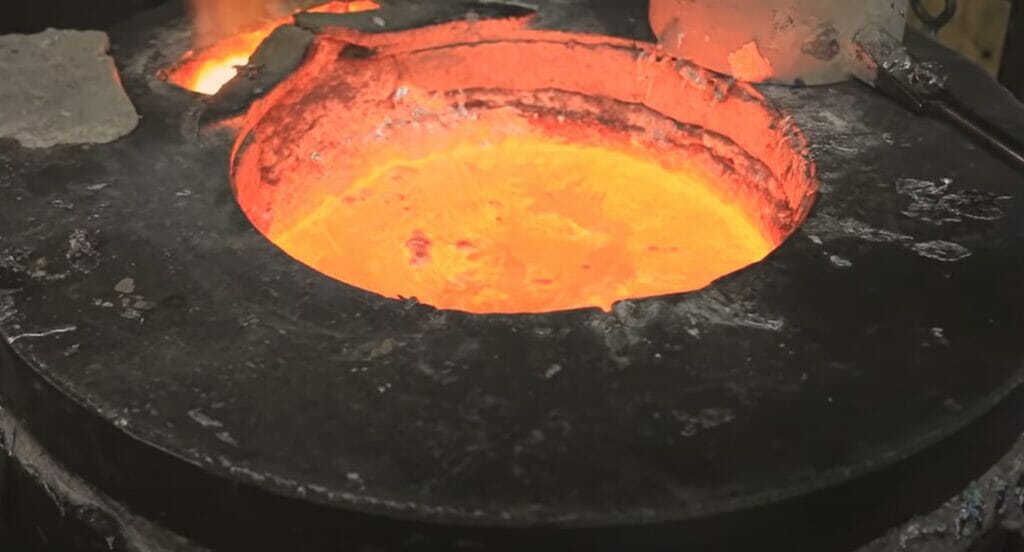 What you're left with is an aluminum grill, that has thick walls. It's aluminum, so it's lighter than steel or cast iron, and it has other properties that are superior to thin, stamped steel. Aluminum doesn't rust, which makes it last an extremely long time, plus it conducts heat four times better than steel.
The better conductivity helps keep uniform temperature in the grill, so it makes cooking much easier, with less mistakes.
Superior Air Venting
Beyond the aluminum construction, the venting system on the PK Grill is better than other grills on the market. The PK Grill has a rectangular shape with two vents on the top and two vents on the bottom.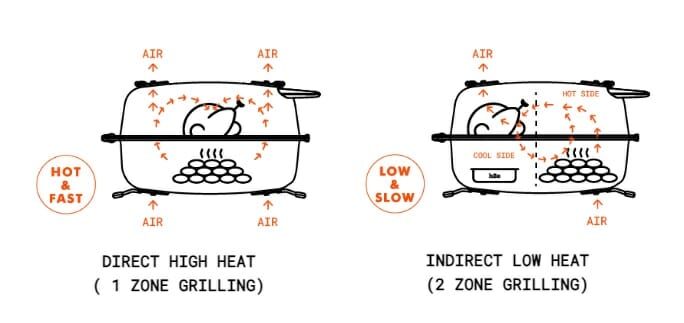 This makes it very intuitive to cook either with high heat, or an indirect heat setup (2-zone). That's something that isn't as easily, or efficiently accomplished with other charcoal grills on the market.
Popularity
The unique design and construction of the PK Grill is what has created a dedicated following. It's the go to grill for Steak Cookoff Association (SCA) events, so much so that it's the official grill of the SCA.
It's also a favorite of discerning chefs like Alton Brown and Aaron Franklin.
it's no small feat that we have an Aaron Franklin signature grill. it's not because we had tons of money to pay him licensing, it's because he respects the elegance and the simplicity of this grill. it's no small feat that Alton brown talks about our grills free of charge to millions of followers on YouTube or that he tweets about us. it's not because we've ever given him a penny, we haven't, it's because he appreciates the elegance and simplicity of this grill

Scott Moody, co-owner of PK Grills
Evolution of PK Grills
PK Grills has been around since 1952 when Hilton Meigs of Tyler, TX designed and manufactured it. He originally sold it as the "Portable Kitchen" out of the back of his car.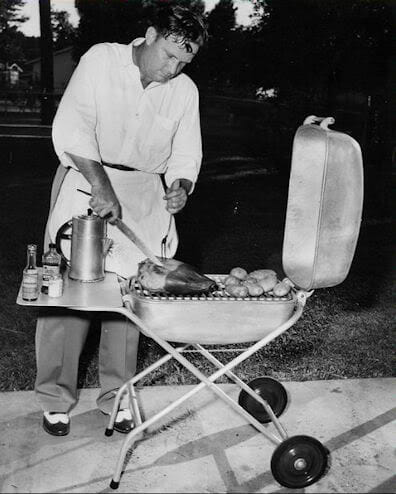 The brand has changed hands a few times over the company's long history, but what made it great back then, is still true today. In fact, even though they've updated the design to incorporate customer feedback on their PK 300, you can still get the PK Original, while supplies last.
When Scott Moody and the other new partners joined in 2014 is when the brand really started to grow and be re-invented.
one of the first things we did was we rebranded it. we worked with the logo to modernize it and we immediately rebuilt the website. We tried to make the website more friendly for direct to consumer sales. we also set about trying to just tell the story a little better

Scott Moody, co-owner of PK Grills
Not only did they work on updating the look and branding of PK Grills, they also developed some new products. All of their releases have been in the spirit of the Original PK Grill, with an aluminum construction that's made to last for generations.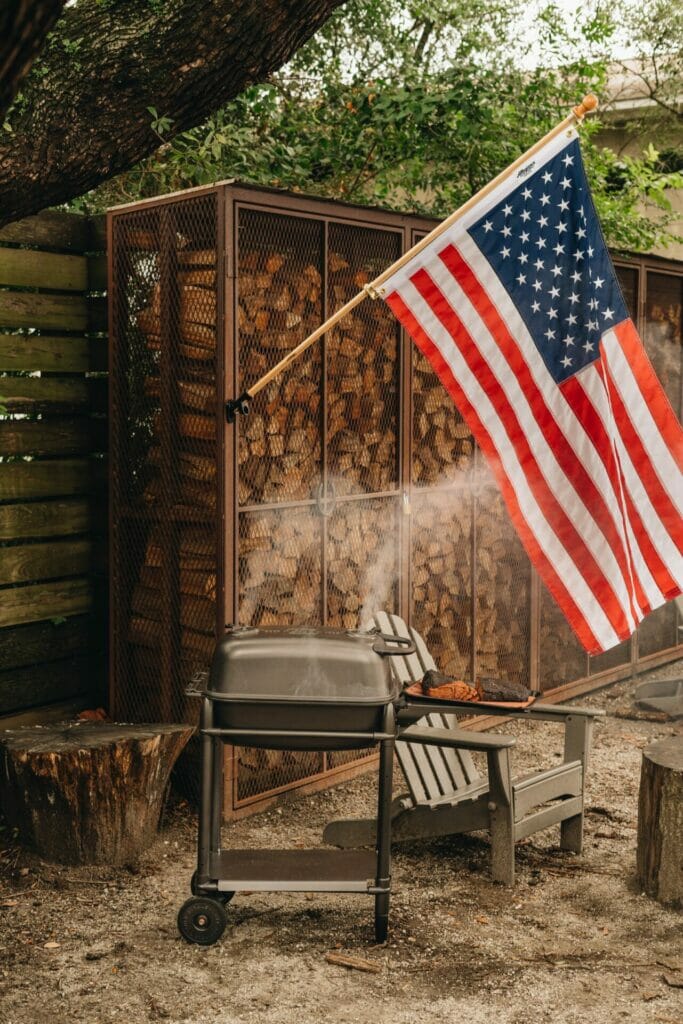 PK360
Debuting in 2016, the PK360 was the first new grill from PK Grills since the Original was introduced in the 50s. It is bigger than the Original, with 360 square inches of cooking area. It's also a taller grill with a grilling surface that's 34.2″ from the ground.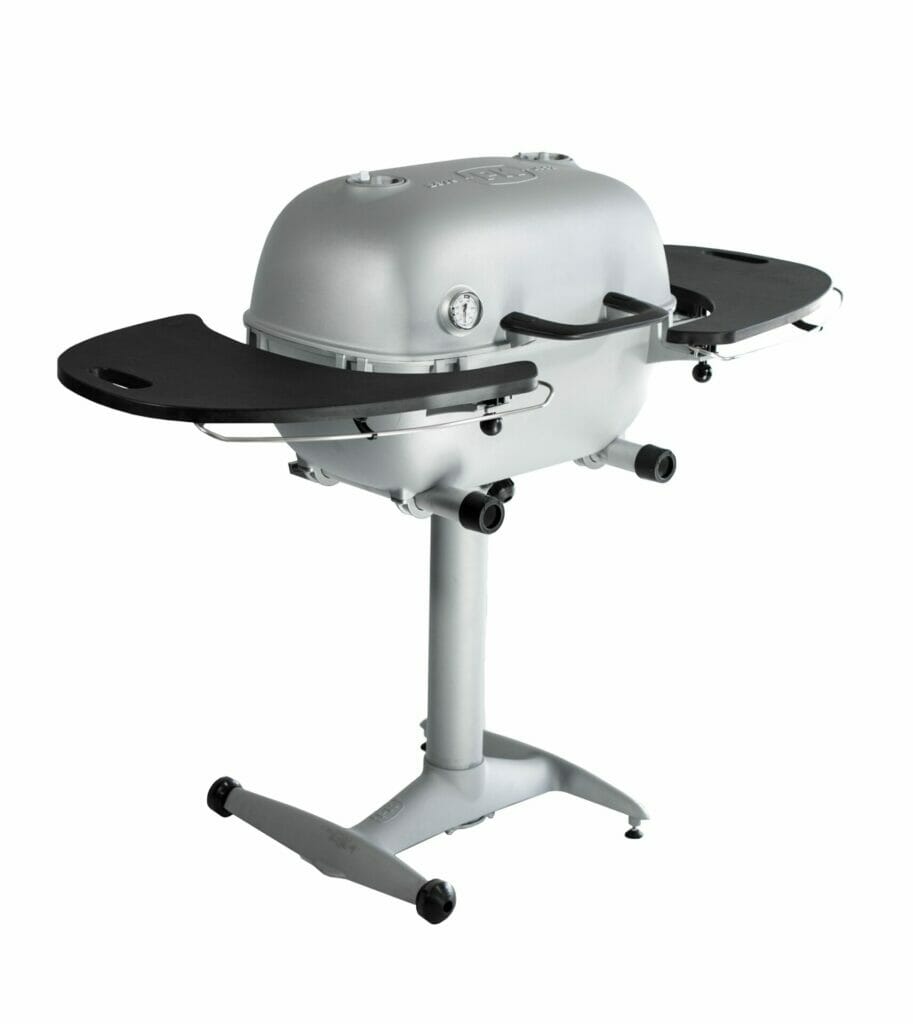 For reference, the PK Original has a grill height of 27.25″, and a Weber kettle is about the same height. The extra height on the PK360 is a welcome feature, especially if you're taller.
Unlike the Original that's lid is hinged on the side, the PK360's lid is hinged in the back. This makes space for a side shelf on both sides of the grill.
It also has radial style vents on the top, and knobs to control the vents on the bottom. This is a welcome improvement from the sliders found on the Original.
To complete the thought-out design, it includes a thermometer at grate level. That's a much better position that at the top of the lid, which is a common place on other grills.
PKGO
The PKGO came out in 2018, and takes what's great about the other PK Grills and puts it in a smaller package. It has around 200 square inches of cooking area, and still has four vents for a variety of cooking configurations.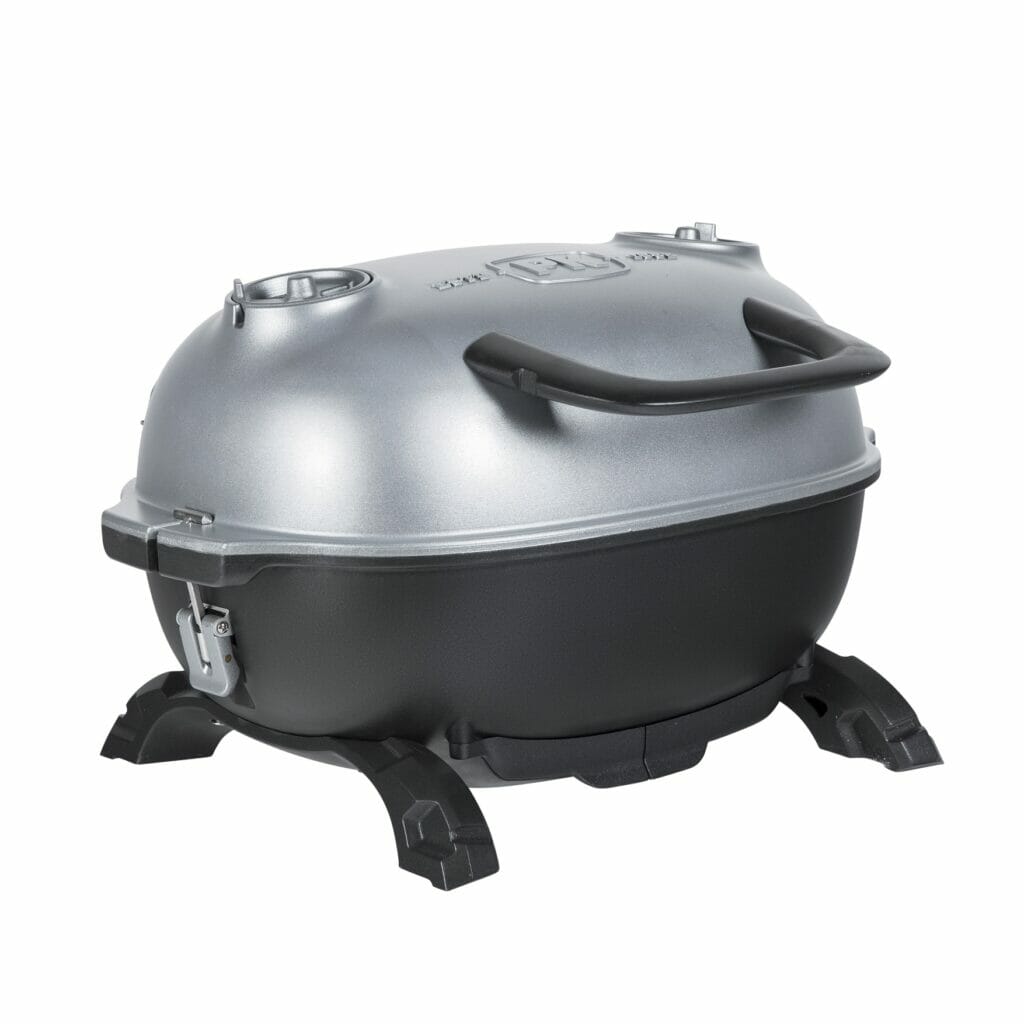 A neat feature with it is they have a kit so that you can cook in the lid to double the cooking area. This is great for high heat grilling.
Similarly, they sell the PKGO Hibachi, which is half of a PKGO. Instead of the top lid, it comes with a lockable cutting board cover. The PKGO and the PKGO Hibachi are not only great portable grills, they're a great entry into PK Grills products.
I have a PKGO Hibachi and it's one of my favorite grills. It will hit and hold over 700°F with just a 1/3 of a chimney of charcoal. It's really fun and easy to cook on.
PK300
The PK300 came on the market in 2020 as an updated version of the Original PK Grill. It incorporates the feedback PK Grills received on the Original to make a superior grilling experience.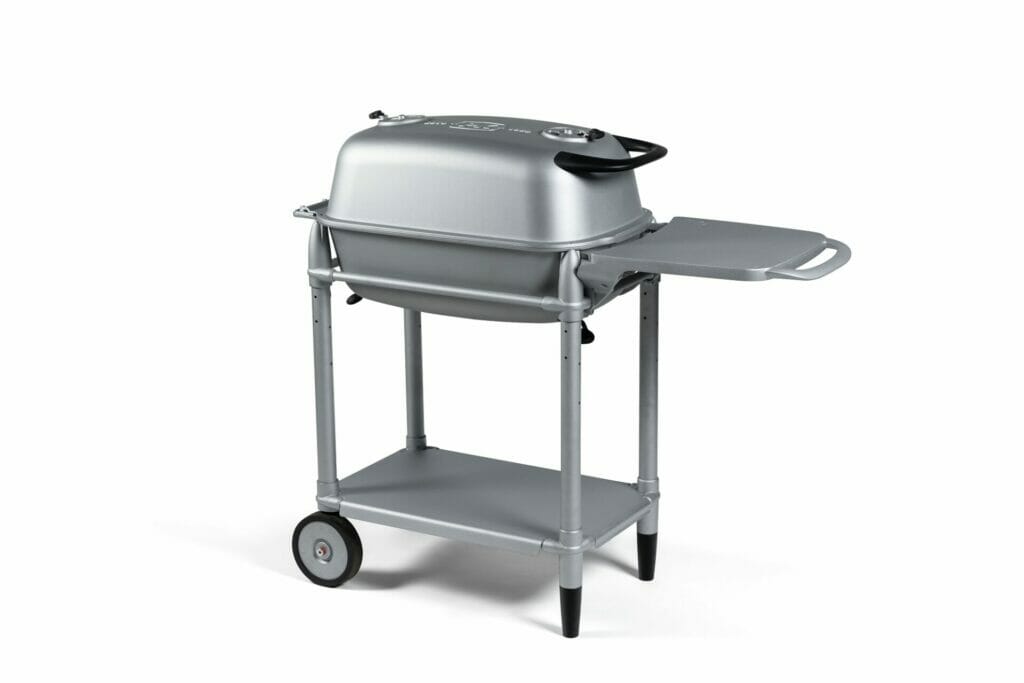 There are many tweaks, but the main ones are a 3″ taller working height, radial air vents, a better lid hinge design, and better ash containment leading to better airflow. It also has little improvements like a better seal, new wheels, more shelf space, and a few other ergonomic improvements.
Aesthetically, the casting of the aluminum also looks smoother than the original. If you like the look of the historic Original PK, they do offer the PK300 in the original silver.
PK300AF Aaron Franklin Edition
Aaron Franklin is such a big fan of PK Grills, that he worked with them to create his signature grill, the PK300 AF, that was released in 2021. You can learn about the grill and cooking on it through a series of YouTube videos and in his latest book, Franklin Smoke.
It takes the PK300 a step further, with more improvements to the already great design. The most notable enhancement is with storage space. If you're like me, when you're cooking outdoors, there's never enough space to put things.
This PK300AF has a a belly bar that's great for hanging towels or tongs, which ordinally take up a bunch of side shelf real estate. For grilling with the lid off, it also has an additional side shelf.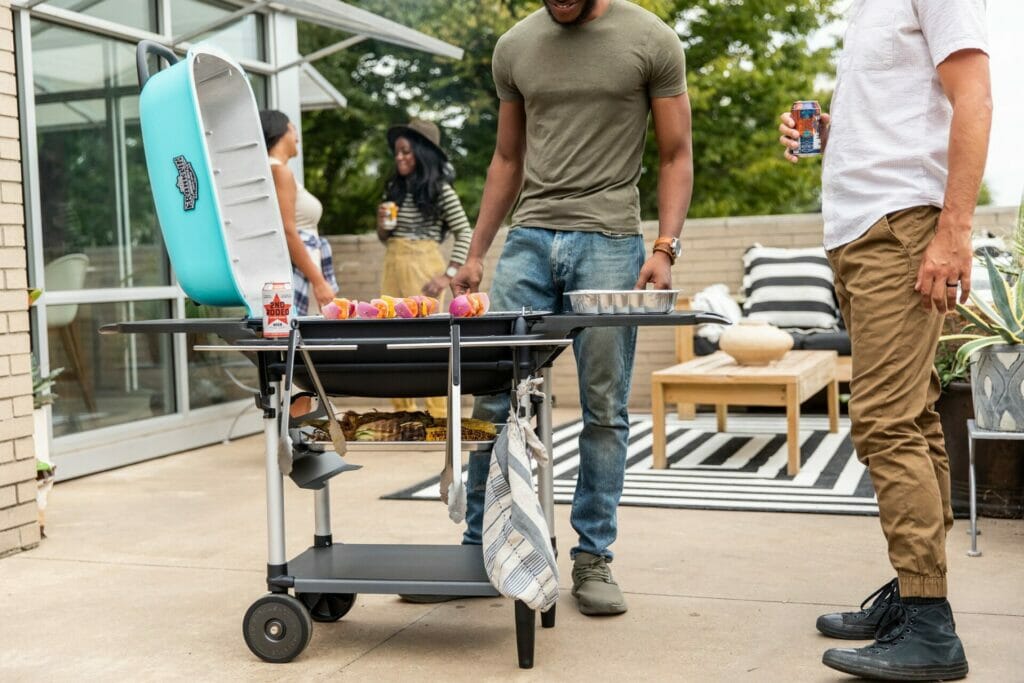 It has two speed racks, which offer easy access to sheet pans. These are nice for a variety of purposes. They're great for holding prepped food, cooked food while you're finishing grilling other food, or just about anything else. I've even used sheet pans for holding hot coals, when I need to ease off the fire a little bit.
The PK300AF also comes in unique colors, and a Franklin badge. I'm partial to the teal color because I have a sea of silver and black cookers.
PK Outdoors
PK Grills doesn't want you to have just the best grill in your backyard, they also want you to have the best of other outdoor products. Some other products that they offer for sale are a TURTLEBOX speaker and a Pitts & Spitts fire pit.
THE PK OUTDOORS IDEA STARTS WITH OUR BELIEF THAT THE PK GRILL IS THE BEST CHARCOAL GRILL THAT YOU CAN BUY, AND WE CAN SURROUND IT WITH OTHER "BESTS" THAT ENHANCE THE OUTDOOR COOKING EXPERIENCE. FOR INSTANCE, THE CO-BRANDED TURTLE BOX SPEAKER WE SELL ON OUR WEBSITE IS THE BEST AND COOLEST WATERPROOF OUTDOOR SPEAKER THAT YOU CAN BUY. WE TESTED IT AND WE BELIEVE THAT. WE'RE JUST IN THE EARLY DAYS HERE OF TRYING THIS IDEA OUT AND GETTING A CUSTOMER READ ON IT.

Scott Moody, co-owner of PK Grills
It's a cool idea to let customers know about other great products that they might be interested in. It also speaks to the PK brand, because other companies would be hesitant to promote products that could take wallet share from their customers.
Distribution
Distribution of PK Grills have been somewhat limited to online and specialty retailers. It's one of the reasons that their brand doesn't have the same name recognition of other brands with a dedicated fan base like Traeger or Blackstone.
if you're already selling a great pellet grill and you've got a great flat top and you've got a great assortment of propane powered grills, and you want the best charcoal grill, this is the one that you want. it's been around for 70 years and it's virtually unchanged. the formula is still thick cast aluminum, it doesn't rust, it conducts heat four times better than steel, and everybody who owns it falls in love with it.

Scott Moody, co-owner of PK Grills
If given the opportunity, and floor space at more stores, PK Grills would become more of a household name. They have a great story and the products to back it up.
I tell anybody that will listen, because I know not a lot of people have heard about PK grills, but if you want the best charcoal grill, and you want a grill that's easy to use and delivers that flavor that everybody wants from outdoor cooking you should really give this grill a try

Scott Moody, co-owner of PK Grills