When it comes to information about companies, you get the most when there's a change in ownership. It's unusual for that to happen multiple times in a short period of time, but that's the case for Weber. They IPO'd a year and a half ago, and they are currently being taken private. That's resulted in a wealth of information about the largest grill company in the world.
During Weber's recent cash crunch and ultimately, their decision to go private, they enlisted the help of the investment bank Centerview Partners to lead the process. The information of that process has been made public through an SEC filing. There's lots of information to unpack there, so we'll have multiple articles on it, with this being the first.
Weber Grill Unit Forecast
It's hard to get forecast data out of most public companies, but it's been even more rare as with grill companies as they've been struggling. Given the rare circumstances around Weber though, we were able to get the forecast that their management put together as they evaluated what to do with their company.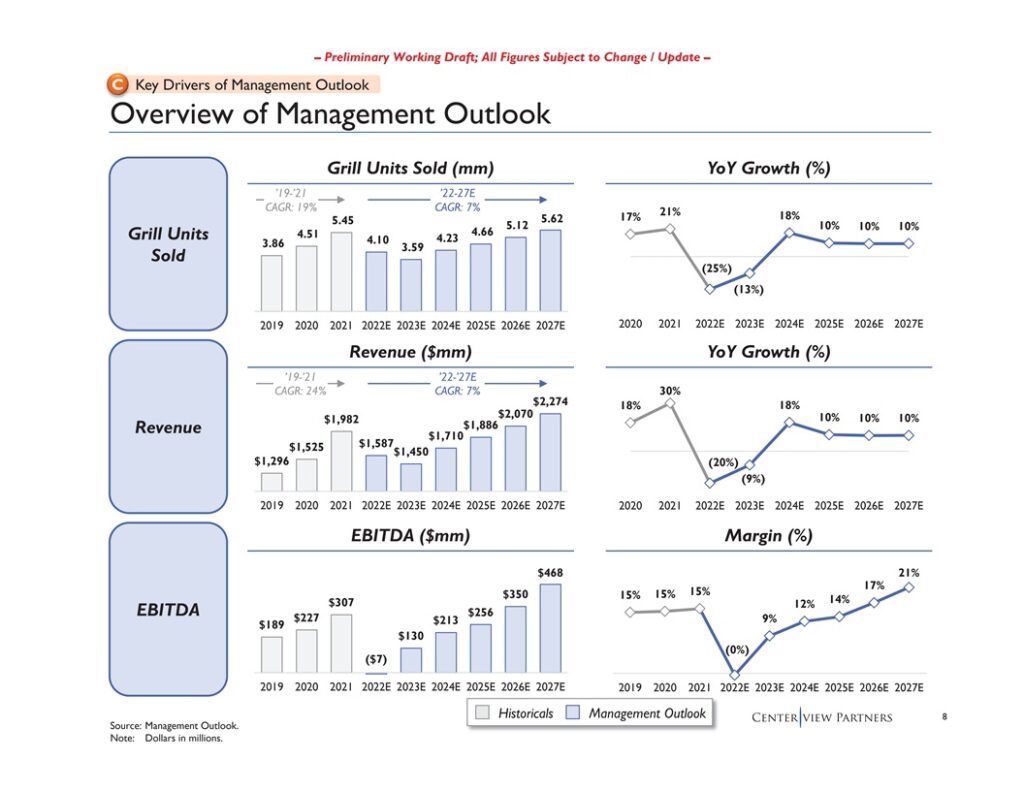 For all of Weber's forecast information, keep in mind that their fiscal year ends in September, rather than at the end of December. That means that 2023 expected grill unit sales of 3.59 includes the trailing twelve months ending September. It also means that their sales in 2022 got a little boost at the tail end of the pandemic in September through December 2021.
Sales Low in 2023
You can see from the Grill Units Sold section of the forecast that Weber is expecting another decline in their units sold this year. At 3.59 million units sold, it's lower than even their pre-pandemic levels in 2019. It's also way off the pandemic induced peak of 5.45 million units in 2021.
Normalization in 2024
While there is a big drop in 2022 and 2023, market conditions start to return to normal in 2024. Weber is projecting solid growth in 2024 to 4.23 million units. That's a big jump over 2023 and is 9.6% higher than their pre-pandemic levels in 2019.
Growth From the High
Weber expects to hit their pandemic highs again in 2027. They're forecasting to sell 170,000 units over the 5.45 million units they sold in 2021. That assumes 10% growth every year for the three year period leading up to the end of 2027.
We believe they used 10% growth in the out years because, as they reference on a different slide, they historically had annual revenue growth of 10% since 1980. Where that gets trickier to project is it's a much different grill market now, with other major players.
Financial Forecast
While the slide with the unit forecast included other financial metrics, there's a better slide that Centerview Partners put together.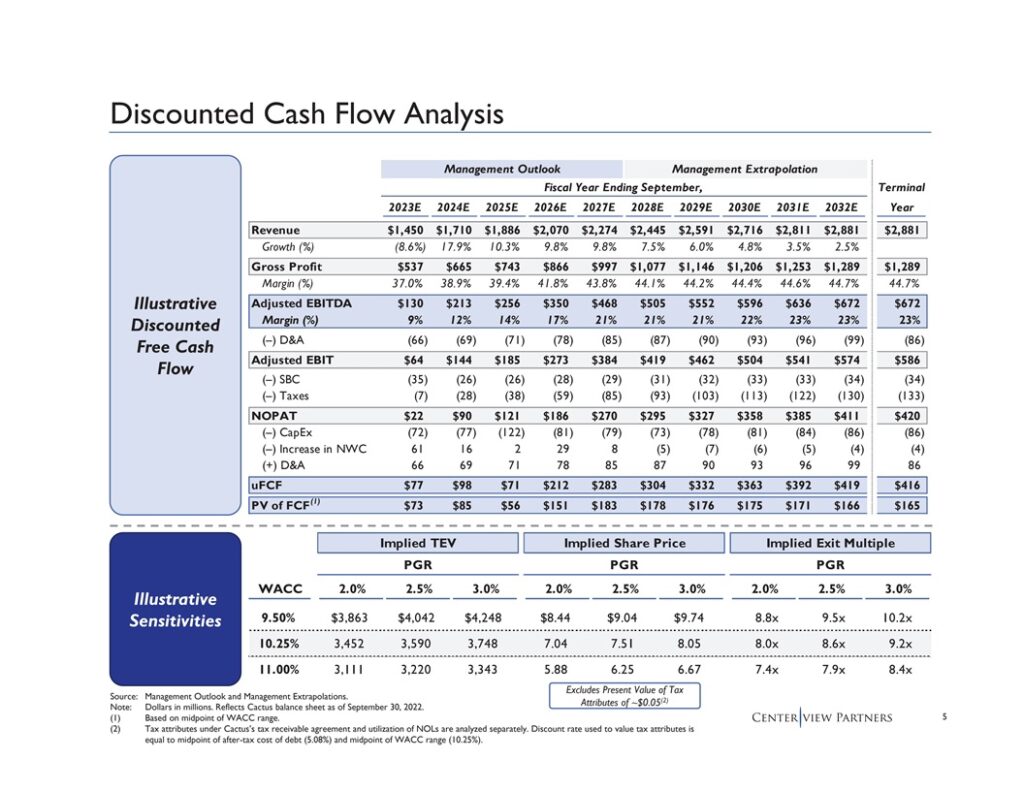 What's Cactus?
You'll notice in the footnote in the above slide a reference to Cactus. For those not familiar with investment banks, they love code names for active deals. Cactus is apparently the code name they used for Weber. It's not shown in the slides in this article but they start to code name BDT Capital, the company taking Weber private, as Bonsai.
Can Weber Execute?
From looking at the two forecast slides the biggest questions is can Weber execute in 2023? Despite revenue forecasted to decline by $137 million in 2023, EBITDA is increasing by $137 million. That means they have to squeeze $274 million out of their business to hit their forecast. As a point of comparison, they had a $395 million decrease in revenue from 2021 to 2022 and their EBITDA followed suit by $314 million.
According to the presentation, they plan to improve margins in 2023 by price increases on their products from 2022 and through cost cutting. We'll see what inflation does, because that can make price increases correspond with a reduction in unit sales. On the cost side, they reduced headcount last summer and cut ad spending, amongst other cost cutting measures. The go forward execution is up to a new team, as they've turned over all their executives.
Once they get through 2023, they expect margin to improve in 2024 due to lower inbound freight and material costs. That's when they anticipate normalization in the grill market. They have a tight path to get there though with only $22 million in operating profit in 2023. That's also ignoring their huge debt load they're carrying.