Disclosure: This article may contain affiliate links. If you buy a product through an affiliate link, we may receive a commission at no cost to you.
When Weber launched the Lumin electric grill last month, they also teased a new full-size griddle to be released before grilling season. Today, their new griddle went live in 28″ and 36″ configurations.
This marks Weber's first foray into full-size griddles, or as they call them stand-up griddles. It's also notable because Traeger is also likely to release their first griddle soon.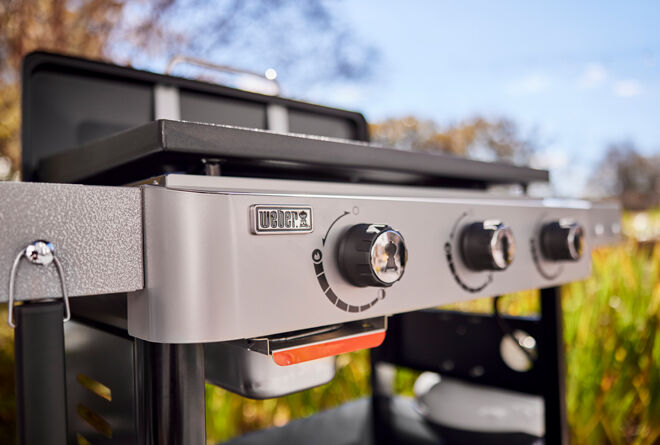 Features and Specs
Retail price of $449 (check price on Amazon and Weber) for the 28″ model and $579 (check price on Amazon and Weber) for the 36″ model
Griddle surface temperatures over 500˚F
The 28″ model has 3-burners with 36,000 BTUs, while the 36″ model has 4-burners and 60,000 BTUs
A side shelf on each side, with each having two tool hooks
Hard cover to protect the griddle and retain heat
Aluminized steel cookbox for protection against corrosion
Front positioned grease management system, with a large grease tray underneath
2 wheels on the 28″ model and 4 casters on the 36″ model to move the griddle around
Weber Griddle vs. Blackstone
The point of comparison that anyone will have when looking at the new Weber griddle is against a Blackstone. The leader of griddles, Blackstone has around 80% of the griddle market.
There are many different Blackstone models, but we'll look at the 36″ Weber griddle vs. the 36″ Blackstone griddle featured on their website (2149 model).
Price
We'll see what Weber does with discounting, but they are comparably priced. The Blackstone retails for $599 ($20 more than the Weber), but they frequently discount.
Size
While both are 36″ models, the Blackstone is a little bit bigger. It is 769 square inches compared to Weber's 756 square inches. You aren't going to really feel that difference when cooking though.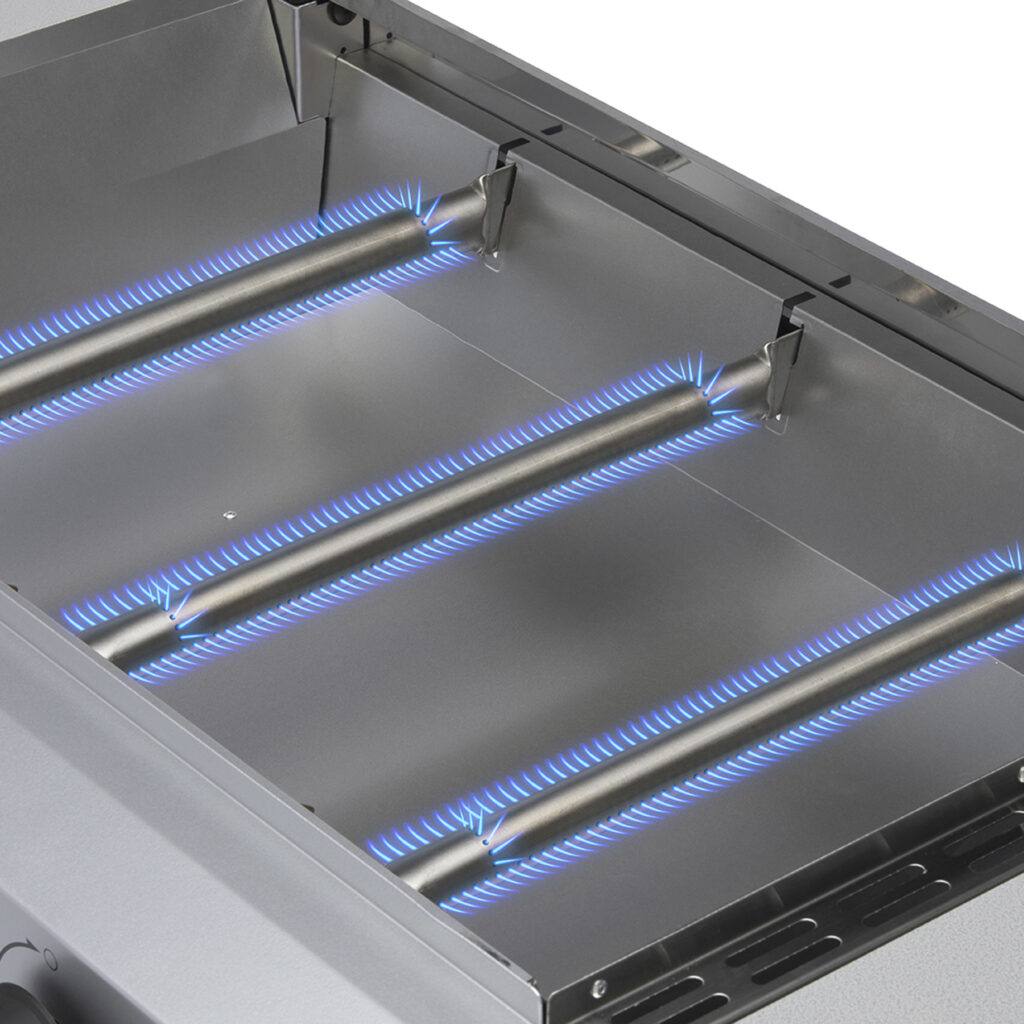 Features
Both griddles are pretty comparably equipped, with a slight edge going to the Blackstone. Both have side shelves, a bottom shelf, hard covers, and the same BTUs. What the Blackstone has that the Weber doesn't is a magnetic bar for tools, foldable shelves, and a paper towel holder.
The paper towel holder is a feature we like and comes in handy when using the griddle. Neither griddle has a trash bag holder, which is something that we miss.
Materials and Styling
This is a personal preference, but we like the look of the Weber much better. It's more stylized with curves and a traditional gas grill aluminum look around the cookbox. The aluminized steel on the Weber is also more corrosion resistant.
We'd Pick Weber
With the two griddles having pretty comparable specs and features, we'd go with the Weber. There isn't much to set either apart, so it comes down to styling and what looks "newer". The new Weber griddle is the winner of that.
Conclusion
It's great to see Weber join the griddle market with a good looking product at a reasonable price point. It has features that match up with the other players, but don't really set it apart either. We'll see if it's enough to take market share away from what's becoming a very competitive category.