Even though the Blackstone IPO isn't going to happen, they produced some great data during their IPO process. To support their thesis that they were poised to continue rapid growth they estimated brand awareness for the outdoor cooking market. Of the top 15 outdoor cooking brands there are surprises and interesting takeaways.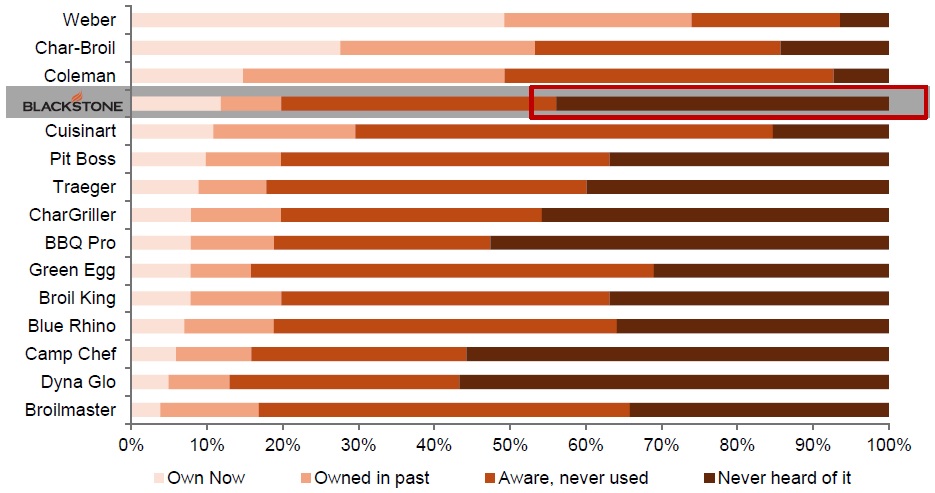 Weber Dominates on Market Share
The chart above comes to a similar conclusion as Weber's own market share data. About half of the market owns a Weber grill. On top of that around 75% of the market either owns or has owned a Weber grill. I don't know if that's more surprising or that around 7% of market (we're estimating based on the chart) hasn't heard of Weber.
While that's a great market position for Weber, it also means it's unlikely that they'll gain market share. Their best path for growth is focusing on accessories for their installed base and the replacement cycle.
It's Weber and Char-Broil, then Everyone Else
Char-Broil is number 2 on the list with a market share near 30%. That means that 8 out of 10 people own either a Weber or Char-Broil grill. They both are so far ahead of the pack that it's unlikely they'll be caught anytime soon, if ever. Char-Broil is actively defending their position with innovative grill releases like the EDGE electric grill and the Cruise gas grill.
Coleman is Synonymous with Camp Cooking
Coleman is well known for their camp stoves, camp griddles and camp grills. This list shows how dominant Coleman's position is with those because they have the 3rd largest market share for all outdoor cooking brands. That's not limited to just camping or portable cooking brands.
Blackstone Grew Fast
While Weber, Char-Broil and Coleman have been around for more than half a century, Blackstone is a much younger company. They introduced their popular 36″ griddle in 2008, which is when they really started to grow. Driven by their social media popularity, it's impressive that they have the 4th largest market share in outdoor cooking.
Cuisinart a Surprise at 5
It was surprising to us that Cuisinart has the 5th largest market share for outdoor cooking companies, beating popular names like Pit Boss and Traeger. While they are an extremely popular name in stand mixers, apparently they've moved a lot of grills and griddles as well.
Other Takeaways
BBQ Pro Presents Market Opportunity
Outdoor cooking companies looking to grow should know that there's opportunity with BBQ Pro's current market share. While we can't find any official word, the house brand for K-mart and Sears grills is likely defunct at this point. When current BBQ Pro owners are looking to buy a new grill, they'll have to turn to a different brand. That's additional market opportunity for other companies, beyond just the organic growth of the overall market.
Broilmaster Doesn't Convert
Broilmaster is an anomaly at the 15th spot when looking at the other brands. They have the lowest ownership on the list but more than 65% of the market has owned, or is aware of the brand. That would put them 6th in terms of brand awareness. Unfortunately, that brand awareness hasn't converted to ownership.