Disclosure: This article may contain affiliate links. If you buy a product through an affiliate link, we may receive a commission at no cost to you.
Like other industries, grill companies are betting that electricity is the fuel source of the future. It's easy to use, accessible, and allows for grilling in areas where you can't use fire, like apartment balconies. We had been expecting a new electric grill from Weber, and today they released the Lumin in addition to a new griddle.
Specs and Features
The Lumin comes in two sizes, 180 square inches of cooking area or 242 square inches of cooking area. Weber prices by color, with black being the cheapest for both sizes.
Retail price of $429 (check price) for the smaller one in black or an additional $30 (check price) for a different color
Retail price of $479 (check price on Amazon and Weber) for the larger one in black or an additional $40 (check price) for a different color
Max temperature of 600°F
Takes 15 minutes to reach max temperature
Has the ability to sear, smoke, steam, boil, or even griddle
The smaller grill weighs 26 lbs, while the larger one adds another 10.5 lbs
Versatile Grate Design
What makes the Lumin stand out from other grills on the market is it has a cool grate design that allows for different cooking methods. You can do all of the following on the Lumin.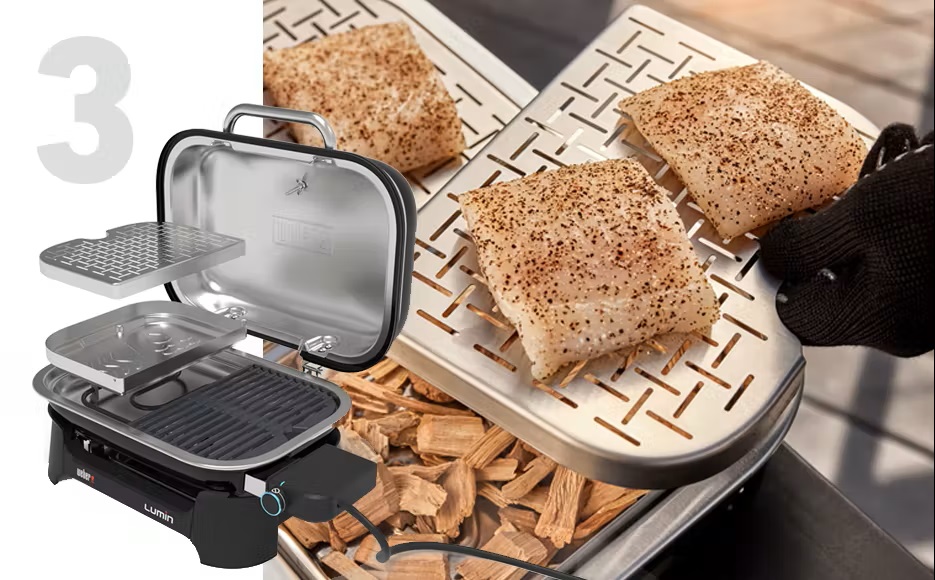 Traditional sear with grill grates
Steam with an included water pan
Smoke by using wood chips in the water pan
Keep food warm with trays in the expansion kit
Grill from frozen with a heating surface that's different than a grate
Cook with a griddle surface
Stand with Side Table
While the Lumin has a portable design, so you can pack it away when you're not using it, they also are offering a stand for it. The stand has an included side table, which gives it a little more permanence on an apartment balcony.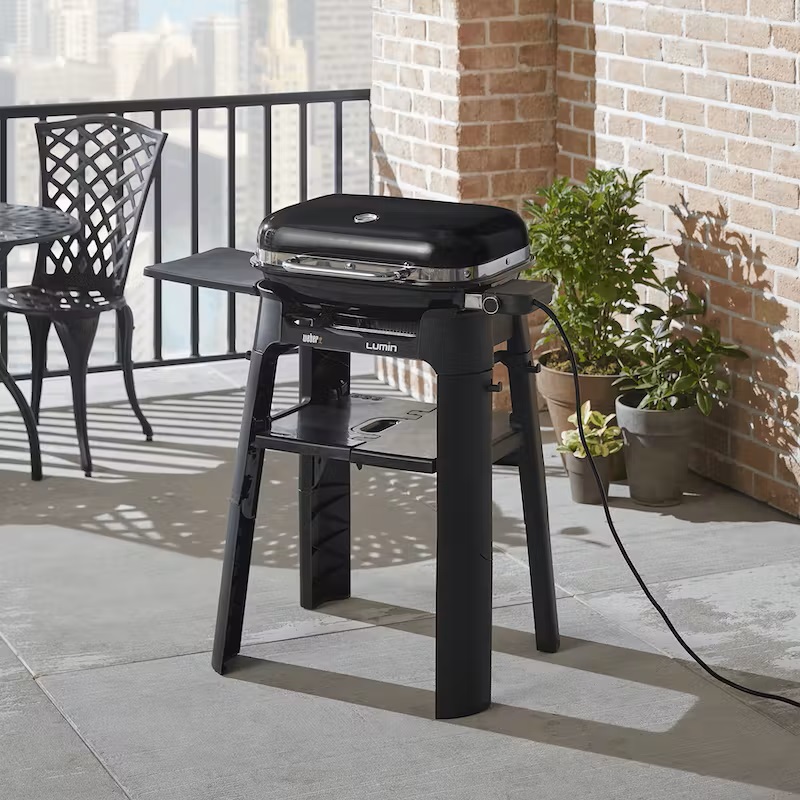 Flavor on an Electric Grill
The biggest question that everyone will have adopting an electric grill is how does the food taste? Grill companies are fighting a battle to erase memories of heated-up food on a George Foreman grill.
We can tell you from our testing of Char-Broil's new EDGE electric grill, that we could not tell the difference from a steak cooked on gas or electric. While you can get great flavor without it, the Lumin does come with a smoker box feature to help add tradition grilling flavor.
Weber Pulse
While we were expecting the Lumin to be a full-size electric grill, it turned out to be another portable design. That leaves the question of, what about the Weber Pulse? The Weber Pulse is an electric grill that has already been on the market for some time.
It seems like with the Lumin, there isn't really space for the Pulse in Weber's line-up. It's a more expensive portable electric grill at $849 and similarly sized, but without the cool swappable grates. The only benefit it has over the Lumin is it has Weber Connect for phone connectivity. We'll see if the up and coming Lumin puts the Pulse into retirement.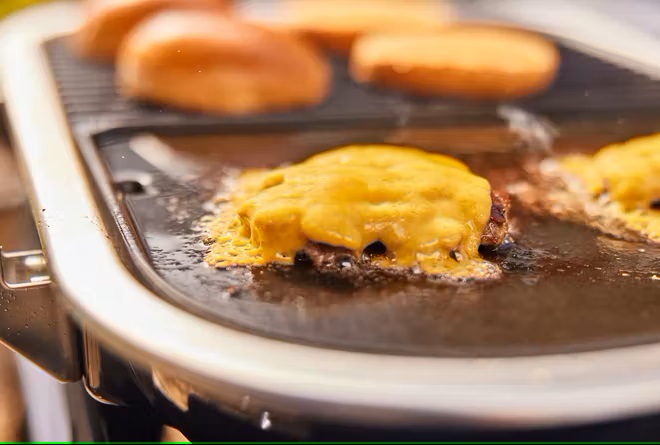 Conclusion
The Weber Lumin's versatile grate design is what makes it unique in the grill market. It's a cool design even when compared to non-electric grills. We've had great experiences with the new crop of electric grills, and the Lumin continues the positive vibes. We think it will find a home on apartment balconies and bring grilling to new people.