Disclosure: This article may contain affiliate links. If you buy a product through an affiliate link, we may receive a commission at no cost to you.
When shopping for a new grill, the decision usually starts with what fuel you want to use. It's a decision between gas, charcoal or pellets. That all changed when Char-Broil released the EDGE in May, a full-size outdoor electric grill, adding a new option for consumers.
If you're like me, the idea of an electric grill brings up memories of a George Foreman "grill" on the countertop. After spending time with the Char-Broil electric grill, we can say it's a legit grill and nothing like that. Is it good enough to be a real option for grill buyers though?
Specifications
Retails for $799 – Check Price
330 square inches of cooking space – Good for 2 people, works for 4
Digital temperature control
Temperature range of 200 degrees F to 700 degrees F
Has an AutoClean mode
Weighs 109 lbs
30 day money back guarantee
3 year warranty on the grate/emitter and the lid/firebox and 1 year on other parts
Summary
Pros
It can get really hot for searing, with a maximum temperature of 700 degrees F
Gives your food good grilled flavor
Digital temperature control makes operation easy, even for grill novices
AutoClean mode works well, and the light grill grates are easy to remove for cleaning
Cons
We saw temperature variability of around 60 degrees F higher than what the temperature is set at (e.g. it's set at and is measured at 550 degrees F in one spot and is measured at up to 610 degrees F in another spot)
There's a learning curve to using it
Single zone heating
No WiFi or Bluetooth to know when it's done preheating
Packaging and Assembly
Packaging
While not essential for using the grill, packaging is important. It makes it so your grill gets there in new condition, increasing customer satisfaction, and it's the first interaction the customer has with the brand. This is something that tech companies have understood for a long time, popularized by unboxing videos.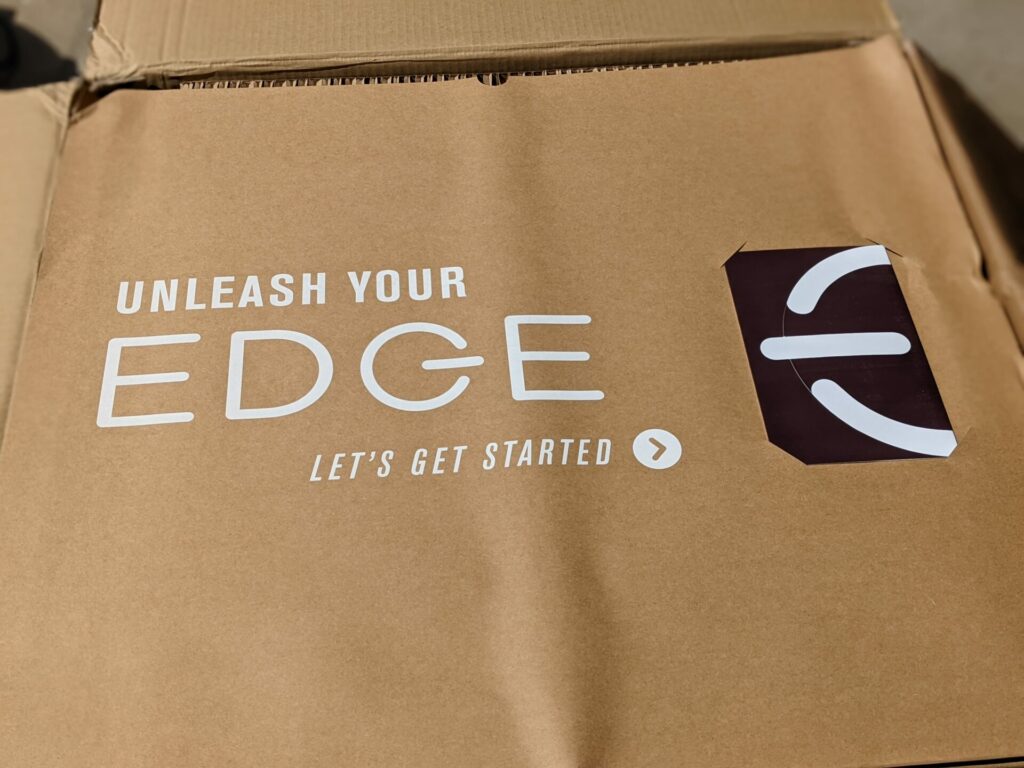 Char-Broil did a good job with the packaging with their branding greeting you when you open it and a quick-start guide. A far cry from the parts in a box approach that other grill companies use, but not as amazing as Traeger's box that turns into a cabin playhouse for your kids. Beyond the appearance, everything was smartly packed in the box and arrived in perfect condition.
Assembly
Char-Broil did an amazing job thinking through the grill assembly process. The EDGE is the clear benchmark for assembly in the outdoor cooking category.
The grill comes with the screwdriver needed for assembly in the box, which I always appreciate, since I've purchased and lost an insane amount of screwdrivers through the years. Rather than defaulting to my own tools, I used the included screwdriver for the whole assembly process. The size and shape came in handy because the handle is slimmer than other screwdrivers. This made it easier to access bolts in the cabinet.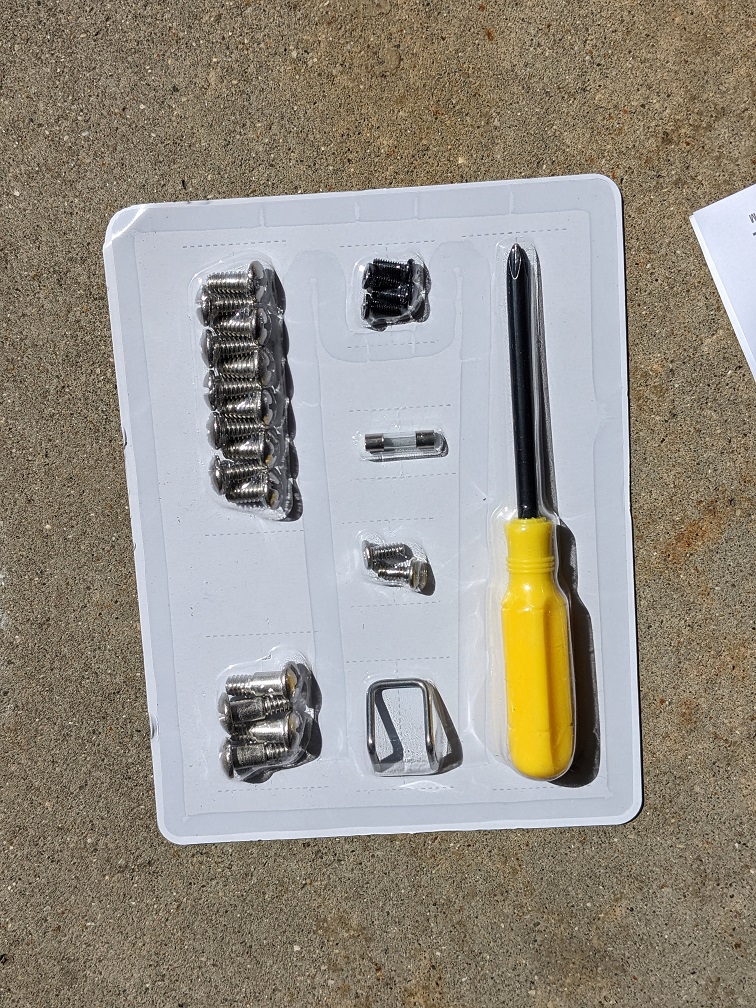 The product engineers on the EDGE clearly thought through the steps that the customer goes through to assemble the grill and refined the process. To make it easy for one person to assemble, they drilled and slotted holes on the cabinet. This makes it so you can easily put a panel in place and tighten it. There was no struggling, adjusting and asking for help to hold panels while I tightened them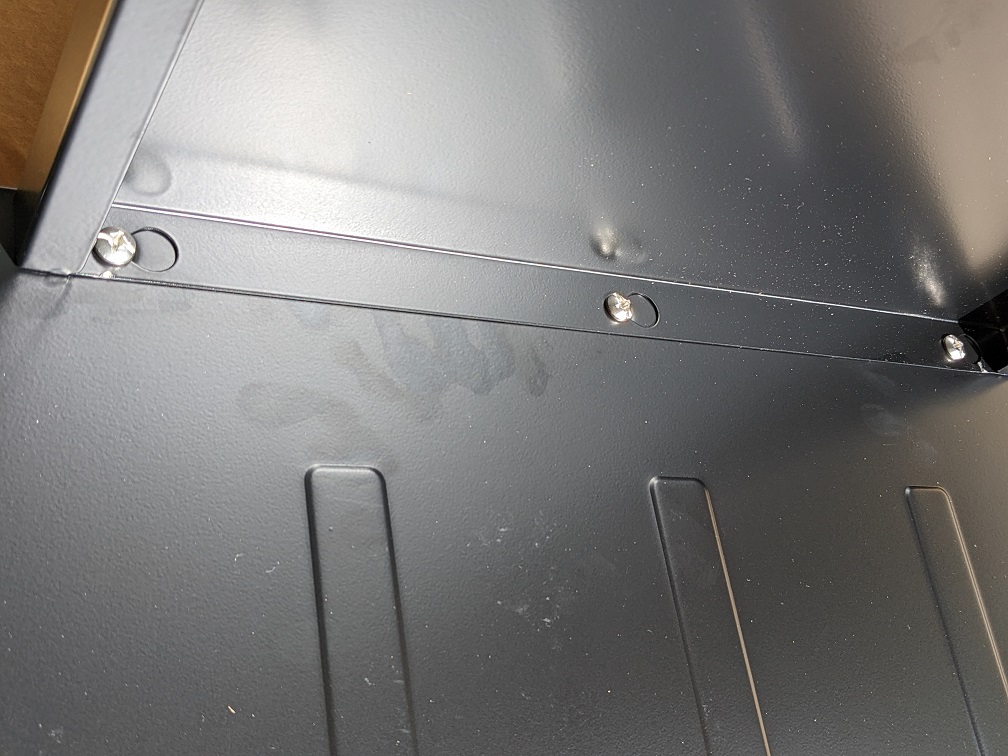 As if that wasn't good enough, they went a step further and most of the bolts came already started. You can see the bottom of the cabinet in the picture below as it came out of the box. It has the bolts already started and ready to go. I just had to slide the panels in place and tighten them down.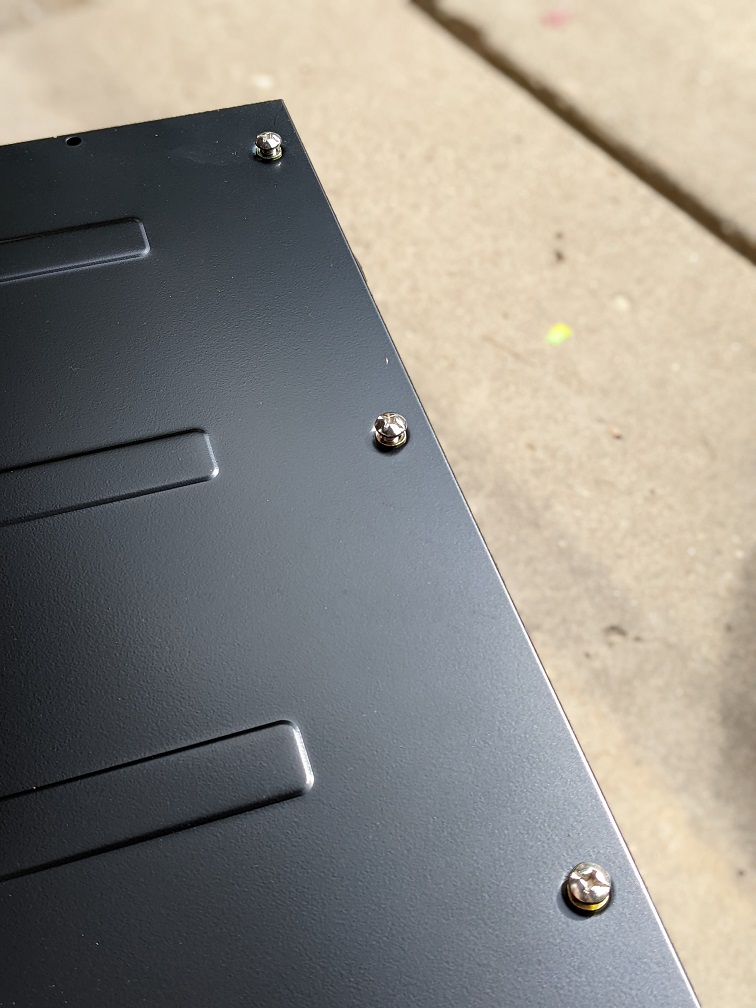 Cooking on the EDGE
Pre-heating Times
One of the things I was worried about with EDGE is how long it would take to heat up. Relying on a regular outlet for power, I thought it might take an extremely long time to heat up, or never actually hit the advertised 700 degrees F. I was pleasantly surprised with the pre-heating times. While it takes a little while to get from ambient temperature to 700 degrees F, it's about on par with a pellet grill and is definitely manageable.
Below are how long it took to get to each temperature, starting with the grill turned off.
250 degrees F – 9 minutes
350 degrees F – 12 minutes
450 degrees F – 16 minutes
550 degrees F – 21 minutes
650 degrees F – 28 minutes
700 degrees F – 36 minutes
It's not often that you are going to turn on the grill and crank it to 700 degrees, but since it takes pretty long to get there, it would be nice to have wireless capability on the grill to send a notification to your phone. That would make the process seem less of a chore.
Temperature Variability
I tested the grill grate temperature with a Thermoworks Industrial IR Gun and noted a good amount of variability across the grate. The controller for the grill is in the front right of the grill and that's where the probe is. That also proved to be the coldest part of the grill through testing.
For example when setting it at 700 degrees, temperatures were noted as high as 760 degrees at different parts of the grill. The same magnitude of variability was noted at lower temperatures as well. This made it more challenging to cook to the proper doneness and added to the learning curve with the grill.
Flavor
My clothes smelled like I had been grilling
Prior to the EDGE, I hadn't spent much time cooking on an electric grill. I've always had the perception that it wouldn't give that grilled flavor. Overcoming that perception is something that Char-Broil revealed in their patent for an electric grill that they were worried about.
Without first testing the grill as is, I used a smoker box on my first cooks to try and get good flavor. The smoker box added smoked flavor for sure, but I quickly learned that I didn't need it.
Even without the smoker box, when I was done grilling, my clothes smelled like I had been grilling. I mean that as a positive. The food tasted like it had been grilled as well. The searing and the smoke generated from the drippings from the meat gave the flavor you're used to. If I was blindfolded and given a steak from a gas grill and from the EDGE, I wouldn't be able to tell the difference.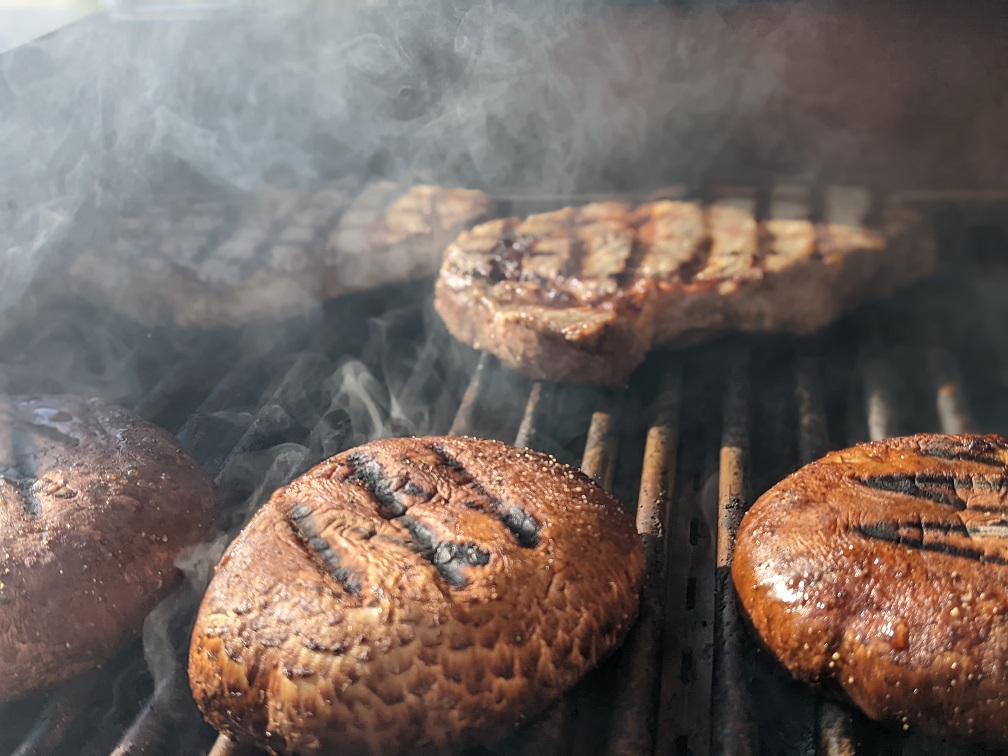 Learning Curve
There is a little bit of a learning curve when cooking on the EDGE. It's cooking purely with conduction and radiant heat, there is no convection, like other grills. It's similar to cooking with cast iron on a grill or with GrillGrates. In my experience, this made the food cook quicker than I was expecting, leading to some overcooked steaks. It's also why you can get some great sear marks.
For many people coming from gas or charcoal without a digital temperature setting and with the learning curve of the grill, it would be nice if Char-Broil included some guidance on temperatures and times. They could easily add that retroactively on their website. They currently have a "how-to" section, but it's limited to gas grills, charcoal grills, electric smokers and fryers.
One other thing worth noting when I was doing temperature testing is if you want to drop temperature, make sure that you let the grill rest for a few minutes after it arrives at the right temperature. When I was at 700 degrees, I wanted to drop it down to 550. After setting the dial to 550, I opened the lid for a little bit to let heat out. When the temperature caught up, the display said 550, but the grates were reading at more like 450 degrees. I closed the lid and let it sit there for a few minutes to let everything get to the proper temperature.
Cleaning
If you're wondering how to clean an electric grill like this, Char-Broil made it easy. They have an AutoClean mode that takes care of the hard work. When you put it on, it cranks the heat up for a while and turns everything on the grill into ash for easy clean-up, then automatically shuts off. The grates are light and split into two, so they are easy to remove and dispose of the ash or to deep clean. The grill also comes with a small cleaning brush with bristles that aren't metal, so that's good.
Shelves and Storage
On both sides of the grill are folding side shelves. This give enough space to put things when you're waiting to put food on, or take it off the grill. By making the shelves folding, it lowers the overall area needed to store the grill. Like most grills they sell a cover separately for storage outdoors.
Running off electricity means that there's no propane tank, so the whole cabinet is available for storage. There is a wire rack in the middle of the cabinet, which gives you amble room to store whatever you need.
Conclusion
If this Char-Broil EDGE is a sample of electric grills to come, I'm excited about it. While it has shortcomings, mainly with temperature variance, you can make great food on it. For the price point, it may even be the best electric grill currently on the market. While there are a few features I wished it had, I'm a realist and know that would also add to the price.
If you're living in an apartment and looking for an electric balcony grill, or somewhere that has fire restrictions, getting this is a no brainer if it's allowed. Also, if you can't or don't want to lug around propane, don't want to mess with charcoal or want to switch to electricity as a fuel source, this is a great grill. The EDGE makes grilling a much simpler process, from assembly through cooking.
If you just want the best grill for your money, it would be a tougher choice against a similarly priced propane or pellet grill. It would be in the conversation though, which shows that the future is bright for electric grilling.