Disclosure: This article may contain affiliate links. If you buy a product through an affiliate link, we may receive a commission at no cost to you.
With outdoor cooking products you usually can get any color you want, as long as it's black or gray. Gozney is changing that up by releasing a limited-edition version of their popular Roccbox in yellow.
Limited Means Limited
The Yellow Roccbox is a dual-fuel capable pizza oven that retails for $499 (check price) with a gas burner. Like the seasons come and go, so does the yellow Roccbox. Once it sells out, it's gone.
This one's been cooking for a while, so we are super excited to drop this new limited-edition Yellow Roccbox. This colorway is fun, fresh and vibrant and the ultimate accessory to add to your yard ahead of summer. Whether you are an outdoor cooking aficionado or looking to try something new, Yellow Roccbox has your summer plans sorted – good pizza and good vibes all around.

Tom Gozney, Founder of Gozney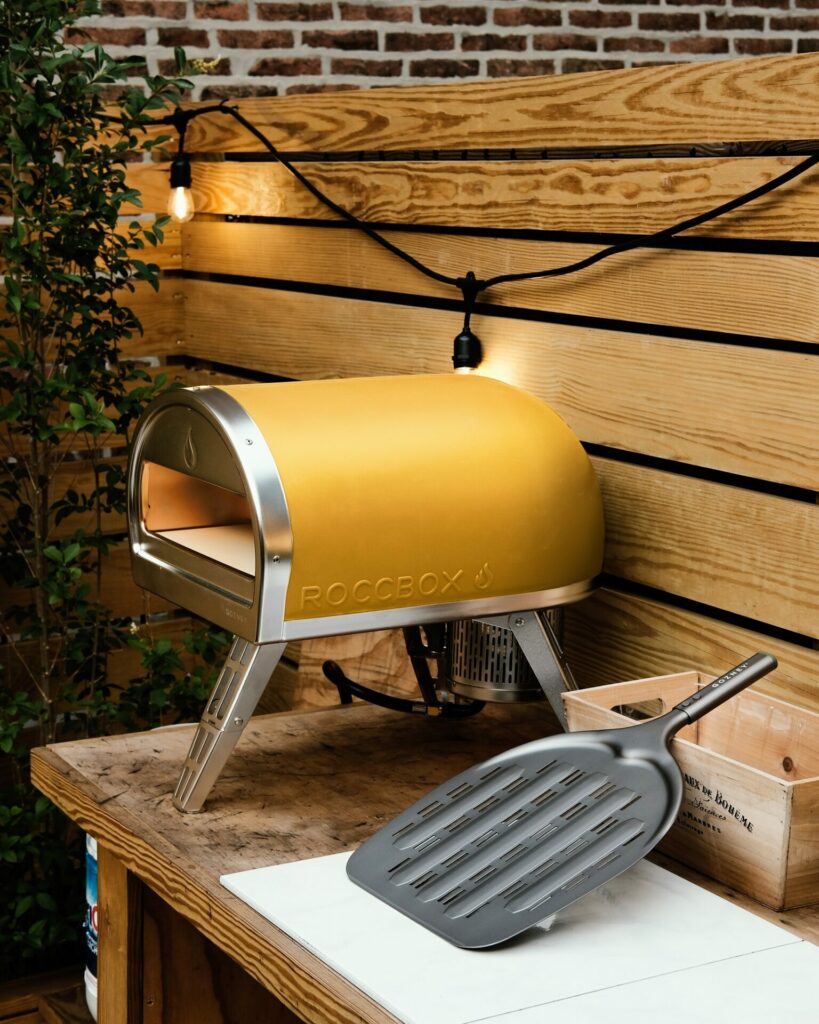 Features and Specs
The Yellow Roccbox has the same features and specs as the tried and true original Roccbox. Below are the highlights for a refresher, or those new to Gozney.
As mentioned above, retail price of $499 (check price)
The wood burner accessory is $100 (check price), if you want to unlock wood fired abilities
Temps up to 950°F cook a pizza with a crisp crust in around 60 seconds
19 mm thick stone and insulated oven design to prevent temperature drops between pizzas
Various accessories are available, including the differentiating Mantel, which adds extra depth to your oven
Roccbox vs. Other Pizza Ovens
There are a ton of pizza ovens on the market now, but the Roccbox has some features that set it apart. We talk through them in more detail in our review of the Roccbox.
In terms of performance, it gets hotter and stays hotter than other ovens on the market.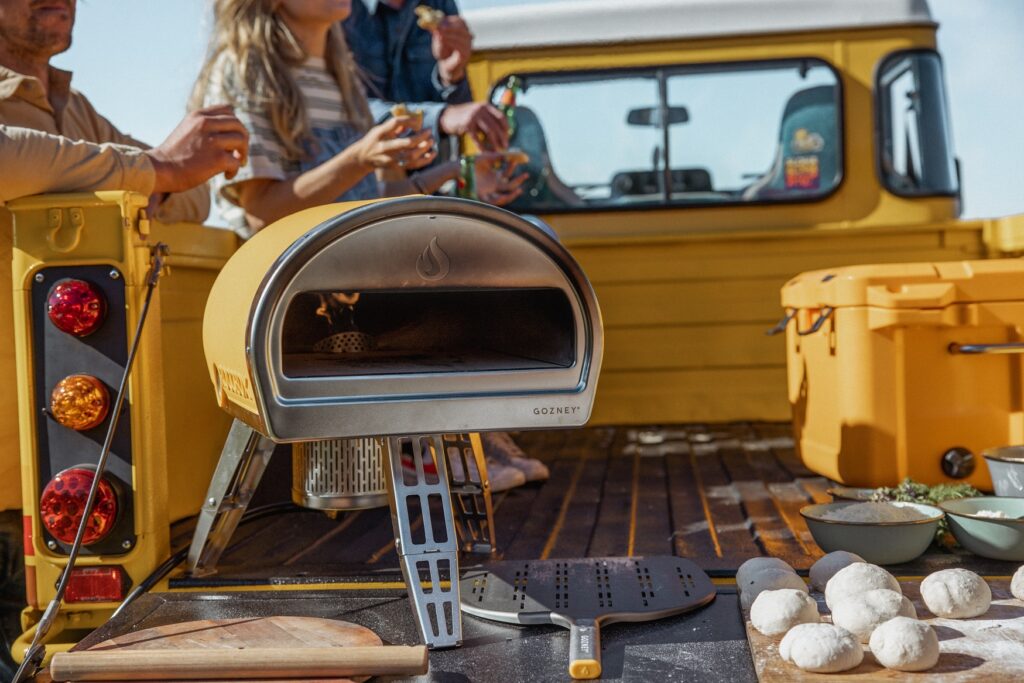 It also includes a built-in thermometer on the oven. For most other pizza ovens, you have to use an infrared thermometer to know when your oven is at temp.
To keep everyone safe as they are checking out your Yellow Roccbox, it has a silicone coated exterior. They do that to prevent burns if anyone accidentally touches the outside of the oven. Most other ovens on the market have a metal exterior that gets hot.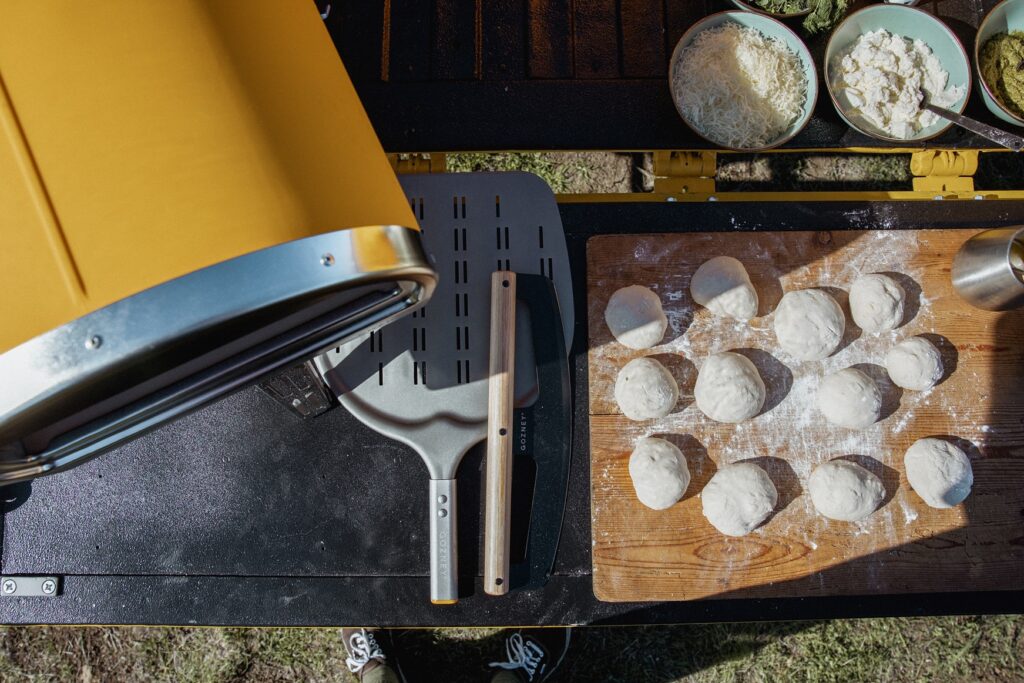 Fighting Pizza Inflation with Roccbox
Like all goods and services right now, people are seeing increased costs for take-out pizza. According to a Gozney survey, 73% of people are concerned about inflation affecting the cost of their favorite pizza. It's not just a worry, as 68% of respondents have noticed a cost increase.
Making pizza at home is a great way to cut costs because it's extremely affordable, quick, and much more fun. In the past, eating pizza at home meant cooking mediocre pizza in the kitchen oven, which just doesn't get hot enough.
With a purpose built oven like the Roccbox, you don't have to sacrifice on taste. The Roccbox is great for making a variety of pizza styles, from Neapolitan to our hometown favorite, Detroit style.
Other Colors
While the limited edition Yellow Roccbox is our new favorite, Gozney does sell it in other colors. They have it in a traditional gray, an olive color, and an all-black signature edition. They have you covered for what matches your décor and personality.