As part of their growth strategy, Blackstone Products has been dedicated to releasing new and innovative products. They recently released a new griddle and air fryer combo, a limited run pizza oven conversion for the 22″ tabletop griddle and they've worked on creating a pellet grill. One noticeable hole in their line-up, that other outdoor cooking companies have, is a stand-alone pizza oven. It appears that is changing though.
Blackstone used to offer a pizza oven called the Patio Oven, but the product was discontinued. Judging by the popularity of the limited run pizza oven conversion, there is a big market out there for a Blackstone pizza oven.
We released a story earlier about the delay in Blackstone's IPO, and referenced a video from their Instagram of them cooking at the NYSE. You'll notice in the video (shown below), there is a new pizza oven prominently displayed.
Here is a blurry screenshot of the pizza oven from the video.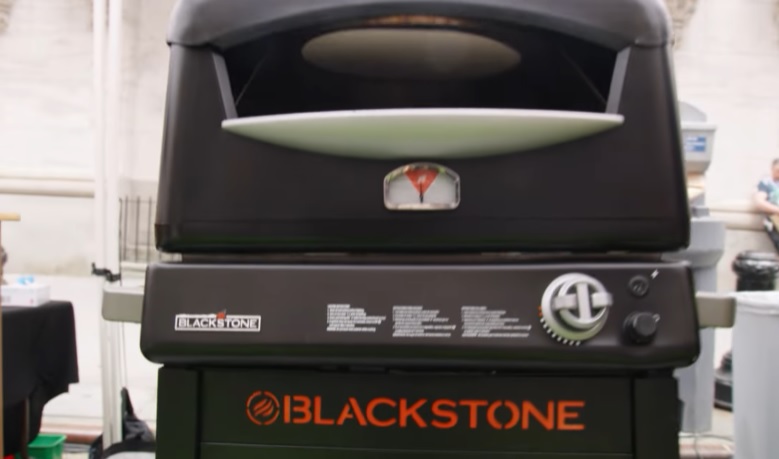 Other than the Instagram video, Blackstone's CEO, Roger Dahle was on the SPACInsider podcast and said the following about product expansion.
Number one, we have had other cooking platforms. We have a pizza oven, and we re-engineered and we're reintroducing that pizza oven. It's the coolest thing ever. They'll cook a pizza in about 90 seconds. It gets up to 900 degrees in the baking chamber. It has a turntable, so you put the pizza in and it slowly turns around. You don't have to touch it, you don't have to lift it up and dome it, you don't have to be a pizza chef. Anybody could cook a pizza, and it's awesome coming out of that oven.

Blackstone Products CEO, Roger Dahle
Roger Dahle's statement lines-up with the video of a re-engineered version of their previous pizza oven. The pizza oven in the video also has a turntable as he describes. We'll keep monitoring Blackstone and update the story when their pizza oven is released.