Disclosure: This article may contain affiliate links. If you buy a product through an affiliate link, we may receive a commission at no cost to you.
Blackstone released their much anticipated pizza oven earlier this year. The premium priced pizza oven features a two pizza stones, one which rotates for easy, even cooking. Now they've partnered with Walmart on a less expensive version, and some exclusive accessories.
Walmart Blackstone Pizza Oven
Priced at $597 (check price) the Walmart exclusive version of the Blackstone Pizza Oven still preserves what makes it perform so well. It looks to be the exact same rotating, two stone setup. It still has the following features and specs.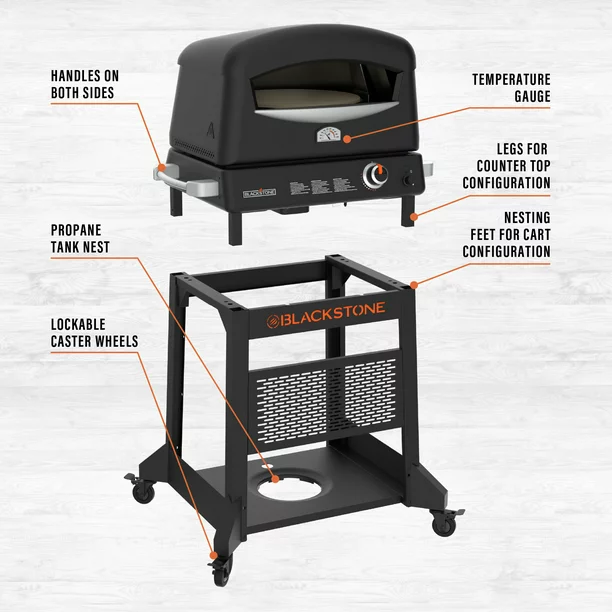 Cast iron base for even heat distribution in the bottom stone
Reaches temperature up to 900 degrees F for a great crust in as little as 90 seconds
Electric ignition for easy starts, which is especially important in cold and windy conditions
Can accommodate pizzas up to 16″ in diameter
Propane fueled
The difference is in the details with the new pizza oven. The cart on the Walmart version isn't enclosed in a mesh steel pattern. It just has a small section of steel to add to it's aesthetics and structural rigidity.
Another minor change to the look is the knob. It's a slightly different knob design than on the original oven released earlier this year.
Beyond the look of the oven, another change is it doesn't come with a pizza peel. Also, on the more expensive model, the cart doubles as a pizza peel holder. That's absent on the Walmart version.
New Accessories
In addition to the new Blackstone Pizza Oven at Walmart, they launched some exclusive accessories.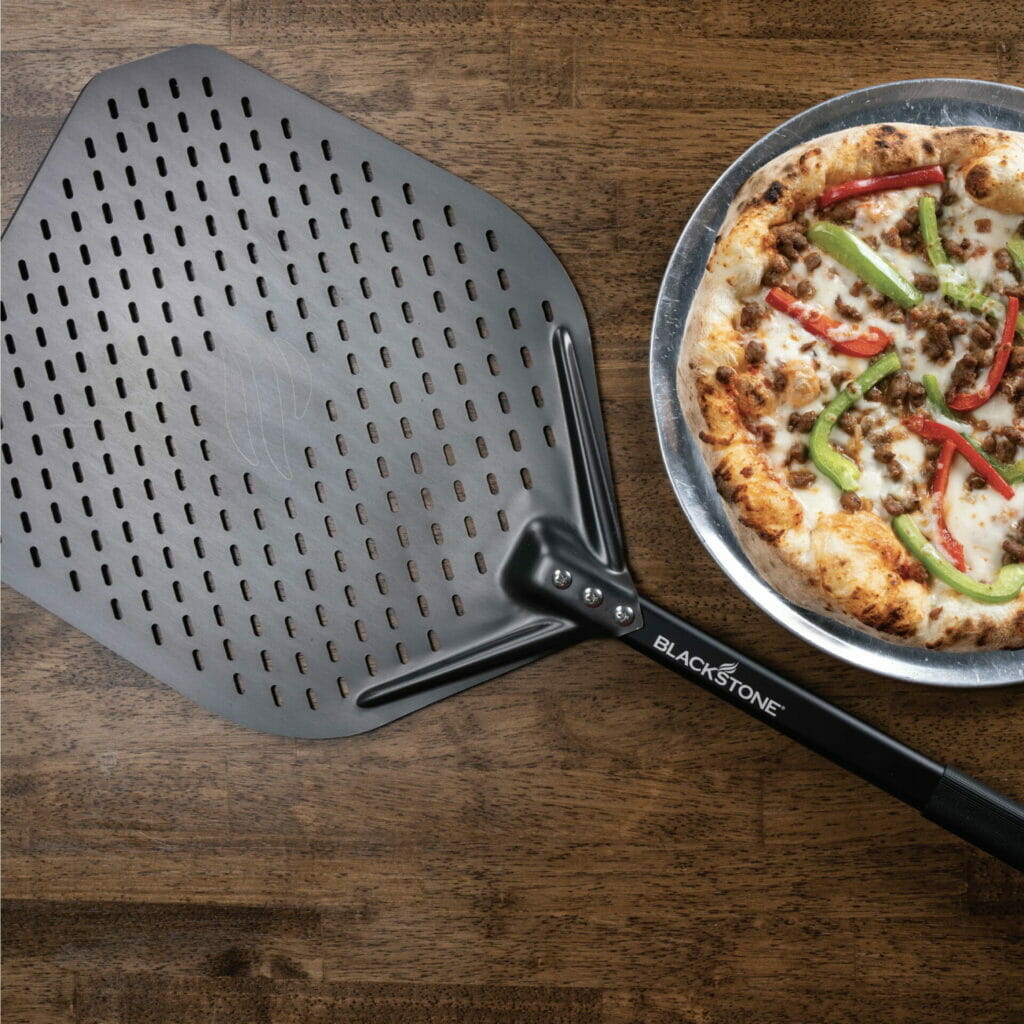 Cast Iron Deep Dish Pizza Kit with Removeable Handle and Wood Trivet – This retails for $39.97 (check price) and is great for making pizza or pretty much any other food you can cook on cast iron. The removeable hand is great to make the pan smaller and prevent burns, while the wood trivet keeps your table from burning.
14″ Perforated Aluminum Pizza Peel – This peel retails for $29.97 (check price). A peel is essential for making pizza, because you use it to load your pizza into the oven and take it out. The perforations in this peel help prevent over flouring the peel, and for keeping the crust crunchy.
15″ Pizza Rocker Cutter – This cutter retails for $14.97 (check price), and is quicker and easier to use than the wheel type cutter. It's made of stainless steel, and will get slices ready to eat in no time.
Conclusion
Blackstone has a history of releasing pizza ovens exclusively with Walmart. This version loses a little in the looks department, and you'll need a peel, but is a great value. It makes their highly regarded pizza oven available to more consumers, and would be great with their new modular outdoor kitchen.