Since its founding in 2011, Solo Stove has been a driving force behind s'mores consumption. From their popular smokeless fire pits, to their recently released Mesa tabletop fire pit, their products have browned tons of fluffy, white sugar.
They'll be using their tabletop fire pit as they attempt to set a world record on July 22, 2023. Dubbed S'moresapalooza, Solo Stove will supply nearly 500 Mesas, with additional s'mores-making supplies coming from partners Honey Maid, Jet-Puffed, Topo Chico, Scheels, Texas Parks & Wildlife Foundation, and the Dallas Mavericks.
The event is happening in Solo Stove's hometown of Grapevine, TX from 6pm to 10pm at Chicken N Pickle, located at 4600 Merlot Ave, Grapevine, TX 76051.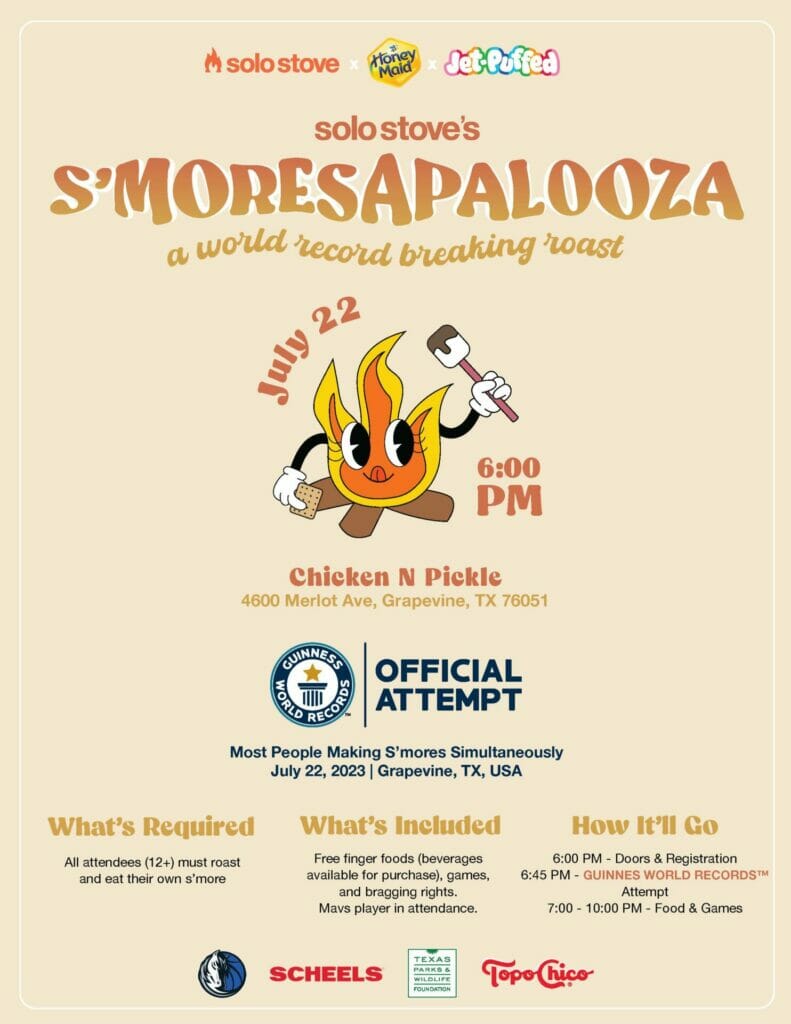 The event is an early start on National S'mores Day, which is on August 10th. Naturally, that's a holiday that's important to the Solo Stove brand.
National S'mores Day is a very important holiday for Solo Stove, and each year we look for bigger and better ways to honor this delicious holiday. This year, we decided that setting a Guinness World Record™ would not only officially put the Solo Stove name next to 's'mores' in the history books, but it would also be a great way to gather our local community around a campfire.

Tyler DiGiovanni, Director of Partnerships at Solo Stove
The current world record for people making s'mores simultaneously sits at 801. That means that a chunk of the 500 Mesa fire pits will have to turn out multiple s'mores. It should be an easy feat for the capable tabletop units.
To help participants work to achieve the record, the event will include hors d'oeuvres, beverages, games, giveaway items, and autograph signings with a Dallas Mavericks player. The Mesa tabletop fire pits used for the events will also be etched to commemorate the event, and distributed following it.
S'moresapalooza should be a fun event, and is a great way to get the word out about the Solo Stove Mesa. If you happen be in Grapevine, TX on July 22nd, go see if you can help break a World Record.
Ticket Details
A limited number of tickets are available for this event. Follow this Eventbrite link to read more about the event and use the code SOLOSTOVEGWR to register for your world-record-breaking tickets.
If you access this link via a mobile device, the event will show up as "Sold Out" (if you access it on a computer, it will show up as "Get Tickets"). To get around this, mobile users should click the "Details" button right next to where it says "Sold Out." From there, they can enter the promo code SOLOSTOVEGWR and secure their tickets!