Disclosure: This article may contain affiliate links. If you buy a product through an affiliate link, we may receive a commission at no cost to you.
Pellet grills are great for convenience, especially when you plan on talking with friends and family while cooking. A major problem for them though, is you're tethered to to an outlet. That makes using them much more difficult while tailgating or camping without a noisy generator.
Enter a portable power station, like the BaseCharge 1500 from BioLite. For those not familiar with BioLite, they specialize in innovative ways to access power. We've tested and liked their camp stove that generates electricity to charge a phone, and their smokeless fire pit that has a battery pack and Bluetooth integration.
In preparation for fall tailgates, camping, or just to get further away from the house, we tested a BaseCharge 1500 with a Traeger Pro 575 pellet grill.
Summary
The BaseCharge 1500 performed flawlessly in our testing. It has a ton of power for long cooks on a pellet grill at any temperature. While the power station takes a while to charge and is heavy, having over 1,500 watts of power eliminates the need for a generator on any day trip.
Features and Specs
We reviewed the BaseCharge 1500, but if you don't need that much power, BioLite also sells a BaseCharge 600 that's smaller and cheaper.
The BaseCharge 1500 retails for $1,699 (check price – it's often on sale)
Has a display that tells you everything you'd want to know about power useage, such as hours to empty, battery %, and how much power is coming in or going out
It has the following ports

3x 110v/1,200W AC Ports
2x USB-A
2x USB-C
1x USB-C PD
1x 12V Carport
2x 12V DC Barrel Ports
10W Wireless Charger

Charge time to 80% full

AC Adapter – 13.5 hours
AC + USB-C PD – 8 hours
4x SolarPanel 100s – 4 hours

Weighs 28.5 lbs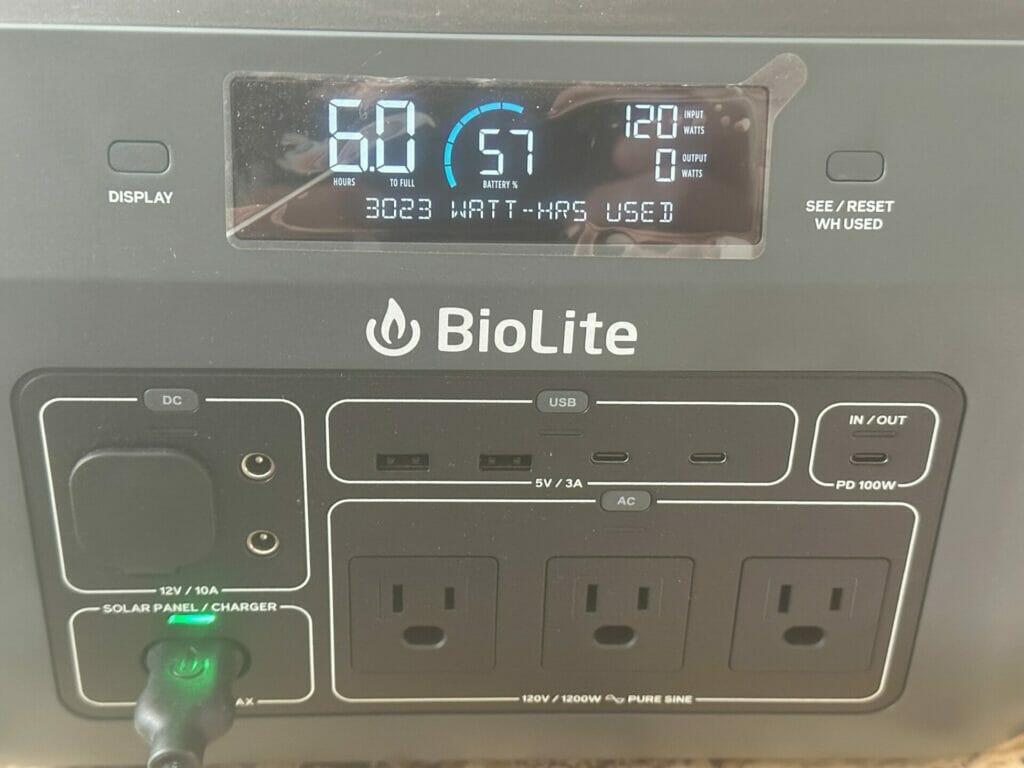 Pros
Lots of Power
With over 1500 watts of power on tap, the BaseCharge 1500 has more than enough power for even a brisket cook. I cooked a ribeye roast on the Traeger Pro 575 for over five hours, including taking the grill to 500° F for about 30 minutes, and still had an estimated 52.1 hours left on the power station. I started with a full charge and the battery was at 78% when I was done cooking and ran the shutdown cycle.
I found that at start-up, and when the auger on the pellet grills is being cycled, it uses a little over 100 watts per hour. When the auger isn't in use, and it's just powering the controller and fan, it's around 15 – 18 watts per hour.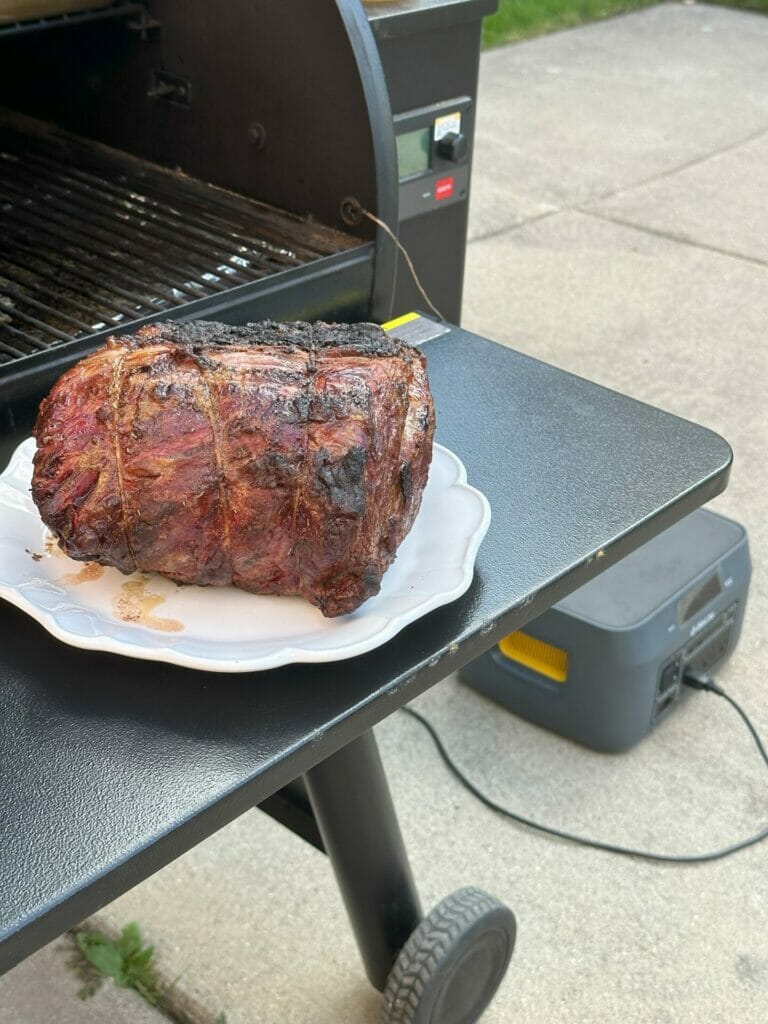 The BaseCharge 1500 would have enough power for a number of other things like a TV, lights, laptop, etc. in addition to a pellet grill. If you only plan using the BaseCharge for cooking, you could probably size down to the 600, just knowing it might not make a full brisket cook.
Below is a chart from BioLite's website of how long you can power household items for on a single charge.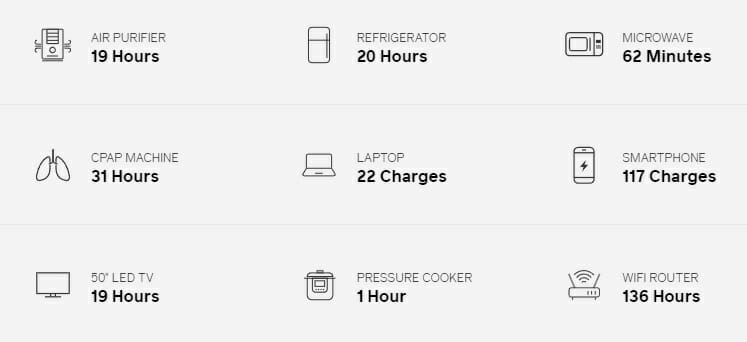 Solar Generator
If your power needs even exceed the 1500, or you want more power out of the 600, BioLite also sells 100 watt solar panels. That will turn your power stations into a solar generator. This is perfect if you want to power a pellet grill on a camping trip, allowing constant access to power.
Long Lasting
As any iPhone user knows, batteries are susceptible to efficiency loss the more times you cycle them. The BaseCharge 1500 is rated at 1,000 cycles (full discharge and charge) before the battery is at 80% of its functionality. That means you could fully discharge it and charge it twice a week for almost 10 years before the battery performance would be down to 80%.
Cons
Weight
Unfortunately, batteries aren't light, there's no getting around that. While the BaseCharge 1500 isn't overly heavy at 28.5 lbs, you can definitely feel the weight as you carry it around.
Long Charge Time
The BaseCharge 1500 provides power for a long time for your devices, but on the flip side, it takes a while to charge. A full charge from 0% battery life takes 13.5 hours with the AC adapter, so it's definitely something you have to plan for when using. It is nice though that the display tells you how long until the BaseCharge is full when charging it.
Conclusion
The BioLite BaseCharge 1500 worked just like I hoped it would for powering a pellet grill. It provided plenty of uninterrupted power for hours and still had quite a bit of battery life left. While you have to plan ahead to charge it, and it's not light to lug around, it's perfect for tailgating. Say goodbye to a noisy generator and get this instead.