The entrepreneur journey is as American as barbecue. To honor that, we're going to start featuring different grill shops and the stories of the people behind them. A perfect one to start with is Texas Star Grill Shop out of Houston, TX and its founder Rick Martin.
I connected with Rick while writing a story about Aaron Franklin expanding his barbecue pit dealer network. Texas Star Grill Shop was the first dealer to sell Franklin Barbecue Pits, so I got his perspective on it. He also talked about his view that independent grill shops aren't competing with each other, but rather are partners against big box stores.
In that spirit, I interviewed him about his journey, what makes Texas Star Grill Shop successful, and other lessons learned.
We covered so much ground that the interview is broken up into two articles. This first part is about the journey of Texas Star Grill Shop from idea to what it is today. The second part is about the details of how Texas Star Grill Shop differentiates itself.
From Food Sales and Marketing to Selling Traeger Grills
While Texas Star Grill Shop has four locations today with one more opening in January, like all companies, it started with an idea.
Texas star foods used to be a sales and marketing company that kind of represented brands to grocery stores and so we're basically a Sales force for for brands to sell to grocery stores. I came upon the Traeger wood pellet grill when I was on vacation in like 2005, and I thought "man, that's a really cool thing. I think that's gonna be big." what I thought at the time is we could sell to grocery stores, which wasn't really the case.

Rick Martin, Texas Star Grill Shop
Like many successful entrepreneurs, after realizing his original business plan to sell into grocery stores wasn't going to work, Rick pivoted.
I CONTACTED TRAEGER AND I WANTED TO BUY A TRUCKLOAD OF TRAEGER GRILLS. THAT LED TO SELLING ON EBAY AND THEN EVENTUALLY OPENING UP A GRILL STORE. THE FIRST ONE WAS VERY CRUDE, WE JUST SOLD JUST TRAEGER. FAST FORWARD 14 YEARS LATER WE'RE RIGHT HERE IN 2022, AND NOW WE'RE A COMPLETE GRILL STORE, AND WE'RE OPENING UP OUR FIFTH STORE IN JANUARY OF NEXT YEAR.

Rick Martin, Texas Star Grill Shop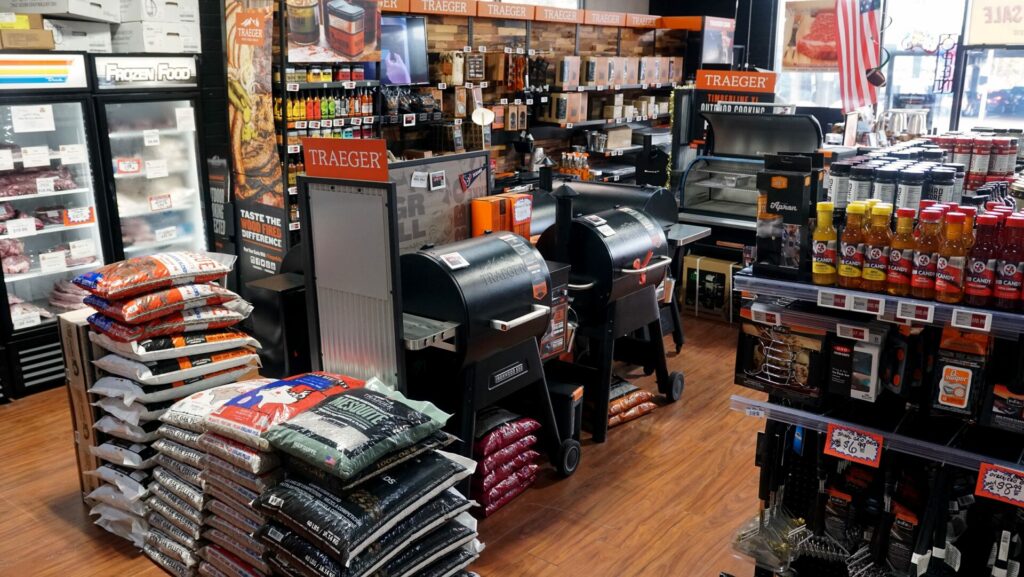 What Rick saw in Traeger grills in 2005 was a differentiated grill from others on the market. At that time they were the only pellet grill and largely the only BBQ grade pellet manufacturer.
you know Hewlett Packard sells lots of printers, but they also sell lots and lots of toner, and that's what traeger had that was different than other manufacturers. at that time especially, once you've sold the grill you're going to sell the pellets afterwards.

Rick Martin, Texas Star Grill Shop
Initially it was hard convincing customers of the viability of pellet grills and the benefits of them. At that time there was mainly just charcoal or gas grills.
IT was a definitely a new category so we had to really sell it, if you will. people were very suspicious of those wood pellets that they thought looked like rabbit feed or something. you really had to sell the concept to people, and so it was actually much more difficult than I thought it was going to be in the beginning, but once we started it, we kind of got it going.

Rick Martin, Texas Star Grill Shop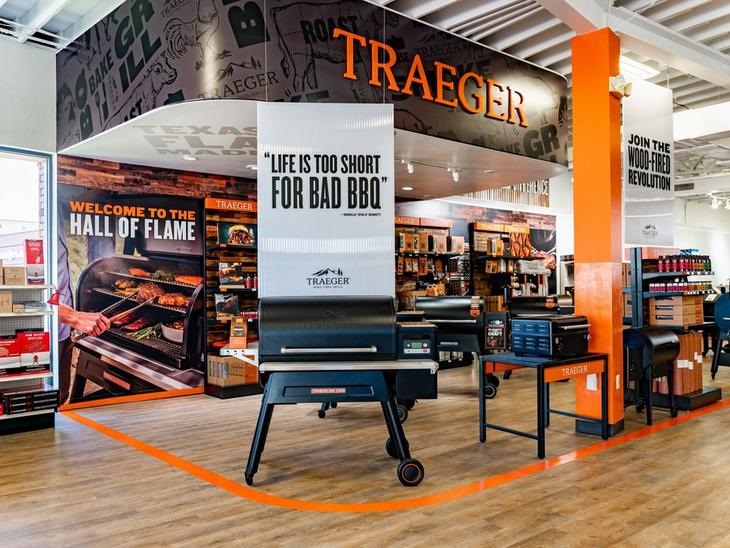 Rick's thesis on pellet grills turned out to be right. It was a business model that fed into itself both by customers returning to buy more pellets and by creating an evangelical following.
I thought it was a nice highlight, the more grills we sell, the more pellets we're gonna sell, and the more grills we sell, the more people are gonna brag about it to their friends and family. then, you're going to sell more grills, so I always figured if I could just sell like 1000 grills then it would have its own energy going forward. eventually that is what happened, we were selling a lot of grills and the opportunity to branch out from there made sense.

Rick Martin, Texas Star Grill Shop
Expansion to Other Brands
Now that the business was working and it made sense to expand, Texas Star Grill shop started selling Weber, Kamado Joe and Saber. Today they carry around 50 different brands in their stores.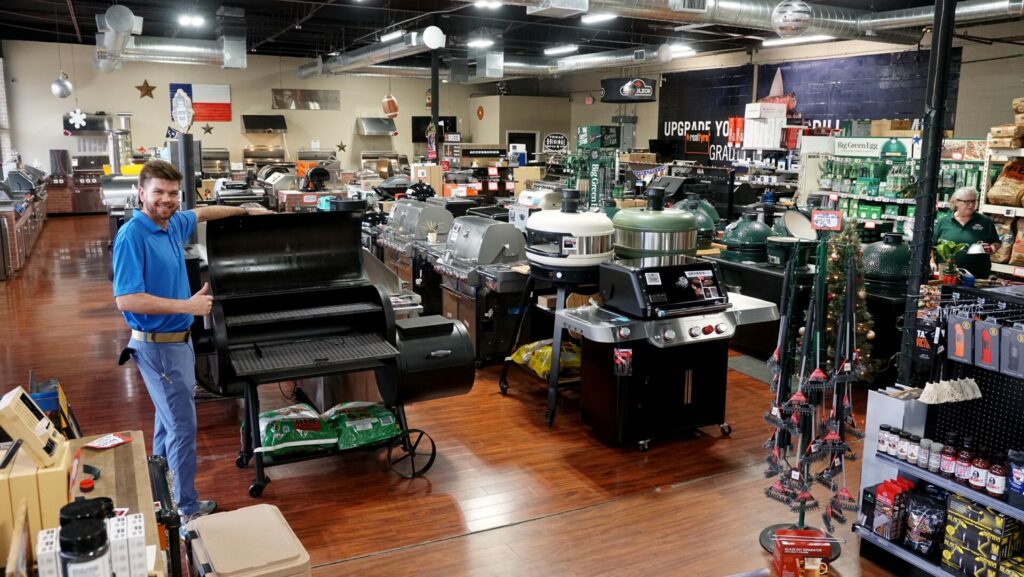 Adding brands had the effect of bringing in customers that are fans of those brands. There is a tipping point though, where it can negatively impact customer decision making.
we also found that every brand we added, it seemed like it added customers. so, we added Weber, you also saw this group of people that were real Weber fans all of a sudden became customers. every brand we added we kept adding sales to it. Today we probably have too many brands and we have to decide what brands we're gonna sell. the customer, they walk in and they get too many choices, they tend to get overwhelmed, and they don't purchase.

Rick Martin, Texas Star Grill Shop
Early Struggles and the Cost of a Store
One hard thing about opening a dealer is it's a capital intensive business because of the expensive inventory. Rick estimates that it costs about $300,000 to open a decent grill store.
The breakdown he gave is $100,000 for inventory, $100,000 for the store build-out, and an additional $100,000 for back-up capital to purchase additional product.
What makes it even harder is there are some slow times of the year, where your aren't converting cash. This is intensified in northern states where, unlike at Texas Star Grill Shop, they sell fireplaces in the winter months to make up for the lower grill demand.
The start-up capital didn't stop Rick from pursuing his dream of opening a grill store though.
we kinda did whatever we could to keep money flowing, and at the beginning days we actually sold our house. real estate (values) had gone way up, so we sold our house and started renting and did whatever we could to keep it going.

Rick Martin, Texas Star Grill Shop
Rick did what he could in the early days to get capital. When he was starting out, banks wouldn't fund him, so he had to resort to merchant loans collateralized with receivables. Those come with crazy interest rates that work out to around 60% annually.
Even though it was difficult financially early on, he stayed focused and passionate about his business. Having that bootstrapping mindset is what he'd tell to other businesses out there.
my advice for anyone in business is just stay in business. make sure you don't give up because it's really easy to give up, that's the easy way out, the to harder way is to keep finding a way to make it happen

Rick Martin, Texas Star Grill Shop
Rick's blood, sweat, and tears that he's poured into Texas Star Grill Shop has made it possible to keep growing. We'll pick back up next time with what he does that's successful and what he's learned that isn't.