If you're looking for a quality thermometer for your cooker, a name that often pops up is Tel-Tru. The western New York State company has been making thermometers right here in the USA since 1935 and has become a staple of the BBQ industry.
Tel-Tru and BBQ
As I learned from talking with Yvonne O'Brien, who has been with Tel-Tru for over 40 years, Tel-Tru's history with smokers is much newer. Like offset smokers, Tel-Tru thermometers in BBQ can be traced back to the oil and gas industry in Texas.
MANY OF THE OFFSET SMOKERS ARE MADE OR FABRICATED IN TEXAS. DURING THE 80S AND 90S, WE STARTED LEARNING OF EMPLOYEES AT SOME OF THE OIL AND GAS COMPANIES WHO WERE PUTTING OUR THERMOMETERS, THAT WERE MANUFACTURED FOR THE INDUSTRIAL WORLD, ONTO THEIR PERSONAL SMOKERS. I THINK THE POPULARITY HAS COME FROM OUR THERMOMETERS BEING WIDELY AVAILABLE IN THAT LOCATION AND BEING A HIGHER QUALITY. WE STRIVE FOR PRECISION AND DURABILITY, AND CERTAINLY A TEL-TRU THERMOMETER COULD LAST FOREVER IF WELL TAKEN CARE OF.

Yvonne O'Brien, Tel-Tru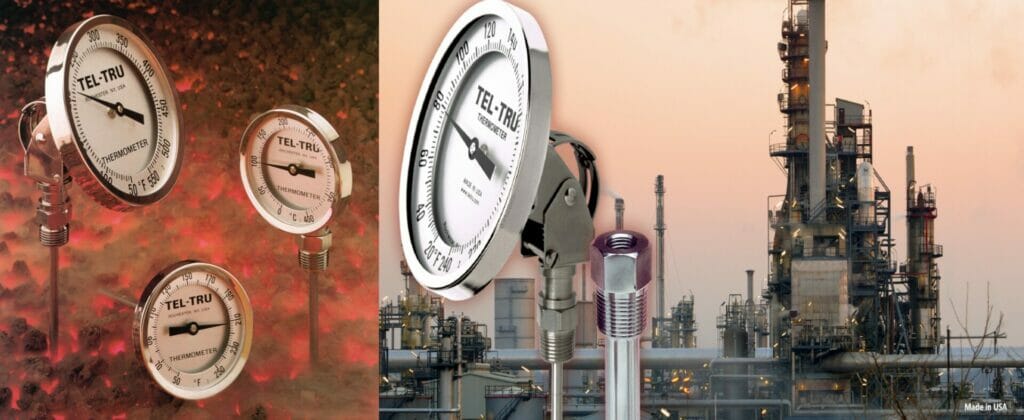 Tel-Tru didn't set out to make thermometers for smokers and grills, they were used for industrial applications. That's why they have such great quality, they were designed and manufactured for harsher conditions than the backyard.
Once Tel-Tru realized that people were using them for smokers, they started marketing for that application at National BBQ Association conferences around the late 90's/early 2000's.
History of Tel-Tru
While I jumped right in with their history in BBQ, Tel-Tru is a family-owned company that was started in 1916 by Harry Germanow. He was a skilled machinist that followed his dream of having his own machine shop. He needed $1,000 to open it, of which he was $500 short, so he partnered with another machinist, Julius Simon, and opened Germanow-Simon Machine Works.
They started by subcontracting World War I military work, but they wanted to branch out into manufacturing their own products. They manufactured several products but had their breakthrough with the first plastic watch crystals that utilized a proprietary method for inserting them.
They used that success to expand their business with the purchase of a thermometer manufacturing company named Tel-Tru Manufacturing Company. Today, Tel-Tru is still in the Germanow family with Harry's grandson, Andy Germanow, leading the company as CEO.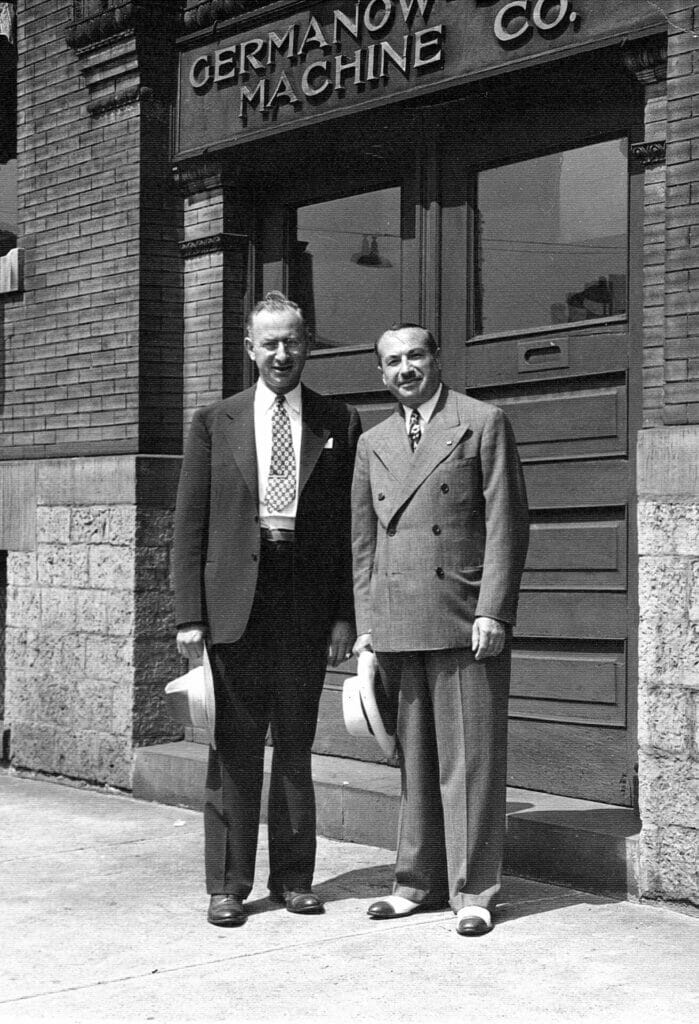 Beyond BBQ thermometers, they also manufacture and distribute temperature and pressure equipment for sanitary, industrial, HVAC, and food service applications worldwide.
Manufacturing
All Tel-Tru's thermometers are manufactured in Rochester, NY, and they're not just assembled there either.
WE'RE A VERTICAL MANUFACTURER, SO CONSISTENT QUALITY AND SERVICES ARE CRITICAL TO OUR SUCCESS. WE HAVE OUR ENGINEERING IN HOUSE, OUR FABRICATIONS DONE IN HOUSE, AND OUR TOOL AND DIE FIXTURE DESIGN AND BUILDING ARE DONE IN HOUSE. WE'RE FABRICATING MOST OF OUR STAINLESS STEEL COMPONENTS, WHICH GIVES US CONTROL OVER THE QUALITY AS WELL AS OUR SHORT LEAD TIMES.

Yvonne O'Brien, Tel-Tru
Anyone that's been around manufacturing knows, that while maybe not the cheapest, vertical manufacturing makes quality control much easier. Supplied parts for final assembly introduce more variables and less tracing for the components.
Thermometer Design
While Tel-Tru sells to consumers, they also have a number of business customers. Some of our favorite cookers come from the factory with Tel-Tru thermometers including cookers from Franklin BBQ Pits, Pitts & Spitts, and PK Grills.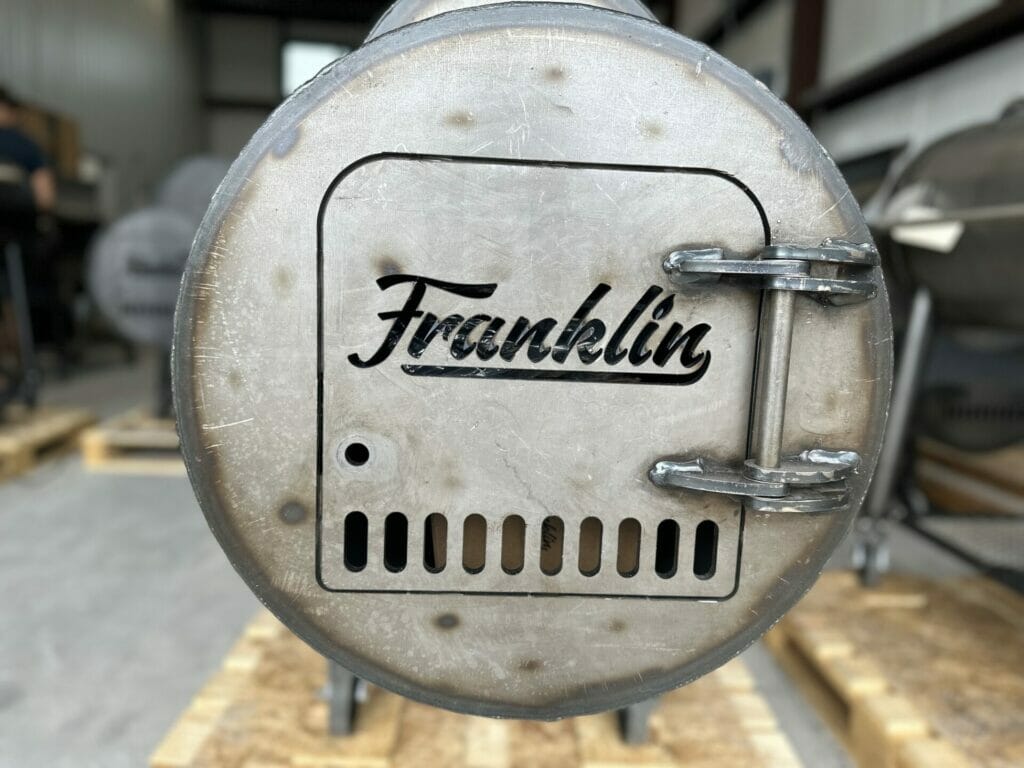 With a vertical manufacturing process, Tel-Tru only requires a minimum quantity of 100 units for a business order for a custom dial thermometer configuration. They design and print custom dials in-house and work with customers through the process. They support different placements and installations on grills and smokers.
I FIRST WANT TO UNDERSTAND WHAT TYPE OF EQUIPMENT THE THERMOMETER WILL BE INSTALLED ONTO, WHAT THE CUSTOMER HAS IN MIND FOR DIAL SIZE DOWN TO HOW THEY WANT TO INSTALL IT, WHAT TEMPERATURE RANGE THEY WOULD BE LOOKING FOR, AND THEN IT GETS INTO THE COLORS OF THE DIAL – THE BACKGROUND COLOR, THE FOREFRONT MARKINGS, ETC. I ASK DISCOVERY QUESTIONS WITH EACH POTENTIAL BUYER TO ENSURE THAT I UNDERSTAND THEIR REQUIREMENTS.

Yvonne O'Brien, Tel-Tru
While grill companies can buy Tel-Tru thermometers for their products without the Tel-Tru name on it, most recognize that consumers see it as a feature.
THERE ARE CUSTOMERS THAT PREFER NOT TO HAVE TEL-TRU ON THE DIAL AND WE DO CUSTOM DIALS FOR THEM, SO THEIR BRAND IS ON THE THERMOMETER WITHOUT THE TEL-TRU NAME. IN THE BBQ WORLD PROBABLY 90% OF OUR ORIGINAL EQUIPMENT CUSTOMERS WANT TEL-TRU ON THE DIAL BECAUSE IT HELPS THEM SELL THEIR EQUIPMENT FROM THE BRAND RECOGNITION OF TEL-TRU BEING A HIGH-QUALITY THERMOMETER.

Yvonne O'Brien, Tel-Tru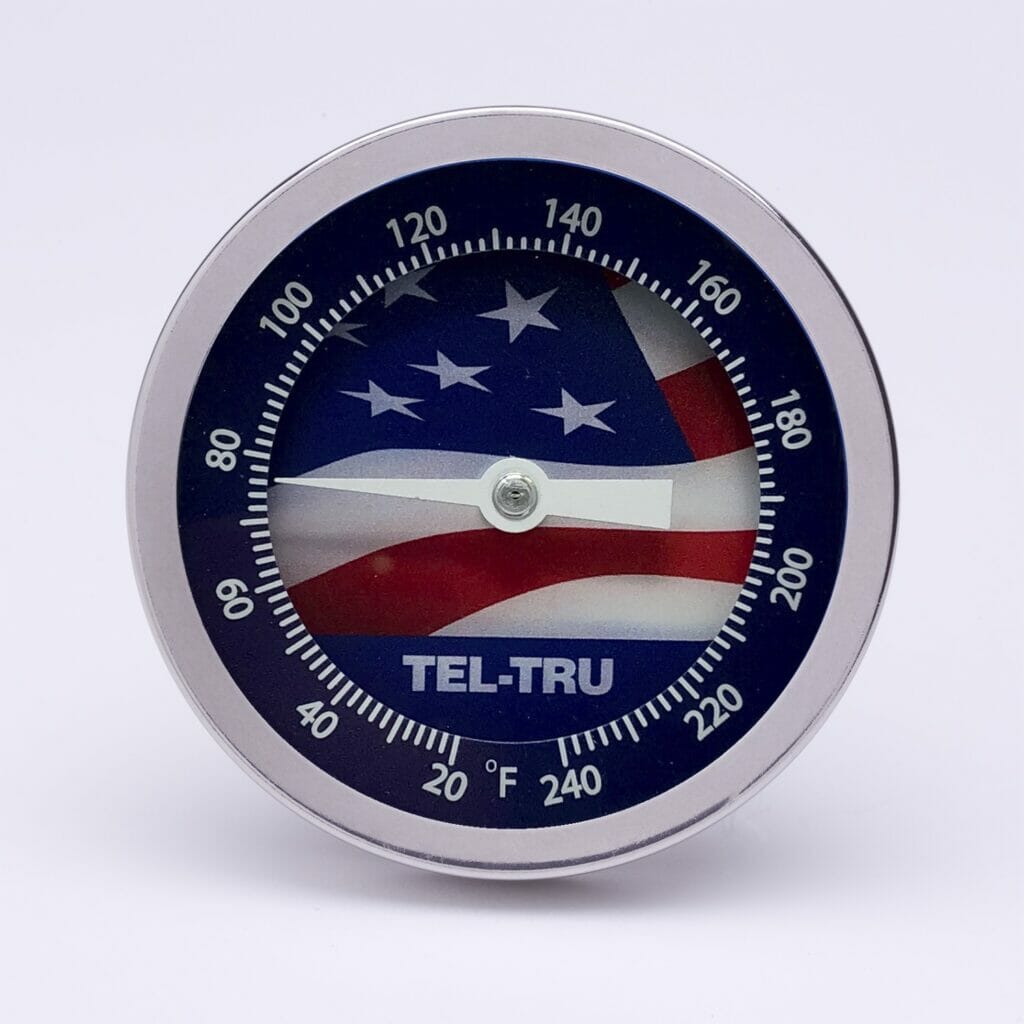 Bimetal Thermometers
All of Tel-Tru's BBQ thermometers are of the bimetal variety.
As the prefix "bi" would indicate, bimetal thermometer work by using strips of two different metals, with two different coefficients of thermal expansion. When temperature changes, so does the amount of deflection between the two types of metal because of the difference in coefficients of thermal expansion.
The amount of deflection is measured and translated to a temperature reading on the dial.
Picking a Thermometer
If you're not a business customer and are looking for a Tel-Tru thermometer for your grill or smoker, Tel-Tru has a guide for you. It lays-out their model line-up for various types of cookers and various sizes.
The Groove
A feature that's only found on Tel-Tru thermometers is a 360-degree groove located on the stem. It's important because when mounting the thermometer, the length from the groove to the point all has to be in the cook chamber for accurate readings. Otherwise, you're partially taking a temperature reading inside the mounting fixture.
Newest Product
Tel-Tru's newest thermometer is also one of our favorites. It features a black dial, with glow in the dark lettering for easy reading day or night.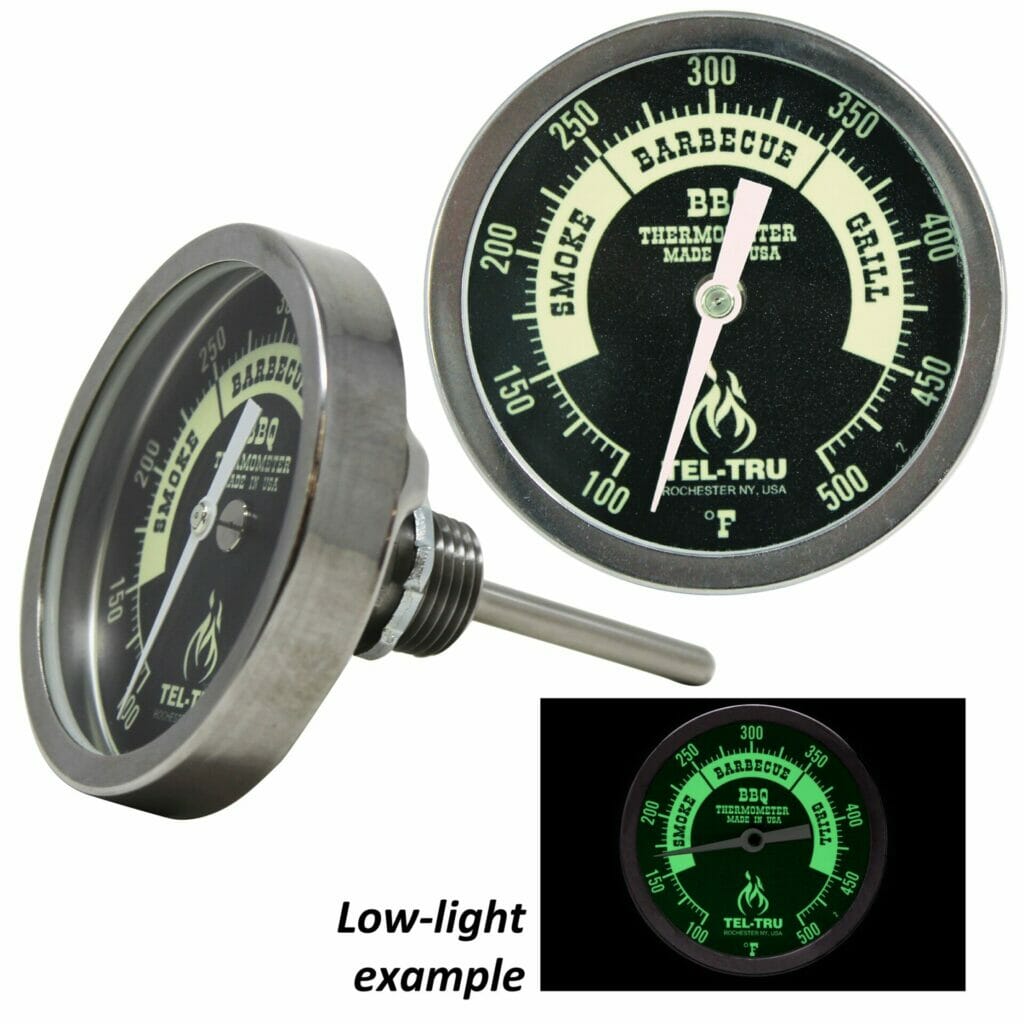 It's a great design for late night cooks, or for the winter months when the sun sets early. Plus, since it's glow in the dark, no batteries are needed for nighttime viewing.
Commitment to Customers
One takeaway I got from talking with Tel-Tru is their commitment to the customer, and as a part of that, making quality products. While their thermometers are well known, they're a relatively small, family owned, U.S. based operation that just punches above their weight.
WE TRULY CARE ABOUT THE CUSTOMERS EXPERIENCE AND PROVIDING A PRODUCT THAT THEY CAN FEEL GOOD ABOUT. WE KNOW THAT THEY SPEND GOOD MONEY ON THE THERMOMETERS.

Yvonne O'Brien, Tel-Tru
While basic in function, a quality thermometer is surprisingly complex. It has many components and an involved manufacturing process. That's why so many people put their trust in Tel-Tru, which truly makes industrial quality thermometers for your backyard.