Disclosure: This article may contain affiliate links. If you buy a product through an affiliate link, we may receive a commission at no cost to you.
SharkNinja, the popular indoor appliance brand, ventured outdoors last year with their Ninja Woodfire Outdoor Grill. It was well received, so they're following it up with the new Ninja Woodfire Outdoor Oven.
After years of extensive consumer research, we uncovered the need for outdoor appliances that could provide versatility, worry-free BBQ smoking and traditional smokey flavors without the flame or guesswork in the outdoor space. Our Ninja Woodfire family gives consumers the ability to achieve the quintessential woodfire flavor they crave conveniently and with ease. Now, with the Ninja Woodfire™ Outdoor Oven, consumers can not only grill and smoke, but take their culinary experiences to new heights that go beyond what they could achieve with a traditional indoor oven.

Neil Shah, Chief Commercial Officer at SharkNinja
Features
The new oven has a retail price of $399.99 (check price). It's very versatile, with eight different ways to cook. The oven can:
Cook pizza in 3 minutes without needing to turn it
Max roast for higher heat cooking
Specialty roast for things like chicken
Smoke with the built-in smoke box and included wood pellets
Bake like a traditional oven
Broil on high heat
Dehydrate for things like jerky
Warm to keep food ready to serve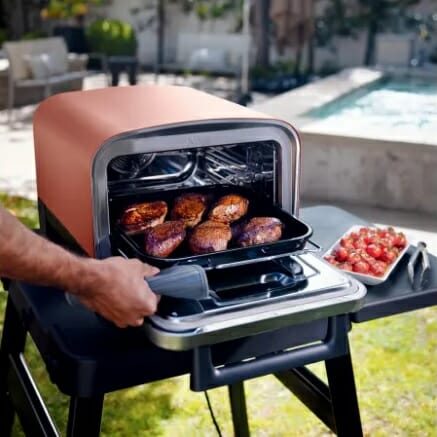 To help accomplish all of the different cooking methods, the Ninja Woodfire Oven includes a pizza stone (pizza peel sold separately), a roast rack, and a Pro-Heat pan. Plus, the oven has a wide temperature range from 105°F-700°F.