Disclosure: This article may contain affiliate links. If you buy a product through an affiliate link, we may receive a commission at no cost to you.
The popular appliance maker Ninja Kitchen moved outdoors last year with the release of the Ninja Woodfire Grill. It boasts 7 different cooking functions all in a compact, electric package. We were interested to see if it lived up to the hype, so Ninja sent us one to test out.
Summary
The Ninja Woodfire Grill is a viable option if you're looking for a small, convenient, electric grill. While we were disappointed with the smoke flavor it produced, it's functionality as a grill or air fryer make it a real competitor to other popular electric grills on the market.
Features and Specs
Retail price of $369.60 (check price – it's often on sale)
Versatility with 7 different cooking functions – Grill, Smoker, Roast, Bake, Dehydrate, Air Crisp, and Broil
141 square inches of grilling area
Pros
Grills Well
If you're looking for a small, electric grill for your apartment balcony or a small space, this can do the job. It gets hot enough for grilling things like steaks, burgers, and hot dogs. There is enough grilling real estate for 2 people if you're cooking more than just the protein, or 4 people if it's only meat that you're cooking.
The surface of the grill is non-stick, which worked well in our testing. The grill surface lifts off, and it's compact enough that you can easily clean it in the kitchen sink.
Air Frying
We were really happy with the air fryer function on the Ninja grill. It produced some delicious French fries that were crispy, despite not being deep fried.
While you could use it to make both burgers and fries, to speed up meal time, we used it in conjunction with another grill. While the Ninja was cooking up the fries, we cooked burgers on the Blackstone griddle, so everything was hot and ready at the same time.
Good for Beginners
If you're a beginner to grilling, this grill is setup for you. The different modes that you select take care of the settings for proper cooking. It makes it easier to turn on and get grilling, rather than spending time Googling "how to grill".
Cons
Smoke and BBQ
A neat idea with this little grill is there is a smoker box built onto the side. You fill it with a cup of pellets, and a heating element burns them to add smoke flavor to your cook.
If you're used to the smoke flavor from a wood fired smoker like a pellet grill or offset smoker, you'll be disappointed with the flavor. The smoke is pretty surface level, and it doesn't taste as clean as wood fired smoking.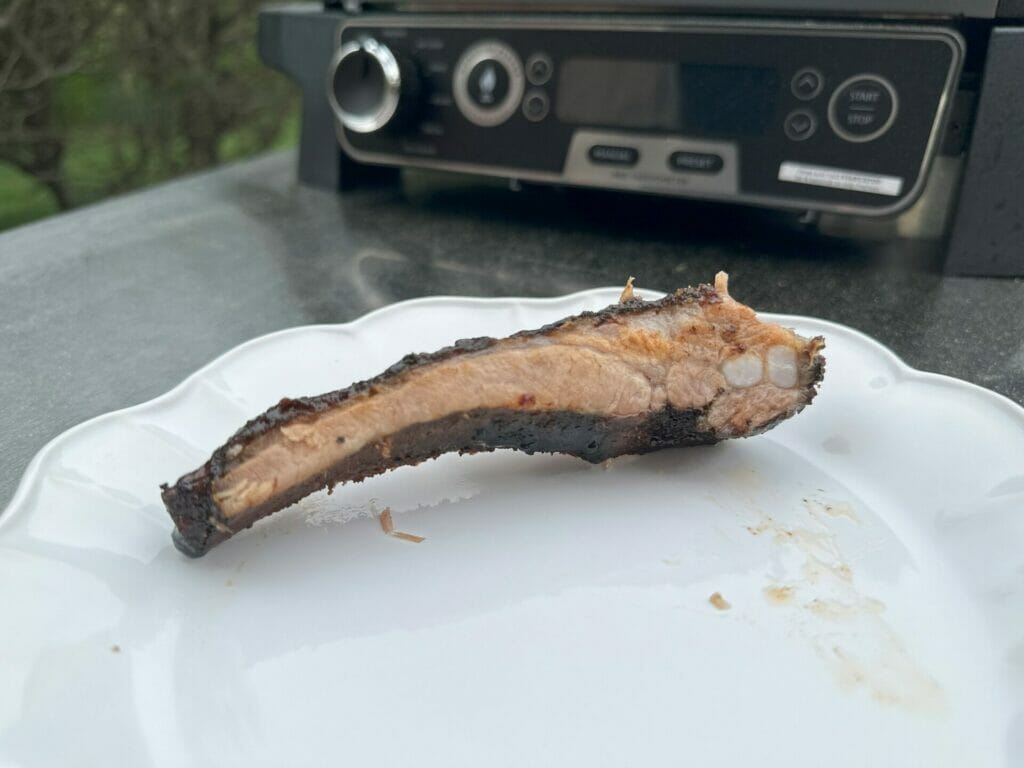 With the smoldering pellet smoke being blown around the cooking area, it also turns your food black on any long cooks. It doesn't look appetizing and it takes away from the taste.
The smoke does work better on shorter cooks though. It's a nice feature if you're just doing some quick cooking and want a little extra flavor.
Only Ninja Pellets
Ninja advertises that you should only use their pellets for smoking. There is nothing different about the pellets that come with the grill compared to any other pellet on the market. The bag is even branded as Bear Mountain, which is part of one of the largest pellet suppliers out there.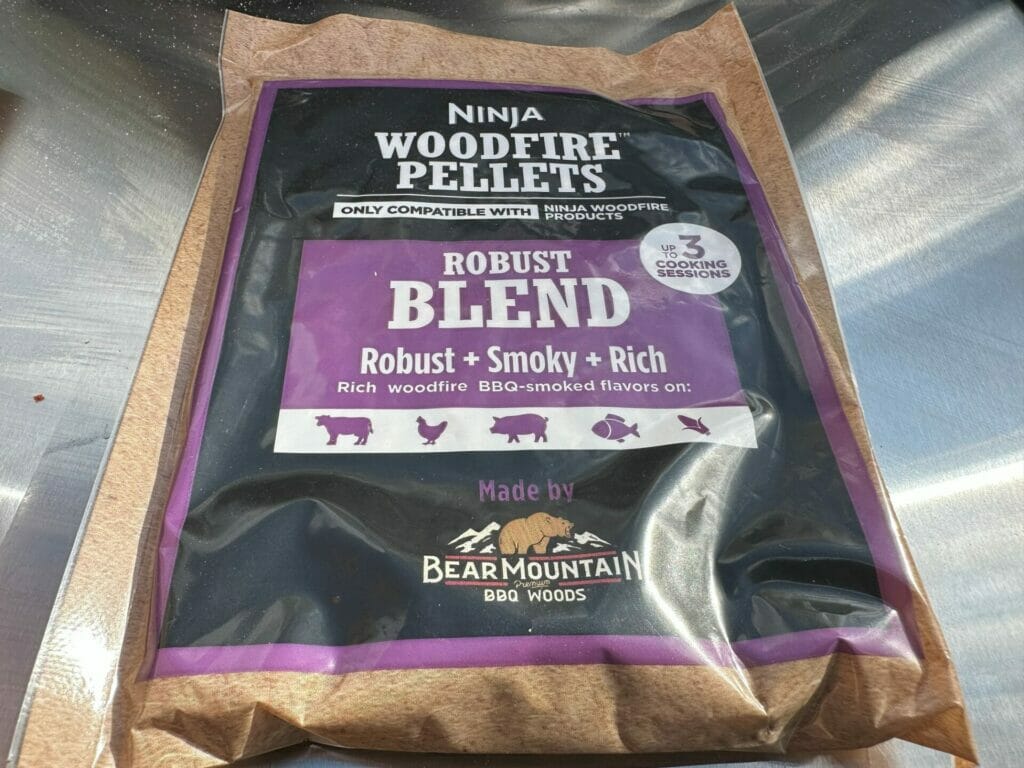 We're not a fan of the philosophy of trying to lock consumers into a product. They shouldn't scare people into only using their pellets.
Conductive Cooking
There's an electric heating element, like the one in an electric oven, under the grill cooking surface to heat it up. That means your food is mostly being cooked through conduction. While this works well for grilling, it's not so good when you want convection like for reverse searing. It will cook the food too quickly, which makes it less tender.