HALO is a name in grilling that's known for great design and innovation. They're keeping that reputation alive by releasing an industry first, a battery powered, full size pellet grill.
Building off of the battery powered portable pellet grill (also an industry first) that they released last year, they have expanded the Prime pellet grill line to include the Prime550, Prime1100, and the Prime1500. Each number designation represents the general cooking space in each grill.
The Prime series all use the same rechargeable lithium-ion battery pack (sold separately). It's estimated to power a grill for 15-20 hours per charge. That's enough time to cook just about anything on the grill. If you're cooking briskets away from your house, you might want to pick up an extra battery, just in case.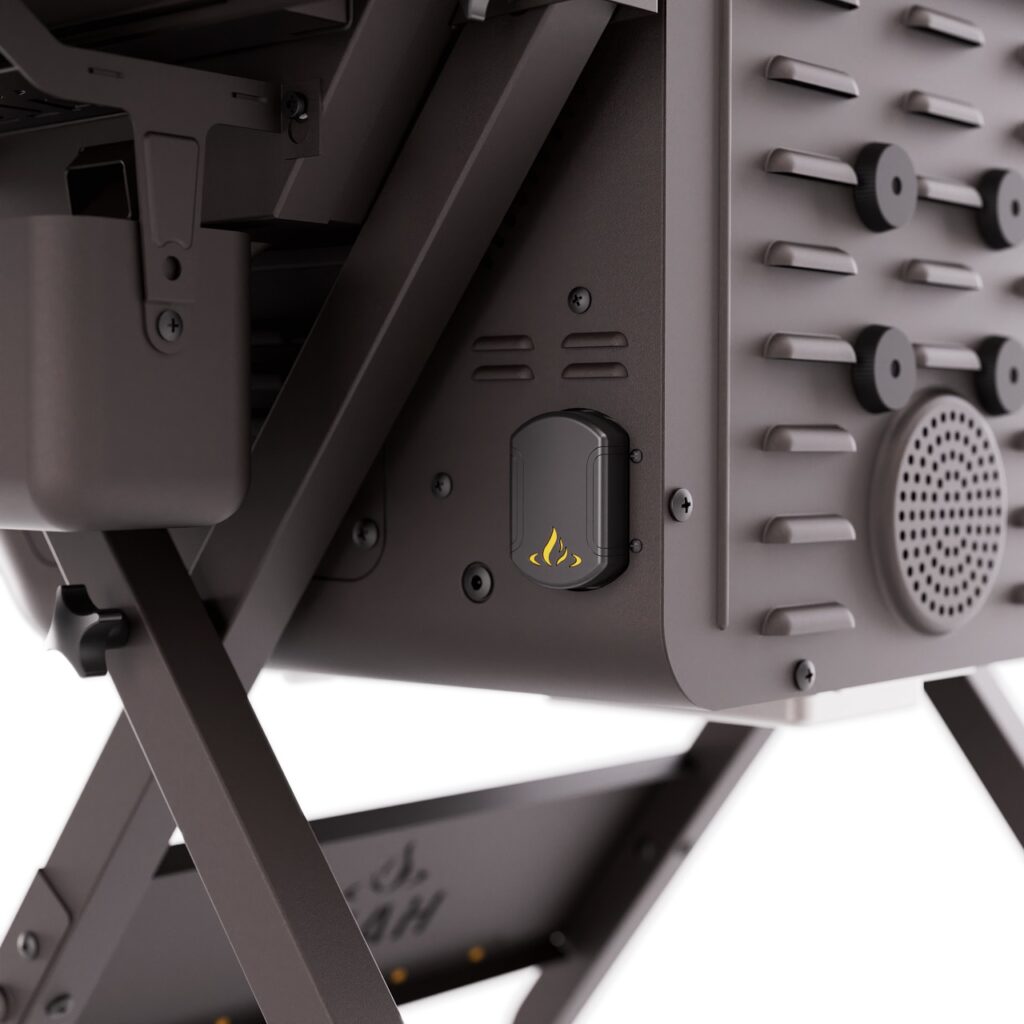 Reasonably Priced
While the new grills have some great features that we'll get to, the biggest surprise for us is the pricing. HALO released new griddles earlier this year with loads of features, and logically with that came a premium price tag. That's not the case with the new additions to the Prime series.
Compared to grills like the new Traeger Ironwood that keep ticking up in price, the HALO pellet grills are all very competitively priced. The Prime550 retails for $849.99 (check price), the Prime1100 retails for $1,099.99 (check price), and the big Prime1500 retails for $1,299.99 (check price).
Unique Design
The first thing to notice about the Prime pellet grills is they have a unique design compared to other pellet grills on the market. They have a front load hopper, a controller on the front, side shelves that fold up, and an X-shaped cart.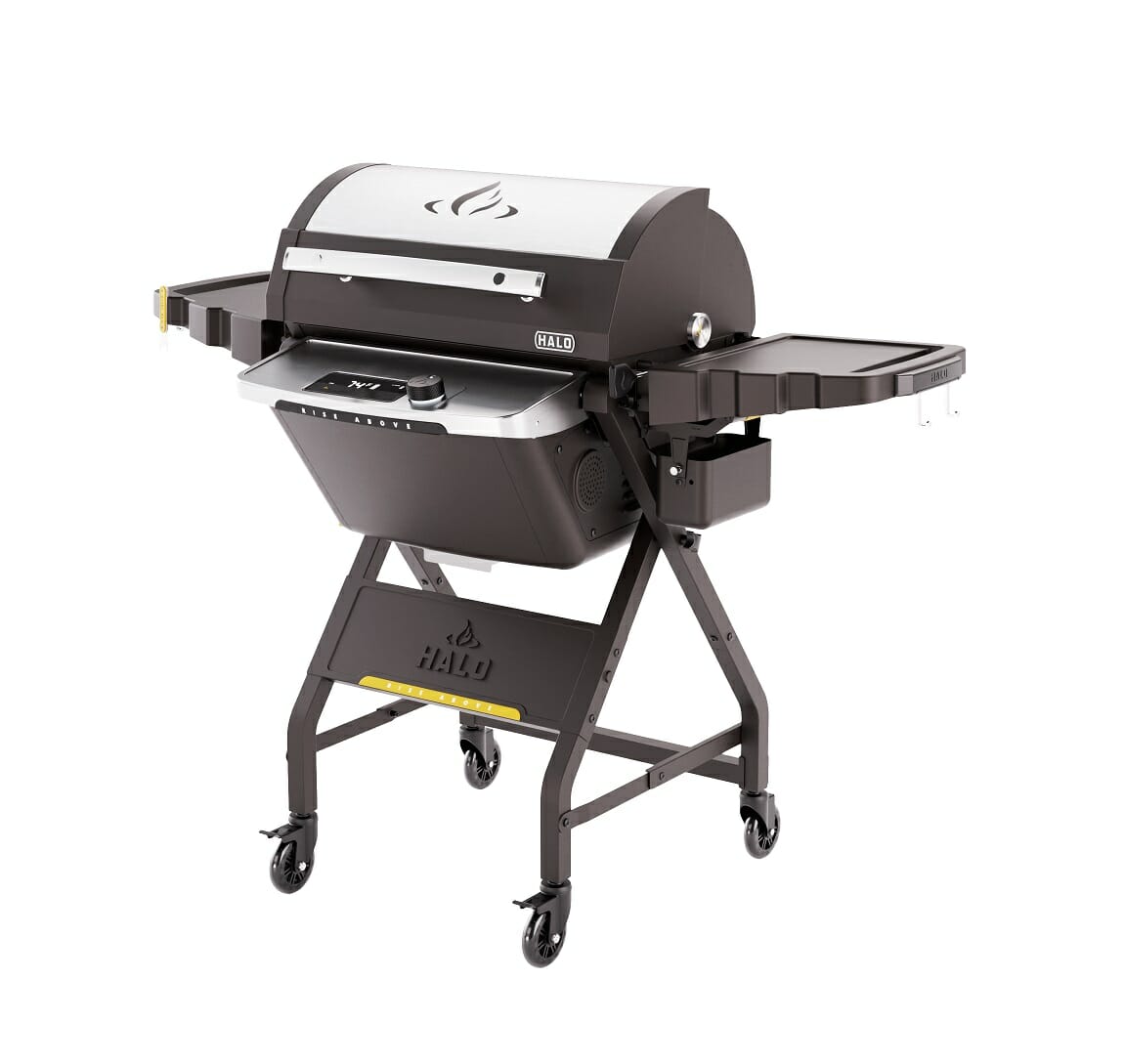 The design is great looking overall. Our only concern with the controller in the front is there's a protruding knob, so you can't really use it as a conventional front shelf. Plus, I would imagine they tested for this, but I've spilled so much grease on front shelves that I would worry about it hurting the controller.
Detacheable
A nice feature with the HALO Elite griddles is they can be detached from their cart. We're happy to see that HALO carried that over to the Prime pellet grills. They maximize the potential of battery power by being able to be easily detached from their carts.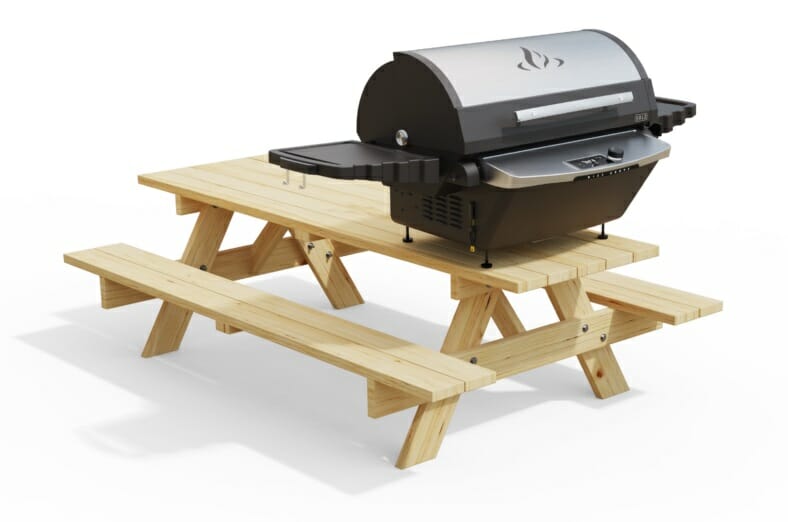 That's helpful for taking your pellet grill camping, tailgating, or anywhere else that you want wood fired flavor. Pellet grills are a heavy item though, so be mindful of that with the larger grills.
In addition to being detachable, you can also level the grill on or off the cart. It comes with a height adjustment tool and a level, so you have everything you need.
Hopper Rumblers
Traditionally, when pellets feed in a hopper, just one side of the pellets get fed. That means that you have to periodically mix around the pellets in the hopper to flatten it. It also means that pellet sensors are really just telling you that you need to do that, rather than you're low on pellets.
One of the coolest features on the Prime series is it's equipped with Hopper Rumblers. Those shake around the pellets when the sensor sees that they're low, so all the pellets are used and you never have to put your hand in the hopper.
Dual Auger Design
The hopper and auger design on the new Prime series is different than other grills. The hopper is split in two, so that you can load two different types of pellets in and choose which one you want to cook with.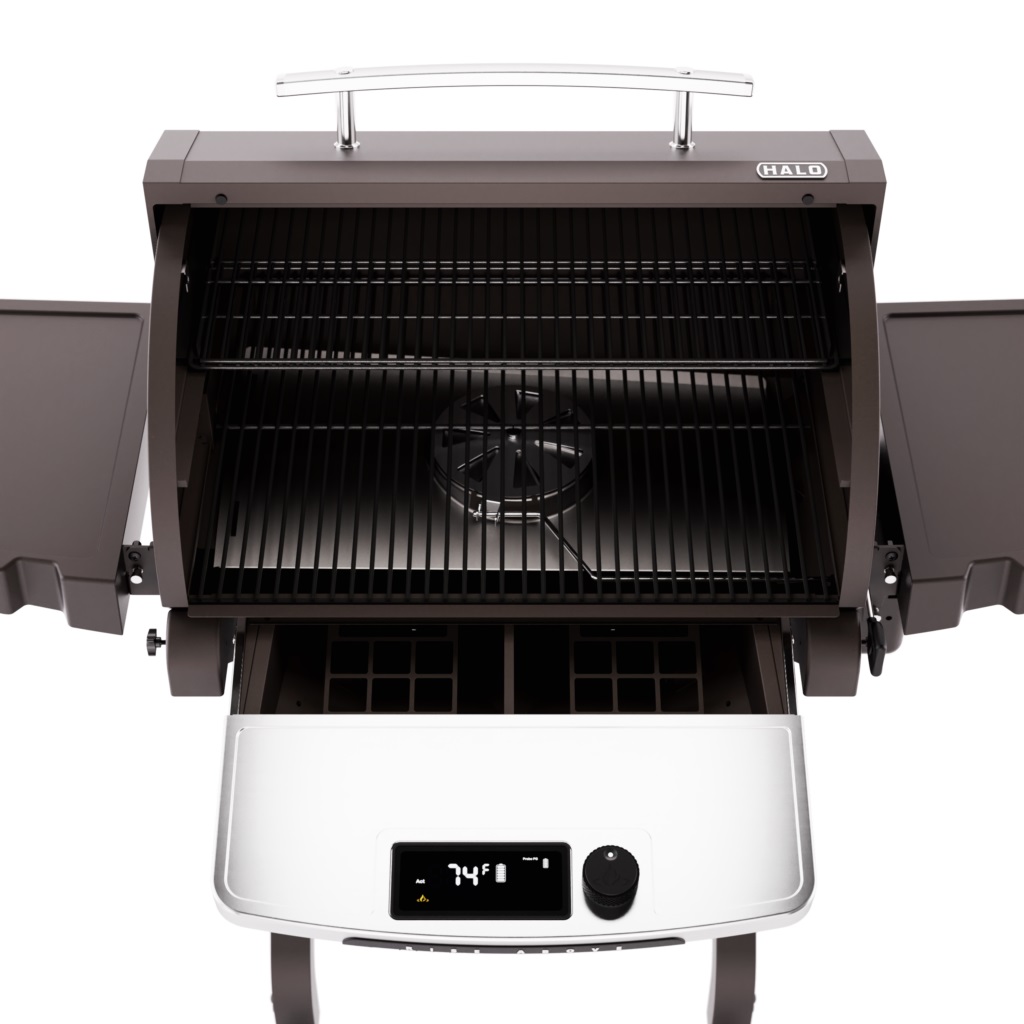 It's a good way to allow for cooking with different pellets. In other grills you have to empty the hopper and reload it with other pellets if you want to switch. I know I end up just cooking with the same pellets until they run out, because I get too lazy to go through that process.
With a two auger setup, it would be interesting if HALO has ever tried running them at the same time to get higher heat searing. Other grills have their temperature capped by the feed rate of the auger. Two augers could solve this problem. Maybe next time HALO?
Other Features and Specs
Connected Grilling
In what's pretty standard now on pellet grills, the Prime series will connect with your phone through the HALO Connect app. This allows for conveniently monitoring your cooks from anywhere.
Temperature Probes
On HALO's website they don't mention temperature probes anywhere in the specs. With how essential those are, they probably should list them. We can confirm from the owners manual that the Prime grills do have multiple temperature probe ports, and it looks like they come with one probe.
Direct Sear + Flare-Up Control Plate
Another feature that HALO added to their pellet grills is the ability to open up deflector to the flame in the fire pot. By using a lever, you can access the fire for higher heat searing.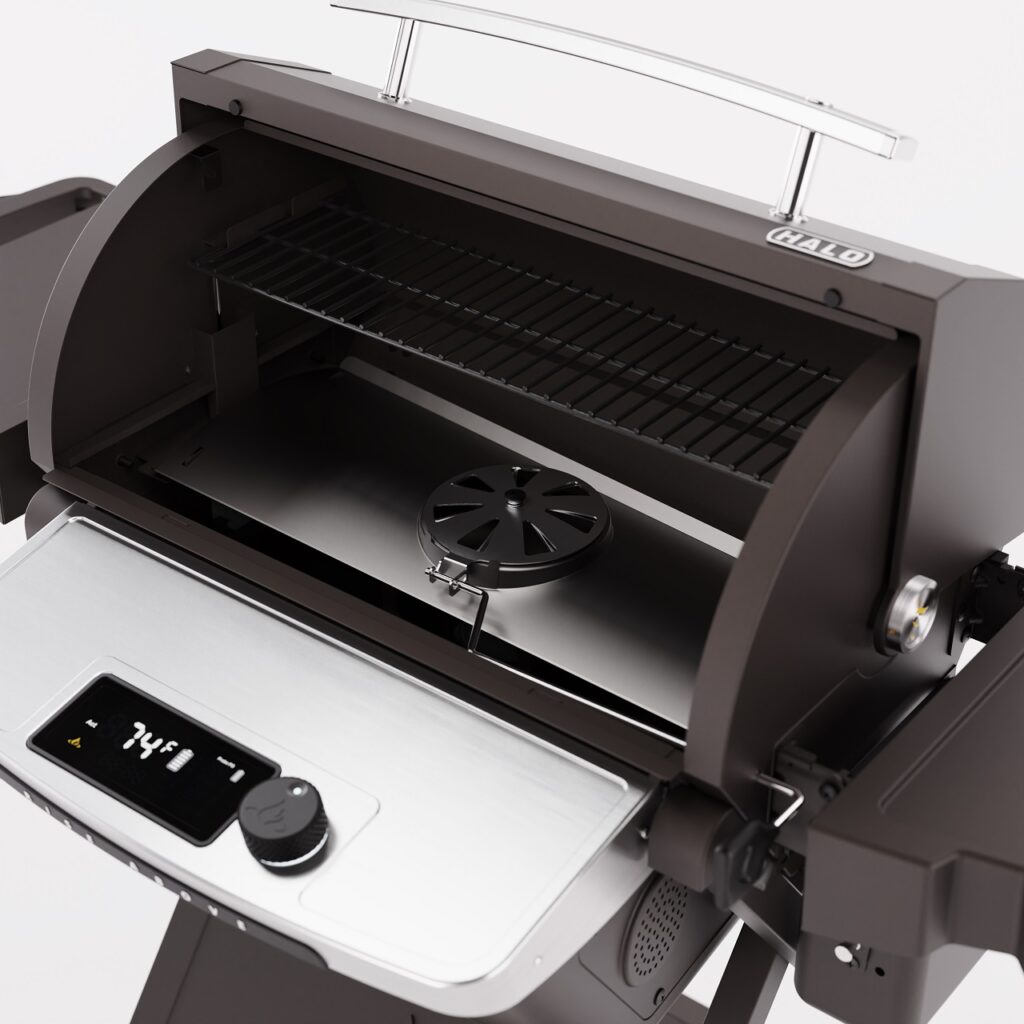 Summary
HALO always is pushing the envelope on design, and their new Prime series pellet grills are no different. They have a cool look, with even cooler features. Factor in the biggest surprise, the price, and I think these will make their way into a number of backyards this summer.