With Memorial Day in the books, we've officially entered into cookout season, where grillmasters across the US break out the charcoal, pellets, or propane tanks to sizzle up some of our favorite summer dishes. From the brats and burgers to brisket and beer, this is the time of year when we gather with family and friends to enjoy warm weather, cold drinks, and some seriously delicious food.
That being said, not every place approaches a barbecue in the same way. From the types of food and drinks served to even what you call the actual gathering, everyone does it a bit differently depending on where you're from.
So first off, let's take a look at where the good ole' fashioned barbecue (or "cookout" if you're on the east coast) is most popular.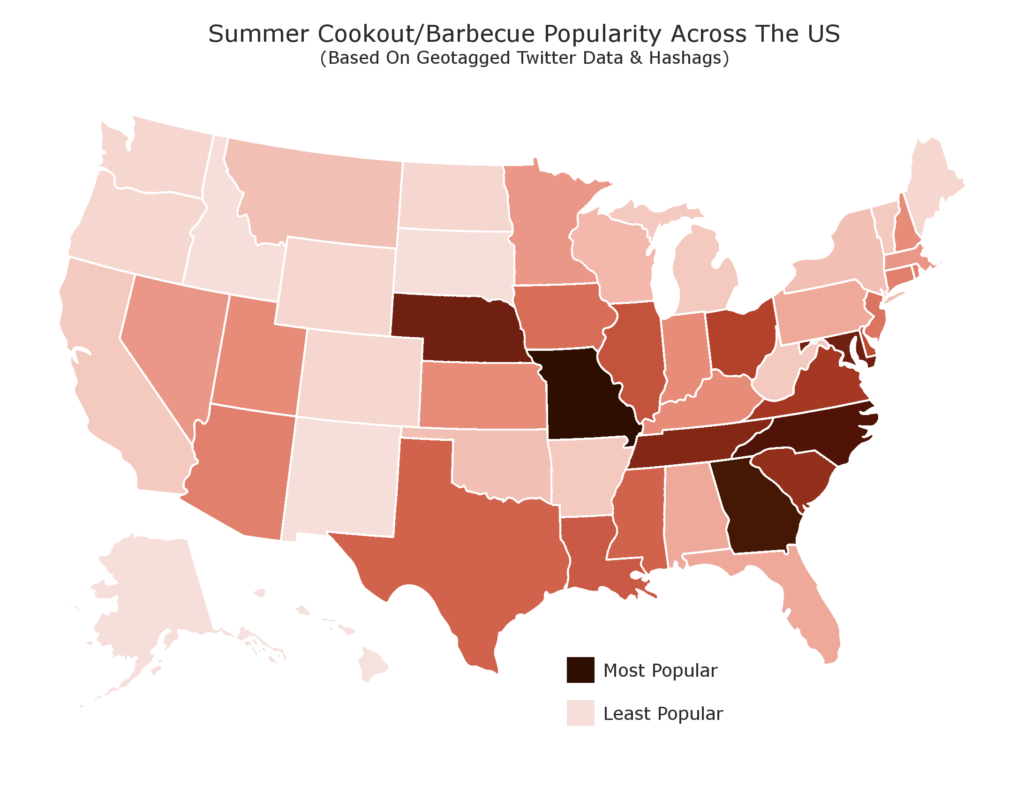 The map above is based on geotagged twitter data from the entire month of May (which is National Barbecue Month) tracking tweets, hashtags, and direct keyword phrases about cookout and barbecues. This was done using the twitter API and running queries for terms like "barbecue, BBQ, cookout, cookout season, grilling, grillmaster, grilling season, barbecue season, summer cookout, summer barbecue, cookout recipes, barbecue recipes" and more, including associated hashtags. Over 600,000 tweets were tracked.
As you can see from the map, it's clear that the midwest and southern states are the most popular regions for cookouts, some may even call it the "Barbecue Belt."
The top 10 summer cookout states are as follows:
Missouri
Georgia
North Carolina
Maryland
Nebraska
Tennessee
South Carolina
Virginia
Ohio
Texas
What's interesting is that not everyone calls this "grilling get-together" by the same name. For example, the terms "cookout" and "barbecue" sometimes refer to the same thing, and sometimes don't.
"Barbecue" can refer to the style of cooking or grilling, or a type of food in general. It can also refer to a gathering of people (generally outside) to socialize and eat food that traditionally comes off a grill of some type.
A "cookout" essentially refers to this same type of gathering, however some argue that a "barbecue" is a much larger event, whereas a cookout is a smaller, more private event. Regardless, there seems to be a very clear regional difference in what people call this gathering.
Once again utilizing geotagged twitter data, we see that the term "cookout" is part of the east coast or midwestern dialect, in addition to parts of the upper mountain region, while "barbecue" is the primary term everywhere else.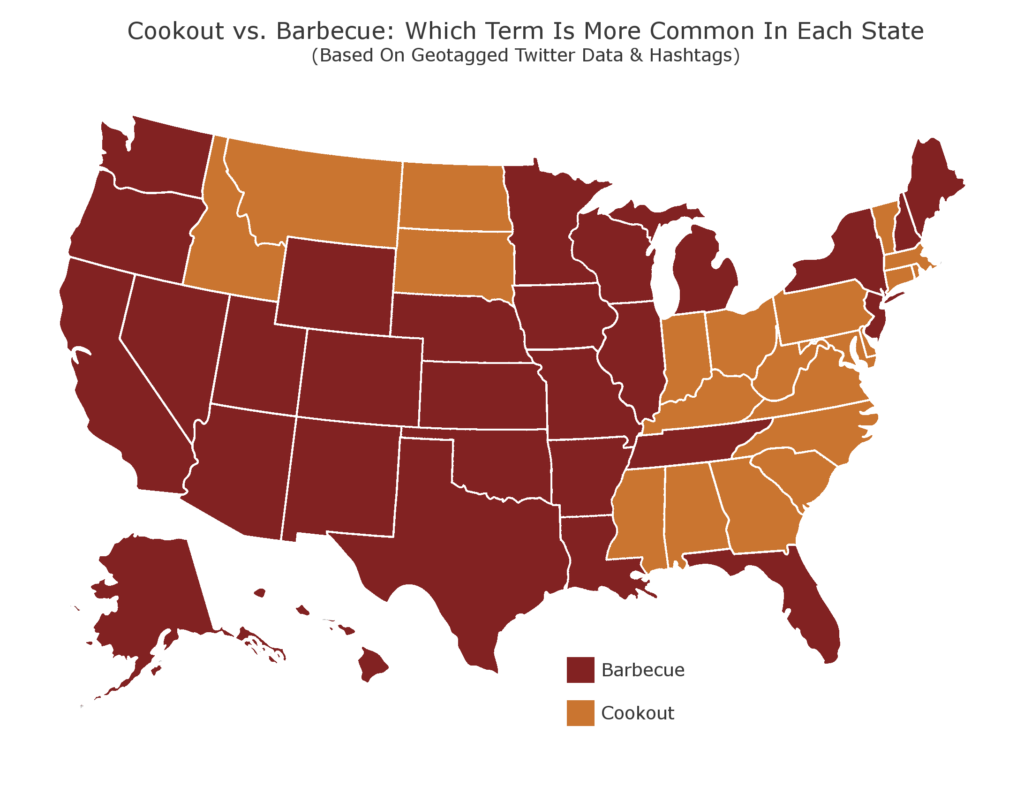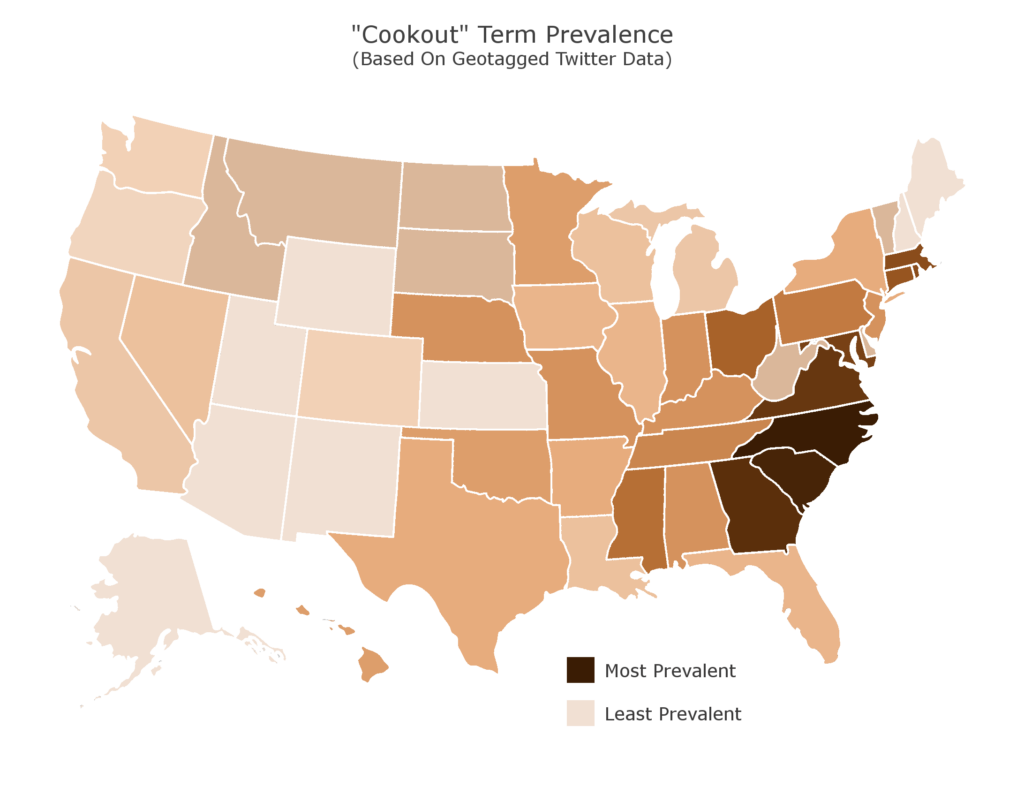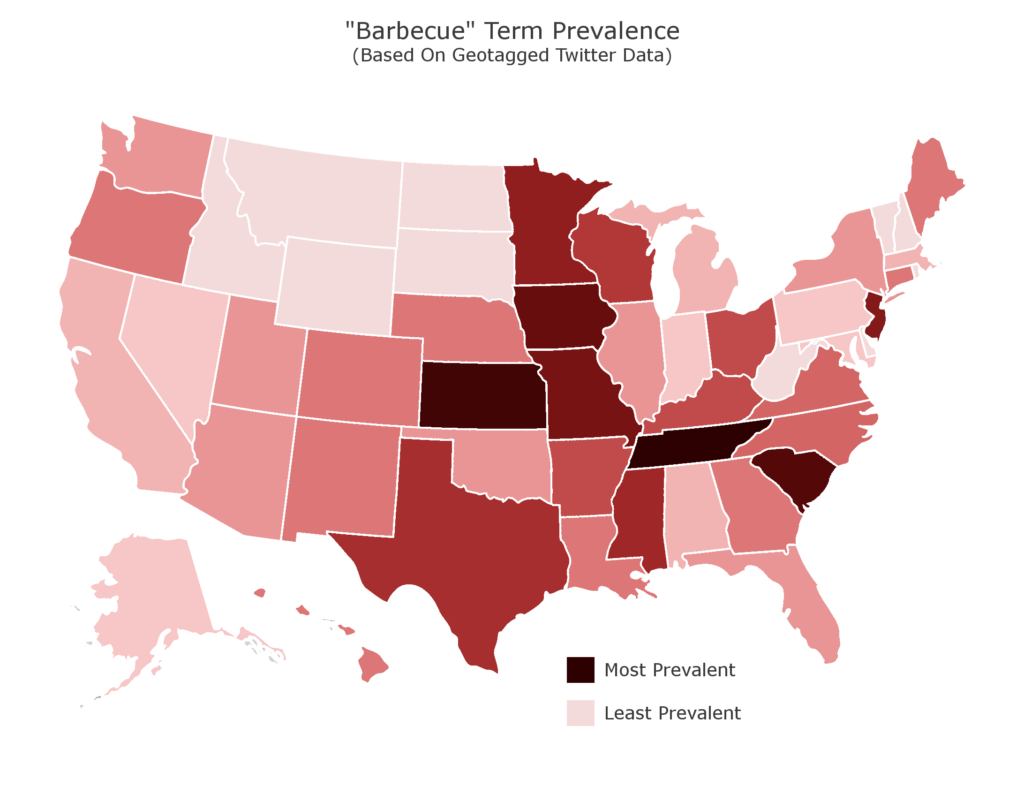 Regardless if you're going to a "barbecue" or "cookout" you're more than likely going to need something to wash those burgers down. This is where another staple of the American barbecue comes in… ice cold beer (or seltzer in recent times).
If you're of age, and enjoy an adult beverage every now and again, you've most likely paired it with a hamburger or hot dog at a friend's house or family get together while grilling out. But just like everything else… there are preferences, and each state has its own when it comes to "barbecue beverages."
Going back to our trusty twitter data, we can see the regional differences by searching geotagged tweets that are about both cookouts (or barbecues) and specific beer brands. For example, a tweet that is about grilling and "Bud Light." We can then use this data to determine the most popular "barbecue beverage" in each state. Over 130,000 tweets were tracked in the month of May.
It's not surprising to see the most common (and most sold) beers dominating the map, however it is interesting to see White Claw take away several significant states. Which speaks to the fact that adult seltzers have continued to gain popularity, and are becoming synonymous with summertime and summer events.
The state breakdown is as follows:
Bud Light – 24 states
White Claw – 8 states
Budweiser – 7 states
Coors Light – 5 states
Miller Lite – 4 states
Busch Light – 2 states
Other popular beers such as Corona Light, Michelob Ultra, Modelo, Guinness, Heineken, and others did not win any states in specific reference to cookout/barbecue popularity.
Despite the differences, the commonalities of a "barbecue" or "cookout" are pretty universal. Family, friends, good weather, and good food. That is something everyone can agree on.
Stay tuned for more "Cookout Cartography" in the future!