The charcoal briquette was created back in 1920 from sawdust and mill waste combined with tar and bound together with cornstarch. It was an industry created by Kingsford using scraps of wood left over from Henry Ford's Model T production. After 100 years, The Good Charcoal Company was formed, aimed at disrupting the charcoal industry by changing charcoal production to benefit the planet and local communities. In celebration of Earth Day 2022, we sat down with The Good Charcoal Company CEO and Co-Founder, Ben Jablonski to learn more.
Bush Encroachment in Namibia
Like most innovative companies that are disrupting old industries, The Good Charcoal Company began with trying to solve a problem. Bush encroachment is a serious problem in Namibia, a country that has rich wildlife and 70% of the population depends on agricultural activities.
The problem is widespread, with an estimated 45 million hectares (about 175,000 square miles) of encroached surface area, and it's so severe that it's threatening the cheetah population. Cheetahs can reach speeds of around 70 miles per hour and as the Cheetah Conservation Fund notes, hunting at such speed through thickened bush is nearly impossible due to energy expenditure and ease of movement. In addition, cheetahs can sustain injuries as a result of bush encroachment.
When I was in Namibia, the excess Acacia was shocking. you see how the environment used to be, and it was grassland where animals could roam and eat, but now the Acacia makes that a lot more difficult. It's created an environmental distortion.

Ben Jablonski, The Good Charcoal Company CEO and Co-Founder
Good for the Environment
The main plant species causing the encroachment problem is the invasive Acacia. The species is very drought tolerant, grows in dense thickets and can grow six to ten feet high. The people of Namibia are fighting back against the Acacia by using it for charcoal. Acacia is denser than oak or hickory, and it burns hotter, cleaner and more efficiently. Those properties make it great for charcoal.
That intersection of a solution to an environmental problem and an opportunity to create a mission focused business was the founding of The Good Charcoal Company.
We're just happy to be playing a positive role there by making charcoal that's not chopping down trees. We're working hand in hand with the Forest Stewardship Council to responsibly reduce the Acacia tree population.

Ben Jablonski, The Good Charcoal Company CEO and Co-Founder
The Forest Stewardship Council (FSC) was formed more than 25 years ago after the 1992 Earth Summit in Rio failed to produce an agreement to stop deforestation. In response, a committed group of businesses, environmentalists and community leaders banded together to create a revolutionary concept: a voluntary, market-based approach that would improve forestry practices worldwide. Their mission is to promote environmentally appropriate, socially beneficial, and economically viable management of the world's forests.
The charcoal from The Good Charcoal Company is FSC certified, which means it follows all of the standards set by the FSC. Also, the FSC has said the greenest charcoal comes from Namibia.
---
This isn't the first time that Jablonski has found harmony between agriculture and business, especially when it's involved empowering farmers. While studying at MIT, he focused on farming in the developing world by starting a non-profit organization that promoted teamwork between Israeli and Palestinian farmers.
I just really connect a lot to the issues of environment, to the issues of farming and I think what we're doing in Namibia is really special.

Ben Jablonski, The Good Charcoal Company CEO and Co-Founder
Barbecue in particular is also something that has been significant in Jablosnski's life. Growing up in Australia, barbecue culture was very popular, so he always had a passion for it. He has defining memories of growing-up, cooking with friends and family. Much like in the United States, it's important for celebration and just for days at the beach.
Good for America
The Good Charcoal Company's story of positive impact isn't limited to Namibia. They're also focused on the problem of hunger in communities across America.
When we started this brand, my business partner Rob and I saw what was going on with all the hunger in all different communities. We saw people were lining up during Covid for food, in ways that they never had. we wanted to start feeding people in need and we started to. We had an idea that what if we would take a barbecue food truck and partner that with a food pantry. So, we started doing that before we even had any revenue, just out of our own pockets, before we raised any money for the company.

Ben Jablonski, The Good Charcoal Company CEO and Co-Founder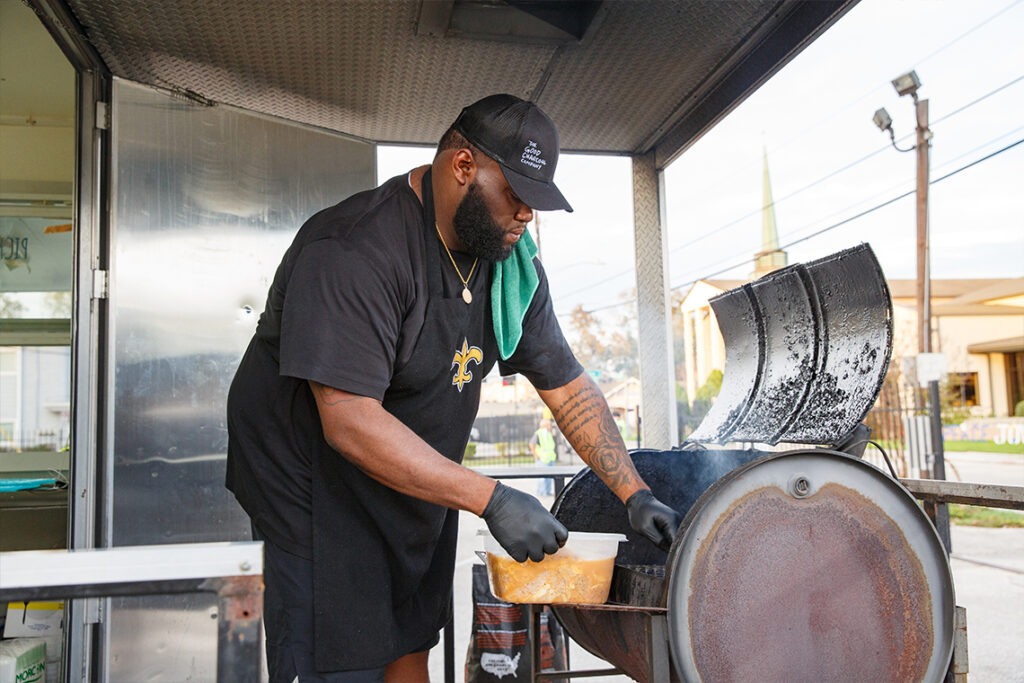 Growing from that idea, The Good Charcoal Company has now fed close to 15,000 meals to people in need all around the country. They've partnered with communities from Seattle down to Boynton Beach, up through the Bronx and many communities in-between. This connection with helping local communities has helped establish that they stand by their values.
The Charcoal Business
The Good Charcoal Company is working to build a community in their own right, around their product. You can see them on Instagram partnering with pit masters and turning people onto their product.
We're confident in our product and we think that if people try our products, just a customer at a time tries it, we think that they'll tell their friends. We're trying to tell that story on social media, but I think that the opportunity is big just because we have something great.

Ben Jablonski, The Good Charcoal Company CEO and Co-Founder
The Good Charcoal Company was the first company to import charcoal from Namibia to the United States. Like most founders and start-ups know, running a business with physical inventory requires capital and funding. The Good Charcoal Company closed a friends and family funding round late last year, and are in the process of raising a seed round right now that will be much larger.
As their business has seen significant growth, the number of stores they're in has been growing quickly. They did a test with Sam's Club last year that went really well, and so now they're in Sam's Club stores nationwide. This is in addition to existing relationships with large retailers such as Home Depot and ShopRite. As of the time of writing, they've grown to being in close to 900 stores.
Jablosnki was asked about what the future holds for The Good Charcoal Company, which traditionally is answered by start-ups with responses about capital raising, IPOs and acquisition. His answer, unsurprisingly, was representative of the founding values of his company.
I think that when you start something like this, you have to have a real belief that you're making something that people will want. this is not a financial transaction to build and sell something. it's really about how do we build something great, you know? When you see people just happy using your product, It's unbelievable.

Ben Jablonski, The Good Charcoal Company CEO and Co-Founder