Char-Broil has been at the forefront of innovating the electric grill platform. They released the EDGE electric grill, which we really like, and is unlike other electric grills on the market. It appears that they're parent company, W.C. Bradley Co., is leaning into electric grills more with a new all electric grill brand called Current Backyard.
Continued Innovation
We wrote about the Napoleon Rogue EQ when it was announced for being the first connected electric grill. One problem, it was supposed to be launched a year ago and there hasn't been a single update since the spring of 2022.
The Current grill is poised to knock the Napoleon Rogue EQ off that throne by offering WiFi enabled grilling. It says on the website that it has "three distinct usage modes — from complete manual mode to internal temp guides to step-by-step instructions curated by our professional chefs".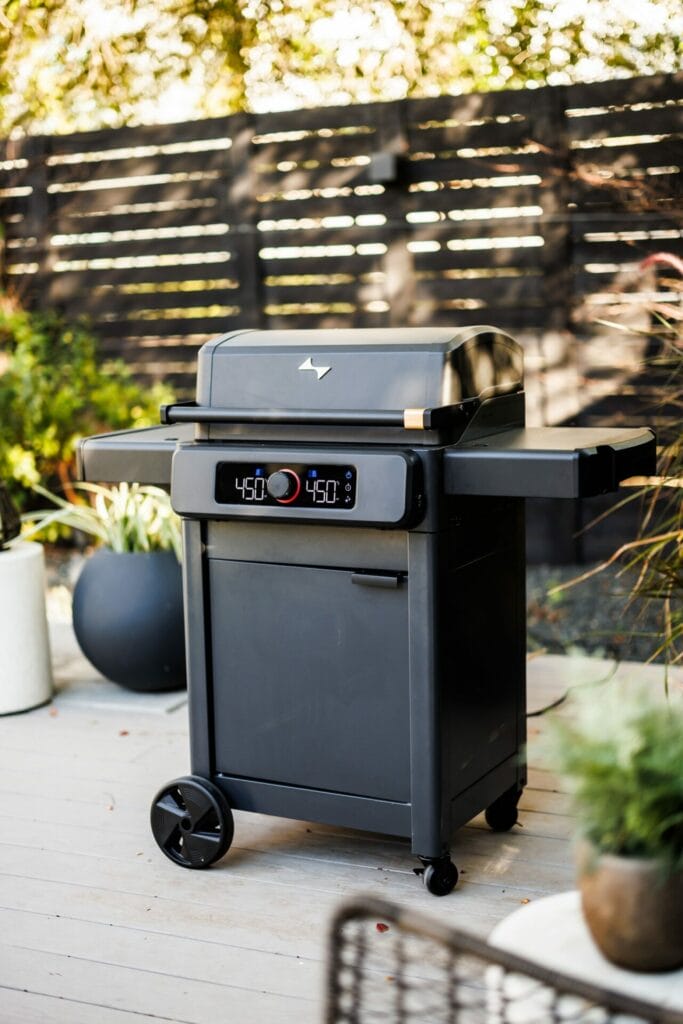 This is an exciting addition to electric grills because it seems like a natural expectation. It's also the direction that gas grills are going, which we see as a place that electric grills can take market share from.
Another important detail is it's the first connected grill from the W.C. Bradley Co. companies, excluding their recent Dansons purchase. We're interested to see how their interface works compared to the others on the market.
Line-Up and Features
There will be two grills in the Current line-up. The first is the Current Model G Dual-Zone Electric Grill. Below are the features that it will have.
Current Model G Dual-Zone Electric Grill
Retail price of $899, extra if you want the version with a cabinet
Max temp of 700°F for great searing ability
Dual-zone cooking
Meat probes (it looks like 2) for monitoring your cook on the grill or app
Heat-up time of 10 minutes, so no waiting around
330 square inches of cooking space with a warming rack
They also are going to offer a griddle called the Current Model G Electric Griddle, which is spec'd similar to the grill. Below are the key differences.
Current Model G Electric Griddle
Retail price of $799, and there may be a cabinet option
Max temp of 600°F
Has an Auto-Seasoning setting, but we're not sure how that works yet
Winning Awards
Since this is a unique grill, Current Backyard is launching it in a different way. They'll have it with a bunch of other innovative electronics at the Consumer Electronics Show (CES) in Las Vegas.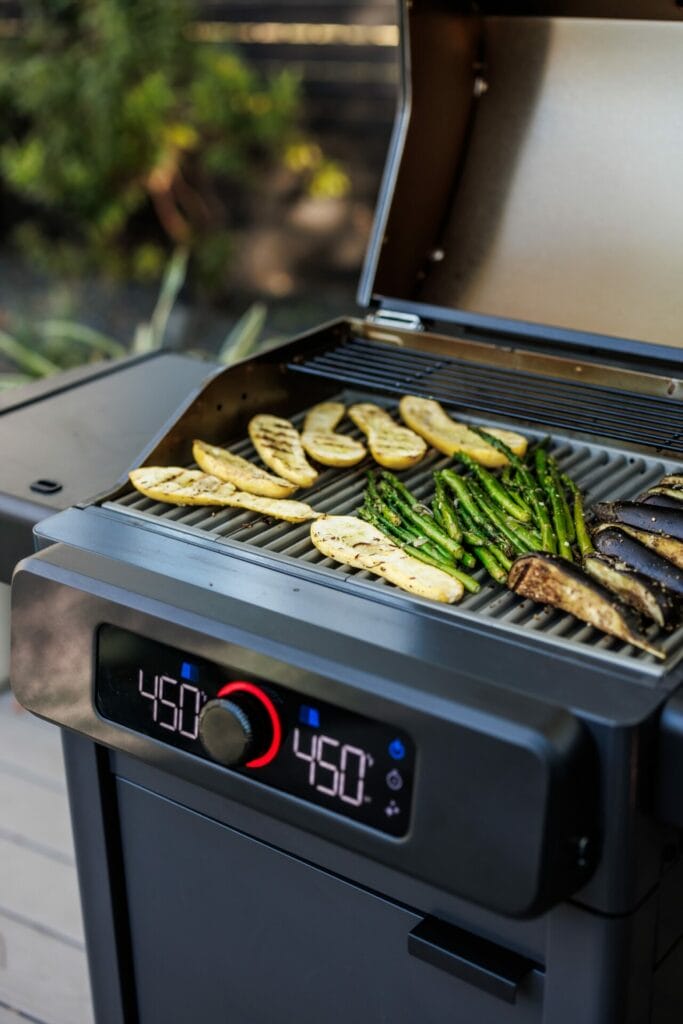 The Current Model G Dual-Zone Electric Grill has already received recognition as a CES® 2024 Innovation Awards Honoree in the Smart Home category. The CES Innovation Awards celebrate exceptional design and engineering in consumer technology.
The significance of being recognized as a CES® 2024 Innovation Awards Honoree by the Consumer Technology Association is a major accomplishment for a brand that is still in its pre-launch phase. This accolade bolsters our readiness to introduce the Current Backyard brand in 2024 to a fresh wave of smart home enthusiasts, revolutionizing electric grilling in the process.

Tom Penner, CEO of Current Backyard
Backed by Char-Broil's Parent Company
What's interesting about the Current Backyard brand is we're pretty certain that it's owned by Char-Broil's parent company, but they have no mention of W.C. Bradley Co. anywhere. It's not anywhere on their website or on the press release for the CES award.
We know it's from them though because we saw the Current trademark previously, as well as the trademark for symbol of the brand. Information on the LLC leads back to W.C. Bradley Co.'s address, and Tom Penner is also the CEO of Char-Broil.
From a marketing standpoint they may want it to be it's own thing, which makes sense. We like the assurance though that it offers coming from an established grill company, rather than a start-up that might not be here in the future. Having a separate, distinct brand could be a win-win because it's fresh and new for casual or new grillers, while enthusiasts like its lineage.
Launch Timeline
What we've pieced together is they are going to roll-out the brand on December 1st, with a full introduction at CES in January 2024. The grill will start shipping to consumers in February 2024.
If you're attending CES in January, you can see Current Backyard from January 9th-12th at the Las Vegas Convention Center's Central Plaza at Booth CP-22.
Innovation with Assembly
Char-Broil did a great job with making assembly on the EDGE easy. The Current Grill takes that to the next level with tool-less assembly. It has patent pending "snap-in" panels and hanging side shelves. We're excited to see that first hand and think it will be a win for electric grill consumers.
Why Electric?
People that think of electric grills are usually haunted by George Foreman grills. They're good in their own right, but not really grilling. As we saw first hand from the Char-Broil EDGE, it was just like grilling gas. The flavor was also the same as gas.
Beyond the flavor, which is one of the most important parts, electric grills are nice for a few other reasons. It seems like every summer there are burn bans in place in various spots in the country. With an electric grill, that's isn't that issue, you can always grill.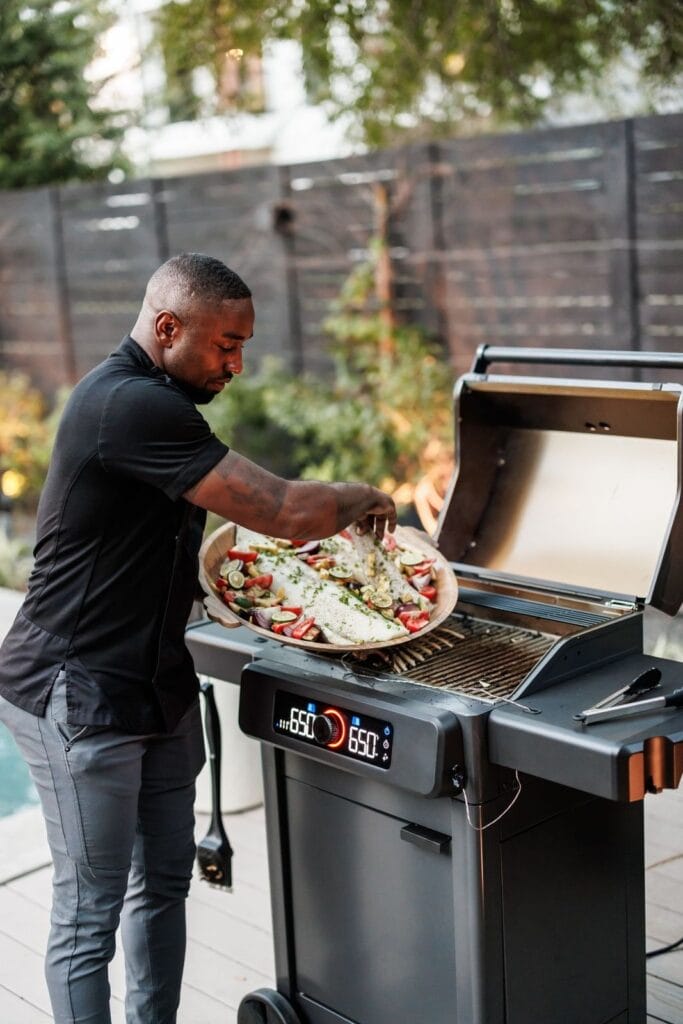 Electric grills are also nice because you always have fuel on tap. There's no more lugging propane back and forth to the hardware store.
You can also use them in apartments or other areas where there are burn bans. It's an easy substitute for a gas grill.
Improvements from the EDGE
As I said before, we really liked the Char-Broil EDGE. The Current Grill fixes the minor complaints we had with the EDGE though, which is exciting.
It adds smart grilling, which the EDGE isn't capable of, and it has meat probes. Another of our big complaints was the time it took to heat-up. Assuming the 10 minute warm-up is accurate, that seems to be improved.
Conclusion
We're really excited for the launch of the Current Backyard brand and the new electric grill and griddle. It continues to push innovation with grilling and makes grilling accessible to more people. We'll reserve final judgement for when we can see the grill in action, but the Current seems like a great option for grill buyers.