Amazon Web Services (AWS) announced a new application yesterday for supply chain management called AWS Supply Chain. Its function is to help businesses increase supply chain visibility to make faster, more informed decisions that mitigate risks, save costs, and improve customer experiences, per the AWS website. Despite not being widely available yet, they listed Traeger as an early adopter of the solution.
Customers tell us that the undifferentiated heavy lifting required in connecting data between different supply chain solutions has inhibited their ability to quickly see and respond to potential supply chain disruptions. AWS Supply Chain aggregates this data and provides visual, interactive dashboards that provide the insights and recommendations customers need to take actions toward more resilient supply chains. And this is just the beginning—we will continue our investment in AWS Supply Chain to help our customers solve their toughest supply chain problems.

Diego Pantoja-Navajas, vice president of AWS Supply Chain at AWS
AWS Supply Chain
The application works by customers setting up a unified supply chain data lake with AWS Supply Chain's built-in connectors. They use machine learning based on Amazon.com's 30 years of extensive supply chain experience to understand, extract, and aggregate data from ERP and supply chain management systems.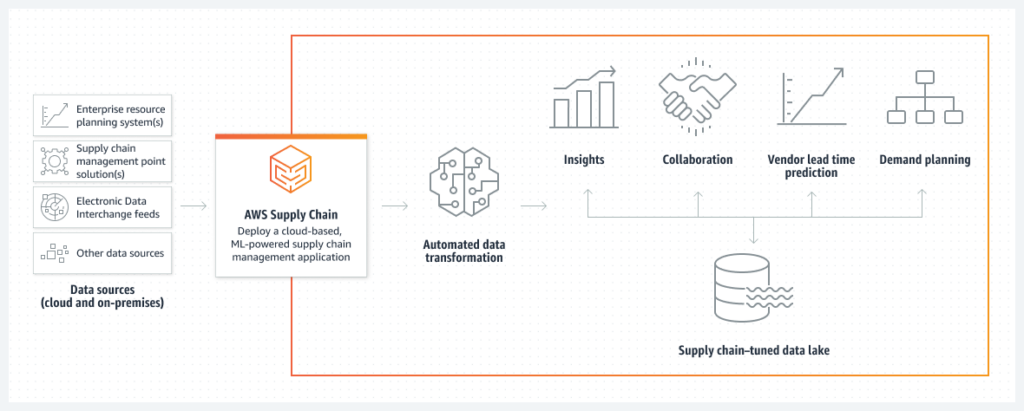 What AWS Supply Chain does with that data is it creates a real-time visual map so operators can optimize inventory levels. AWS Supply Chain will automatically provide recommended actions based on the percentage of risk resolved.
Traeger
Traeger has been an AWS partner since 2018, when their previous vendor decided to sunset their Internet of Things (IoT) platform. With the help of OST, Traeger was able to migrate 111,000 devices and 700,00 mobile users to AWS IoT Core in three months. For those interested in more detail, AWS wrote a case study on the migration.
With Traeger's size and offshore manufacturing infrastructure, having robust supply chain management capabilities is essential for their business. This was only heightened from all of the supply chain challenges through the pandemic. It makes sense for them to deepen their relationship with AWS and be an early adopter of AWS Supply Chain.
At Traeger, our mission is to bring people together to create a more flavorful world. Yet, the last several years have put unprecedented supply chain pressure on our ability to keep pace with customer demand in distributing the world's No. 1 wood-fired grill. We are excited to have a solution that helps us make nimble rebalancing decisions based on supplier inventory and customer orders. By leveraging AWS Supply Chain we've been able to increase the accuracy of order forecasts by more than 35%.

Bryan Carey, head of operations and analytics at Traeger Grills
Having too much inventory from lagging sales this year, has led to a cash crunch at many grill manufacturers. As we turn to 2023, right sizing inventory levels and finding the balance between a lean balance sheet and preventing out of stock items will be crucial. Having real-time data from AWS Supply Chain should help Traeger with this.