Disclosure: This article may contain affiliate links. If you buy a product through an affiliate link, we may receive a commission at no cost to you.
When people think of TIKI Brand they likely think of the bamboo torches that have decorated backyards for decades. While TIKI still sells torches, they have also evolved their product line-up over the past handful of years to do much for your backyard.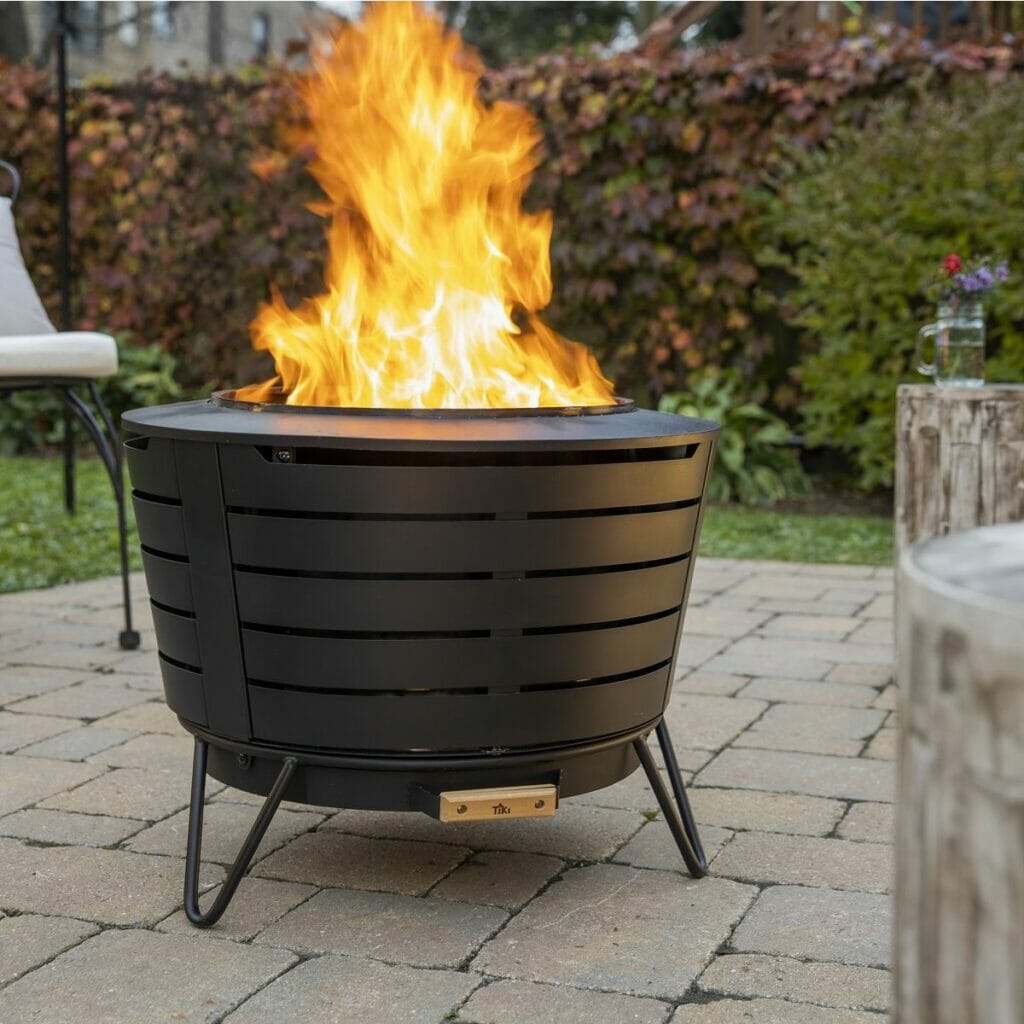 Innovative Smokeless Fire Pit
The evolution started in the fall of 2019 when TIKI entered the smokeless fire pit category through a Kickstarter campaign to get consumer feedback on their idea.
Everyone just wants to get to that experience of being around a wood fire faster and easier. The process before and after is a huge hassle. We wanted to make it super simple

Andrew Harmeling, product manager for fire pits at TIKI Brand
While there are other smokeless fire pits on the market like the Solo Stove Bonfire, and plenty of Solo Stove imitators, TIKI's fire pit design goes a step further. Retailing for $395 (check price) for the Patio size, it addresses consumer complaints even with other smokeless fire pits.
There's an interesting video of TIKI's approach to designing the fire pit. They even used a virtual environment to make sure they got the design down.
30 Minute Fire
To make having a fire easier, and more predictable, the TIKI fire pit comes with a 30 minute fire pit fuel pack. It's a bag made of thick paper, filled with wood pellets.
You use it by draping it over an included metal dome accessory for the fire pit. Rather than needing a fire starter, it's corners can easily be lit to get the fire going.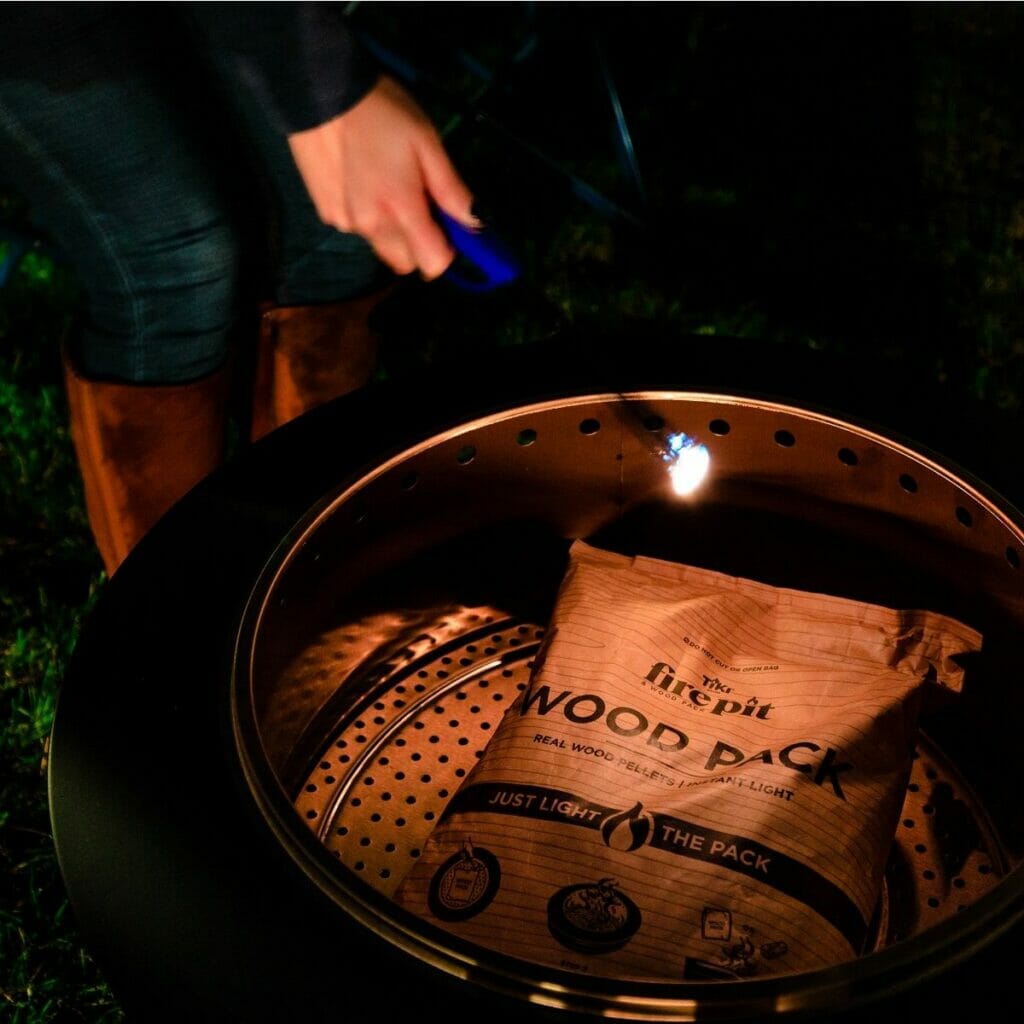 It takes just minutes to get going, and feeds a fire that lasts for about 30 minutes. It's perfect for when you want a fire, but you don't have much time. If you're nearing the end of your 30 minutes and you realize you're not ready to turn in, you can always add another bag.
While the wood packs add convenience, the TIKI fire pit also works with regular logs or charcoal.
Ash Pan
To clean other smokeless fire pits you have to dump out the fire pit, or pull an ash pan out from inside to clean it. TIKI has improved the cleaning process for their fire pits by designing an ash pan that can be accessed from the outside.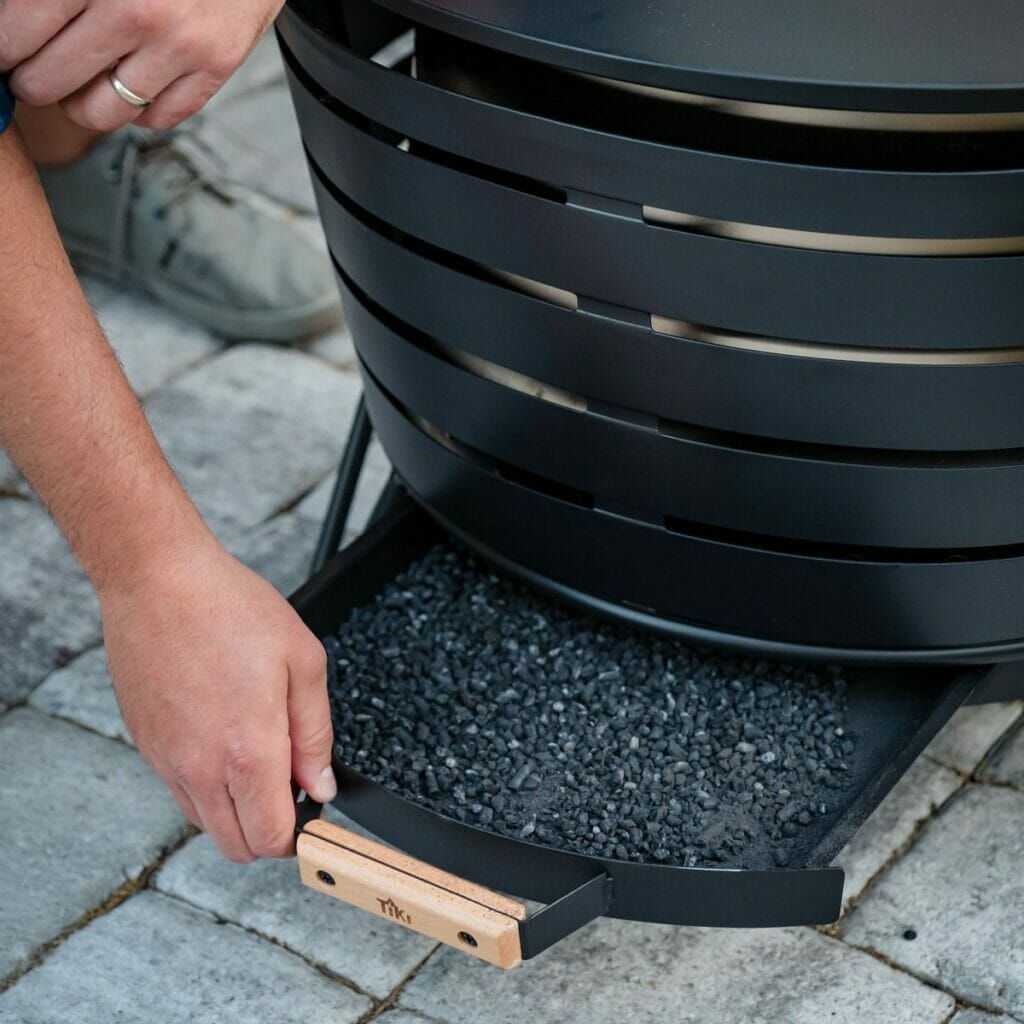 The TIKI fire pit ash pan is a tray that slides out from underneath the fire pit. It's an easier, and cleaner, way to clean the fire pit.
Accessories
While smokeless fire pits are great by themselves, accessories take them to the next level. The TIKI fire pit comes with a stand, the pellet dome, and a cover, so it's off to a good start. It also has stainless steel internals, with a decorative powder coated steel exterior.
Unlike other companies that just mimic the accessories from Solo Stove, TIKI has found ways innovate their accessories.
Fire Pit Griddle
Tiki's Fire Pit Griddle accessory allows you to cook with your fire pit. It retails for $219 (check price), and what's different about it though from other fire pit cooking accessories on the market is its versatility.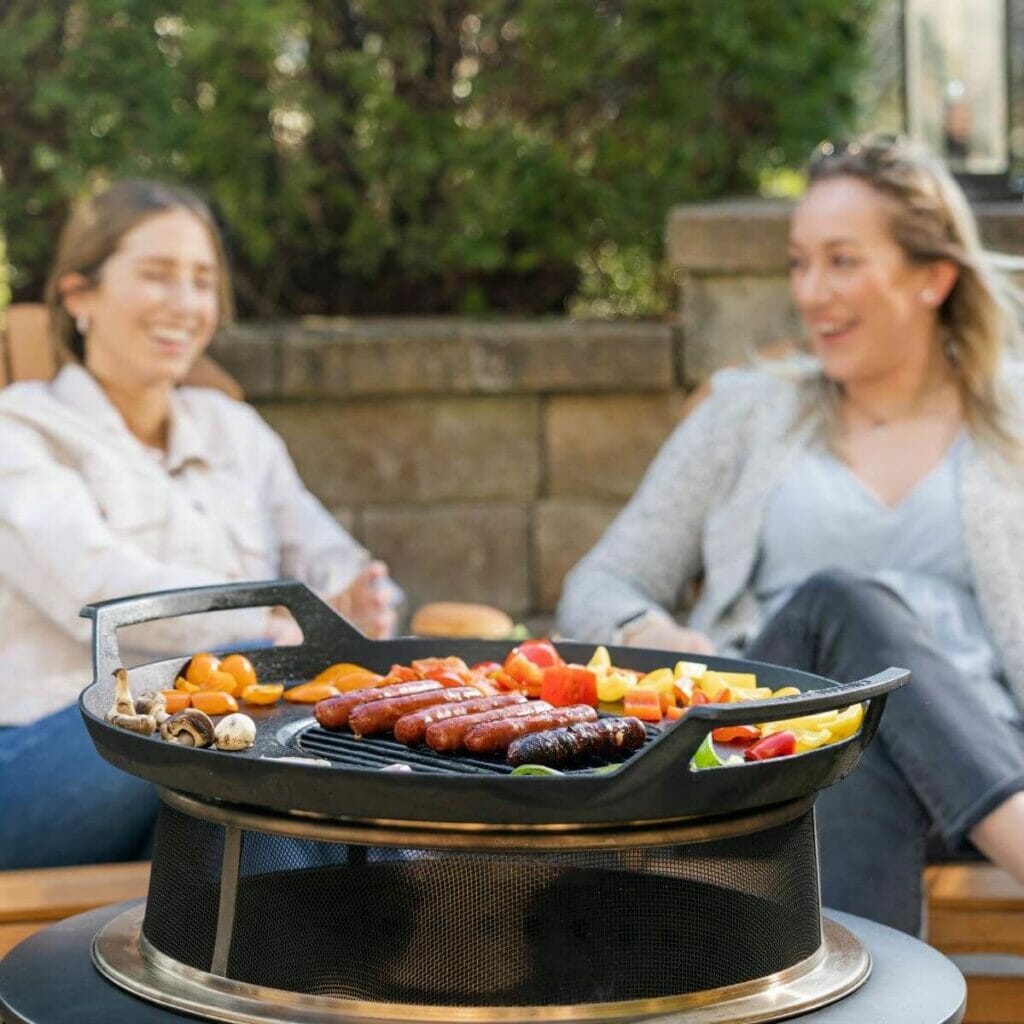 It can be used in two different positions. The first is placed directly over the opening in fire pit for super high heat. The second is it can be placed on top of screen protector for the fire. This gets it a little further away from the fire, and lets you watch the fire while it's cooking.
The Fire Pit Griddle also isn't just a solid griddle pan. The center of it can be removed with a handle, similar to an old fashioned wood burning stove. This allows you access to the fire to add more fuel, or to put a cooking grate insert in the middle for grilling.
Heat Deflector
Unlike other heat deflectors on the market that are like a flat cover to deflect heat outwards, TIKI went with a different design for theirs. The TIKI Heat Deflector retails for $190 (check price), and is shaped like a deep metal bowl with bottom removed.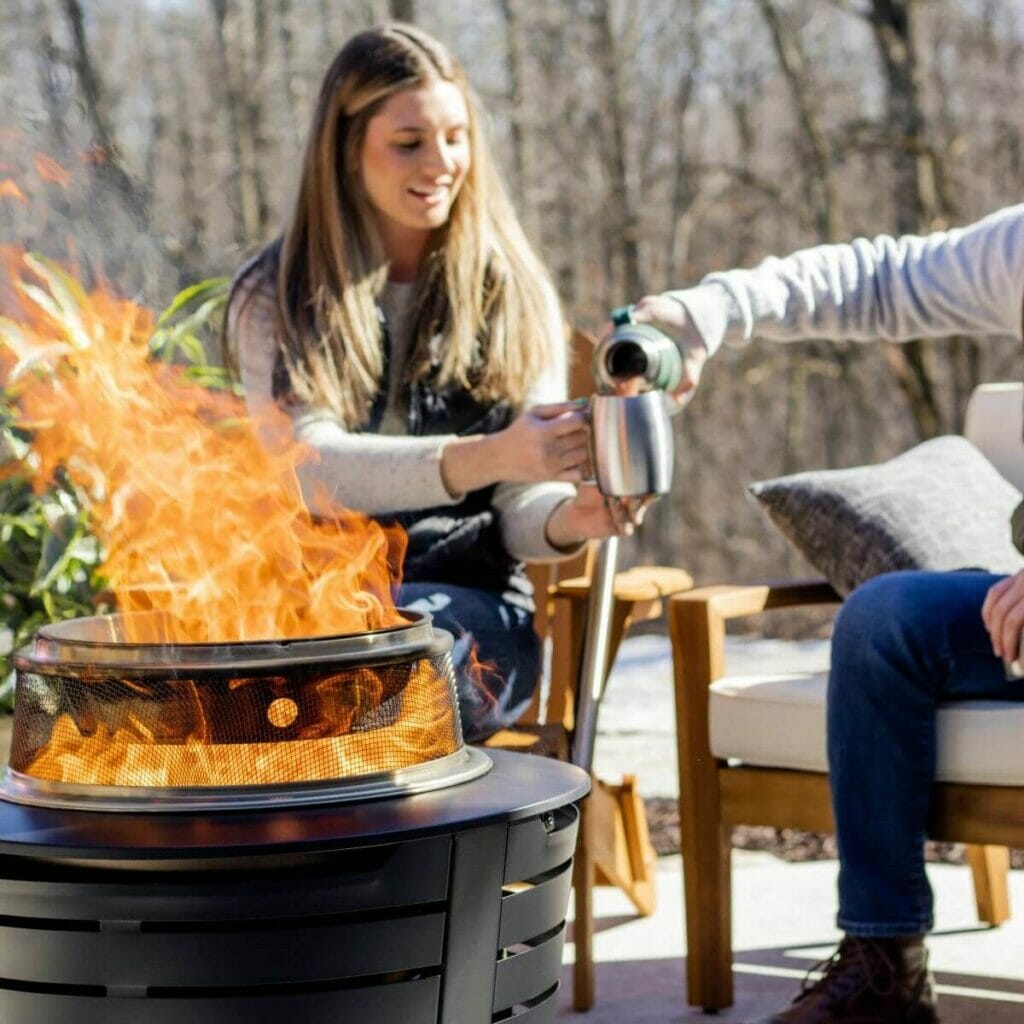 The angled sides deflect heat outwards, while the hollow middle allows you to easily add more fuel to the fire. The heat deflector also sits inside of the screen protector so you can be safe from embers, while still staying warm.
Innovative Mosquito Protection
While there's nothing better than time outside in the summer, mosquitos can make your outdoor living space a nightmare in a hurry. While burning Piñon firewood gives a great piney aroma, and repels mosquitos, TIKI also has another solution.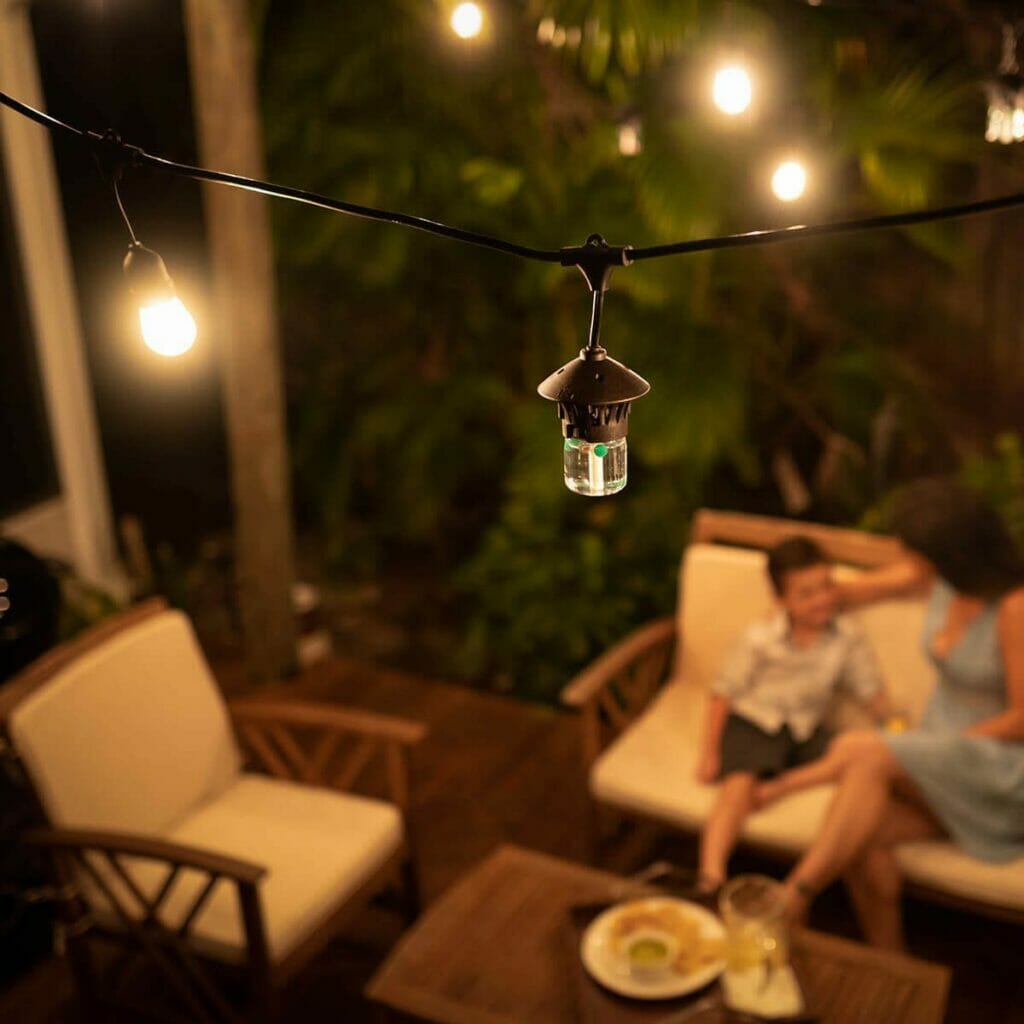 They released their BiteFighter LED String Lights in spring of 2022, which creates ambiance and protects against mosquitos.
We continue to listen to consumer needs and are constantly innovating to provide the best solutions possible. We heard their desires for a product that creates a relaxing ambiance while also keeping mosquitos away. That's why we designed lights with proven mosquito repellency. With the flip of a switch, and without the need for sprays or yard treatments, the string lights create a space where people can unwind and relax.

Jeremy Yingst, TIKI Brand Product Manager
The BiteFighter LED String Lights retail for $159 (check price), and have three diffusers with replaceable repellent pods. They provide a protection zone of up to 330 square feet, for up to 200 hours. It's a great way to protect against mosquitos without having to cover yourself with mosquito repellant. Plus, the string lights give some nice lighting for outside.
The BiteFighter lights work well enough that they even received a Gold Edison Award. The award, named after Thomas Edison, was created to recognize and honor the most innovative products.
They Still Have TIKI Torches
While TIKI has been innovating their product line-up over recent history, you'll be happy to know they still sell the torches that their known for. They've actually dramatically expanded that though too.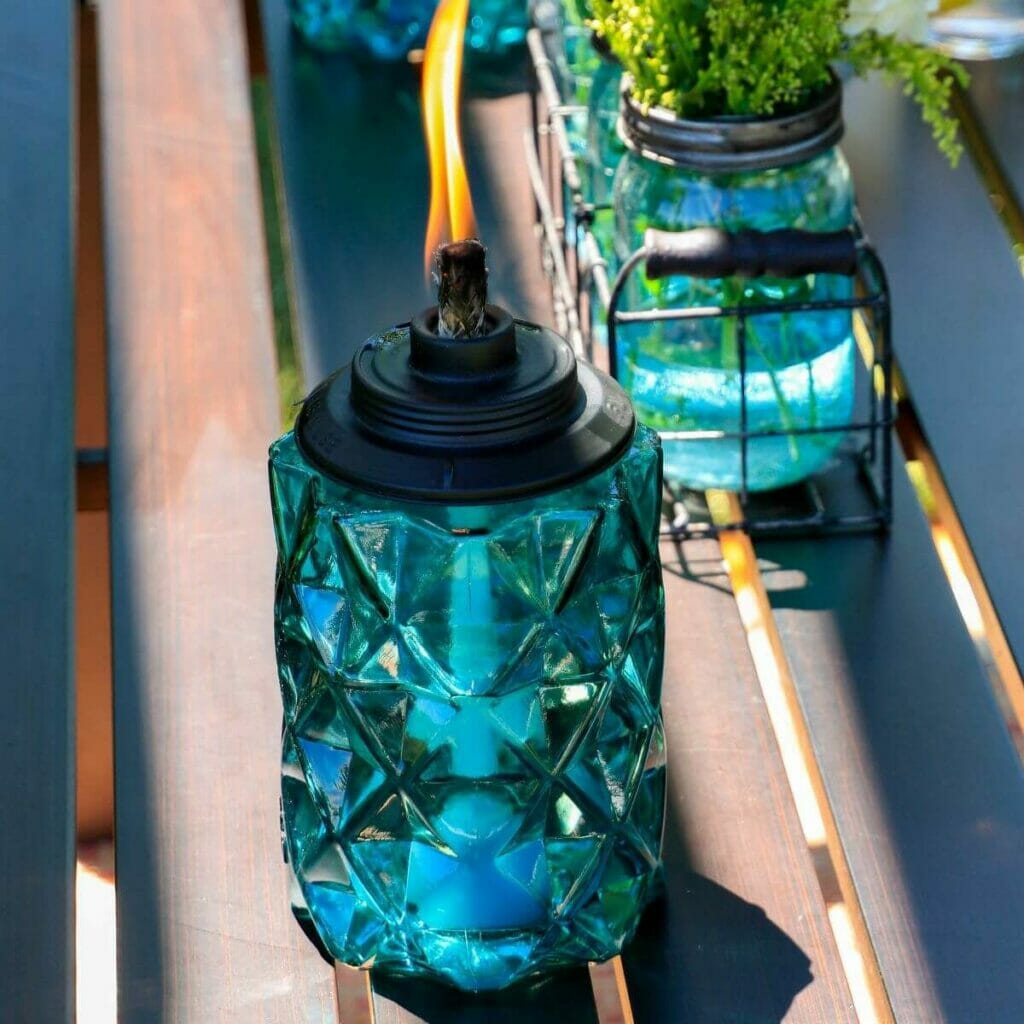 They have torches in many different colors, materials, shapes and sizes. They also have tabletop torches for a nice decorative element to your back patio or deck.
Conclusion
While TIKI Brand has been making their signature torches for decades, they've also spent the last handful of years innovating. With some unique products for a better backyard experience, they have some market leading offerings that are worth checking out.