At CookOut News we're always excited to see innovative products coming out. Pellet grills revolutionized outdoor cooking by adding convenience and bringing another level of accessibility to newcomers. Is there a way to mix the convenience of a pellet grill with the flavor of a traditional offset smoker? With RIPT Wood Chip Grills there just might be.
Wood Chip Grill
Just like the name would imply, the RIPT grill uses wood chips for heat and smoke. The advantage of this is you get more wood fired flavor than with pellets and you don't have to worry about the quality of your pellets. There's no processing or preservatives, it's just chips of wood used to cook your food.
How Does it Work?
On the teaser page, not much is released about the mechanics on how the grill works. Looking at the features and design of the grill, presumably it works similar to a pellet grill. There's a hopper on the side of the grill to load the wood chips. Then there's likely some type of auger or other mechanism to feed a fire pot with the wood chips. This is all controlled with an on-board controller that can also be controlled with your phone through WiFi.
Features
The features advertised are as follows.
Retail price of $1,650, but current pre-order pricing is $1,499
1,120 square inches of cooking area
Accessories include a meat hanger, a rotisserie (sold separately) and a pizza oven (sold separately)
Temperature range of 150 degrees F to 550 degrees F
Runs on 12V DC power for better fan and auger control
Is RIPT Owned by the Green Mountain Grills Founders?
A source turned us onto RIPT grills and said that they are an offshoot of Green Mountain Grills (GMG). While there's not official word on that on the RIPT or GMG websites, it seems very likely that they are. The first and most obvious evidence of this can be seen in the side by side photo below of smokers from the two companies. They have a very similar design, parts and look to have the same controller.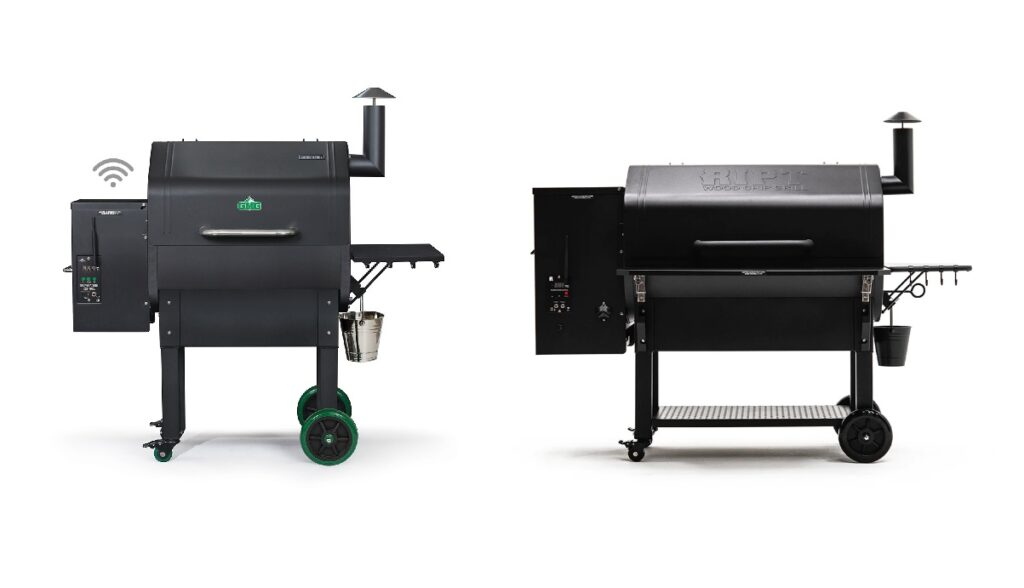 Beyond the design of the two smokers, GMG had a trademark on the name RIPT CHIP GRILLS that they abandoned in July of 2022. This is just speculation, but they may have abandoned the trademark under GMG so they could insulate their innovative grill from any fallout from the pending Traeger lawsuit. RIPT is currently a product of Ript Chip Grills LLC that has a trademark filing in May 2022.
One other clue is when the WiFi control is described on the website they use a specific word choice, that's unique. It says "Control and monitor your grill and internal meat temps right from your phone through your local WiFi network with the RIPT App". It's easy to miss, but the important word is bolded. You can control it through you local network. The Traeger lawsuit alleges that GMG infringes on their patent around cloud connectivity. There probably aren't too many other companies that would specify a grill uses your local network. It's an inconsequential detail to the consumer.
Another indicator that RIPT is owned by GMG is the contact email for RIPT is "jasonb". At GMG a business development leader and founder is Jason Baker. While that is the most speculative, the combination of all those factors would lead us to believe RIPT is run by the people behind GMG.
What Does RIPT Mean?
There's no mention on the website of what the name means. You're ripping through wood chips when you're cooking? We don't know. With all the bad blood between Traeger and GMG, maybe it means Rest In Peace Traeger? If the grill works as well as it claims on the website, it is a big step forward from pellet grills. We're excited to see it get released.