Ah, the dream of having an outdoor kitchen and being able to prep meat and cook without running in and out constantly. My dream also includes not being concerned with getting rub all over the floor.
For those of us that are space or money constrained, that dream may not become a reality anytime soon. Oklahoma Joe's is bringing the next best thing though with their new Workstation Prep & Storage Cart.
Two Sizes
Their new cart comes in two sizes, the standard version which has 600 square inches of food prep surface, and the DLX that has 900 square inches of surface area. The smaller cart will set you back $299.99 (check price), while the larger one costs $399.99 (check price).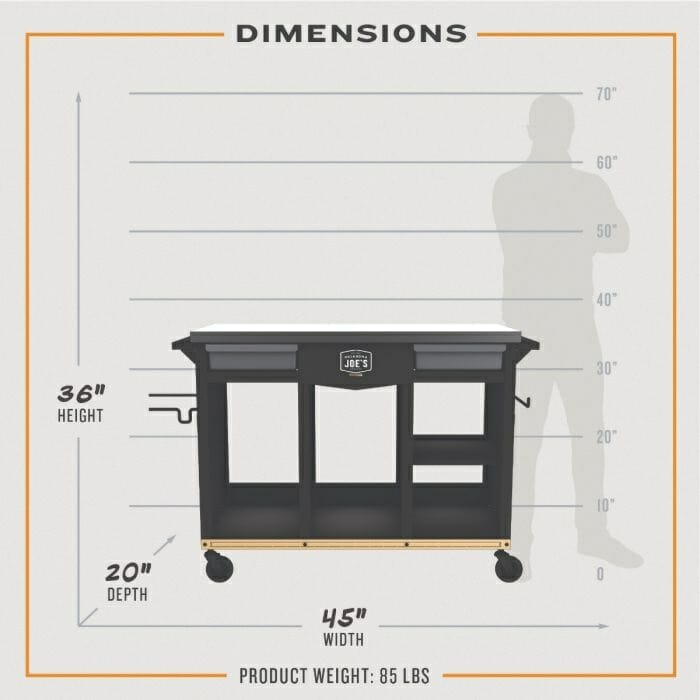 Easy Food Prep
For food prep, both carts feature a stainless steel top for durability and a sanitary clean. They also have a paper towel holder and a trash bag holder so you don't have to leave the station when doing prep.
Storage
They have all the storage you need with removeable plastic bins under the counter, and multiple cubby holes. The bins are great for tools, accessories and seasonings, while the storage underneath is perfect for fuel. The carts have a weight capacity of 200 lbs.
Cart Storage
For storing the cart itself, it has four swivel casters with rubber tread. If you don't have space for it in your garage, Oklahoma Joe's has a solution with a cover for the cart. The cover for the smaller cart retails for $34.99 (check price), while the larger on carries a price tag of $39.99 (check price).
Conclusion
We're seeing more and more outdoor cooking companies offer carts for sale, they're usually pretty basic though. Just like Oklahoma Joe's new grills this year, their cart is bringing something different. It's perfect for food prep, or for cooking with a small grill or pizza oven. It'll also help keep you're kitchen clean and keep you outdoors, which is a good thing.