Char-Griller has been an innovator when it comes to automating the charcoal grill. They released the Char-Griller 980, which uses similar technology to the Masterbuilt Gravity Series, to add convenience and ease traditionally reserved for pellet grills. Now they are bringing the digital technology used in the 980 to a kamado style grill with the release of the Char-Griller AKORN Auto Kamado.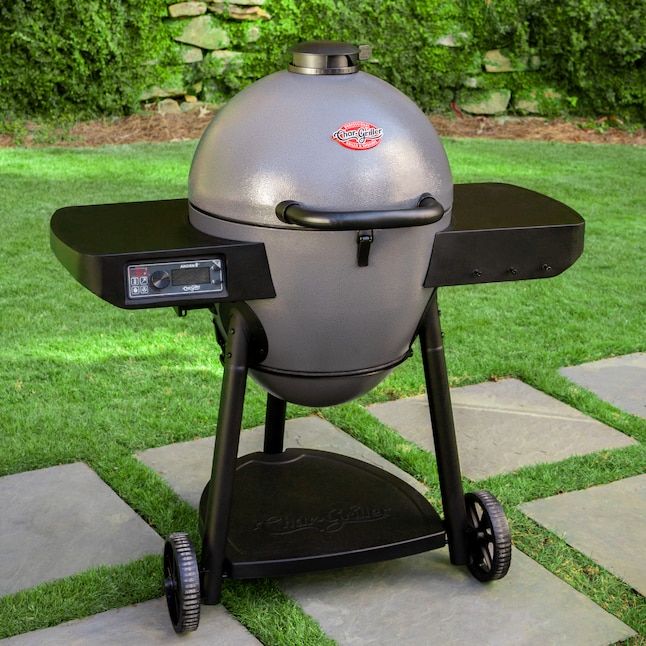 Unlike the 980, which uses a hopper, you fill the base of the kamado with charcoal and wood chunks (if desired), light it, set your temperature, then the controller tells you the vent setting and does the rest. If you're going low and slow with your cook, there is a heat deflector that goes over the charcoal. On the other hand, for grilling you leave the fire open and you can add fuel through a removeable center on the grill grates.
Char-Griller spent 18 months developing the Auto Kamado. It has steel construction that's triple insulated, with an enamel coating on the interior of the body. The ash pan makes clean-up easy and the fixed side shelves and wheels give it added convenience. Below are additional features on the Auto Kamado.
Retail price of $450 and sold at Lowe's
447 square inches of total cooking area, broken up between 314 square inches of primary space and a 133 square inch warming rack
Temperature range of 225 degrees F to 700 degrees F
1 year limited warranty
The Auto Kamado (that's such a fun name to say) works with the newly updated Bluetooth and Wi-Fi enabled Char-Griller app.