Disclosure: This article may contain affiliate links. If you buy a product through an affiliate link, we may receive a commission at no cost to you.
Traeger noted on their last earnings call that they saw opportunity in the premium griddle segment, which led to the release of the Flatrock griddle. While not universally defined, we'd put the price point of the segment at over $700, which excludes griddles with more basic features.
While Char-Broil has sold basic griddles for a while, now they've released a griddle that will compete in the premium griddle segment. Based on the gas grill body from the Vibe 535 Gas Grill and Griddle that was released last year, the Vibe Griddle ditches the cooking grates for a full griddle top.
Features and Specs
Retail price of $819.99 – Check price on Amazon – Check price on Char-Broil
535 square inches of cooking area
Surface temp gauge included that can be placed directly on the griddle surface
Enclosed cabinet for your propane tank and storage
Four casters for easy transportation
Electronic ignition for easy starts
Bottle opener attached to the cabinet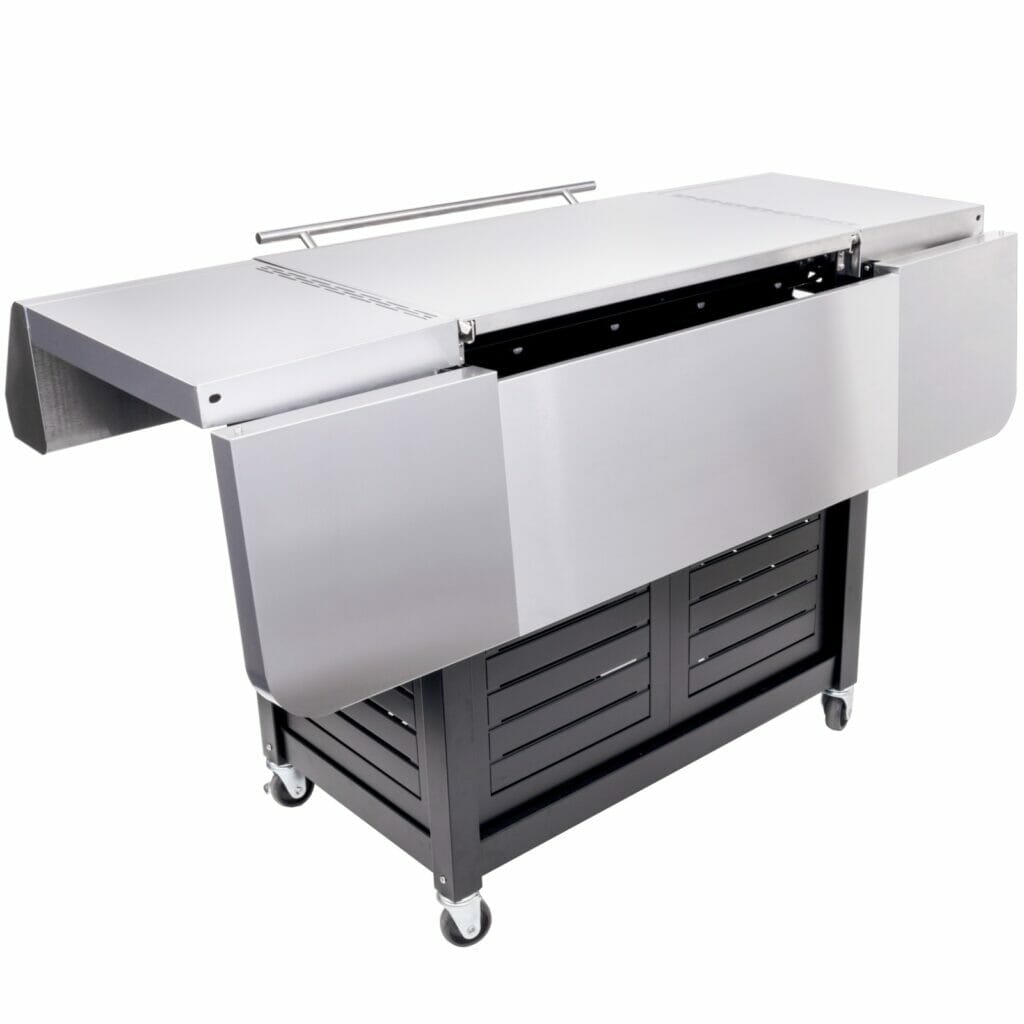 Shelf Space
If there's one category that the Char-Broil Vibe wins over all other griddles in the market, it's shelf space. Not only does it have side shelves with additional compartments, there's a huge back shelf that runs the width of the griddle.
The back shelf not only helps with putting stuff down while cooking, but for entertaining if you want to give your friends the full Benihana experience. Once you're done cooking, the back shelf collapses for easier storage of the griddle.
Hideaway Lid
The way Char-Broil designed the lid on the Vibe griddle is not only functional, but it gives it a clean look. When the lid is closed, it's flush with the surfaces of the shelf for a nice flat surface. When it's opened, it slides down a track behind the griddle to keep it out of the way for cooking and for entertaining.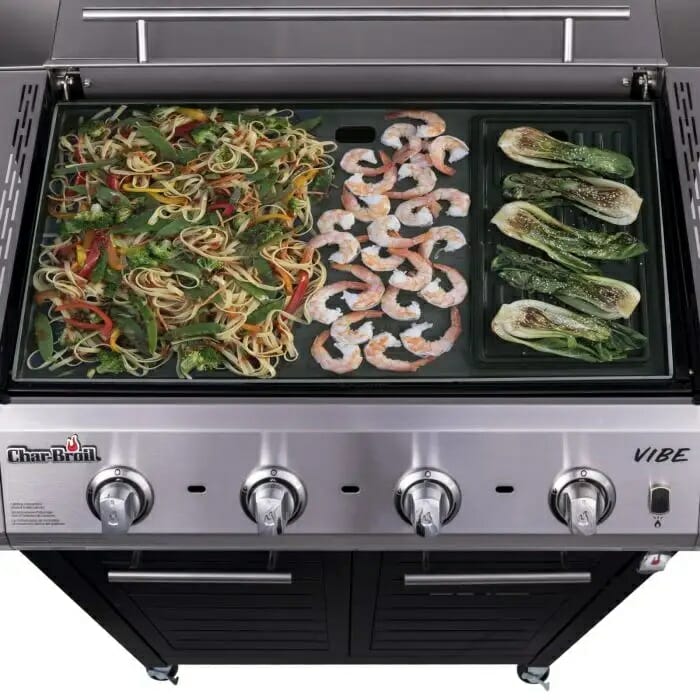 Griddle Zones
As you can see from the pictures, the griddle surface isn't one big, flat surface. There are two different griddle zones.
As a holdover from the Vibe 535 gas grill, there is a small griddle section with raised grates. The rest is a traditional flat griddle surface. Both sections have grease management in the back.
Conclusion
What sets the Char-Broil Vibe Griddle apart from other premium priced griddles is it's more focused on entertaining. With it's sleek lid design, ample counter space, and enclosed cabinet, it's perfect for by the pool or in the backyard with friends.