Char-Broil has released some of the most innovative grills this year. They released the temperature controlled Cruise gas grill and then followed it up with the Edge full-size electric grill. According to a patent filing, they may continue that focus on innovation in the electric grill space.
The full-size electric grill is a relative new option to grill seeking consumers. Electric grilling technology had traditionally been reserved for portable grill options. This year there was a big leap forward on the alternative fuel source with the release of the Char-Broil Edge and the upcoming release of the Napoleon Rogue EQ.
The Edge electric grill works by converting AC power from your house into heat through a Calrod heating element and a reflector underneath. Calrods, a GE trademarked technology, are metal tubes that are used for the conversion. Examples of a Calrod are the heating elements in an electric oven or the coils on top of an electric stovetop. The Calrod creates radiant energy that is then reflected onto the grill grate surface and the food.
A recent patent filing by Char-Broil on electric grills details their technology, but also challenges with electric heating. One such challenge is that due to limited available power from a household outlet, the grilling surface area is at odds with the high temperatures needed for grilling. In other words, until there are technological advances in the efficiency of converting electricity into heat, heat deflection, or heat retention, the cooking area is probably limited to around the size of the Edge. At 330 square inches of cooking area, it's no slouch, but getting bigger presents a challenge.
Another challenge detailed in the patent is "with current electric grills, lack of an open flame combined with the relatively low cooking temperatures can lead to a lack of perception of grilled or smoked flavor". The perception problem will probably take some time and some great electric grilling products to fix. They did offer an elegant solution to the problem in the patent, however, it didn't make it onto the Edge.
In the patent they showed a design of an electric smoker box that sits next to the grill grates. That's something that you see built into gas grills and would be a really cool addition to an electric grill.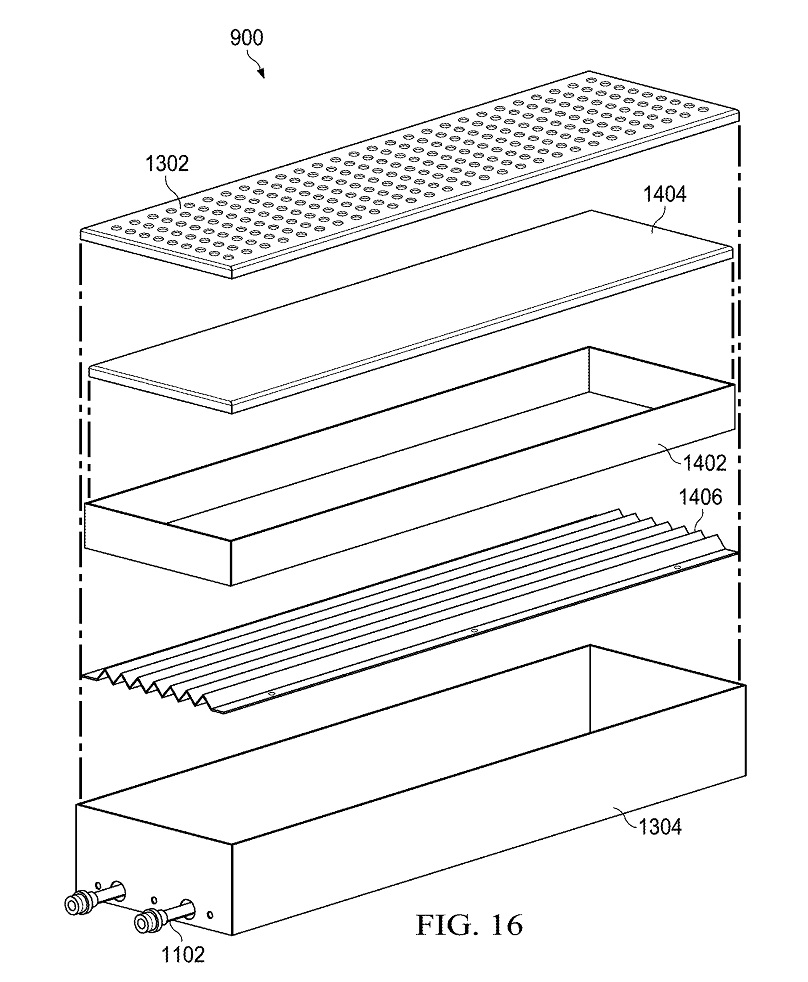 Above is the exploded view that was included. It works similar to the grill itself with a Calrod at the bottom that converts electricity into heat, which is radiated up onto some grates. The grates then heat the storage for wood chips to produce smoke.
We don't know if this was ever considered for the Edge, but the design at least indicates that it was thought of. We recently bought an Edge to review (an article with be out within the next few weeks) and other than some beautiful asparagus, you can see a warming area next to the grill grates. When we looked at pictures of the Edge prior to purchase, we thought that might be a spot for a smoker box. The space looks very similar in size and shape to the electric smoker box design above. There are even screw posts underneath that would be a perfect spot for a heating element to connect to the controller.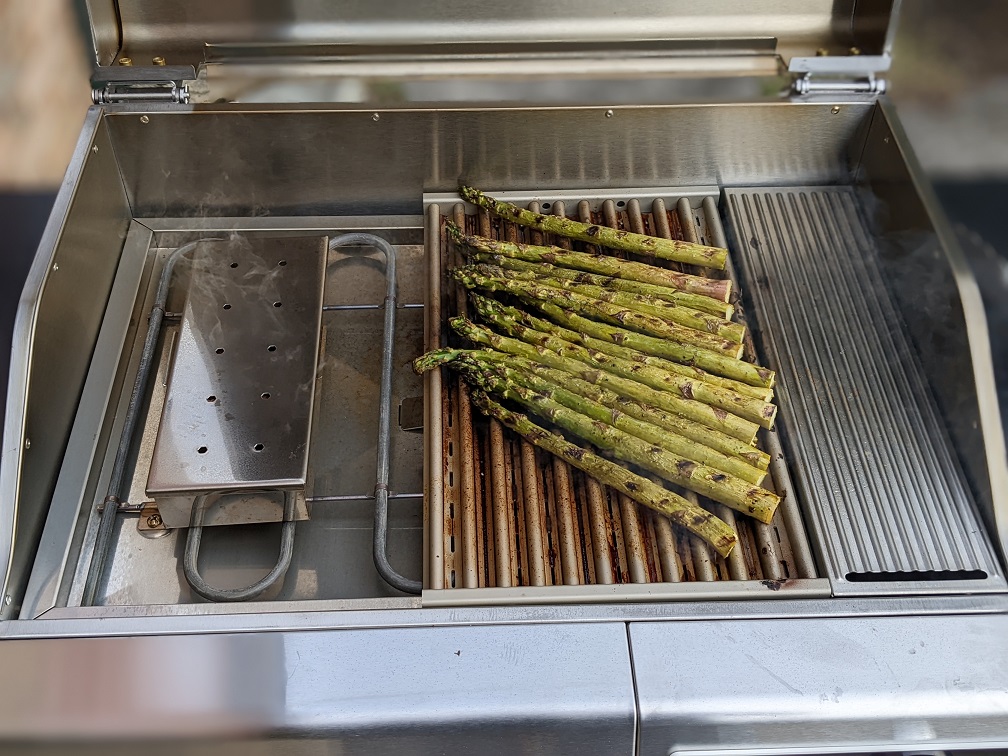 There are no heat tubes underneath that warming tray though. It's possible that due to the restrictions on power usage, they couldn't get the cooking area they wanted, with temperatures up to 700 degrees F and heat a smoker box. We're purely speculating on that though.
Our much less elegant smoker box solution worked well, and produced great smoke flavor on our food (more to come). We're going to test it out with the smoker box on the grill grates to try to get a little more cooking area. This was a first attempt.
Hopefully Char-Broil can include a solution like a built-in smoker box on a future electric grill. Not only would it be helpful for flavor, it go a long way in helping the perception of electric grills.
In a segment largely commoditized prior to recent history, it's great seeing new technology and innovation from companies like Char-Broil. Electric grilling technology especially is just getting started.