Disclosure: This article may contain affiliate links. If you buy a product through an affiliate link, we may receive a commission at no cost to you.
When it comes to small grills, there's no shortage of options, and with good reason. They're perfect for tailgating, camping, cooking at the beach, or for just when you're cooking for two at home.
While there are a number of options to choose from, the PKGO Hibachi grill from PK Grills is the best small grill we've used. Actually, it's one of our favorite grills of any size, and it will have a permanent home with us.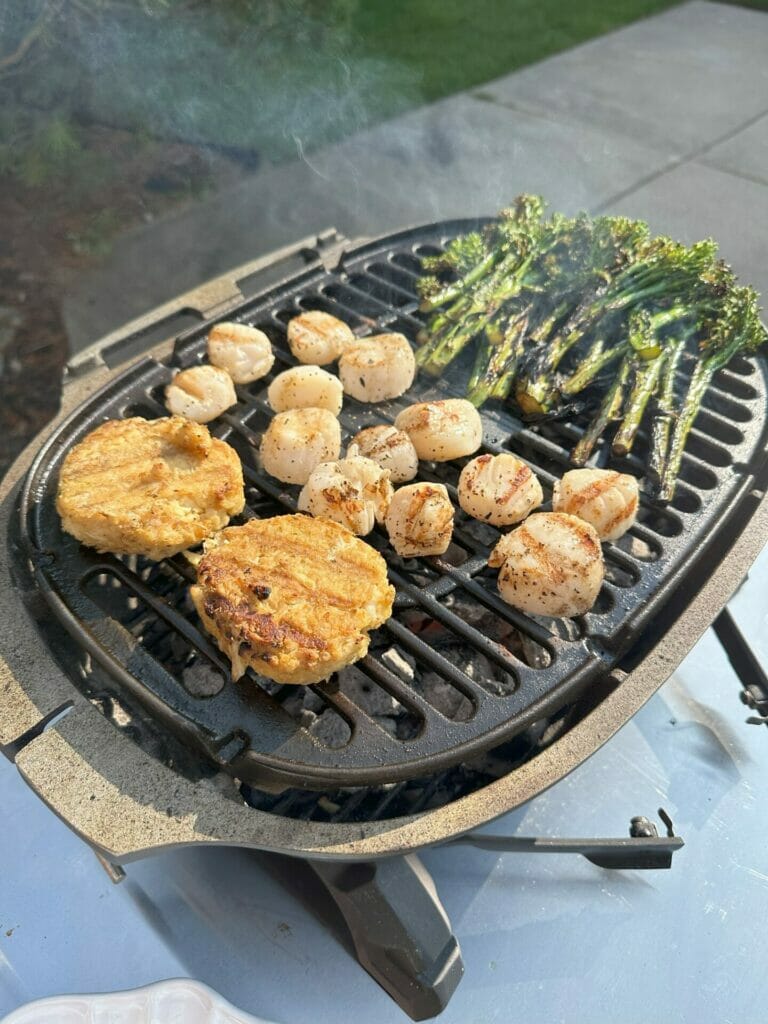 Summary
The PKGO Hibachi doesn't take much charcoal to get blisteringly hot, and it easily holds temperature. Plus, since it's made out of cast aluminum it will last forever. When you're done cooking, it has a lid to pack it up, and it's lightweight to carry with you. It's a fantastic grill!
Pros
Easy to cook on
Durable
Efficient
Cons
Miss having a lid
A little more expensive
PK Grills
For those that haven't heard of PK Grills, they make some of the best charcoal grills. All of their grills are made of cast aluminum, so they hold heat much better, and lost way longer than their thin steel counterparts. It also makes them easier to cook on.
Unlike other small grills that you throw away after a season or two, PK Grills is so sure that the PKGO Hibachi will last that they give you a 20 year warranty. If you're interested in learning more about PK Grills, check out the interview we did with one of their co-owners.
Features and Specs
Retail price of $219.99, but it's often on sale (check price on PKGrills.com – check price on Amazon)
200 square inches of cooking surface
Includes a cover that doubles as a cutting board
The cover locks in place with cam locks on both sides of the grill
Two vents on the bottom to control airflow
Weighs 25 lbs to easily take with you
Unboxing and Assembly
The wonderful thing about this grill is there isn't really anything to assemble. The grill body is one piece of cast aluminum. Inside there is a charcoal grate to allow the charcoal to sit above the air vents, and a cast iron cooking grate above it.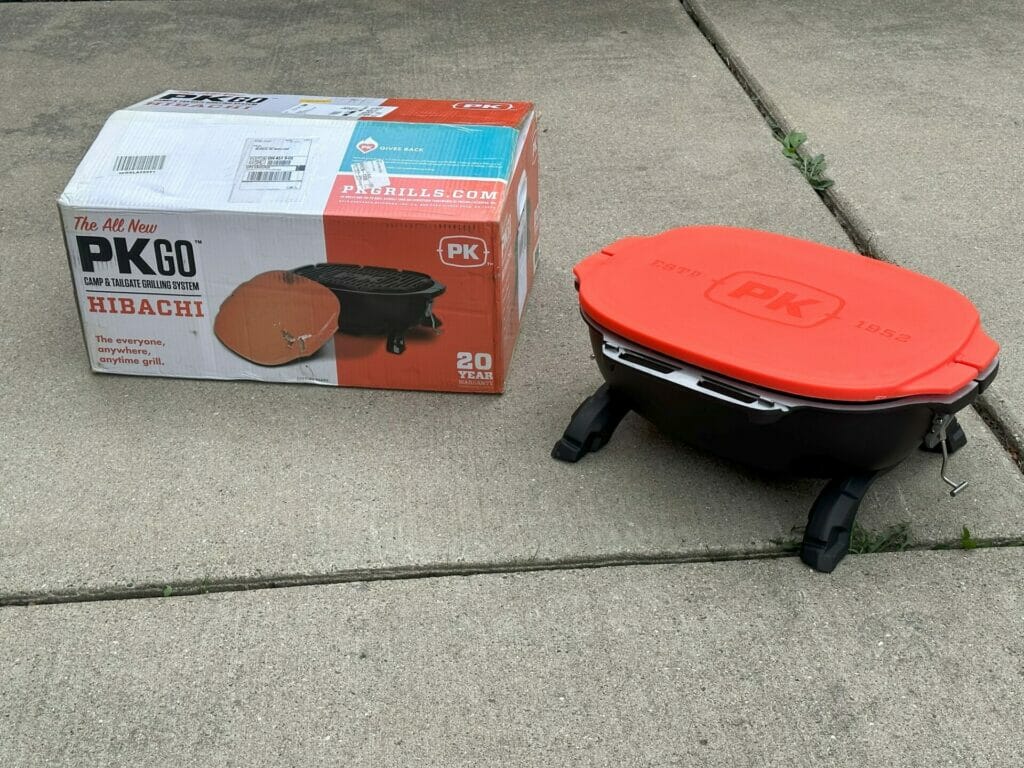 All you have to do is unpackage everything and then put it in its place. Like with all grills, we'd recommend seasoning the grill before using it. That's a fancy way of saying get it good and hot for 15 minutes to burn off any chemicals used in production, then put oil on the cooking surface.
Cutting Board Lid and Cam Locks
One of the things that I was apprehensive about when purchasing this little grill is if the lid would be thick enough to last. I was afraid it would be thin plastic that would warp after a little while and then it wouldn't hold in the ash.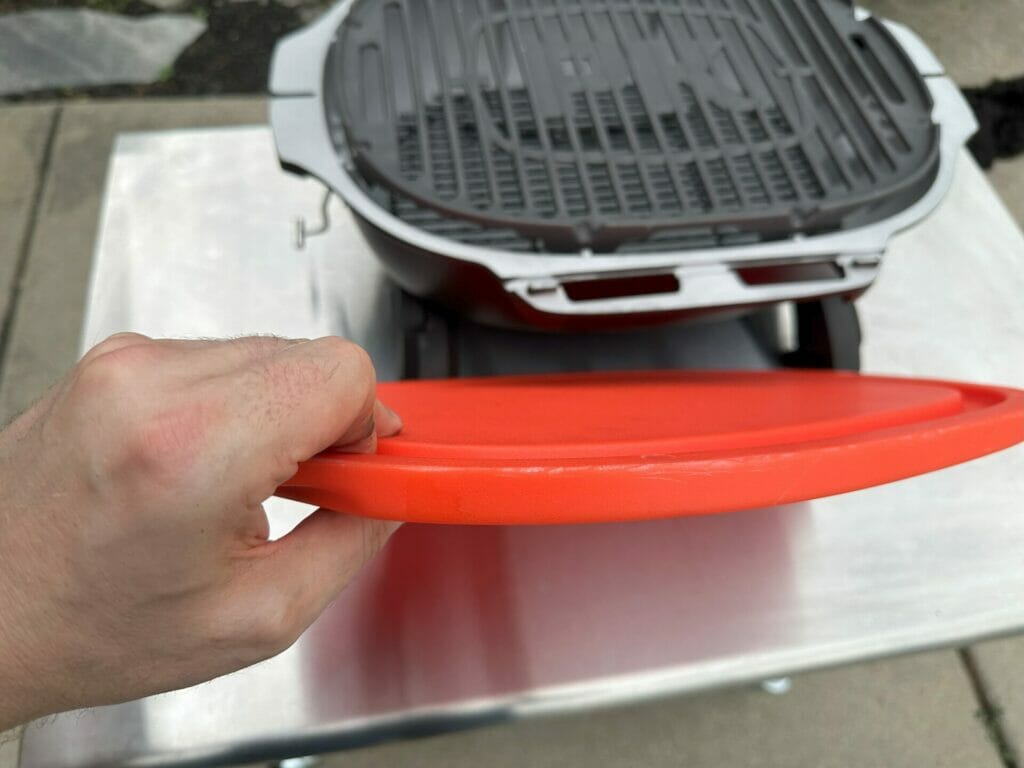 I should have known better though with the quality that PK Grills has on all of their products. As you can see from the picture it's a very thick plastic lid that can withstand use.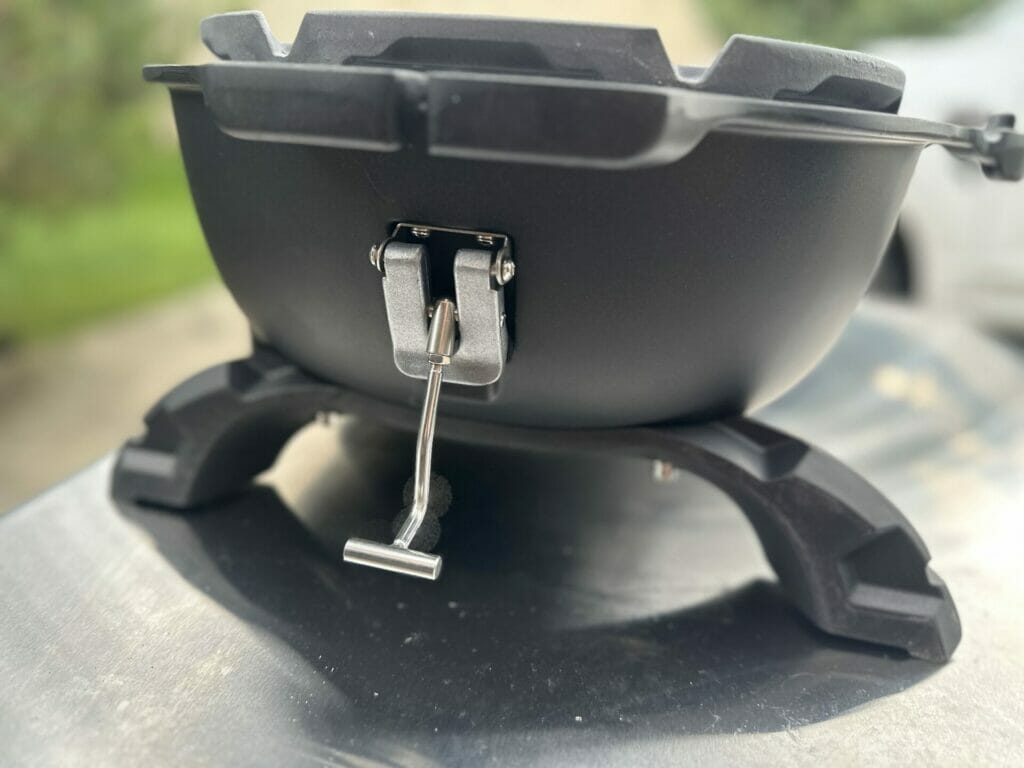 Similarly, the cam locks are all metal and designed to last. They come pre-mounted, so you don't have to screw them in place, they're ready to go.
Hibachi Grill
While PK Grills offer charcoal grills in various shapes and sizes, the PKGO Hibachi is their smallest grill. It's called a hibachi grill (not to be confused with teppanyaki) after the Japanese style of high heat cooking.
While it can be used for high heat cooking, it really is just a small charcoal grill that can be used for a variety of cooking. Like with any charcoal grill, the temperature is dependent on how much charcoal you add to the grill.
What's nice about it is the aluminum construction, which is 4 times more conductive than steel and almost 3 times as conductive as iron. That means it heats up super quick, and holds the heat in the grill really well. That means better cooked food and more compliments from your family and friends.
Chimney Size and Charcoal
As you can see in the photo below, a standard sized chimney will work for this small grill. What's nice is it can fit in the body of the grill while you're starting it, just like on a larger charcoal grill.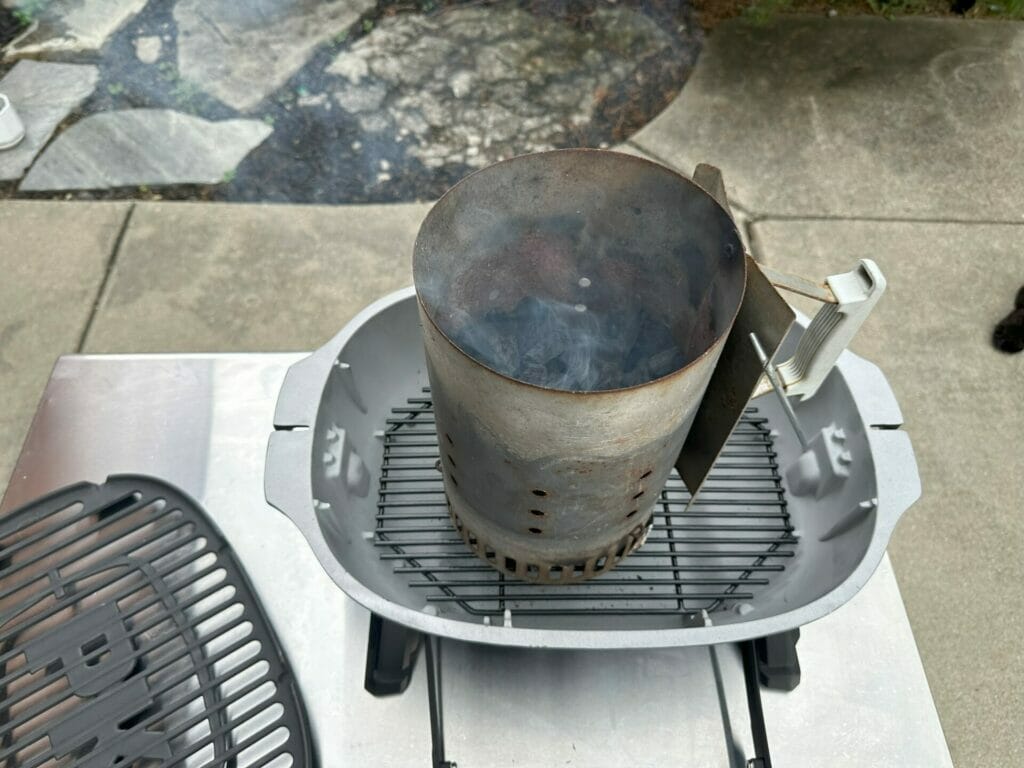 While you can use a standard sized chimney, we found it easier to us a smaller chimney. We ended-up getting the Weber Rapidfire Compact Chimney from Amazon, and it was the right size for this small grill.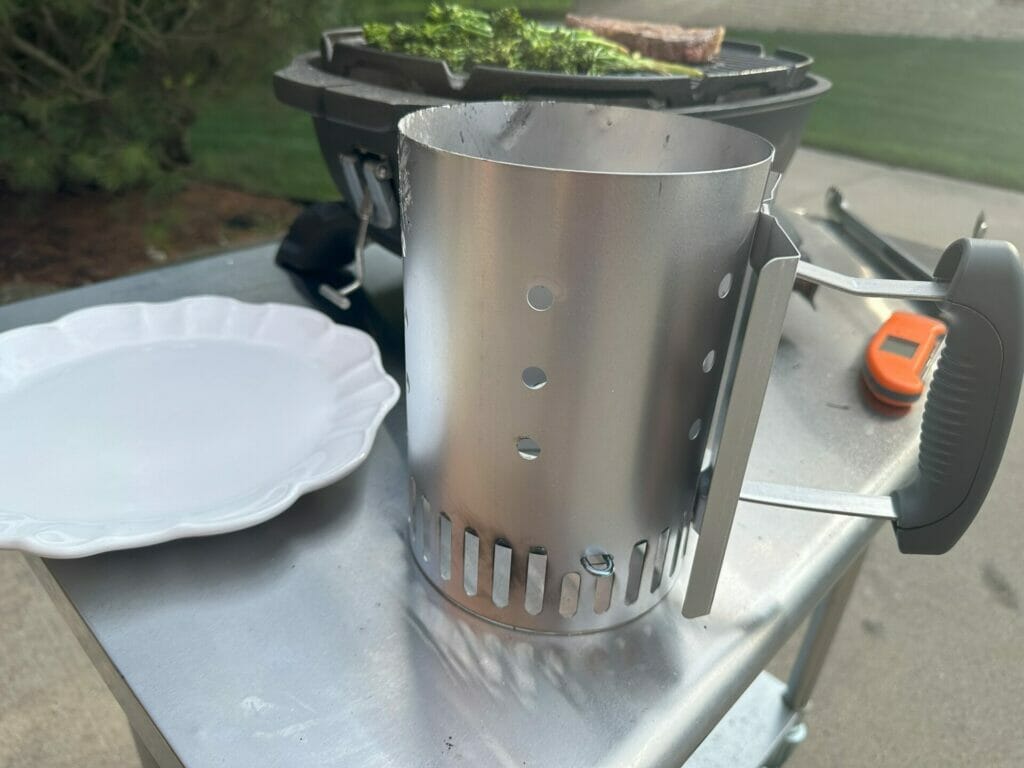 700° F Searing Heat
This little grill can heat up really hot, really fast. With either a full compact chimney, or a standard chimney 1/3 full of charcoal you can get cooking grate temperatures over 700° F. That's perfect for cooking steaks hot and fast.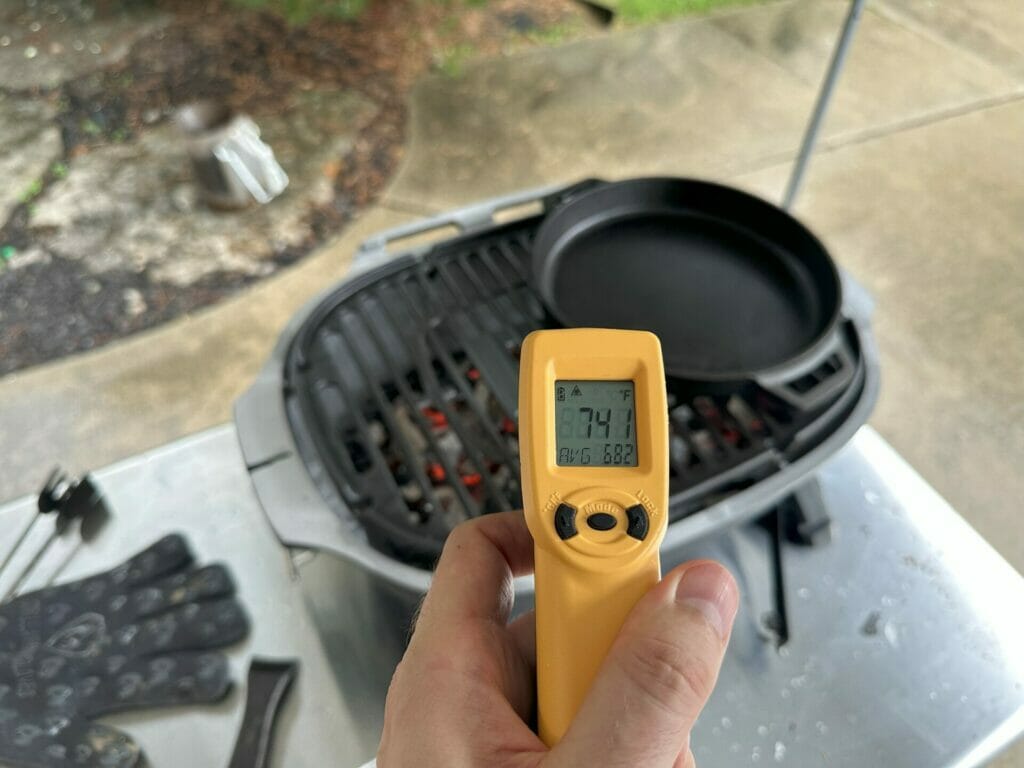 PK Grills even sells GrillGrates for this grill. That will give you steak cooking competition style hash mark sear marks all over your steak. Even without the GrillGrates, the cast iron cooking grates the grill comes with gives good grill marks.
If you like have data to get the perfect cook, like I do, I'd recommend getting an infrared thermometer. I used the ThermoWorks Industrial IR Gun for testing the PKGO Hibachi and I use it all the time when grilling.
Lower Temp Cooking
While this grill gets really hot, like the name would imply, it can also be used for lower temp grilling too. All you have to do is dial back the amount of charcoal, and you can get any temperature you're after. It's amazing how little charcoal this grill needs to get temperatures hot enough for grilling.
Difference from the PK Grills PKGO
PK Grills has two different small grills, the PKGO and the PKGO Hibachi. The only difference is the PKGO Hibachi is half of a PKGO. It's a clamshell design, so they take two grill bodies and put them together.
That brings us to one of the few cons of this grill. There is no lid to protect your food. While this isn't a problem the overwhelmingly majority of the time, there are occasions where it would be nice. The time that we notice it the most is when it's raining and we don't have a canopy setup.
Entry to PK Grills
There is no getting around that all of the grills from PK Grills cost a little bit more. You're paying for the superior construction and quality. The PKGO Hibachi is no different, it's a little more than you'd pay for a similarly sized small grill.
The difference in dollars is less than a full-sized grill, but it's still there. What's great about this little grill is since it's not much more, it's a great way to try out PK Grills. You can see firsthand what makes them superior for a little bit of money for jumping all the way in for a PK300 AF.
Conslusion
While I test lots of grills, this is one of my favorite grills. It's a great size for tailgating, but also perfect for cooking small meals at home. I find myself being able to grill more because of how quickly I can start cooking with this grill. The little extra money for this grill is well worth it.