While we focused on the launch of the Oakford 1150 Pro Combo Series recently, this isn't the only new smoker that Nexgrill planned for 2023. They continue to bulk up their Oakford line with the Oakford 1150 Smoker and the Oakford Vertical Pellet Smoker.
Oakford Line
The first Oakford branded products that Nexgrill released were a series of pellet grills for the 2022 grilling season. We have one that we're testing currently (full review coming soon), and it's proved to be a phenomenal value.
For consumers who enjoy grilling with gas, charcoal or wood, the new Oakford products are ideal solutions for experimenting with versatile cooking styles and smoky flavors. The new Oakfords' versatile cooking methods and large capacities make these grills must-haves for any backyard cooking experience.

Ramsay Hawfield, Vice President of Marketing at Nexgrill
The new Oakford products for 2023 build on the standard set by the pellet grills by having great features, for a relatively inexpensive price.
Nexgrill Oakford 1150 Reverse Flow Offset Smoker
While the Oakford 1150 is billed as a reverse flow offset smoker, it actually has the versatility to be a conventional offset as well. You can convert it simply by flipping the charcoal pan inside of the smoker. The chimney position is fixed though, so it's location may be better suited for reverse flow.
Features and Specs
Retail price of $499 (check price) – Sold exclusively at Home Depot
1,150 square inches of cooking area
Adjustable chimney and intake dampers for fire management
The cook chamber has a charcoal pan for direct grilling
There's a warming shelf on the fire box
Larger, foldable front shelf for prep space
Removeable grease bucket for easy cleaning
Built-in temp gage on the lid
---
Nexgrill Oakford 1400 Vertical Pellet Smoker
The newest pellet grill to the Oakford line-up is a vertical pellet smoker. Vertical smokers are great for smoking a lot of food while not taking up a lot of storage space. The Oakford 1400 features the same phone connected controller, that we really liked on other Oakford pellet grills.
The new Oakford Vertical Pellet Smoker has a large 1,400-square-inch capacity that provides the ability to cook and smoke a high volume of food in a single session. As an added bonus, we've taken the NEX-fi technology used in Nexgrill's smart grills and incorporated it into this new pellet smoker so that consumers can conveniently control their grills from their phones, which saves time and creates a more precise smoking experience.

Ramsay Hawfield, Vice President of Marketing at Nexgrill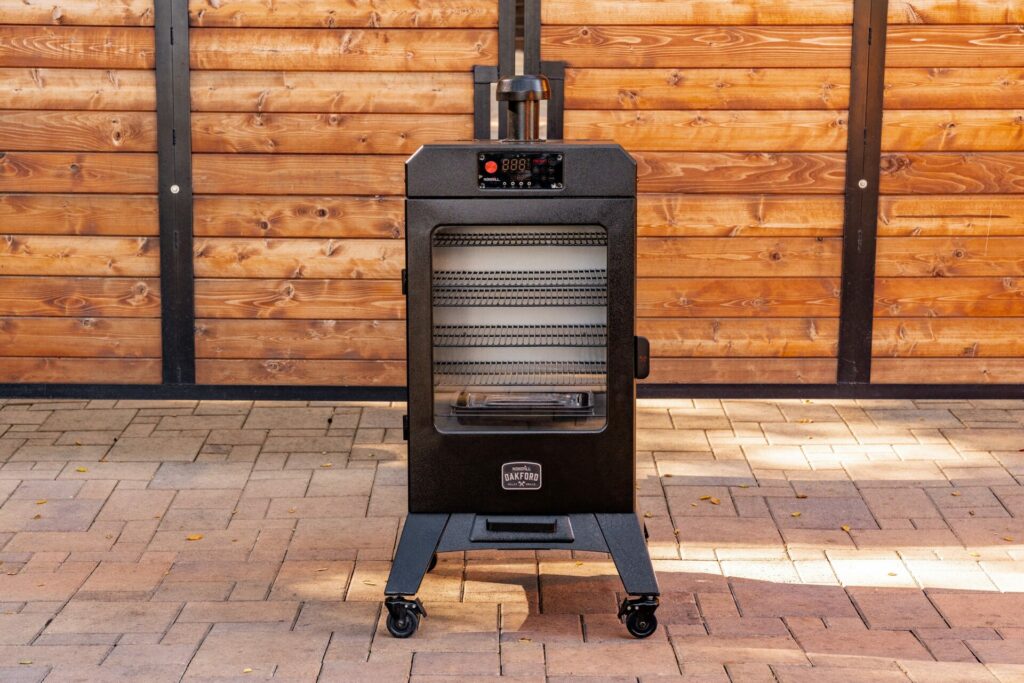 The Oakford vertical pellet smoker also has a HUGE pellet hopper that holds 80 lbs of wood pellets. In our experience, that would allow days worth of cooking time.
Features and Specs
Retail price of $499 (check price) – Will be sold exclusively at Home Depot
1,400 square inches on cooking area
5 levels of porcelain enamel cooking grates
Removable water pan to keep moisture levels high
Removeable grease cup that is accessed in the front of the smoker
4 meat probe ports to monitor your cooks, with 2 probes included
Conclusion
The addition of an offset smoker and a vertical pellet smoker adds even more options for customers heading into the 2023 grilling season. Between the Oakford line and the recently released Ora pizza oven, Nexgrill is making some great products with best-in-class value.