What started out on Kickstarter, is now an official release. Monument Grills has launched the Denali series gas grills with Bluetooth integration.
What sets the new Denali series apart from other grills on the market is it has a high density glass window in its lid, and you can also monitor your cook with an app or an on-board LED screen. It comes with one temperature probe and has a port for another.
Denali Line-Up
There are three grills in the Denali line-up. The Denali 425 is black and retails for $659.99 (check price), one step up is the Denali 405 which has the same specs but is in stainless steel and retails for $699.99 (check price). Finally, the Denali 605 is a big, 6-burner grill, with an additional side burner, and it retails for $899.99 (check price).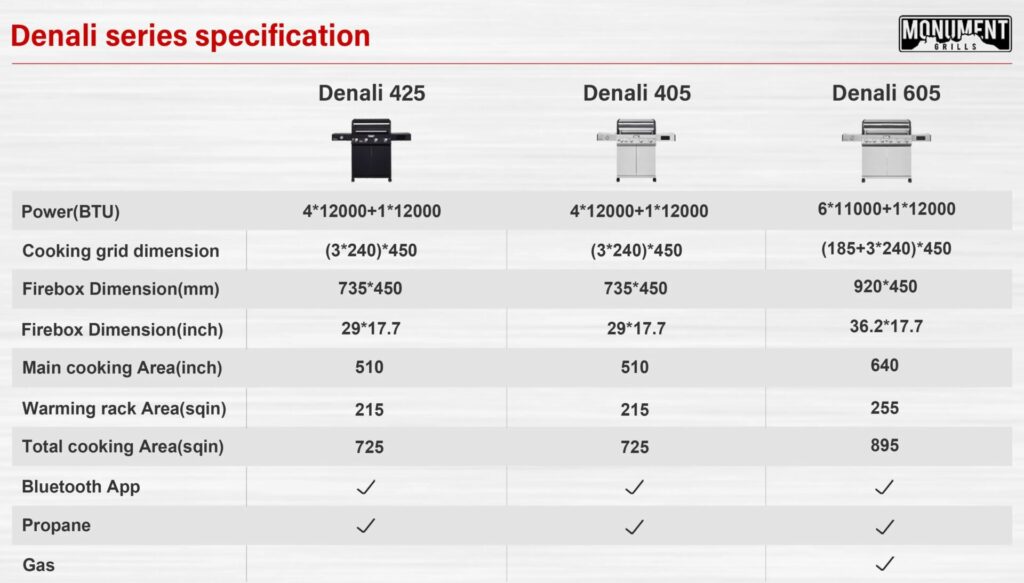 The Denali 605 is also the only grill in the line-up that can run off natural gas, if your outdoor setup is equipped for that.
Other Features
Light-Up Knobs
For a cool look, and to let you know if the grill is hot, the Denali has LED lit knobs. They can be white, orange, or red depending on the grill temperature. You can turn this feature on or off, from a push button on the side of the grill.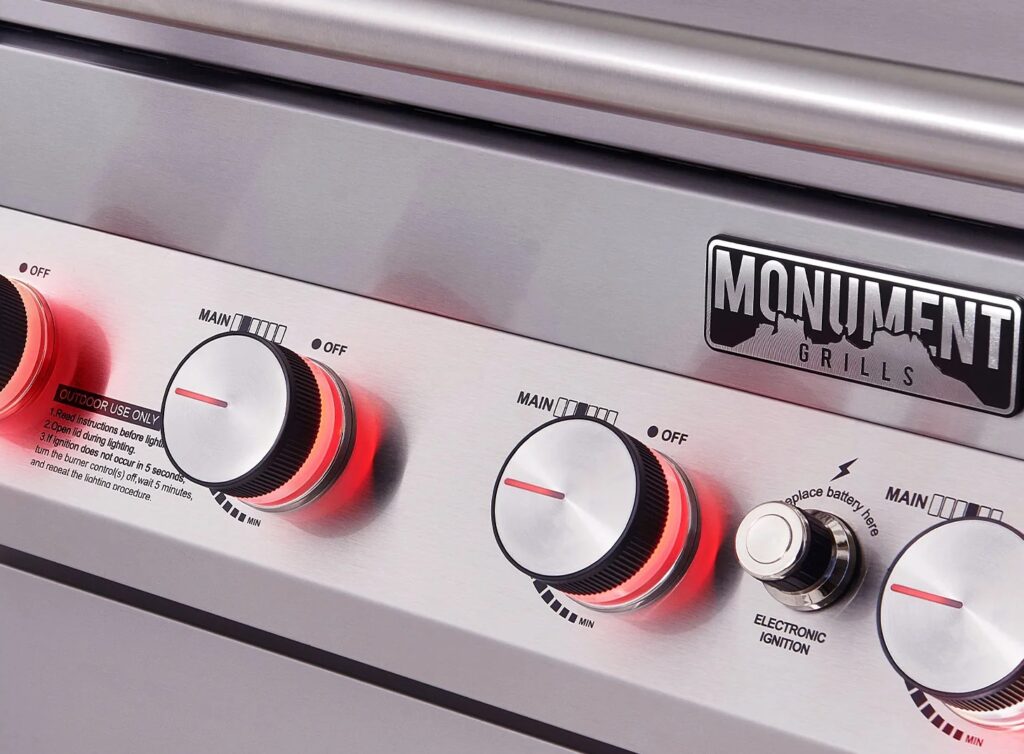 Porcelain Coated Firebox
The firebox on the Denali is porcelain coated. This adds to it's durability and also helps with clean-up when you're done grilling.
Top Rack
To give more cooking area to the Denali, it features a top cooking rack. What's a neat feature with it, besides the extra space, is you can hang chicken legs from the front of it for cooking. That eliminates the need to by an extra accessory for that.
Monument Grills App
The main upgrade with the Denali, is it interfaces with the Monument Grills app through Bluetooth. While you can't control the temperature with it, it always you to monitor the temperature of the grill, and the temperature of the meat probes. You can also set timers and alarms with it, and the LED display on or off.
Conclusion
The Monument Grills Denali series comes equipped with some good features, for an affordable price. It's nice to see some less expensive grills get more modern tech. We're testing out a Denali 425 right now, and will have a full review in the coming weeks.