The sporting goods and outdoor cooking retailer Academy Sports + Outdoors has been on a tear with new store openings. They added 9 new stores in 2022, and are targeting an additional 13 to 15 in 2023. While they have traditionally focused on the southern part of the country, their openings are creeping north, a trajectory they plan to continue.
Geographic Growth Plan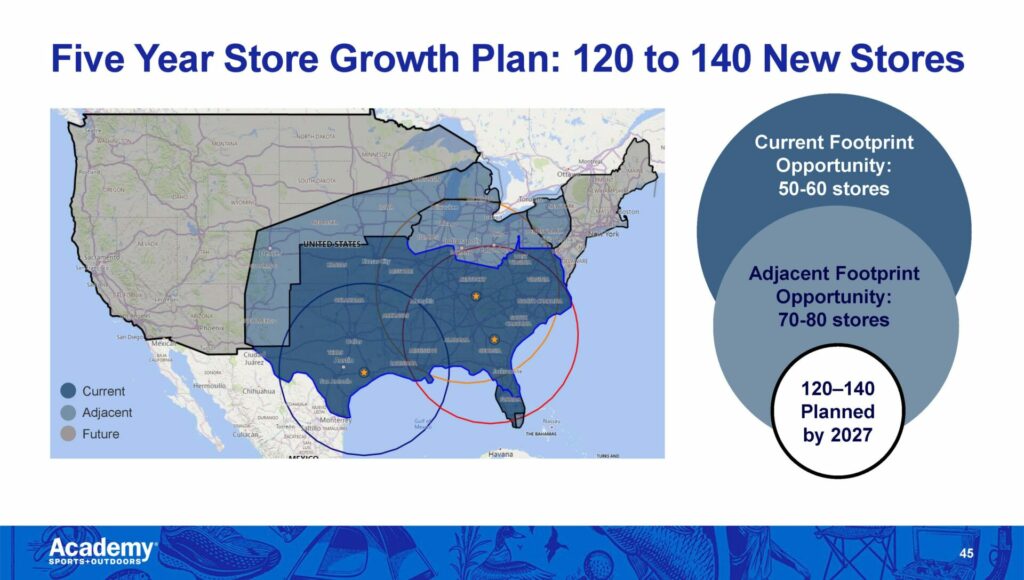 Academy presented their growth plan at an investor day this week. It included opening 70-80 stores in markets adjacent to their current footprint. The new stores will extend north through Michigan and west past Denver.
While Academy is a traditional sporting goods store, with competitors like Dick's Sporting Goods, their outdoor cooking offerings compete with hardware stores and big box stores. They estimate in the presentation that they have grown their share of the outdoor cooking market by 3% since 2020.
New Store Economics
Beyond the geographic growth, they also talked about the economics of a new store. They spend $5M – $6M to open a news store, and have a year 1 sales target of $18M including $2M of omnichannel sales. They ramp sales up to $25M over a 4 to 5 year period, and plan to be EBITDA positive in year 1.