HALO made a big splash last week when they released the first full-size, battery powered pellet grill. It's a step forward with grilling convenience, but will other manufacturers follow suit?
Current Battery Powered Grills
The HALO Prime series pellet grills can run off battery power for an advertised 15-20 hours per charge. It eliminates the need to be close to an outlet when grilling at your house, but HALO also took it a step further by designing the grill to be able to lift-off the cart. This allows you to easily take the grill with you.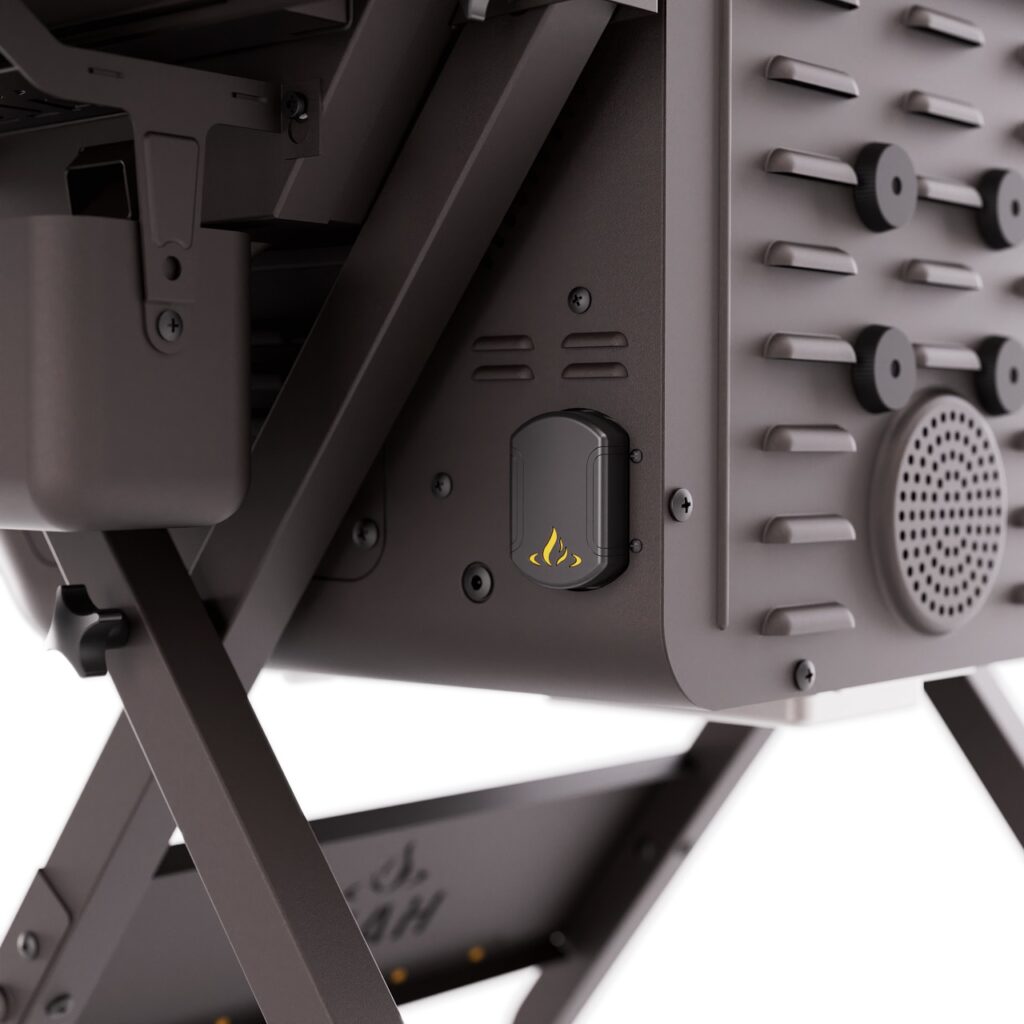 Not only did HALO release the first full-size, battery powered pellet grill, they also released the first portable, battery powered pellet grill last year. Since then, Pit Boss has released their own battery powered, portable pellet grill.
Blackstone Patent
Beyond what's on the market today, we've previously reported that Blackstone has a patent for a battery powered pellet grill. It's a portable design, and has another innovative feature in a propane ignitor.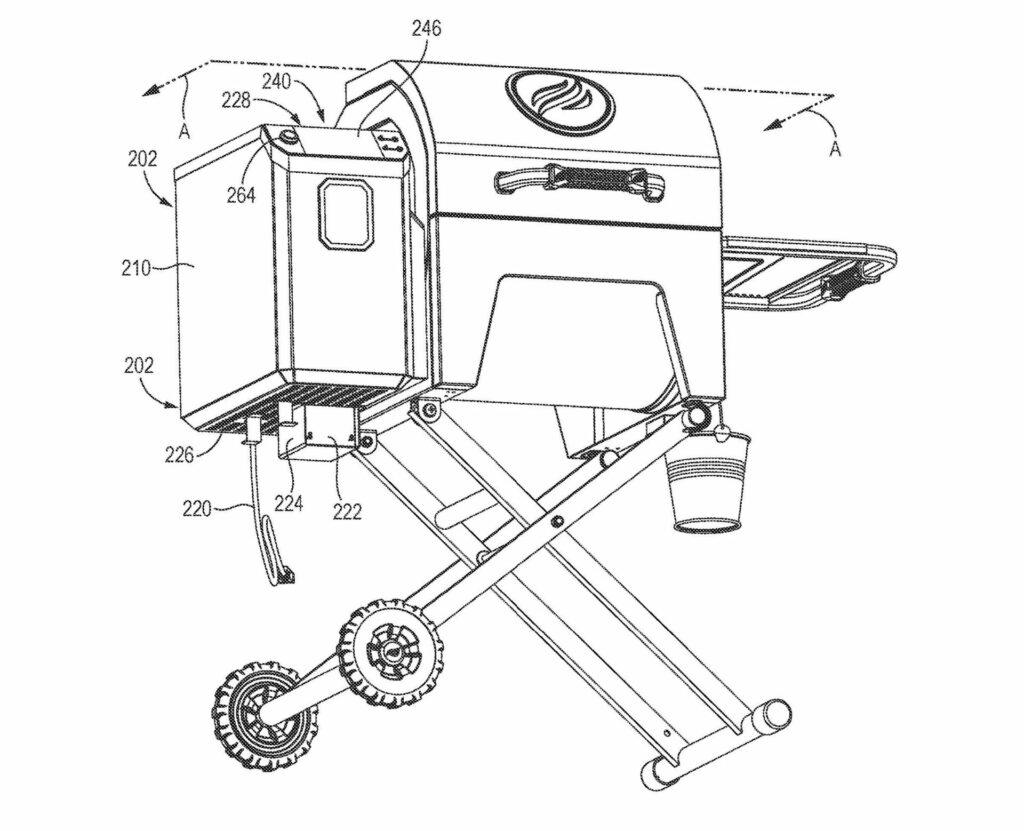 Blackstone hasn't introduced any pellet grills yet, let alone a battery powered one, but the patent shows that it's on their minds.
Traeger Patent
Another patent has emerged regarding battery powered pellet grills, this time it's from the biggest name in pellet grills, Traeger.
As you can see from the featured image of this article from Traeger's patent, figure 130 is a battery that is attached to the side of the pellet hopper. Traeger's design is a little different though.
Under Traeger's patent, the grill has two batteries, a primary and a secondary. The primary battery is the one that's shown in the image, that the user would remove and recharge. The secondary battery is built into the pellet grill, and gives a short operating time, likely in the neighborhood of 5-15 minutes.
The idea being that the user could remove the primary battery to be replaced with another on the charger, without disrupting operation of the grill. It would keep operating for a short time, long enough to change out the primary.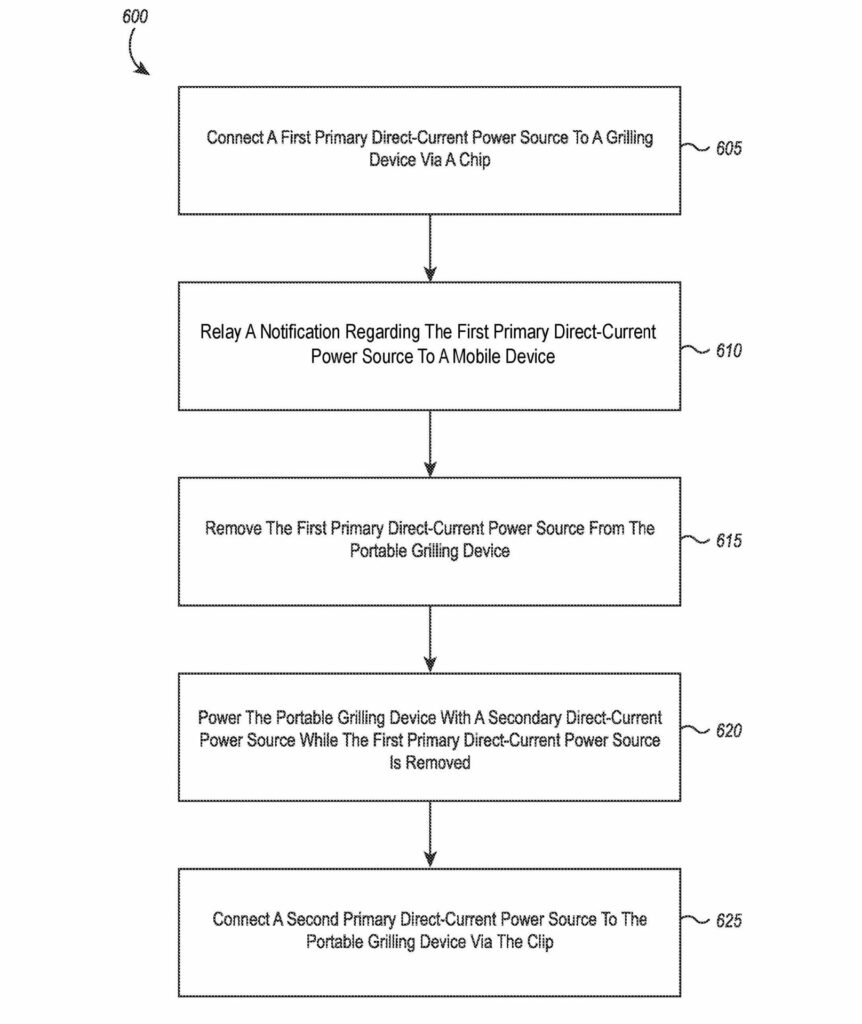 Another interesting idea from the Traeger patent is they suggest that the battery could be interchangeable with the batteries commonly used for power tools. For example, they could use the same battery as a Ryobi or Milwaukee cordless drill. That way you wouldn't have to have batteries that could only be used by your pellet grill.
That's a great idea for the consumer, but may be less likely than a battery powered pellet grill in general. Unless Traeger had a lucrative partnership deal with a power tool manufacturer, they would probably leave money on the table by not having Traeger specific batteries. That's even considering the higher likelihood of adoption with battery sharing.
Traeger Battery Powered Pellet Grill Timing
If Traeger does decide to go forward with a battery powered pellet grill, we probably wouldn't see it for a couple years. The only exception being the possibility of a portable model.
Traeger has said that they like to release innovation on their top models first, then cascade the technology down. They released a new Timberline last year, and a new Ironwood this year. With the Pro model now looking dated, we would guess we'll see a new version next year.
For a full size pellet grill, like the image in their patent, that puts it at least a couple years out due to the product cycle of the Timberline.
Conclusion
A battery improves the convenience of a product that is popular because of convenience. With all of the battery powered pellet grills out and pellet grill patents, it's increasingly likely we'll see more full-sized grills released in the future.