Disclosure: This article may contain affiliate links. If you buy a product through an affiliate link, we may receive a commission at no cost to you.
Seafood boils, or low country boils, are easy, fun, and a delicious way to enjoy seafood. The boiler category, while still young, seems to be exploding in popularity. That charge is led by social media, which has been spreading the word of this fun activity to more people and new geographies.
Camp Chef, which offers a wide range of cooking options, has noticed the growth category and has come out with their own line of seafood boilers.
Camp Chef Boiler Model Line-Up
Camp Chef's boiler line-up ranges from a 30 quart boiler, up to a very large 100 quart unit.
The 30 quart boiler has a retail price of $119.99 (check price) and comes with a 50,000 BTU/HR burner and a frying set.
The 60 quart boiler retails for $159.99, the 80 quart for $179.99 and the big 100 quart for $199.99 (check prices). They all have a larger 110,000 BTU/HR burner.
All boilers have an electric ignition for easy lighting of the burner
All boilers have a built-in lid rest, so you don't have to put the lid on the ground or a table
1 year warranty on all boilers
Camp Chef includes the following chart on their website to help size your boiler. I think it's better to get too big of a boiler than too small, so I'd size-up if you're between sizes.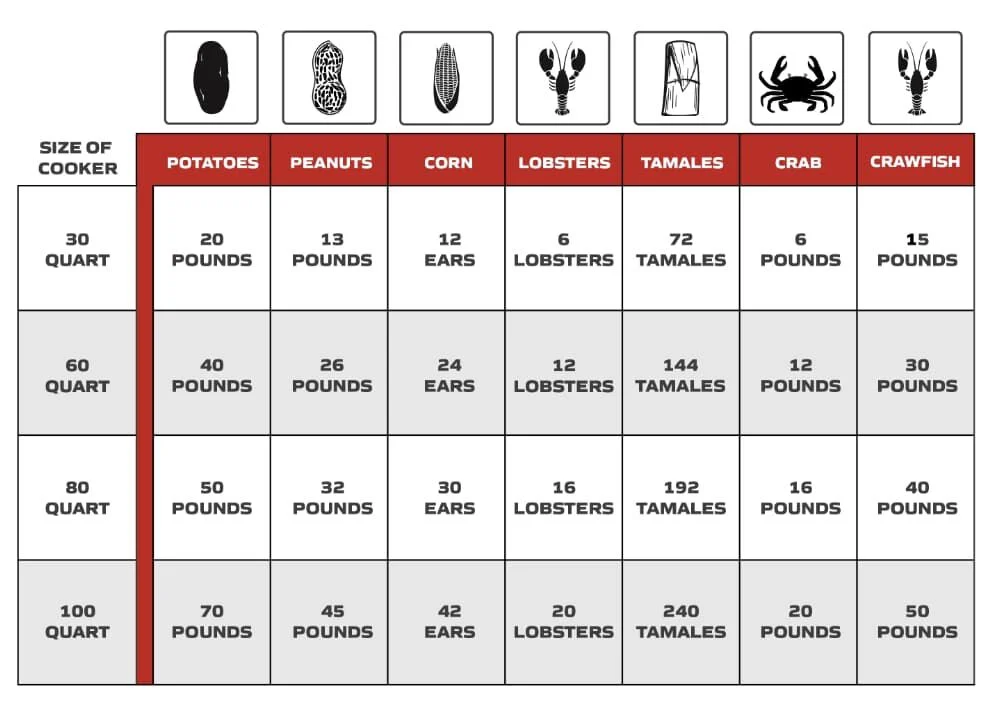 You can always fill it up at less than capacity. The only annoyance is it's more work to clean a larger boil pot because of the shear size of it.
Easy and Fun
For anyone that hasn't done a boil, it's a fun way to cook outdoors. It's really easy too, you just load the seafood in the pot with some seasonings and it's ready pretty quickly. Meat Church has some great videos of boils that you can follow.
Tips