Last Saturday, I went down to just outside Atlanta, Georgia for Big Green Egg's 26th Annual EGGtoberfest. It was a great time for all, and inspiring to see so many people passionate about the Big Green Egg brand.
The Food
I won't keep anyone waiting, and get right to the most important part of the festival. The food was amazing, as you would expect. The infield, outfield, and concourses at Coolray Field were packed with tents and cooks pumping out smokey, delicious food on EGGs.
Given time and cost constraints, the most plentiful food was probably chicken thighs, but I don't mean that as a complaint. They were seasoned, sauced, and prepared in all different ways, so it never was boring.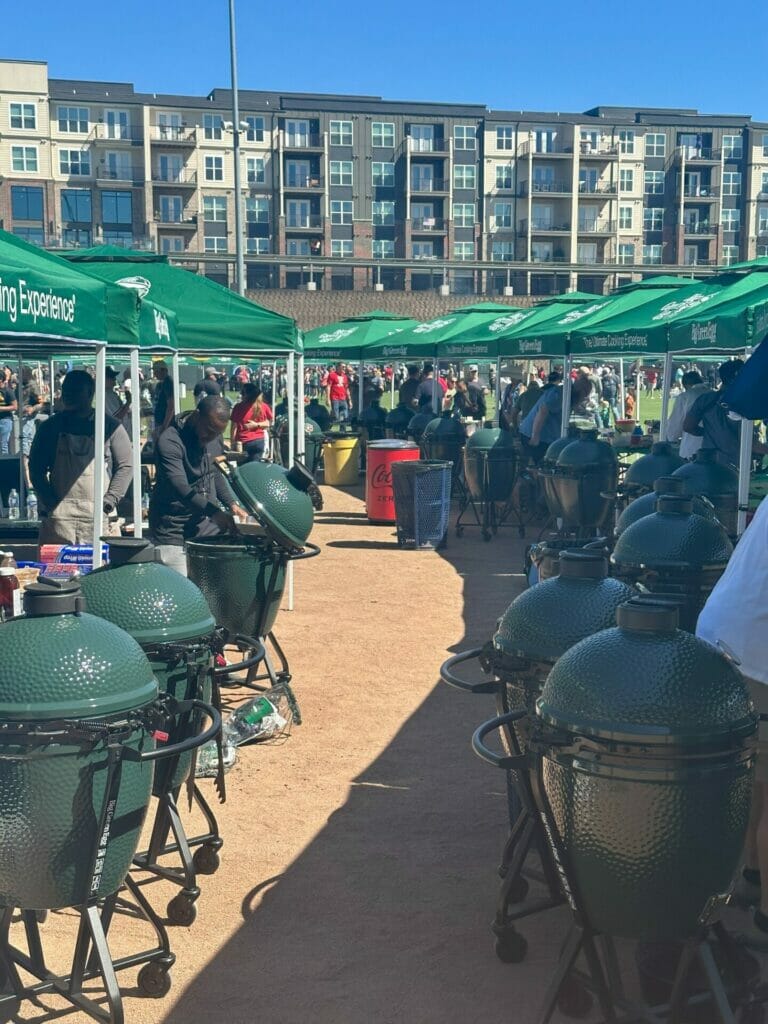 There was also quite a bit of different preparations of pork, from standards like ribs and pulled, to more involved like street tacos. There wasn't as much beef, because it would be expensive and difficult to prepare it in the time given to the cooks. It was around though, and a nice surprise when you'd stumble across it.
Many tents had menus, so you'd know when to show up for different types of foods. As it got later in the afternoon, many tents switched to serving dessert. There was a ton of variety there, with one tent putting out some great cherry cobbler.
The Venue
Coolray Field was an amazing venue for the event. It's a large space, so it never felt cramped, even with some of the tents and events in the concourses.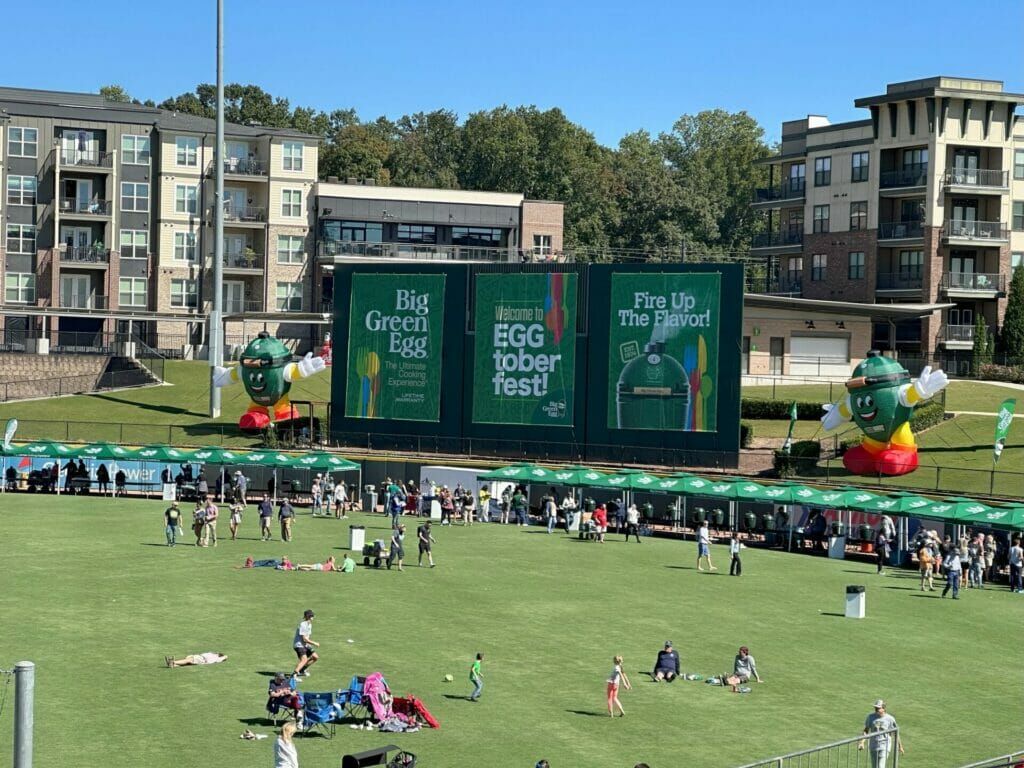 Having gone to BBQ events in open fields, it was nice having chairs built-in the venue to sit in to eat or relax for a minute. Plus, having clean restrooms was a nice plus.
The Event
The event itself is really special and different than any other BBQ event I've been to. It was started originally just by EGG enthusiasts looking to get together, and you can tell that by the atmosphere.
The cooks are there because they love cooking on EGGs, so they're sharing that love by cooking food for people attending the event. It made for a different vibe than events that are put on by corporations purely for marketing. There's nothing wrong with that approach, but it's just different.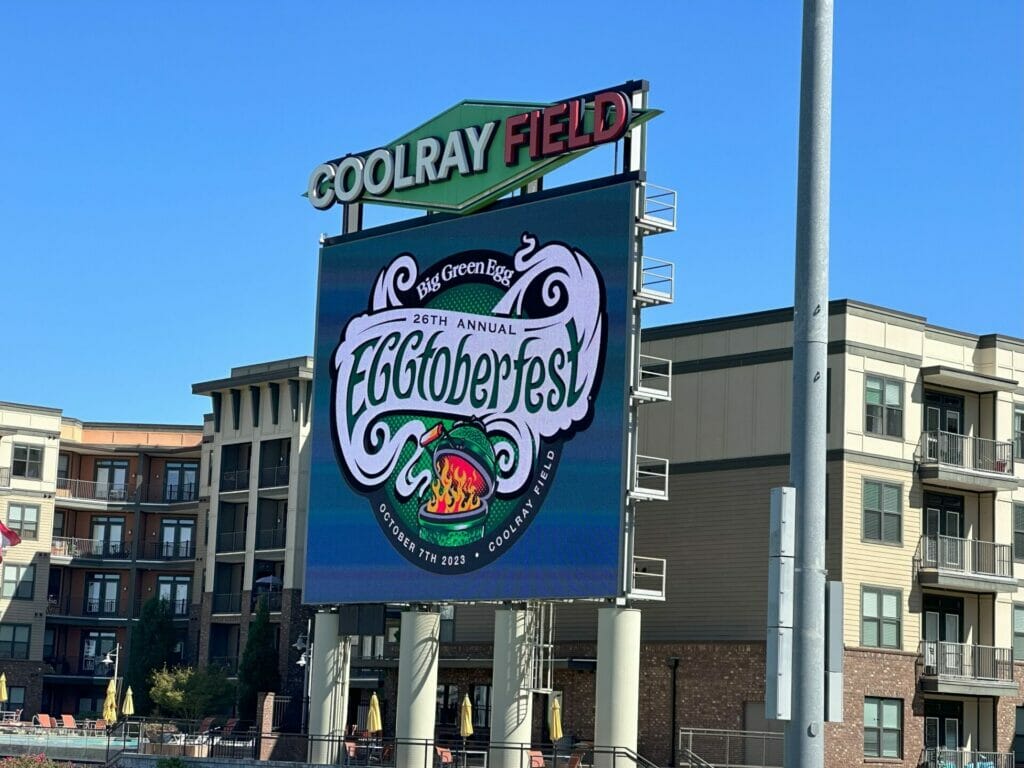 In addition to all of the tents with cooks serving food, there was live cooking demonstrations featuring well known EGG cooks. Next to that there was a much appreciated kids zone, with lots of bounce house fun for my little ones that are less into BBQ festivals.
The EGGs
So much has been written about Big Green Eggs through the years, so I don't know that there's much to add. They're high quality cookers that can cook anything, and they've been around for a really long time. What Kleenex is to facial tissues, Big Green Egg is to Kamado style cookers, and for good reason.
My interaction with the brand dates back over 20+ years. I would go camping with a good friend and his extended family every year in different parts of Michigan and Ohio.
His uncle would bring a Big Green Egg and create amazing food. He made some of the best pulled pork I've had. Every time I see an EGG, it takes me back to those trips in my late teens and early twenties. That's what's special about the brand to me.