Disclosure: This article may contain affiliate links. If you buy a product through an affiliate link, we may receive a commission at no cost to you.
YAK Grills, maker of the portable YAK 400 Series charcoal grill, has released a new tool to make charcoal grilling more convenient. The Firestack Duo is a traditional chimney starter with the addition of a metal bucket with a locking lid that nests inside the starter. It provides an easy way to not only start you charcoal grill, but stop it when you're done cooking with the storage bucket.
I am thrilled that the YAK Grill has introduced so many new people to the joy of grilling with charcoal. But we found that many of our customers struggled with the best way to ignite the charcoal and then what to do with the remaining hot coals once the party was over.

David Sypniewski, company founder
Matching Yak's grill, the chimney starter is smaller and more portable than other chimneys on the market. It's also more sturdy, using 430 stainless steel compared to other companies that use aluminized steel. It can hold about 3.5 lbs of standard charcoal briquettes. Similarly, the bucket with locking lid is made of durable 430 stainless steel.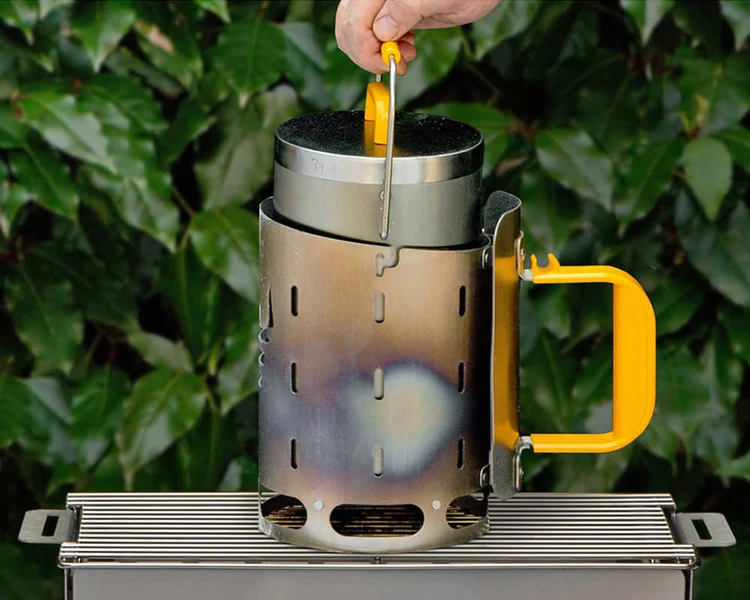 The Firestack Duo charcoal chimney starter and storage bucket retails for $59.99 and is currently only available for pre-order. It's estimated to ship in 4-6 weeks.