With the NFL still going full force and college football entering Bowl Season, now is the perfect time to look back at one of the most important aspects of the game from a fan perspective… tailgating.
Starting in September and going through January, football fans break out the grills, smokers, and giant chili pots (either at home or in stadium parking lots) and cook up a smorgasbord of classic gametime treats, often accompanied by a cold adult beverage (or several). It's an American pastime that has only gotten more popular through the years, especially with ever advancing grill tech and increasing interest in smokers and grilling in general. One thing is for certain, the classic football tailgate isn't going anywhere, and it goes hand in hand with everything that is outdoor cooking and BBQing.
With that said, which football fan bases are the top tailgaters? Or to ask the question another way, if you wanted to experience an epic tailgating/cookout experience, where would you go? Luckily, using our trusty social media data tools, we're able to give you a pretty good idea.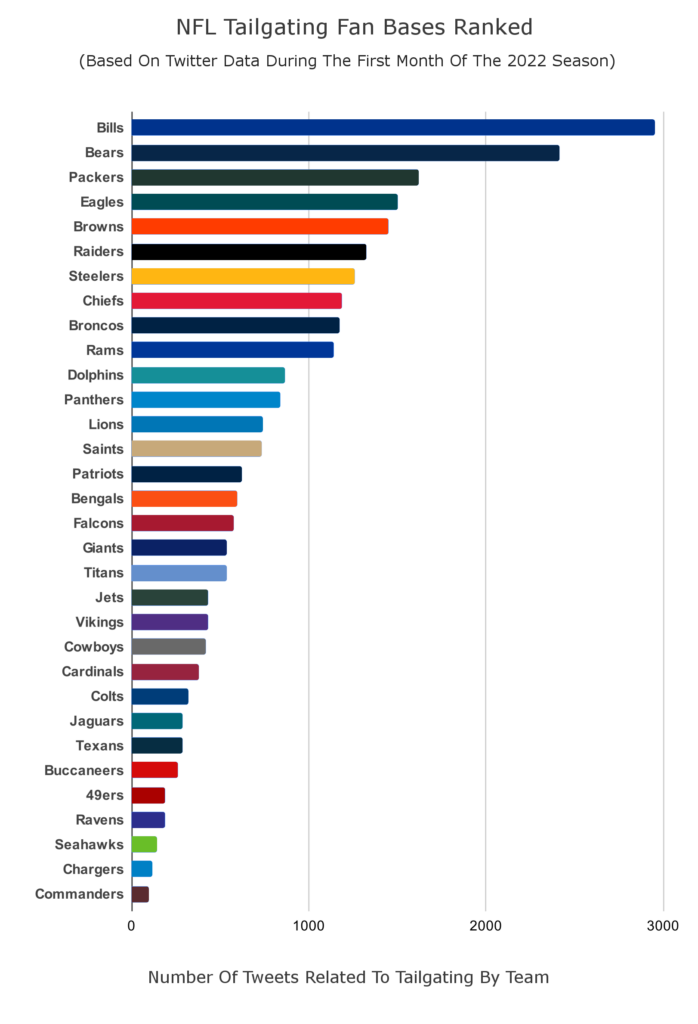 As you can see from the graphic, when it comes to an epic NFL tailgating experience, you're going to have to head north. Whether it be joining the rowdy "Bill's Mafia" in Buffalo, or throwing down with the cheeseheads in Green Bay, these fans aren't afraid of a bit of cold weather (they will just tell you to drink another beer).
Speaking of beer, it's the northerners who put down the most booze while watching games as well, as evidenced again by our data tools.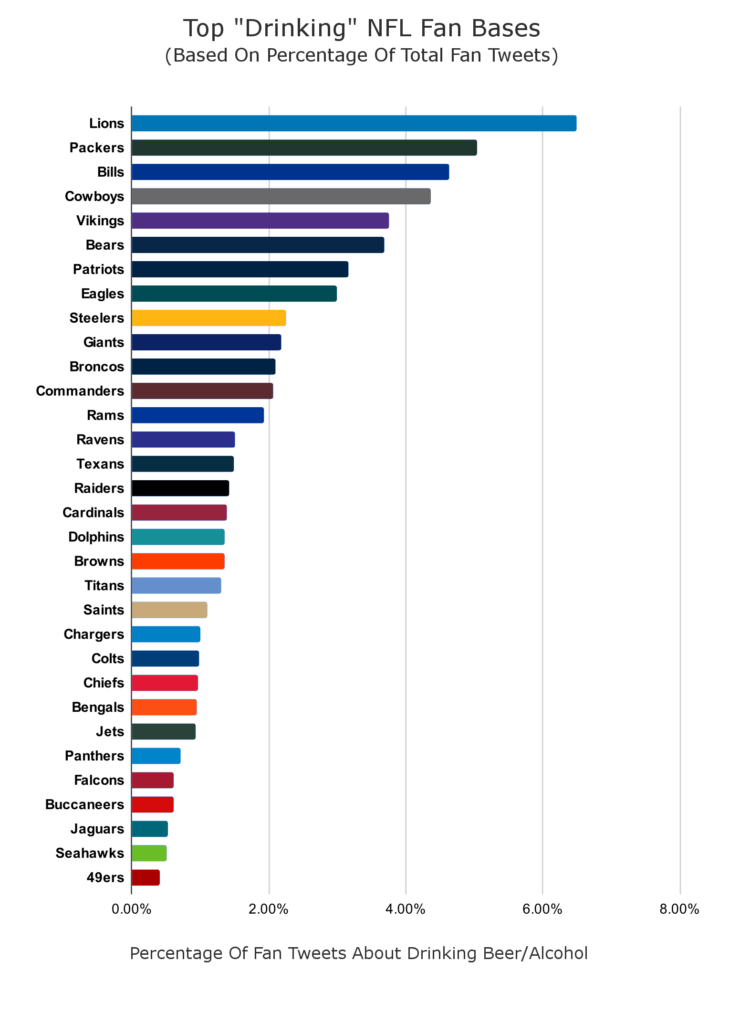 The top 10 booze drinking NFL fans (based on the percentage of fan tweets about beer and alcohol) are as follows:
Lions – 6.50%
Packers – 5.04%
Bills – 4.63%
Cowboys – 4.36%
Vikings – 3.76%
Bears – 3.69%
Patriots – 3.16%
Eagles – 3.00%
Steelers – 2.26%
Giants – 2.18%
As a lifelong Lions fan, it's good to see that they're the best at something. If anything, the northerners in general know how to stay hydrated while putting down the burgers and hot dogs.
Now here's the interesting part, when it comes to college football, you're now going the exact opposite way. Now you are headed south to warm up a bit.
College football tailgates (especially at big "football schools") are an experience like no other, and it could be argued they beat even the best of NFL tailgates. It's just a completely different atmosphere, and one that has to be experienced first hand. But just like the NFL, grilling meat and drinking beer are the tailgate centerpieces.
Nobody does a football tailgate better than the fans of the SEC (Southeastern Conference), so if you want the best of the best, you might throw on some purple, head down to Baton Rouge, and start shouting "Geaux Tigers."