Traeger reported earnings for their quarter ending in June 2023, or the first half of grilling season. They're results were higher than they forecasted, and they had some good news.
Channel Inventory
The biggest problem facing grill companies across the board has been retailer inventory levels and de-stocking. It's been plaguing topline results for a year now.
Traeger reported that their channel inventory levels have largely stabilized through the quarter.
That is largely behind us. In channel inventories are healthy. We are feeling we're feeling good about inventories on our balance sheet.

Jeremy Andrus, CEO of Traeger
It's not just a story of the amount of grills, they also had high-cost inventory on their balance sheet. That was a function of the skyrocketing inbound freight costs through the pandemic. The high-cost inventory is working it's way through.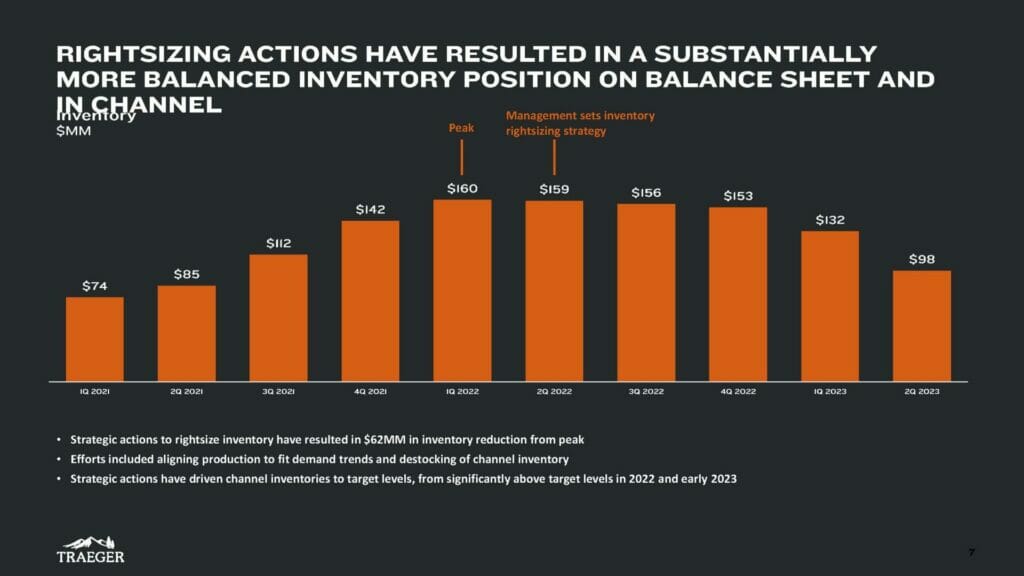 Flatrock Griddle Demand Outpaces Supply
Another bit of good news that Traeger had was related to their new Flatrock griddle. They launched it slowly this year because of inventory concerns, and the demand has been higher than the supply.
I was in a specialty retailer last week that had received three units. They sold through in 24 hours and are still waiting to get more. Now they do buy through a distribution center. I was in another retailer that actually prebooked a meaningful number, and they have sold more than 30 units and they routed inventory as well. So the good news is there's a lot of demand, and I would much rather fix a supply problem than a demand problem.

We are ramping up production on that, and we should be caught up to our existing channel by the fourth quarter. But the goal is to really it's to increase distribution next year.

Jeremy Andrus, Traeger CEO
The good news for retailers and customers that want to get their hands on a Flatrock, more inventory is coming. There should be relief through the holiday season.
Special Event and International Sales
It was noted in the call that Traeger and their Brand Ambassadors (BAs) focused selling at events like county fairs and rodeos across the country. This selling strategy was a success for the brand.
In Q2, our BAs focused on special events like county fairs and rodeos across the country. We had significant growth in sales generated at special events in the second quarter as compared to last year, in particular, for our higher-end Grill SKUs.

Jeremy Andrus, Traeger CEO
Traeger also continued their focus on international business, which they believe is a long-term growth opportunity.
This year, we refreshed over 1,000 points of distribution across Europe with updated branding and imaging, including POS signage that explains Traeger's wood pellet system and Wi-Fi connectivity to the consumer. We have also grown our regional demo teams. These pit masters, demo Traeger grills and food every weekend from March to July outside of retail locations in key international locations in the U.K., Germany and other markets in Europe. We believe these on-the-ground initiatives in our core international markets should drive awareness of our brand, and we continue to see a meaningful long-term opportunity to grow Traeger outside of the U.S.

Jeremy Andrus, Traeger CEO