Disclosure: This article may contain affiliate links. If you buy a product through an affiliate link, we may receive a commission at no cost to you.
The Pit Boss Lexington is a great option for anybody in the market for a pellet grill suitable for a small family. This Walmart exclusive model has some great features for its price tag. It comes equipped with a PID controller, an LED display and the ability to use 2 temperature probes (it includes 1 probe), all for a retail price just under $300 (check price).
Features
The features and specs it comes with are as follows.
540 square inches of cooking area
A temperature range of 180 degrees F to 500 degrees F
15 lb hopper capacity
Two wheels for easier mobility
PID Controller
Two temperature probe ports
One included temperature probe
Slide plate flame broiler
Summary
Pros
Great value at under $300 – check price
More smoke flavor than other pellet smokers
Holds temperature well
Good accuracy on the grill temperature and on the meat probe
Cons
A little small and cramped
Clunky pellet auger
Flame broiler doesn't sear well
Useless dial thermometer
First Impressions
The Pit Boss Lexington is sold exclusively through Walmart, so you're only purchasing options are to have it shipped or to pick it up in person. Like other grills we've purchased, some of the negative reviews were due to damage in shipping. To avoid that, we found a Lexington at a nearby Walmart and went and bought it in person. If possible, we'd recommend doing that. If not, at least there are many Walmarts, so taking it back shouldn't be a big deal.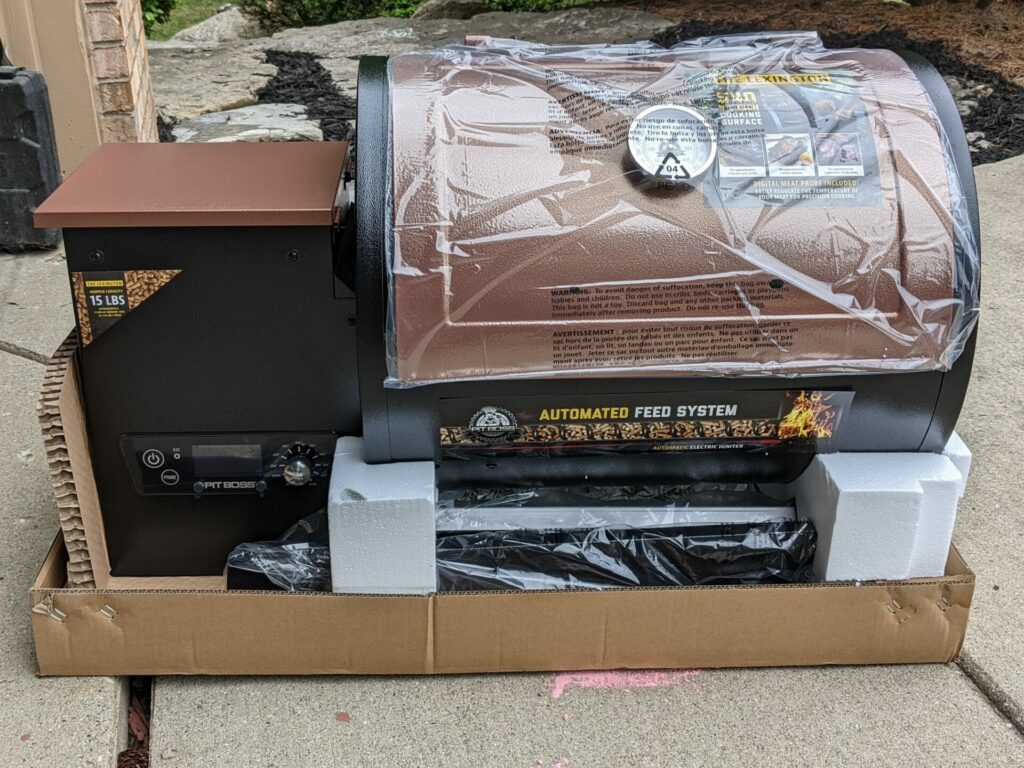 The packaging was pretty unremarkable on the Lexington and it went together pretty easily. The only part that might be better with 2 people is when you have to turn the barrel on its side to attach the legs and then again to stand it up.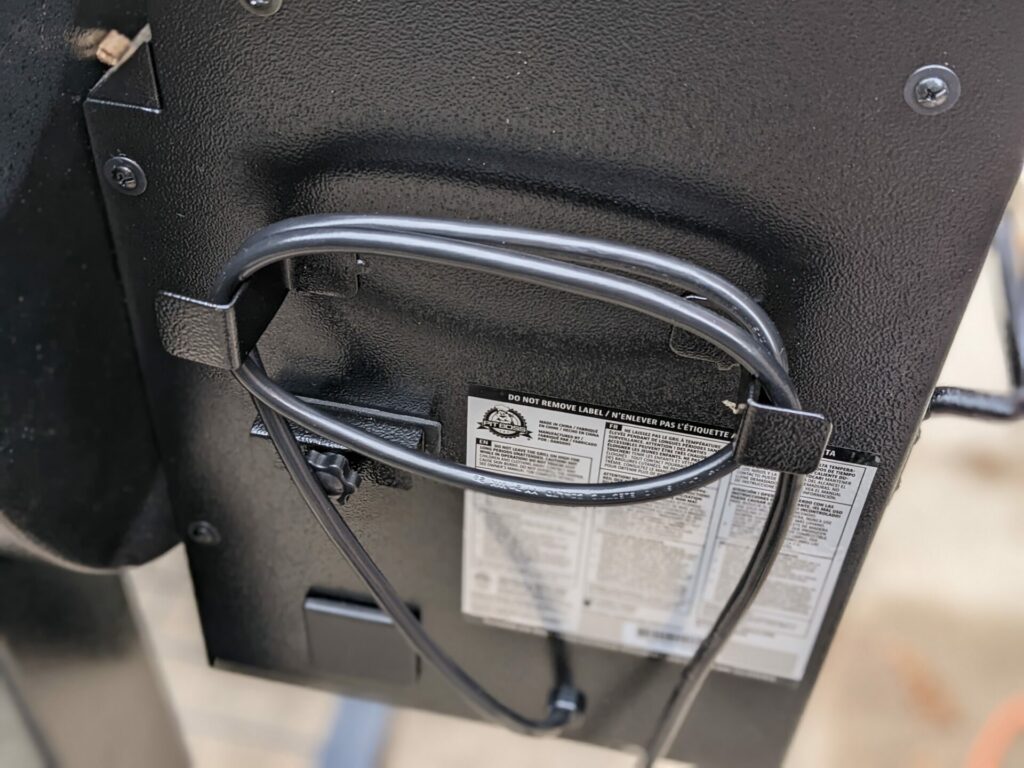 Once assembled, one nice little feature we noticed is the back of the pellet hopper has a spot where you can wind your cord. That comes in handy to keep it out of the way. One thing that could use improvement is if you plan to move the grill around a lot (e.g. in and out of the garage), the handle on the side of the hopper is pretty small. It doesn't feel unstable, it's just not as easy to grab as if they used a thicker handle.
Operation
Smoker
One of the biggest complaints with pellet grills is that they don't produce enough smoke. They burn pellets really efficiently, so not much smoke is created. When firing this one up, it produced much more smoke than other pellet grills. When it is adjusting for temperature, it starts smoking quite a bit. That made the food taste much smokier than other pellet grills we've used.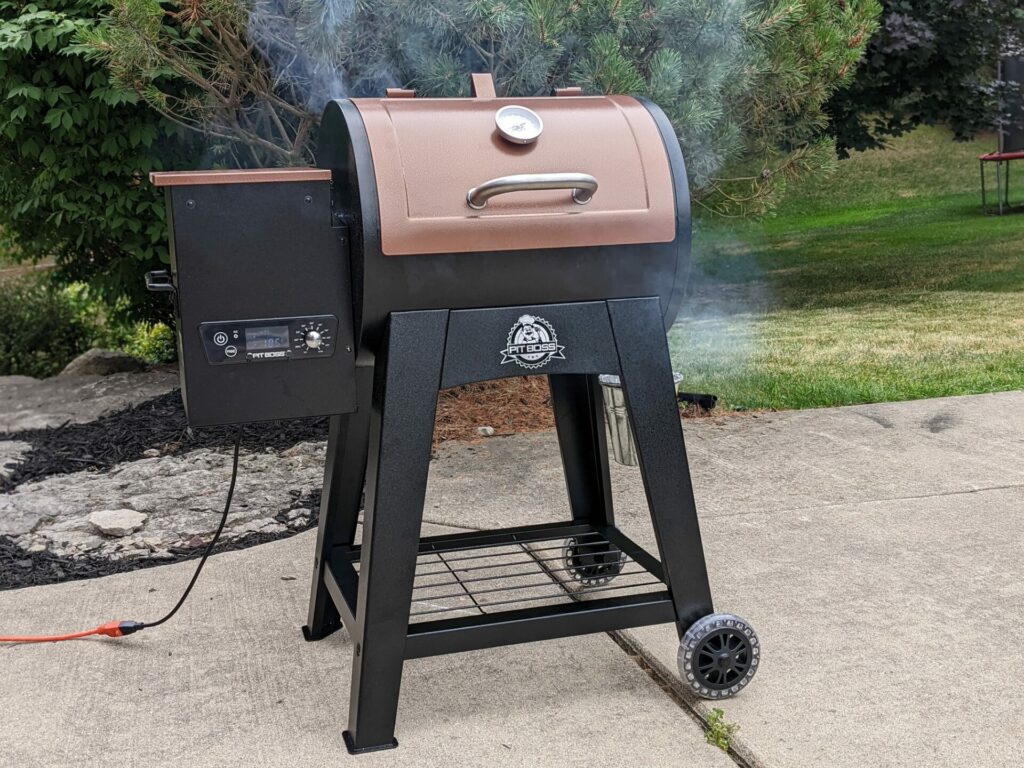 Temperature Accuracy
The main benefit of pellet smokers is the convenience factors. You're relying on the controller to keep temperature and probes to tell you when you're food is done. The Pit Boss Lexington performed really well when we tested both the grill temp and the temperature probes.
To test the various probes, we used a ThermoWorks Signals with air probes setup near the probe for the controller and to test the accuracy of the analog thermometer. The controller probe that controls the grill temp doesn't update as quickly as the Signals, but we found it to be within 3-5 degrees F, which is pretty accurate. Definitely accurate enough to properly cook your food.
The analog thermometer on the smoker lid was wildly inaccurate on the other hand. They must just add it for decoration, because even if it worked, we can't see how it would be terribly useful. With it being 40 degrees F off of the Signal probe, we have to wonder, why doesn't Pit Boss save a few bucks and get rid of it?
Similarly, we tested the included meat probe against a ThermoWorks Thermapen and it was pretty much dead on.
Size
The Pit Boss Lexington is small grill. While it advertises having 540 square inches of cooking area, the barrel is about 2 inches smaller in diameter than a similarly sized Traeger Pro 575. It's also noticeable shorter than a Pro 575 as well.
We tested it out with a 14.5 lb brisket, and as you can see from the picture, you might be able to fit around an 18 lb brisket, but not much larger.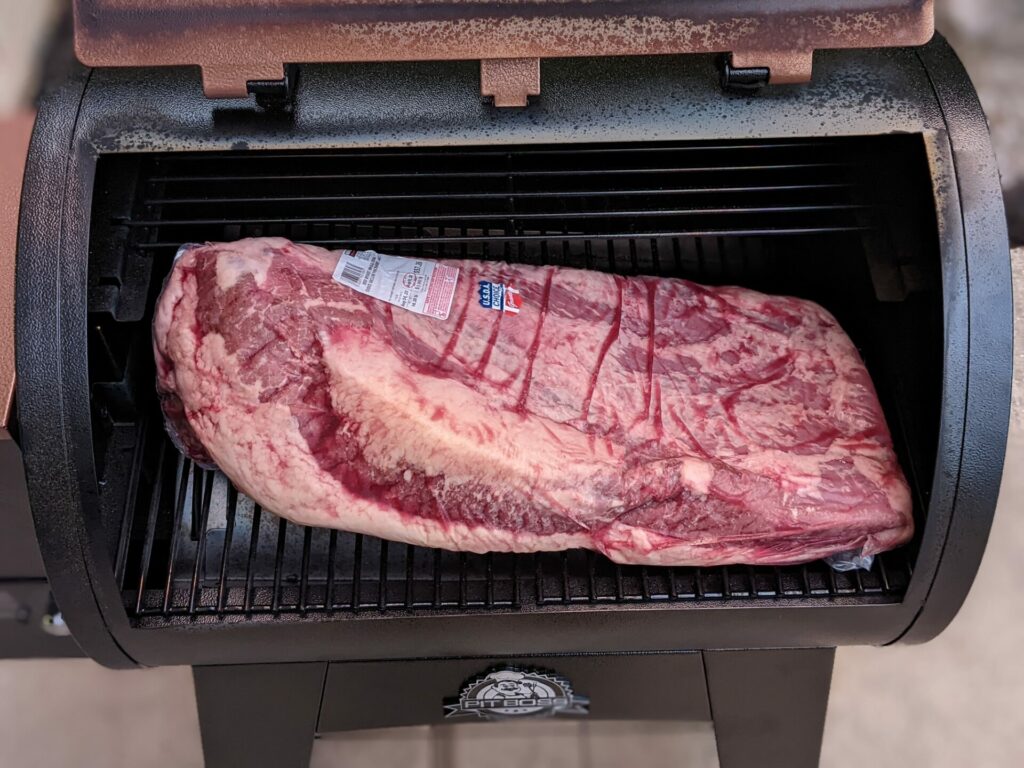 We measured the height of the barrel to be about 7 and 7/8″ from the grill grates to the top. The small barrel size means that you could cook for maybe 3-4 people, but you'd have to be a little strategic with the space because it's cramped.
Flame Broiler
This was our first time testing out Pit Boss's flame broiler. We were eager to see if it really could sear or if it was a gimmick.
The Bad
We'll start with the bad first. It does produce some sear, but not enough. We tried it out on some steaks and had the best results by putting oil on the grill grates or the steaks before putting it over the flame broiler area. It still wasn't anywhere near as good or as easy as just using cast iron in your pellet grill.
The Good
Despite not being able to ditch the cast iron, we did find some good uses for the flame broiler. The first is it work for roasting marshmallows for s'mores. You're a little limited by the size of the fire pot area, but it works.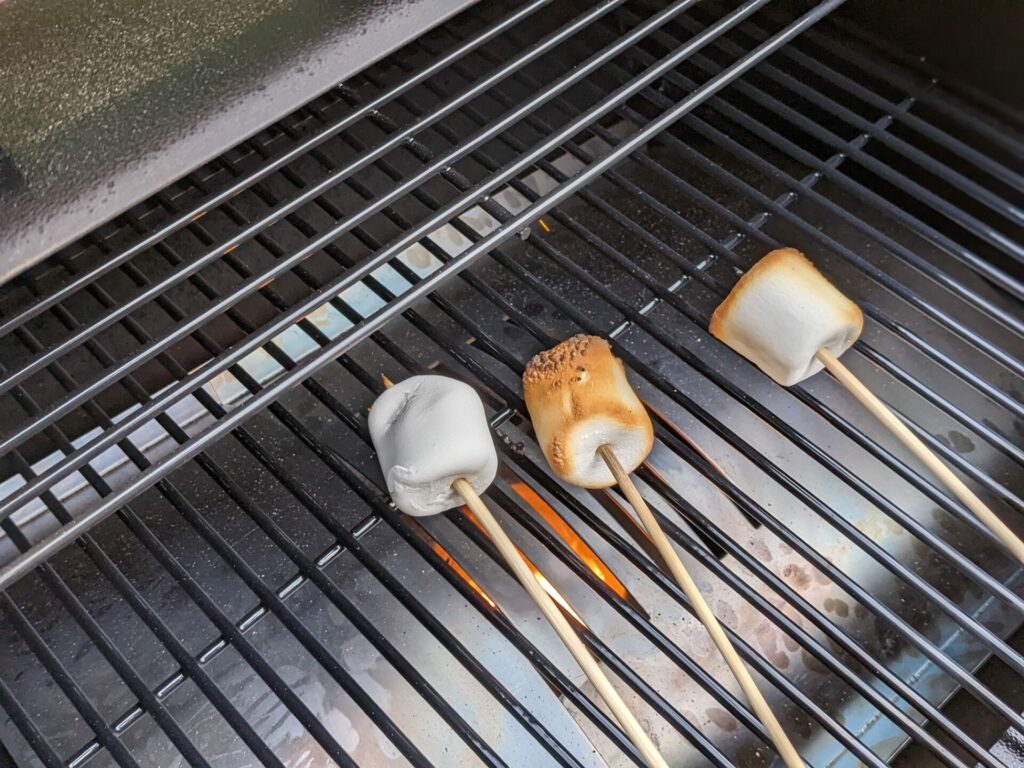 The second is we came up with the idea of using it to get cast iron really hot for searing. The idea is that even though the grill is limited to 500 degrees F on the "Max" setting, if you open the broiler and put cast iron over it, it will make the cast iron even hotter. We used our ThermoWorks Industrial IR Gun to check the temperature.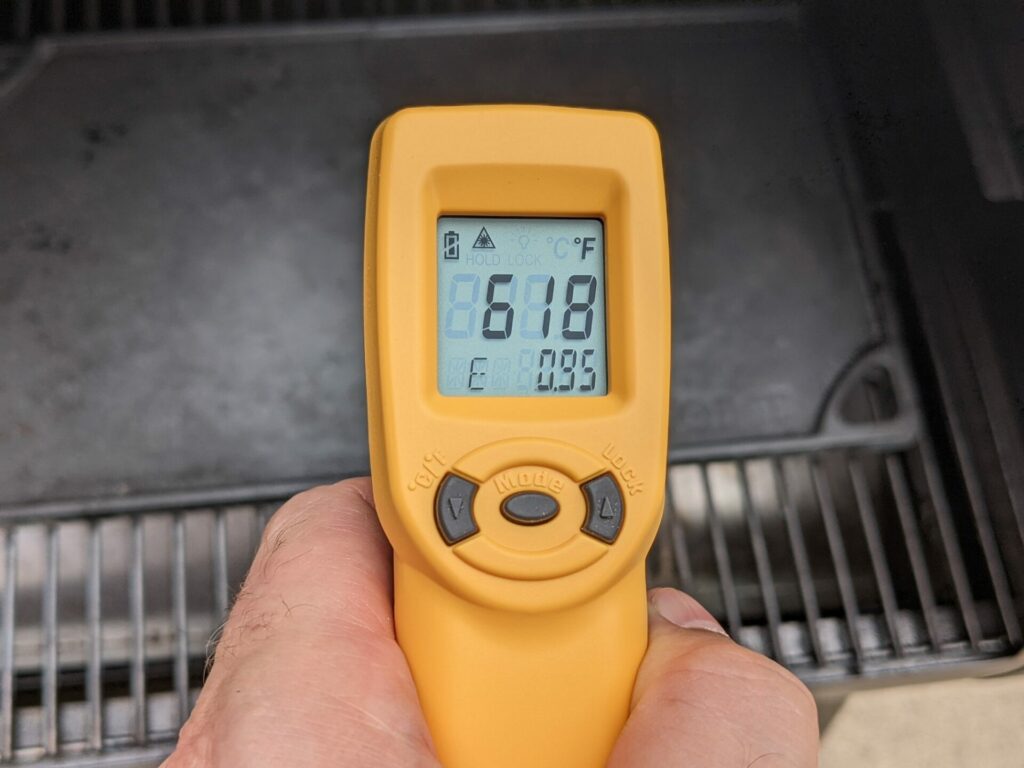 This worked and we were about to get the cast iron to over 615 degrees F, which would make for some great searing. Even without doing this, we love using cast iron for searing and you can get grill marks at 450 degrees F, maybe even lower. We found that the Lodge 16.75″ reversible grill/griddle (check price) fit perfectly. You can use it front and center or if you rotate it, it's the about the size of one of the grill grates (the main grate is split in two) in the Lexington.
Flame Broiler Tip
While it doesn't say you have to do this in the manual, we were a little leery about not covering the plate about the fire pot with foil. It seemed like this could cause problems in two ways. The first is on a fatty piece of meat like brisket, we could see fat getting in between the cover plate for the flame broiler and the heat deflector, which could cause a flame-up. We didn't test that this would happen, and it may not, but it's easy to cover with foil just to be sure.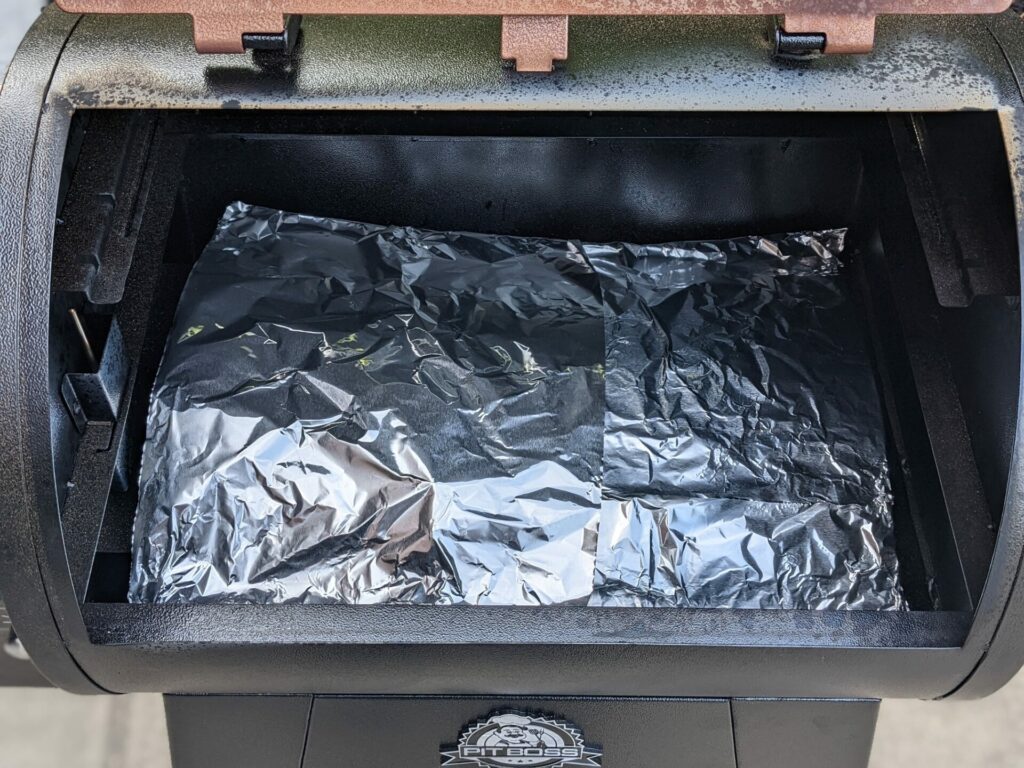 The second reason is the flame broiler cover plate just slides on top of the heat deflector. If drippings fall on the deflector, it will make a mess of it and the deflector won't be able to slide on it or make a nice seal. Foil just seems like it will save time on cleaning and make everything work better. You'd only need to do this when cooking fatty meat like a brisket, or a pork shoulder for example.
Other Observations
Pellet Auger
While we didn't experience any problems with it, the pellet auger is loud. On other pellet grills you can barely hear it running. On the Pit Boss Lexington, it makes some clunking noises during operation. Be aware of that, because at first we worried it was broken, but it worked fine and never jammed over probably 50 hours of cooking and testing.
Use Jars to Save Money
Like all pellet smokers that have an external grease cup, we like to use a soup or spaghetti sauce jar in the foil grease cup. This makes is so we spend less on foil liners and is easy to clean-up. We just thought we'd pass along that tip.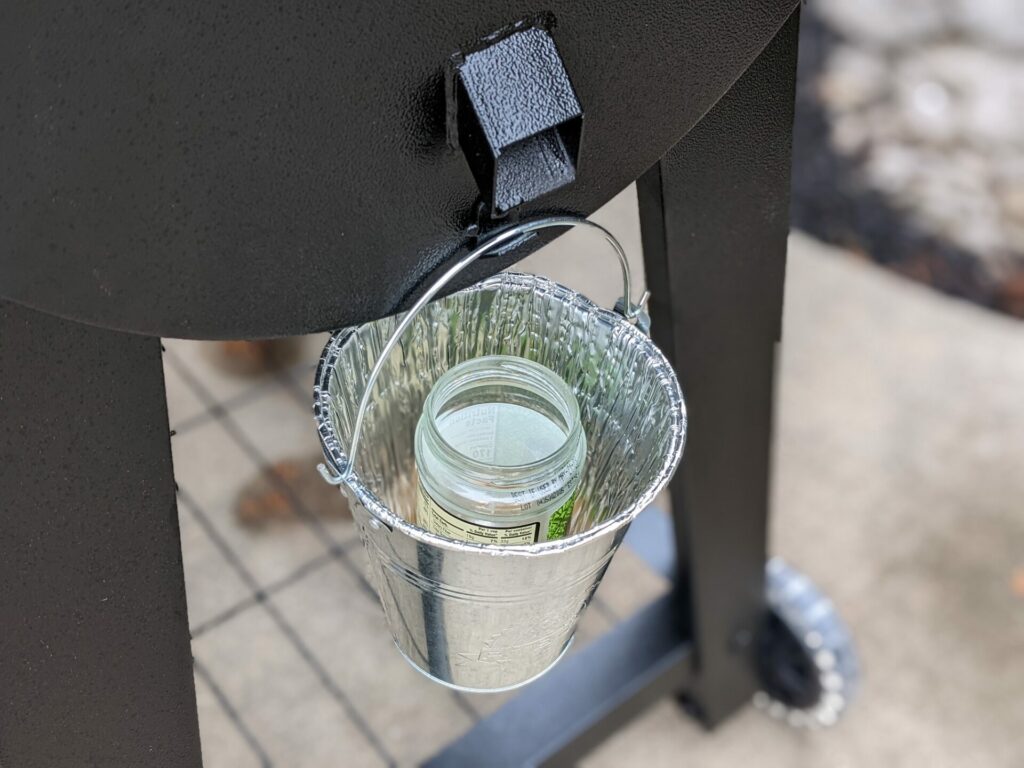 Barrel Seal
This smoker doesn't have the tightest sealed barrel. Smoke comes out between the barrel and the lid, also there's no grommet covering the hole for the meat probe wire. When the smoke gets going, it blows out of the probe hole like a chimney. The smoker still did a good job keeping temperature, but it's worth noting.
Accessories to Make it Better
ThermoWorks Signals
Due to the low relative price point of this grill, there is no WiFi on it. We get why it's excluded, but having it makes using a pellet grill so much more convenient. We used a Thermoworks Signals (check price) both at warm-up and for the temperature probes. With their app it can alert you on your phone when the grill warms up and to know when your food is done. It's an easy way to make the Pit Boss Lexington a much better pellet grill.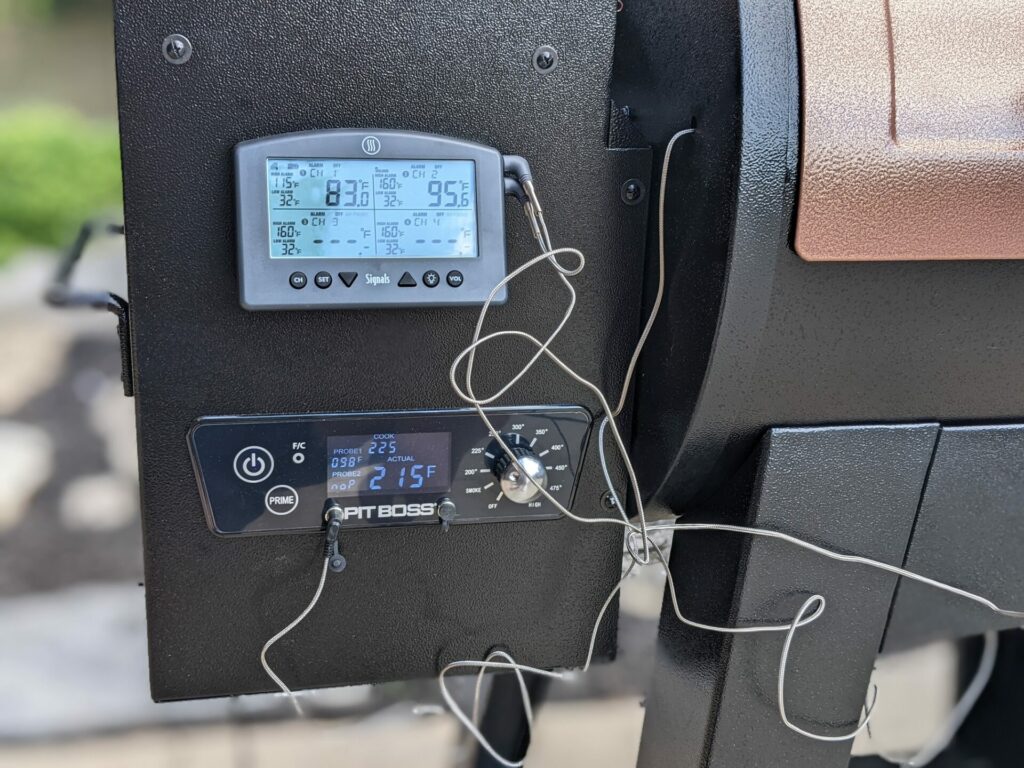 It's worth noting that the probes on the Signals are a little tight to fit through the probe hole on the side of the Lexington, so you just have to have the wires exit through the lid.
Cast Iron
We love using cast iron in pellet grills. It completely takes away the complaint that they can't sear. As mentioned about, the Lodge 16.75″ cast iron reversible grill/griddle (check price) worked well in this grill. We'd recommend getting that or something similar to expand the abilities of the pellet grill.