Monument Grills is a relative newcomer to the grilling scene. They were founded in 2016, with US operations based in Atlanta. In that short time they've been building momentum for their affordably priced, but highly reviewed gas grills. They sent us their newest offering to test out, the Denali 425 smart gas grill.
Model Comparison
The model we tested out is the entry level of the Denali line. "Entry level" is a bad term though, as all their grills are similarly equipped. They mainly differentiated by if stainless steel is used, cooking area, and the number of burners.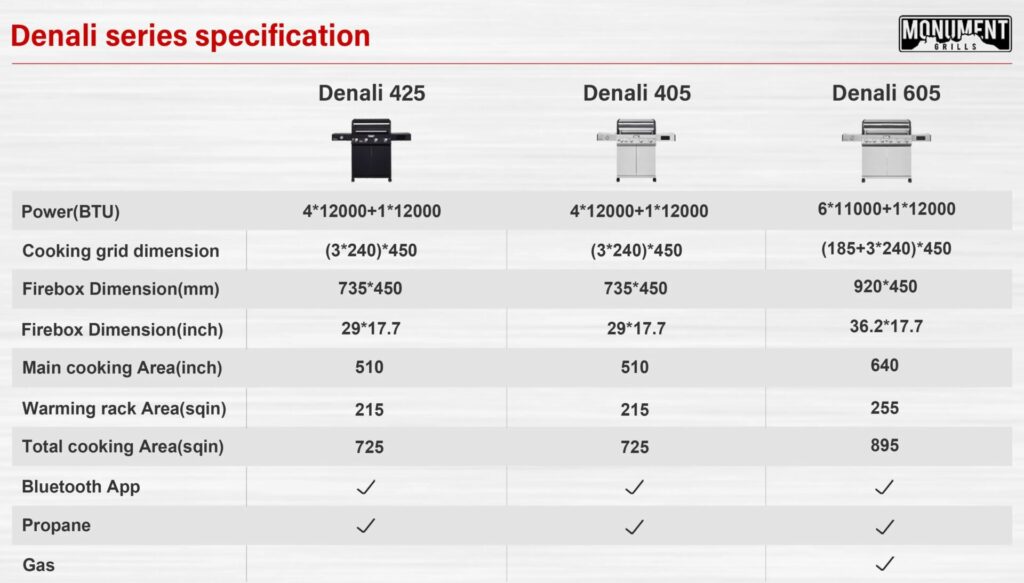 The Denali 425 comes in a sleek looking black finish, with four main burners and a side-burner. It's a good size for 4-6 people if you're cooking a full meal on the grill, or quite a few more if you're just cooking meat.
Summary
Pros
Priced well
Good feature set
Cons
Plastic casters
Smart features use AA batteries
Features and Specs
What makes the Denali so attractive is it's list of features. Most notably, the Denali line is the first from Monument Grills to have smart features.
Retail price of $659.99 (check price)
60,000 BTUs of heat
4 main burners and a side burner
725 square inches of cooking area
Electronic ignition for easy starts
View window in the lid
Bluetooth connectivity with the Monument Grills app
LED display
Shipping and Assembly
The whole shipping process was painless, which is what you want. We received update emails about the status of the grill's journey, and it arrived safely packaged.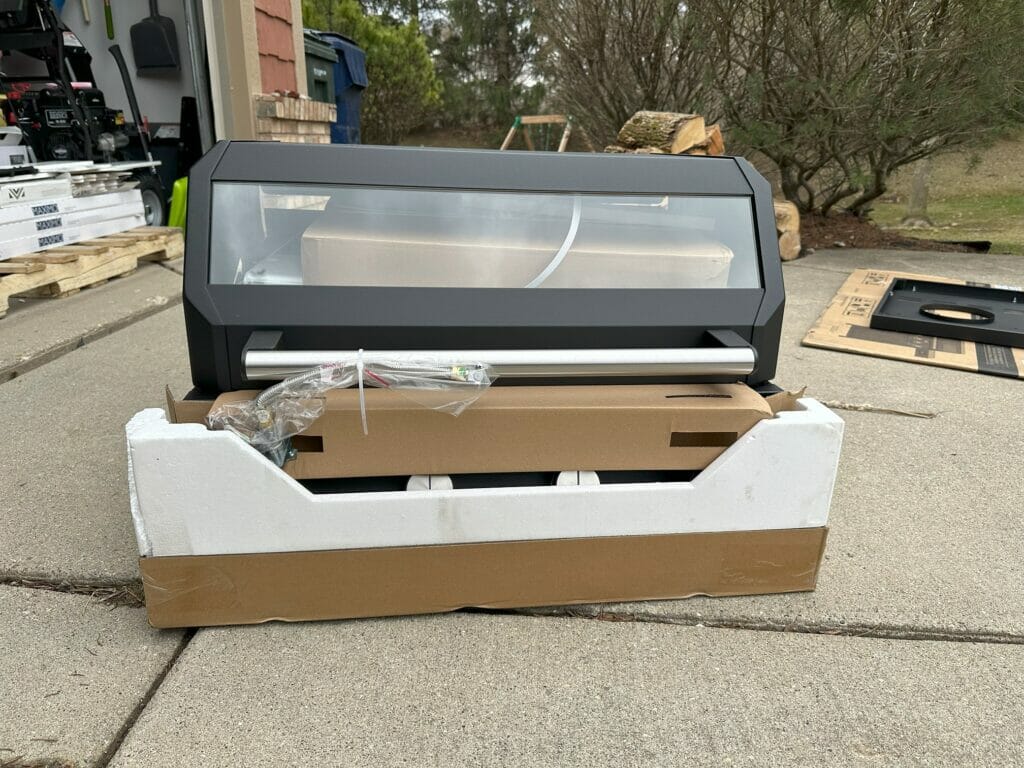 Assembly of the grill was more time consuming than say a pellet grill. That's to be expected because there's the extra components of the LED display being on a side shelf, and a burner on the other side.
Monument Grills did a good job on the mechanical side of assembly of making it easier. They use slotted guide holes to make it so you can align the pieces before tightening them down.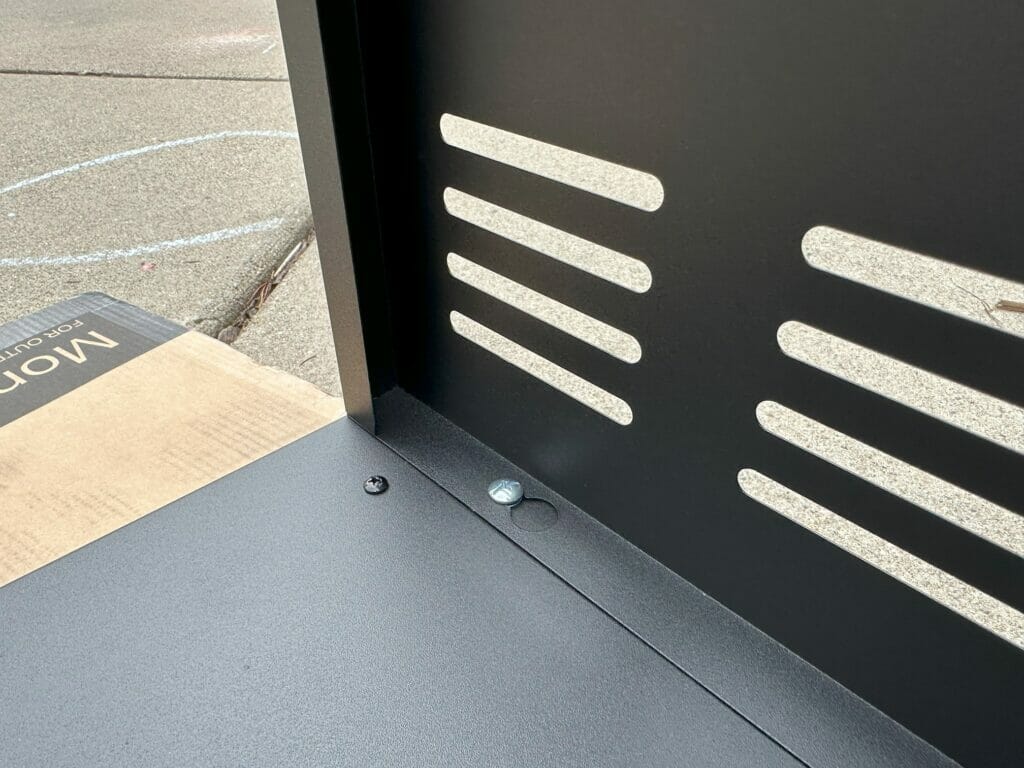 They also flare out the bolt tabs on the top of the cabinet. That gives you some clearance to work with when you drop the grill assembly in place.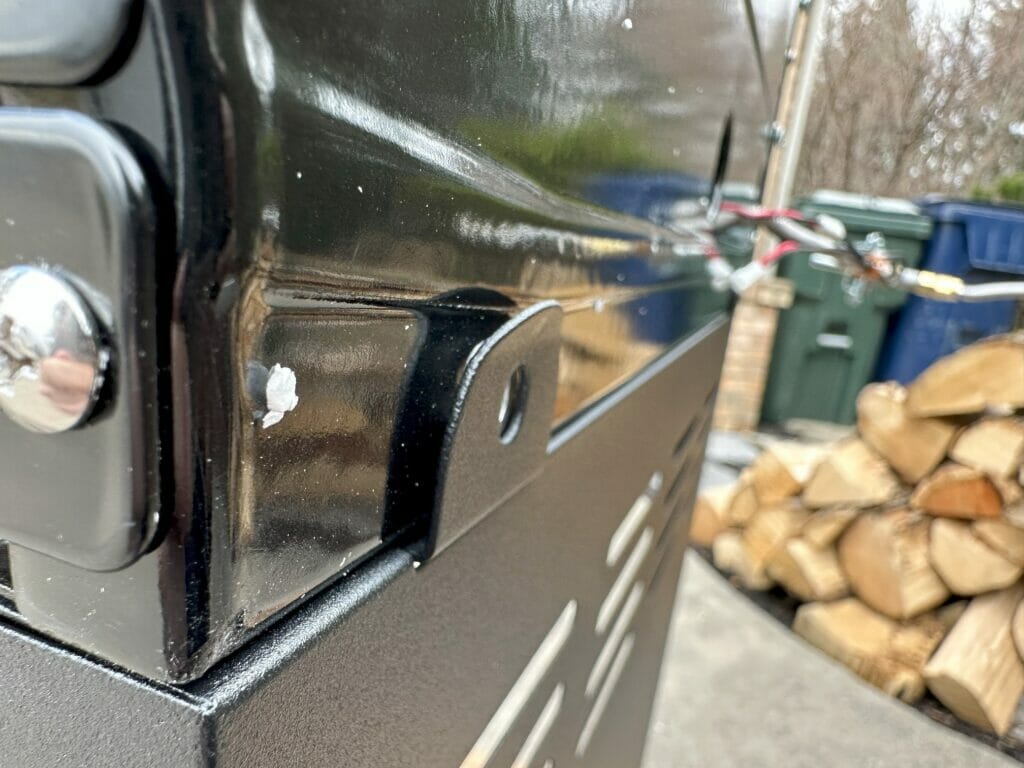 Build Quality
The overall build quality of the grill was good. Everything lines-up well after assembly, and it all feels sturdy.
Our only issue with the build is in the places that they used plastic. The sides of the side tables are both plastic. It's a pretty minor complaint though, because they blend well with the grill.
The casters are also made out of plastic, which was more of an issue for us. If you're going to buy a cover for the grill and keep it in place, you wouldn't even notice. It's not a quality issue. We store all our grills and wheel them out for use though, and it's more noticeable when you're doing that.
Grilling
We were happy with the grilling experience of the Denali. For warming-up the grill, it was nice having an LED screen that told you the internal temperature. It eliminated the guess work.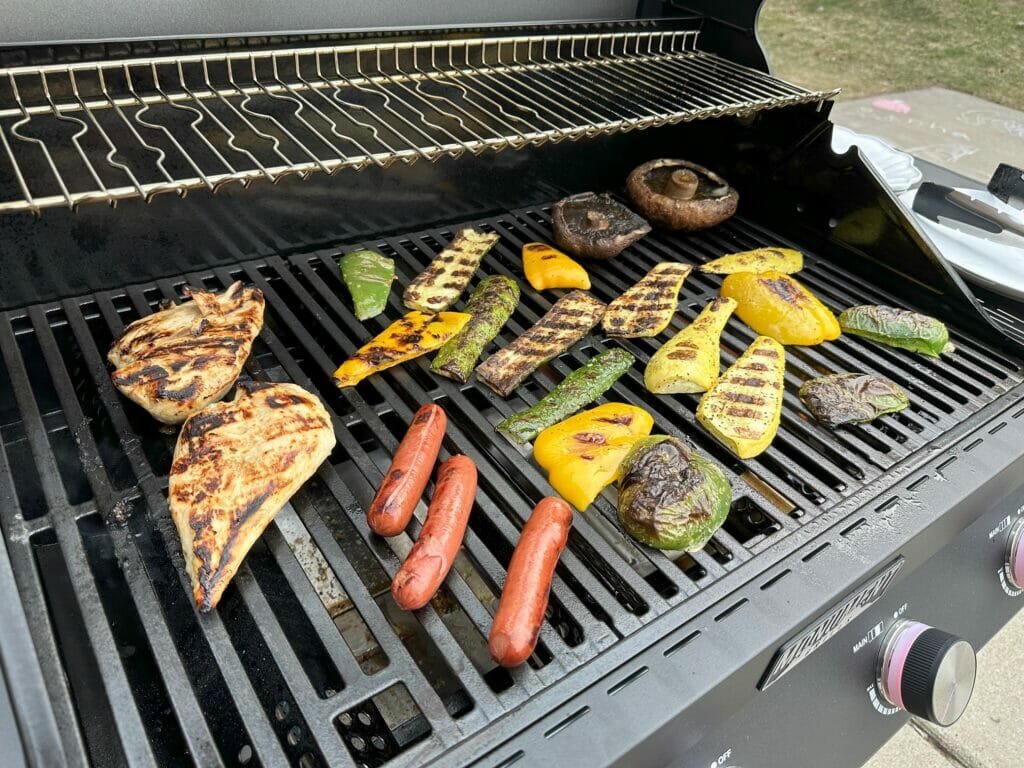 The cooking grates are reversible, with one side being for smoking and the other for searing. We cooked a variety of proteins and vegetables on it, and got great results, with the grill marks you want.
The side burner added another level of convenience for cooking. It made it much easier to prepare things like sauces, while cooking on the main burners at the same time.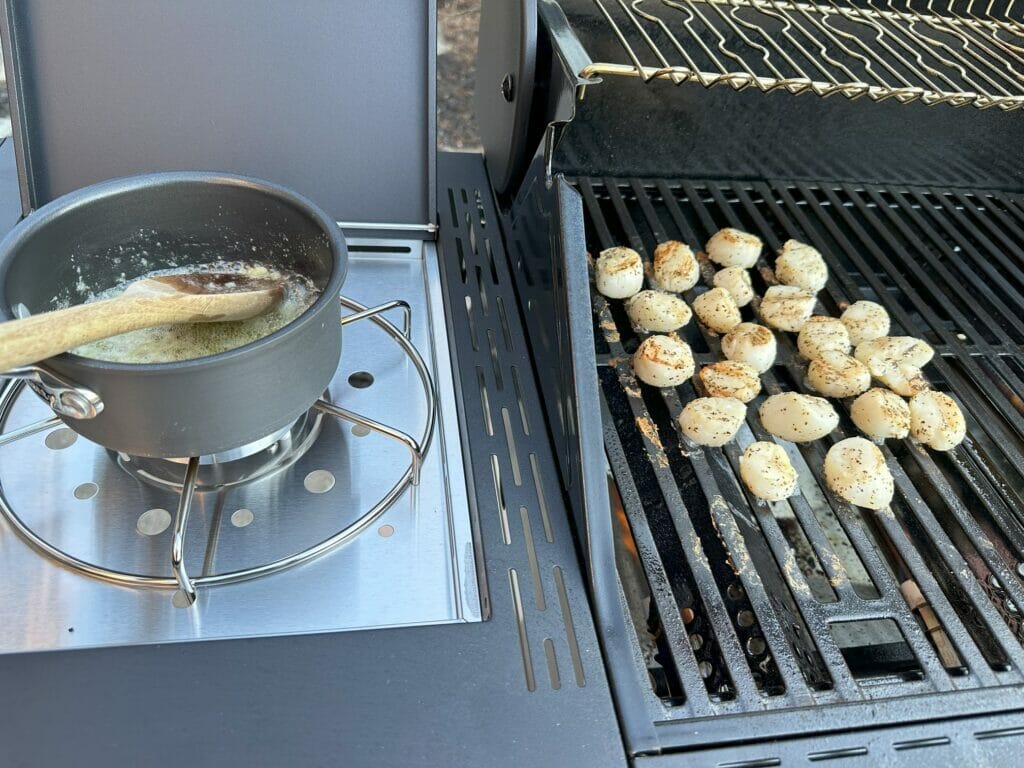 There's also a top warming rack that gives extra space to the grilling area. A great feature of it is it's designed to hang chicken legs off of it for cooking. It's nice to have that built-in, and it saves money from buying a rack for chicken legs as an accessory.
If you're looking for more cooking options with your grill, Monument Grills can help with that. They have a full catalog of accessories for the Denali including a rotisserie and a smoker box.
Viewing Window
We really liked having the viewing window on the grill lid. It helps keep the heat in, because it eliminates the urge to open the lid to check on your food. You can watch it all you want.
LED Knobs
Another cool feature with the Denali is it has LED knobs. They light up in different colors, from blue to red, depending on the temperature of the grill. It's not a must have feature, but it was neat to look at and added to the overall experience.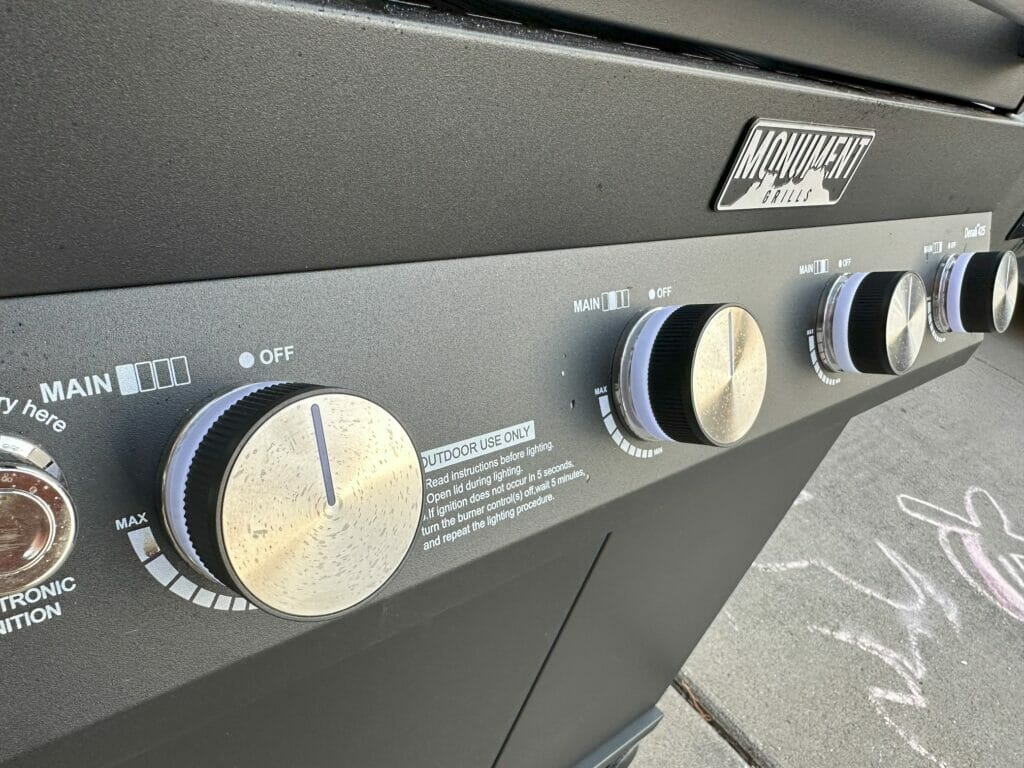 Smart Features
Beyond using the LED screen to see the grill temperature, it also has ports for two meat probes, and it interfaces with your phone via Bluetooth. It much less important on a gas grill than a smoker, but there isn't WiFi, so you need to stay in the vicinity of the grill for the app.
The Monument Grills app worked well for us, and we never had any problems with connectivity. The app lets you monitor temperatures, set alarms and set timers. It was a seamless experience, which what you want with grill technology.
The only downside with the smart features is they all run off a battery pack that houses 4 AA batteries. We'd prefer a corded option with a rechargeable pack to cut down on using disposable batteries.
The LED display also has a USB-C port for powering other devices. It's a little bit of an odd inclusion because it's powered off the battery pack.
Conclusion
The new Denali series from Monument Grills offers a great grilling experience for a reasonable price. The 4 main burners and the side burner offers enough space for a gathering, and the smart features help you keep an eye on your grill.