Disclosure: This article may contain affiliate links. If you buy a product through an affiliate link, we may receive a commission at no cost to you.
There are many beef delivery options nowadays if you don't have the benefit of a local butcher to work with. We decided to pick one and try it out, so we went with Crowd Cow. Their value propositions include ethically raised beef and transparent sourcing.
We exclusively offer beef, pork, chicken, seafood and wagyu from sources we know personally with the highest regenerative and ethical standards. Every product on Crowd Cow is raised without unnecessary antibiotics or any added hormones and is taste-tested by experts.

Crowd Cow Website FAQ
Different from buying meat from a grocery store or a big box store, they tell you where your meat comes from.
One simple question started Crowd Cow — where is my meat from? Answering that question has become an obsession and now customers can confidently purchase meat and seafood from the very best independent and sustainable sources with Crowd Cow's flexible, completely customizable recurring shipments.

Crowd Cow Website FAQ
Finally, they advertise that they're providing a way for farmers and producers to bring meat to people across the country that they otherwise couldn't reach. This paints the image of working with local farms to source meat.
Our producers range from independent family farms to co-ops working together across several regions, raising their animals in ways that benefit the land and surrounding environment.

Crowd Cow Website FAQ
We ordered a variety of beef, including a flight of filets, to test out the meat itself and evaluate Crowd Cow's sourcing claims.
Filet Flight
We ordered three different filets from Crowd Cow that ranged in price and tenderness. The three that we purchased were from cows with the following characteristics, and are ordered from cheapest to most expensive.
Pasture raised, but supplemented with grain from Frigorifico Pando Farms. It cost $20.38 (check price) when we ordered it.
Crowd Cow Reserve, which they advertise is the most premium beef they offer. It's Black Angus and comes from Creekstone Farms. It was $25.49 (check price) at the time or ordering.
Fullblood Wagyu, which comes from True Grit Farms. For this premium beef, it cost $79.99 (check price).
Grading
Crowd Cow doesn't grade their beef, so for tenderness, you're relying on their description. If I was comparing the beef in terms of tenderness, I'd grade the pasture raised from Pando Farms as between Select and Choice, the Crowd Cow Reserve as between Choice and Prime and the Wagyu above Prime.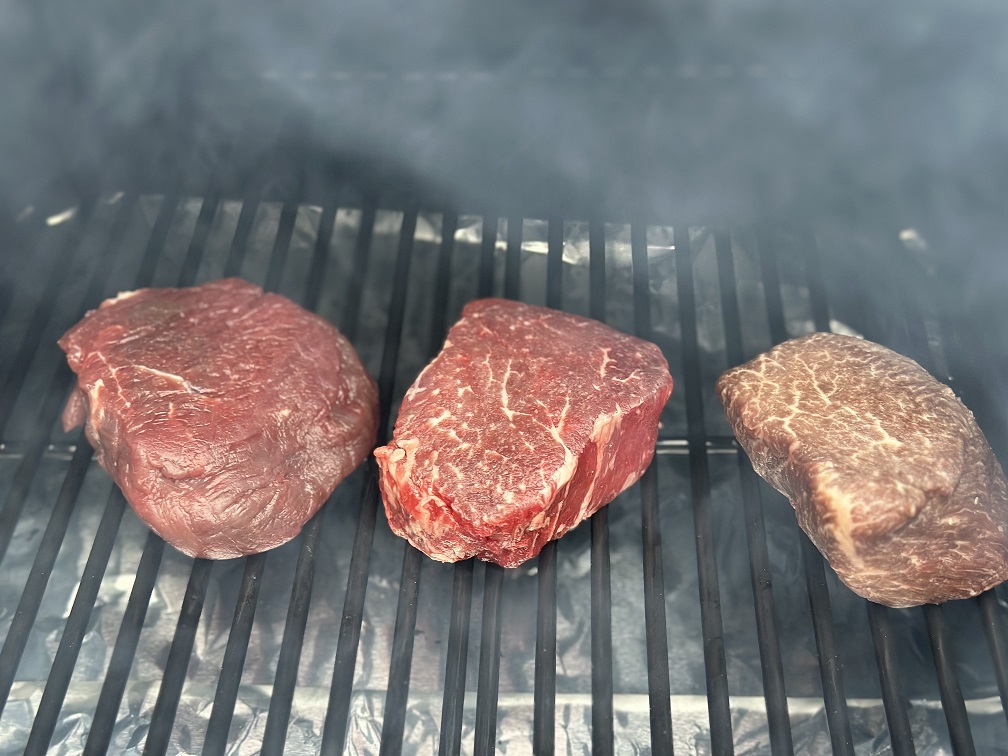 Taste
All of the filets were reverse seared and cooked to medium rare.
Pasture raised from Pando Farms – This beef had good flavor, but the tenderness wasn't good enough for the price they charged.
Crowd Cow Reserve – This was my favorite of the three. It had good beef flavor and tenderness.
Fullblood Wagyu – This one had a very unique taste that I wasn't fond of. It had almost an old soy sauce flavor to it. It was unbelievably tender, but almost too tender for my liking. It would be better to be used in a dish, rather than eaten standalone.
Summary
Based just on taste, my favorite of the three filets was the Crowd Cow Reserve. It's exactly what you want when you order a filet. It came well trimmed and met expectations. I'd buy it again and recommend it to other people.
Sourcing
What I struggle with about Crowd Cow is you're paying a premium over commodity meat because of the sourcing and transparency. There's an image that you're supporting mom and pop farms and Crowd Cow is providing them access to more people.
The problem with that is the Crowd Cow Reserve filet came from Creekstone Farms. While it was a delicious cut of meat, and we make no claims about their treatment of cows, it's not exactly a little local farm either. We're familiar with them already because their beef is sold at local grocery stores.
We've scoured the country for years, selecting only the very best independent and family-run craft meat farms and ranches — nearly 100 farms just in the United States — meeting each farmer and their families, taste-testing their meats, learning their practices and building long-lasting relationships.

Joe Heitzeberg – Co-founder and CEO of Crowd Cow – January 2019 Blog Post
Not Independent or Family-Run
Creekstone Farms was bought by a private equity firm called Sun Capital Partners in 2005. It's a very large firm with $14 billion of committed capital, according to their website. Some of the brands that Sun Capital Partners has owned through the years include The Limited clothing store, Johnny Rockets, Smokey Bones, and Bruegger's Bagels.
Sun Capital Partners then sold Creekstone Farms in 2017 to Marubeni Corporation, which is a Japanese conglomerate with a market cap of around $20 billion at the time of writing. When Creekstone Farms was sold, they had annual revenue of $550 million and were the 12th biggest U.S. beef producer by volume. At the time they had plans to grow the business to $620 million by 2020. According to a Marubeni press release, they have a processing capacity of 1,400 cattle per day.
That's not what we have in mind when we think of "independent family farms to co-ops working together across several regions".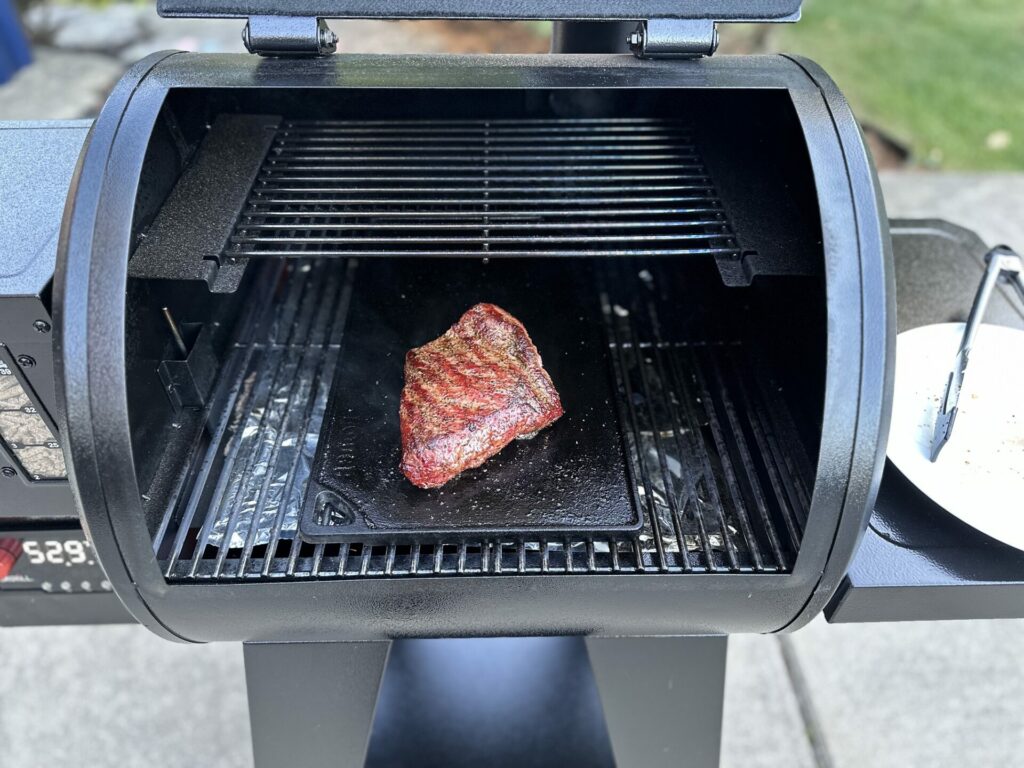 Conclusion
Crowd Cow offers good quality beef delivered to your door. Although our review focused on filets we tried a variety of beef from them. They are a great option for cuts that can be harder to find at the grocery store, such as tri-tip.
Are they better than buying USDA Prime commodity beef from places like Costco? Probably. At least from Crowd Cow, even if some of their sourcing is from large corporate operations, they are transparent about where it comes from and how it the animal was raised. I can't say the same about grocery meat packaged in Styrofoam.